E3 2014: Battle of the Console Press Conferences... Who Won?
Posted by Liana Kerzner on 06.11.2014

Was it Xbox's year to come back from last year's mess? Or did Sony take it again with their PlayStation Presser?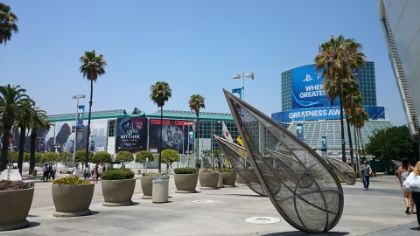 Day Zero of E3 2014 goes to PlayStation. Xbox put on a respectable showing this year, but PlayStation just brought more to the table in every way. They also managed to generate significantly more excitement in their briefing than Microsoft did. Microsoft's conference even had some empty seats. The canned applause and the bad pre-game editing didn't help either.

Also, this was plastered in my hotel room washroom when I got back to my room that night: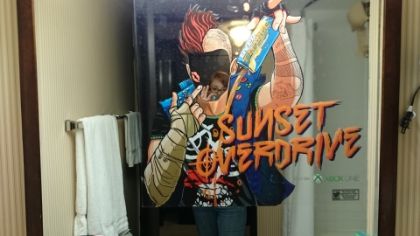 It scared the crap out of me.

While Sunset Overdrive and the Crackdown reboot look fantastic, Microsoft's press offering relied heavily on smaller servings of familiar franchises, and third-party exclusive content partnerships, neither of which are terribly exciting options when someone is deciding which system to buy. It was great to see franchises like Crackdown and Phantom Dust return – as well as a Conker cameo, more Dance Central, and a new Fable... kind of. Also, a Halo reissue compilation with beta access to Halo 5 is a solid business decision, but not a terribly exciting one.

Another plus in Microsoft's presentation was the embrace of Indie through their ID @ Xbox program. But the most interesting exclusive for me was Scalebound, which seemed almost like How to Train Your Dragon meets Pacific Rim... and that sounds far more glib than I intended. Scalebound looks undeniably interesting and next-gen. If there had been even one more game with that sort of wow factor, the contest would have been a lot harder to call.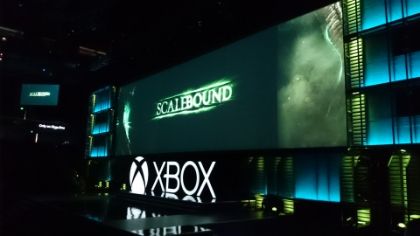 But notably missing were any updates for Quantum Break, which made me wonder "what's wrong with it"? Logically, Remedy is probably just working slowly, but still.

Symbolically, it's impossible to ignore Sony kicking off its press conference with a trailer for Bungie's Destiny, which is as much Bungie giving the finger to Xbox as anything else. Destiny is no guaranteed hit, but I admit, its Mass Effect-meets-Halo-with-more-color mash-up is a pretty awesome formula.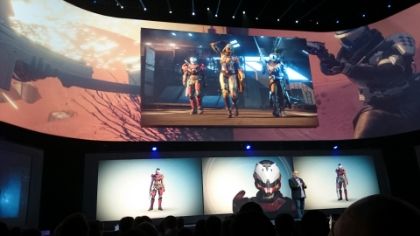 But the excitement really started to build for PS4 owners when The Order: 1886 had its turn. This Victorian monster game, complete with Resident Evil homage, looks stunning from a technical perspective, even if it does seem a bit heavy on the Van Helsing similarities. The sheer graphics quality was breathtaking, and already put everything Xbox showed to shame... and that was only the second game.

After cementing their "we still have creative cred" status with the new graduate concept project Entwined, Sony dropped Little Big Planet 3, complete with three new fabric friends for Sackboy. The crowd, and likely a few merchandise license holders, went nuts.




Another new IP, Bloodborne, was announced for 2015, from the makers of Dark Souls. Like The Order: 1886, it's heavy on historical moodiness. But Playstation was clearly not prepared to play it safe.

PlayStation players are going to get an exclusive access to a Hulk figure when Disney Infinity 2.0 ships. And Grim Fandango, one of the all-time most underrated games ever made, is being remastered for the PS4 and Vita. PlayStation is offering so many indie games they couldn't showcase them all, and one of the folks who made Journey has a new game called ABZU.

But there was more. The ambitious procedural universe title No Man's Sky, Project Morpheus – Sony's answer to the Occulus Rift – The Playstation Now "rental" service, PlayStation TV, and an exclusive live action adaptation of the Brian Michael Bendis comic Powers all paraded across the stage and screens. The Last of Us Remastered made fans realize that the Naughty Dog hit could actually look better. Metal Gear Solid V: The Phantom Pain looked as puzzling as it looked visually spectacular.




The two battling companies matched each other blow for blow with exclusive add-on content – Playstation extras will be coming for Far Cry 4, Batman: Arkham Knight, and a special PS4 version of GTA V; Xbox gets early access to Assassin's Creed:Unity, Dragon Age: Inquisition, and Call of Duty: Advanced Warfare content. So on that point, there was no clear winner, if you factor out Bungie's clear preference for Playstation on Destiny.

While PlayStation's closer was no Watch_Dogs-like jaw-dropping surprise, Uncharted 4: A Thief's End, was another graphics extravaganza. Coupled with Little Big Planet 3, that's two big franchises continuing on PS4 in the near future. Crackdown was a bigger pop, yes, but the rest of the Microsoft conference just didn't have the sizzle to match Sony.

So while I ended the press conference day of E3 2014 with an improved view of the Xbox One, it doesn't seem like developers have quite figured that system out. So while they muck about with that, PlayStation will likely widen their lead. They may need the head-start, however, because Halo 5: Guardians will be a game changer, unless by some dark miracle the fascination with Halo fades before next year. I don't think that's going to happen, so Microsoft is still competitive. Sony's riding a two-year streak, but Xbox is far from down for the count.
comments powered by