Galactic Civilizations 3 (PC) Preview
Posted by Marc Morrison on 04.09.2014

Stardock's space-based strategy game Galactic Civilizations 3 is in alpha mode on its way toward a release, but how is it stacking up so far? 411's Marc Morrison checks in with his early preview!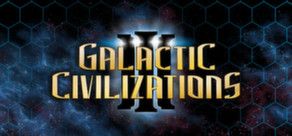 Wow, where to begin? Stardock is a developer that I have respected from a distance for a long time now. They're mostly known for developing the Galactic Civilization series, The Political Machine series, the Warlock series, and producing Sins of a Solar Empire. Most of these games are pretty good in a general sense, but none have really clicked with me. I think it's due to how there's almost zero story in their games, coupled with a brutal difficulty curve and a mountain of gameplay systems that make their games largely impenetrable to most people. When I first fired up Galactic Civilization 3, these feelings returned. But you know what? I stuck with the game, worked through those feelings, and actually had fun as I played it. What a weird feeling now that I look back at it.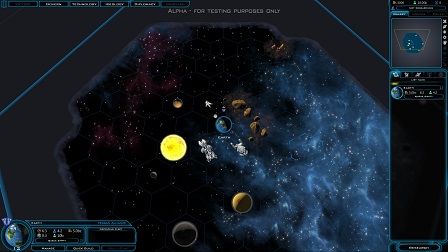 Disclaimer: First off, Galactic Civilization 3 is almost barely a game at this point. Games/software operate on version numbers, where typically version 1.0 is the edition that they sell in stores for the public to buy. Something like version 0.90 is a near-completed version of a game with some bugs in it, but is almost done. Version 0.80 is a version a bit further away from being finished, with more bugs that need to be fixed (for the 0.90 version), and so on. Well, Gal Civ 3 is currently on version 0.0.2.0 as of this writing. When they say the "game is in alpha", they mean it. The basic framework of the game is in place, but about 60% of the game is missing, at least. So know that going in, ahead of time.

Galactic Civilization 3 is a 4X game that is essentially what Civilization 5 is, only in space. Only instead of founding cities and dealing with other civilizations, you colonize other worlds and deal with other species that are trying to claim the galaxy as their own. You send out scout and survey ships to explore, colony ships to expand your empire, and can build fighter units to attack other civilizations….I think. I'm not entirely sure; the manual combat system hasn't been implemented yet.

Once I begun to draw the parallels between this game and Civ 5, everything began to make a lot more sense. In Civ 5 you have settlers, here are the colony ships. But both serve the purpose of expanding your empire out to new locations. When you form a new colony, you're given a queue to build improvements on the planet. These can range from embassies, factories, starports, markets, farms, etc. Each enhances the usefulness of the planet either in wealth, research, influence or population. There are special tiles on most planets that can be used to confer a bonus to these buildings which generates more rewards for picking the right improvement to be built on it.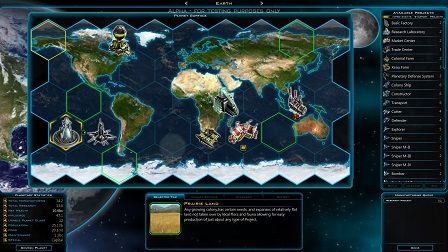 Likewise, the game has a morality choice system that isn't implemented fully. Your choices dictate whether you want to be benevolent, pragmatic, or merciful. Like when you land on a planet, you might be given a choice which will be into one of these disciplines. However, after my first choice (of choosing the Pragmatic school, all notices stopped. I think because the system isn't in place. Same with the planetary events, I assume there will eventually be dozens of them, giving you different choices, but at present there is two: one a pod people event, and the other where a ship is buried and you can dig it out.




At present, that is actually kind of about it at the moment. Things like the ship builder just aren't in the game yet (an annoying, repeatable refrain, I know), the tech tree isn't implemented fully. You can research things, and about half of it works. I tried researching the ability for planetary invasion. I researched it, but then ran into the roadblock of not having a ship (or being able to create a ship) with the invasion module attached to it. Same when I built a starbase, the base itself was buildable, but I couldn't attach modules to it, or get it working at all., despite following a guide showing how I could.




Even with all the Early Access difficulties, the game is still a lot of fun. I'm sure old hats of the series will be able to get into it with no problem. My sincere hope is that the final version includes a damn good tutorial and/or a story mode that can show players some of the ropes. At present, the game is an interesting beast, one that will likely get better as more features and gameplay systems are implemented, but if it's not quite 100% if you give it a shot, don't say I didn't warn you.
comments powered by