SPOTLIGHTS
State Of Decay (Xbox Live Arcade) Review
Posted by Stewart Lange on 06.12.2013

The newest release from Microsoft Studios is the highly anticipated State of Decay! Does this open world zombie adventure bite off more than it can chew? Or has the end of the world never been so much fun? Join 411's Stewart Lange as he takes a look!

Title: State of Decay
Publisher: Microsoft Studios
Developer: Undead Labs
Genre: Sandbox Horror/Survival
Players: 1

Last year, the internet fan boys were abuzz with the news there was to be a game based on the Walking Dead that wasn't a story based adventure title, but a first person survival game that gave the player an insight into the world of Darrel and Meryl Dixon before the show began. In the weeks leading up to the release of Survival Instinct, I got more excited about the release and the chance to play a game that saw me having to survive against the zombie apocalypse.

If you've played Survival Instinct, then you know how poor it is and how there is no way it could have defied anyone's expectations. A quick trade in for Bioshock: Infinite appeased my need for a great game to play, but didn't quench my thirst for BRAINS. But then came Dead Island: Riptide. Riptide took us back to the island paradise that was ripped apart by a mystery infection and quickly reminded the world how the first game was full of wasted potential. While finding and making weapons was fun for a while, the game is so glitched and repetitive that I found it really hard to enjoy. It was okay for a bit of a run through but ultimately, became very stale very quickly and you didn't feel like the entire world was blighted, just the small island you were on.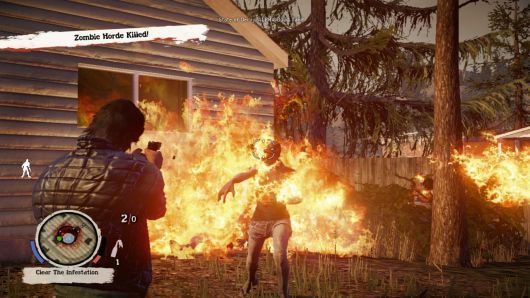 This brings us to State of Decay. This was a game that wasn't even on my radar until the day the demo was made available on Xbox Live. A couple of online friends were playing it for some time, just as a demo. A quick couple of Facebook messages exchanged and I was convinced it was at least worth downloading the trial game for a quick shot. A short tutorial and a few dead zombies in and I was at least convinced the mechanics seemed sound enough that the game would be fun, just maybe not worth my money. However, a read up of some of the unlockable features and I was really starting to think that I may have found the zombie game I've been looking for since the Dixon brothers disappointed me.

You play a number of characters in SOD, which really helps when the guy (or girl) you're currently using decides they are too tired to run about anymore. This is the most obvious touch of realism about the game. You can't just run around for hours on end without getting fatigued. A few hours of scavenging or zombie slaying will tire you out and while you can postpone this slightly by drinking Red Bull, sorry, an energy drink to keep you going if you're in a tough spot. Inventory slots are not transferred between characters, so I've found a few occasions where I've left for a mission having swapped out characters only to have to run back to my home settlement to collect some pain pills and a gun. There is never any annoyance with the game in this situation; only at yourself. How could I have been so stupid? When you hit this point, you can see the immersion that State of Decay has created around you.

The mechanics are solid enough. The triggers give the standard aim/shoot combo has with any game featuring guns these days and while the aiming isn't superb, it doesn't feel terrible and if you can at least make yourself think your character can't shoot because he's inexperienced then this slight flaw becomes another endearing part of the game. The X button is your main melee weapon, with Y giving you a push control for tight spots, LB and Y gives you a finishing move in certain spots and if you jump in combat, you do a weird dropkick that I'm not sure would be too wise in a frantic zombie horde situation. The combat is fun but it's very easy to get overwhelmed, especially when you're indoors and the camera can't decide if you want to see the fighting or the wall of another room. Melee weapons vary from hockey sticks and 2 x 4's to axes and machetes, but I find the blunt weapons work a lot better. Driving is pretty fun, as all the different vehicles handle in their own way, although there are only a handful of different types of car. Vehicular combat is fun, running over the hordes of zombies you encounter takes me back to the first GTA and aiming for that awesome "Gouranga!" sound effect. A nice touch is when you aim for your first "Big Bastard" zombie while in a car. These big, well, bastards are one of the special zombie types you encounter and among the hardest enemies in the game. While the SWAT and feral zombie variants don't take much more work than a standard deadite, a Big Bastard will actually cripple your car, up-ending you and leaving you pretty stranded. When this happens, you better hope you've got a good amount of health and some stamina, because you're going to have to run like hell.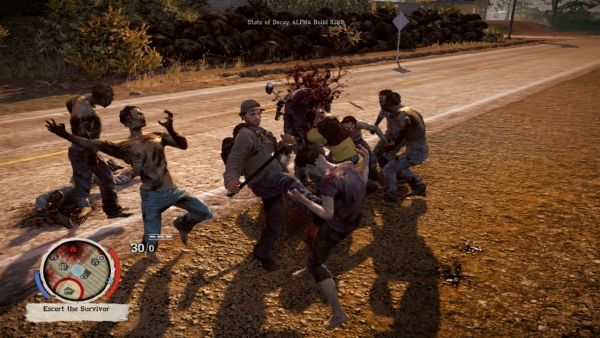 I'm not going to keep gushing on about the game, as it does have flaws. The scavenging element, while fun, could be slightly better but my issues feel like I'm nitpicking. It bugs me that I can't use car storage to take goods home. You can also call in scavengers to collect what you've left behind you (generally quite a lot, given the limited backpack space you have) but these little sprites never show up visibly, nor do you get a notification they've completed their task. While this doesn't seem like a big deal, it does remove you from the game slightly. The upgrade system for your homestead isn't very well explained, unless I missed something going from the demo to the full version. Upgrading your home gives you numerous benefits, such as auto repair and health recovery but at no point is this made obvious until you're being shouted at for not having done it yet. My last gripe is about having to go back to your home now and again to sort out some sort of trouble. A quick swap between characters would suffice, but instead you have to travel all the way back. This reminds me of the turf war sections in GTA: San Andreas, which is not a compliment.

With a standard genre storyline pinning everything together (group of survivors deal with each other/other groups/army meddling), I feel like everything I've said against State of Decay shows it in an unfairly dark light. The reality is that SOD is one of the most ambitious downloadable titles I've ever played. I huge 1.8gb download, it really shows in the size of the map, and the detailing available. Undead Labs have created the closest thing to the zombie game I've wanted from the Dead Island, Walking Dead and Dead Rising games, with more enjoyable features than all of those games combined and not as many problems as any of them. It's hugely addictive and minutes will quickly turn to hours as the game keeps throwing tasks and missions at you, forcing you into just "one more trip in the car." Night will turn to day and back again not only in the game, but unless you get a family member to check on you, also in your own life too. A remarkable achievement for an Xbox Live Arcade title, you should make sure that this week you give Undead Labs some of your money for this gem of a title.
Graphics
8.0
Slightly bugged at points and no contrast control is annoying at night time in the game.
Gameplay
9.5
Seriously addictive. Almost as much to do as any AAA release sandbox title.
Sound
6.0
Repetitive voice acting and generic zombies, but doesn't grate too much.
Lasting Appeal
9.0
It's kept me busy for a week and I'm still going strong.
Fun Factor
8.0
Bashing those zombies is fun as always and the missions seem varied enough to keep you going.

Overall

8.0

[ Very Good ]

legend
comments powered by