Sid Meier's Civilization V: Brave New World (PC) Review
Posted by Marc Morrison on 07.29.2013

Explore the new world of economic and social power in this expansion to Civilization 5. Find out if the game achieves a complete victory inside or not.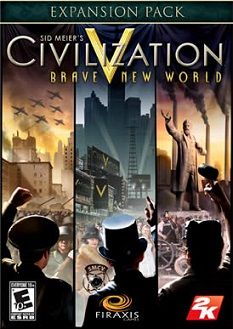 Game: Sid Meierís Civilization V: Brave New World
Genre: Strategy, 4X
Players: 1-12 (online)
Developer: Firaxis Games
Publisher: 2K Games
Rated E for Everyone


Ah, Civilization 5, we meet again. Truth be told, I enjoyed Civ 5 in its initial release, playing upwards around 50 or 60 hours in it easily. When the ďGods and KingsĒ expansion was released, I tried to enjoy it, but I didnít like some of the changes it wrought. Mainly I felt the entire religion/spy mechanic felt a bit tacked on, with me never really getting anything out of it due to how I play. Plus, the changes to the liberty social tree (moving the settlers perk up a level), and the general nerfing of the Great Artist unit (the Culture Bomb) really annoyed me. Brave New World adds in a lot of things, but it has a few mis-steps along the way.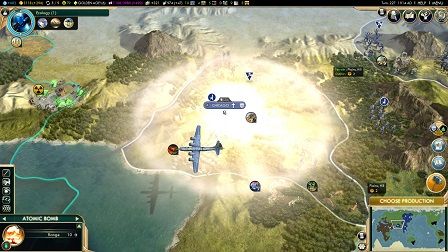 Everyone knows what Civilization is, at this point. Itís a 4X game where you try and win the game, as your own civilization goes through various historical periods, with you dictating technological, military, cultural and economic choices. Iíll instead focus on some of the changes that this game has made, especially in regards to the cultural/economic portion. Thereís also a few other new features/tricks to keep it fresh.

Brave New World offers 9 new Civilizations for you to try out, with most of them corresponding to the new economic/cultural systems. Iíll briefly list where each Civilization comes from/who they are, and their big special ability:

1. Poland -- Whenever you go to a new Era, Classical, Renaissance, and so on, you get a free social policy.

2. Brazil -- During Golden Ages, you earn Great Artists/Musicians and Writers 50% faster, and tourism is boosted 100% during the Golden Age.

3. Assyrian -- When you take over an enemy city, you gain one of their researched technologies for free. This only happens with one city, per enemy civilization.

4. Zulu -- Melee units use 50% less maintenance, and all units need 25% less experience to level up.

5. Portugal The more diverse resources you have with other civilizations involving trade routes, the more gold you get.

6. Indonesia The first 3 cities you start on a continent that Indonesia didnít start off, gets access to 2 unique luxury resources (Nutmeg, Cloves or Pepper) and the cities canít be razed by enemies.

7. Morocco Get +3 gold and +1 culture for every trade route you have with a different Civilization or City State. Also, other trade route owners get +2 gold when they trade with you.

8. Venice Cannot produce Settler units, or Annex cities. Double the trade routers of normal Civís. Can make a puppet City of other City States with Merchant of Venice unit.

9. Shoshone Cities start with more territory than normal (but canít expand out as much). Combat bonus for your units when fighting in your territory. Their scout unit (Pathfinder) lets you select what to do when you find ruins in the world.

To me, these last two are the more impactful to the game. Venice is interesting because it *has* to be trade-oriented, in order to get anywhere. Because Venice canít expand through the traditional means, youíre required to change up how you play (or at least I did), having to spend money to gain influence with various City States, in the hopes I could take them over.

The Shoshone though are the breakout-Civ, at least in my book, like how Russia was the dominant one in basic Civ 5 and the first expansion. When you start a city with them, itís not a uniform pattern of land, so the boarders are oddly shaped. But youíll usually reach a resource that is out of armís reach. The counter to this is that the Shoshone canít expand as far out from their initial borders. Most Civís, you can expand out by two hexes, but with the Shoshone, you can only expand out by one. So later-game expansion can be a problem, but the early-game land grab is far easier. The other interesting thing is that their scouts (Pathfinders), can give you versatility when finding ruins. When you come upon a ruin you have several options available: create a Settler unit, create a Worker unit, get some culture from the ruin, get gold from the ruin, look at their map, getting a free technology, or upgrading the Pathfinder unit into their next rank. With other Civís, it is a roll of the dice what benefit youíll get when finding a ruin, but having the option to dictate what you want is a nice change.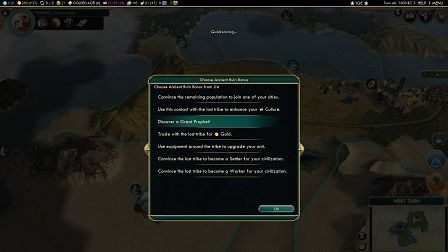 Aside from the new Civilizations, are the changes to the Economic and Cultural systems. Iíll start with Economic first, because itíll be a little quicker. The main idea they implement with this game is that of trade routes, both on land and see. For land routes you need to build Caravans, and for the sea you need to build Cargo Ships (once naval units are researched). With them, you can set up paths within your cities (to get food, or with other Civís/City States, in order to get money, spread influence, get science, and so on. The units can be attacked during their trade runs, so it might be a good idea to protect them. Also, a city can only have a certain number of trading routes allowed at a time, so you have to factor this in as well. Setting up trade routes isnít vital, but is extremely helpful when trying to get gold for your Civilization, or just to spread your influence around.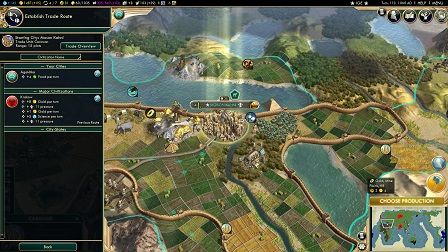 The Culture changes are split into two different tracks, one is how they overhauled the social policy menu, and the other is the implementation of an ideology system. The social policies have undergone a slight remixing of the trees, shunting the Freedom/Order/Autocracy trees into the new Ideology sub-menu, and adding in Exploration and Aesthetics in the bottom tier. Exploration is about expanding how far your navy can move, more money from sea trading routes, and increased money from light houses and such. Aesthetics deals with generating more culture, increasing the rate of Writers/Artists/Musicians, and making opera houses and monuments build faster.




The ideologies are factored in pretty late in the game, and are the three choices: Freedom, Order, and Autocracy. There are 7 perks to choose from in the first level, 6 in the 2nd, and 3 in the 3rd. Each tree has different perks which are related to their idea, with some like ď+25% Great Person GenerationĒ being shared between two of the tables, and so on. This entire system is just another funnel for your social policies, but youíll probably fill it out by the time the game ends.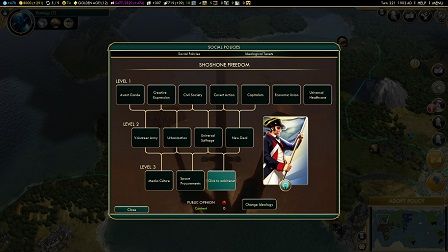 The other big Culture system is the World Congress. Once you (or someone else) researches the Printing Press, the World Congress is formed. Each Civ is given delegates, and each Civ then creates different propositions, like embargos of another Civ, raising money for a Worldís Fair, making a worldwide religion, and so on. Then with the delegates, you can vote (splitting the number up, or keeping them together) on which proposition you want to turn into a resolution. The more delegates you have (from advancing your Civilization, creating partnerships with City States, and so on). Eventually, once every Civ reaches a certain point, a vote for the World Leader will occur. This determines the Diplomatic victory, replacing the United Nations stuff from earlier Civ 5.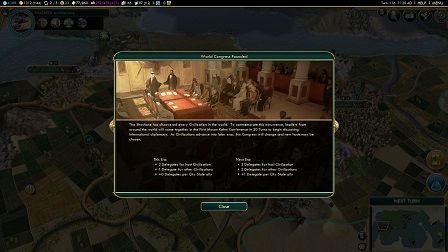 There are other new factors (and improved ones) to consider also, religion is back, and you can buy ďGreatĒ units now, the entire system of tourism is new, archeology is a subset of tourism, new great wonders, new units (XCOM Soldier!), etc. etc. The new systems donít do a lot for my particular play style which is to go tech early, and build from there, but there are subtle improvements to most of the systems in play.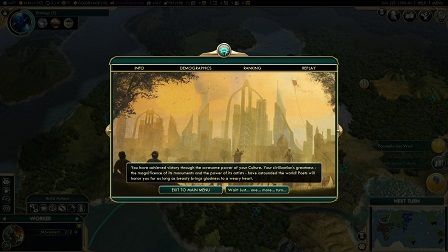 Graphically, the game is what it is from before. Which means it looks great at the start, but the more you build, and the more complex the Civilizations get, the bigger the hit performance-wise the game suffers. Or when you zoom out, the game hitches a bit. This has been a problem with the game since launch but it actually seems slightly worse with this expansion (something Iíll get into a bit later on)

The sound is understated as usual, but fits in well with the game. There is some included classical music when you discover a great piece of music with the Musician unit. The new voice work is the same narrator as before; all the sound effects are the same as before, and so on. The sound is completely fine for the game, all around.

The biggest problem with the expansion is that of stability. Certain problems, like the graphics hitching up more, are exacerbated by the game. New ones also popped up which severely affect the game, notably the F12 issue. In Steam (with the general overlay) you press F12 to take a screenshot in-game, which works about 99% of the time. However, for me (and others, I asked) when you press F12, it immediately crashes the game with a VC Redist, every single time. This doesnít happen to everyone, but it happened to me, my friend Becky, and scads of other people on the forums. Apparently, itís some issue with the game also using the F12 button for Quickload. But, you canít change (easily) the keyboard commands in the game. You can try if you go into the XML files of the game, but it doesnít work. Eventually, I had to change Steamís default key to F11, which makes Civ 5 Quicksave whenever you press it. I also had issues of unit pathing (something that has always plagued the game) where I would tell a unit to move to a location, a turn would go by, and the unit would need to be told to move there again. Over and over, until they got to where I needed them to go. These issues would crop up, and kind of ruin the pace of the game.

Pros

The new Civís add some interesting twists to the game

New Diplomacy/Economic routes to take to achieve victory

Same classic Civ-filled action as before.

The Cons

Some elements are still undercooked, like espionage

Most of the new Civís arenít that unique from each other

Frequent bugs and crashes hinder the game strongly

The 411

Even with the warts with the game, Brave New World is a good expansion to the overall Civilization 5 universe. It adds some fun twists to the established formula, the new systems are deep, and the Shoshone are great. If you have any interest in Civilization 5 at all, this is a must buy.


Graphics
7.5
More stuttering occurs than with normal Civ 5, for some reason. But the game still is nicely detailed, and looks beautiful.
Gameplay
9.0
Itís still not completely fleshed out in certain spots, but itís still brilliant. The new systems and Civís offer different experiences.
Sound
8.0
The same music/sound effects and narrator as before. Itís unobtrusive and fits into the game fairly well. New quick musical cues are good.
Lasting Appeal
10.0
Itís Civ 5, frankly you could spend months, if not years with the game. Itís that massive and open-ended.
Fun Factor
9.0
It might depend on your play style but the expansion is still fun, and adds in some good twists. Itís also fun to beat down other Civís in the World Congress.

Overall

8.7

[ Very Good ]

legend
comments powered by