Leisure Suit Larry: Reloaded (PC) Review
Posted by Vince Osorio on 08.10.2013

Larry Laffer is back in this Kickstarter-funded HD remake of Leisure Suit Larry in the Land of the Lounge Lizards. Is this adventure title a great game on its own or just for the fans?

Leisure Suit Larry is a name that inspires either praise (if you're a fan of the original Sierra adventure series from the late 80s/early 90s) or active dislike (if you've experienced the bastardized console "re-imaginings" from the past couple years). Most folk just want a balding dude with halotosis in a leisure suit making crude gestures and innuendos yapping away about getting laid while the player clicks on stuff in the environment. Al Lowe, the original creator of the Leisure Suit Larry series, saw a need for yet another remake of Softporn Adventure (which itself inspired the first LSL game), turning to Kickstarter to fund an HD remake of the title. Asking for $500,000 for development of the game, the goal was just about obliterated, with the campaign finishing at a whopping $655,182 donated from 14,081 backers, who in turn guaranteed that this remake would feature full voice acting and a brand new female to court.




And so, Leisure Suit Larry: Reloaded was born, becoming one of the first Kickstarter-funded video games to see release. That tidbit alone makes this game way more significant and important a project as it could've been otherwise, something that I'll come back to at the conclusion of this review. For now, let's look at the game as it stands right now.




Leisure Suit Larry: Reloaded is a Sierra adventure game. Don't mix that up with a LucasArts adventure game; expect function based point-and-click gameplay, trial-and-error, constant uses of the save function, unwanted deaths left and right, backtracking, somewhat obtuse puzzle solutions, the works. You will touch things, lick things, smell things, talk to things, take things, gift things, put on things, take off things, eat things, drink things, buy things, play with things, unlock things- if you like clicking on stuff, boy howdy do I have a game for you!




Anyway, point is that your adventure game logic will be tested thoroughly throughout LSL:R if you want to see what the game has in store for you. The game takes place in "Lost Wages", a resort city housing a multitude of grimy, nasty, dirty folk and ironically some of the most beautiful women ready to take Larry's money and dignity (and perhaps his virginity, if he doesn't screw things up). Most of the game takes place in five locales throughout the city- Lefty's Bar, a dive bar housing some prolific Kickstarter backers as well as a seedy prostitution ring, Studio 69 (ha ha!), a discoteque, a liquor store, a wedding chapel and Caesar's Phallus (ha ha ha!), Lost Wages' most erect, long-standing casino/resort in the land.




How did that last sentence read to you? Did you enjoy that winning wordplay and hilariously vulgar innuendos? Because that's the humor of LSL:R in a nutshell. If you like dirty words and dick jokes, you'll giggle with reckless abandon. If you're looking for something a little more well-written, then look elsewhere. Not that the game isn't completely capable of bring the LOLs: the "age-gate" quiz that opens the game is silly and exuberant, the oft-present all-knowing narrator has a lot of fun feigning enthusiasm at the events occuring and putting down Larry at every opportunity, there's a very funny audio joke that you'll miss if you don't enter the right number at a payphone (think Tommy Tutone) and the fourth-wall humor- including a prospective lover telling the player to "keep your icons away from me" - do hit, hit hard in fact. But most of the time, the game relies on the same handful or so subjects: jokes about bodily functions, body parts, etc. The eye-roll inducing puns and innuendos is exactly what Leisure Suit Larry has always been about, so I can't fault it for that. But that doesn't necessarily make for a compelling product if you aren't already game for it.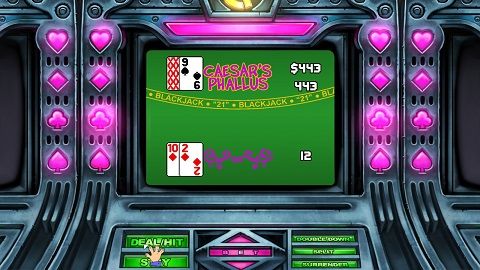 As for the game itself, it's frustrating, it's bizarre, sometimes it's hilarious, sometime it's painfully slow, dull and boring, with the game occasionally dabbling in some conversation trees with the surprisingly busty ladies of Lost Wages. If you can tell, I'm steering away from giving solutions to puzzles away, as otherwise I'm ruining the actual "gameplay" in LSL:R which isn't fair to those of you who might be playing this down the line. I do have to say that I found some solutions so incredibly obtuse that I was left scratching my head as to how I ever would've been expected to solve the puzzle in the first place. Maybe that's just me, maybe not, but for a generation raised on context-sensitive actions and icons, it's jarring to go back to something so unforgiving and dated. On top of that, I actively had to "cheat" (sorry!) in order to make the money needed to purchase some of the items needed to complete solutions- as in the original game, you need money for condoms, a taxi to get around areas (if you walk in a dark alley, you'll get mauled to death), champagne, etc. The only way to make money is by gambling which is as much of a crapshoot as it is in real life. Prepare to save, make an all-in bet and reload until you've made enough cash to fund your exploits. Still, there are some bouts of genius in the puzzle design, with the new scenario added to the game being a particular highlight.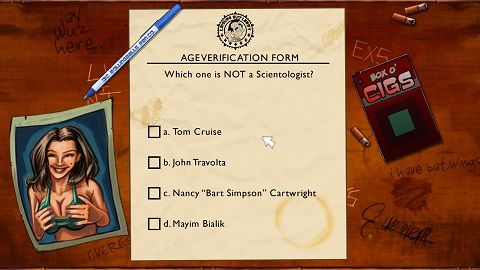 Even though the animations are a bit iffy, I think the game often looks great; the hand-drawn art is crisp and sleazy/unsettling in the best possible way. The way Larry looks in contrast to everyone and everything in the environment seems like a deliberate (and surprisingly hilarious) choice that I applaud. The audio is consistently the highlight of the entire experience; though some of the characters need work, across the board the voice acting is hilarious, with the narrator bringing most of the laughs with his sardonic delivery. The music, composed by (Grammy-nominated!) Austin Wintory is also fantastic- lots of jazzy horns and sax, lounge piano, mellow bass and drums, it's well worth a purchase on its own. Real care was made to make this game as presentable as it could be in 2013, and it shows.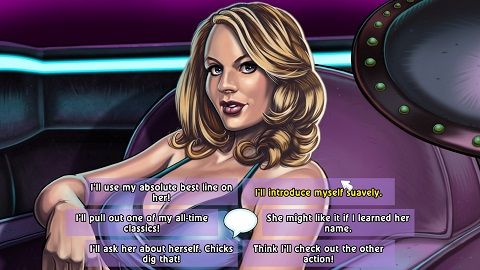 So here's the dilemma I face reviewing this game. Do I rate it for what it is or for what it should be? For better or for worse, it's a pretty strict remake of Leisure Suit Larry in the Land of the Lounge Lizards, warts and all. It's a great looking and even better sounding game, but the mechanics are plucked straight out of that 25-year-old title. For people who contributed to the Kickstarter or for those who want to "relive the magic", this is worth the purchase.

Leisure Suit Larry: Reloaded is the remake that LSL fans wanted. Whether it's the one that they deserved is another argument entirely.


Pros
- Riotously funny at moments
- Fantastic music
- Crisp, clean art style
- New scenario added fits nicely with the original tone of the game


Cons
- Frustrating puzzle solutions
- Incredibly dated game design
- Substitutes crude humor for wit
- Animations aren't polished

Graphics
7.5
The colorful (but somewhat grungy) art style looks great in stills, less so in motion.
Gameplay
4.5
Painfully dated trial-and-error, point-and-click adventure style gameplay.
Sound
9.0
Stellar, catchy, jazzy themes from Austin Wintory coupled with often-hilarious voice acting. A highlight.
Lasting Appeal
4.0
Doubtful you'll return to the game after you've finished what LSL:R has to offer. New scenario/lady to court adds value over the first game.
Fun Factor
5.0
This is the best possible version of Leisure Suit Larry available, but that's not necessarily a good thing.

Overall

6.0

[ Average ]

legend
comments powered by