SPOTLIGHTS
Charlie Murder (Xbox Live Arcade) Review
Posted by Stewart Lange on 08.15.2013

The Summer of Arcade marches forward with the second major release from Ska Studios, Charlie Murder! Is the punk rock beat em up Top of the Pops, or should you Never Mind The B*llocks?

Title: Charlie Murder
Publisher: Ska Studios
Developer: Ska Studios
Genre: Beat 'Em Up
Players: 4 (Local/Online)

There was a bit of hype surrounding Ska Studio's Charlie Murder, but considering it as a Summer of Arcade title, it's not been given the standard fanfare of some of the releases we've seen over previous years. In fact, this years "SOA" seems a little lacklustre in build up altogether, maybe due to the fact Microsoft have little intention of any downloaded content being transferable to the Xbox One and they realise this isn't going to be as successful as previous offerings and there is no real notable marquee title. Anyway, with Charlie Murder, we may have a candidate for downloadable game of the year as this is one of the most enjoyable side scrolling beat em ups since the 1990's.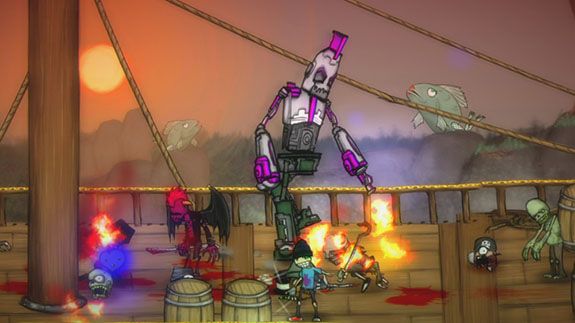 Being a side scroller about a band, I was expecting this to be much more of a Scott Pilgrim rip-off than it actually is. In actual fact, the story is explained more, the combat feels slightly easier and the other advantage Charlie holds over Scott is an RPG-style levelling system, which allows you to choose new moves and add points to your skills. You also find ingredients with which you can create beer to heal up and every single piece of clothing tweaks your skills. Better than just the clothes you can find and buy are the tattoos you can add to your character to further strengthen them. What this does is allow you to further tweak the skills of your initial character (standard beat-em-up models, berserker, mage and so on) to your skill set. I found I liked the standard character model but used the skills and clothing at my disposal to make him more of a tank, with shielding abilities as well as a decent move set. The hub of all of this character modelling is your trusty smart phone (obviously) which also gives you access to your emails and a mock Twitter style social network. These are half advice, half abuse from your opponents. Also included is a handy barcode reader which allows you so scan codes around the game and unlock exclusive gear.

Right, so onto the game itself. You start off the game by dying. Yes, you don't survive a resuscitation attempt on your character and are plunged into hell. Unfortunately, you fight your way out of hell only to find yourself stuck in a hell on earth. This has been brought on my death metal rivals Gore Quaffer who have a legion of the damned at their disposal and it falls to you to save them from taking over the world. The bosses are well varied and tough without being cheap (although I'll get to that shortly). They all have their own skills and you'll need a different strategy to defeat each of them. The same can be said for the minions as well, however the same character models crop up pretty frequently. This is excusable though as the fast pace of the action prevents you from really noticing what you're currently killing. Different enemies drop weapons such as bats,
machetes and even limbs for you to utilise and these are easily picked up and used.

My problem with the game lies within a fairly major gameplay flaw, in my opinion. The autosave system starts off fairly decent, generally marking your progress between the gaps in stages but for some reason, the further you progress, the less the save points appear. It's at this point it goes a bit Dark Souls, as you can push on for, at one point, TWO boss battles without any sort of save point. While I don't have a problem with this per se, it's actually the inconsistency that bothers me. It feels like they stopped programming save points for a while. Either make it tough or not, don't change your mind half way through.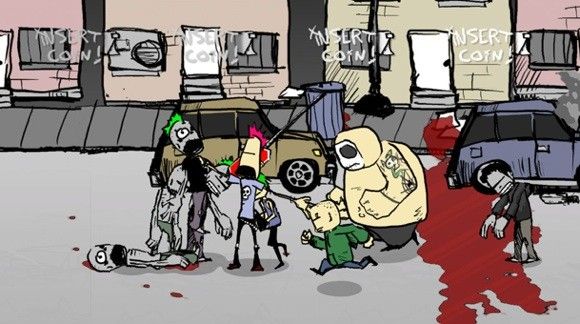 That is my only gripe with an otherwise fun game. Graphically, it does what it has to. The backgrounds are basic but charming and are never the focal point of the action. The major characters are distinctive and well animated (although I think the designers should send a thank you card to the Gorillaz, whether they meant it or not) and any video interludes are set out in pretty much the same way as the main game so you never feel too removed from the action. The soundtrack to the game is particularly cool and really well done. As you'd expect from a game about a punk band, the backing music is fast and furious, but there are interludes that feature a more detailed track that you "play" along with in the manner of Parappa. The action sounds and looks pretty much exactly as it should, with the violence being cartoony enough to not offend and the sounds of you jumping on zombie-skull not so gratuitous that it turns your stomach.

Overall, Charlie Murder is a really top end Arcade title. Despite what I've said about the save system it's hard to find much else to complain about other than it might not have a huge amount of re-playability, although I'm not at the stage to really judge that as I just wanted to quickly beat it and post my review. There's a lot to collect for you perfectionists, there's online compatibility and leaderboards for the competitive amongst you and most importantly, there's addictive, fun and frantic gameplay that will remind you of some of the classic coin-op games that inspired so many game developers, including Ska Studios who can add this to their list of, including The Dishwasher, fantastic downloadable games for the Xbox 360.
Graphics
8.0
Do what they need to, however basic.
Gameplay
7.0
Fun, frantic and cool, despite some flaws.
Sound
8.0
A great soundtrack compliments the game well.
Lasting Appeal
7.0
Hard to say, but a few characters to level up will keep perfectionists busy.
Fun Factor
8.0
Great solo, fantastic with a friend.

Overall

8.0

[ Very Good ]

legend
comments powered by