Disney Infinity (Xbox 360) Review
Posted by Marc Morrison on 09.09.2013

411maniaís Marc Morrison & Adam Larck explore the toys of Disney and the play sets contained within with Disney Infinity. See how the game builds itself inside!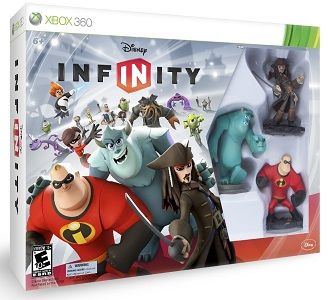 Title: Disney Infinity
Publisher: Disney Interactive Studios
Developer: Avalanche Software
Genre: Action-adventure
Players: 1-4
Rated: E 10+

Special note: This review is written by two different authors, myself and Adam Larck. I looked at the core gameplay elements, and play set aspects, while Adam looked at the co-op and longevity aspects of the game. I also took the more economical (re: broke) approach to this game while he was able to purchase and critique some of the extra content. Iíve only stuck with the basic play set, the starting three characters, and a few extra theme discs Iíve managed to acquire. So my view is that on the basic game itself, and what it does/doesnít bring to the table and his on how long you can stick with it and a brief comparison to Skylanders.

Marc's View

Infinity is split into two different game modes, the Toy Box and the Adventure World stuff. Literally at the start of the game it asks you which mode you want to load into. I admire that it just gets this out of the way at the start, but it creates a sense that the overall game is fragmentary.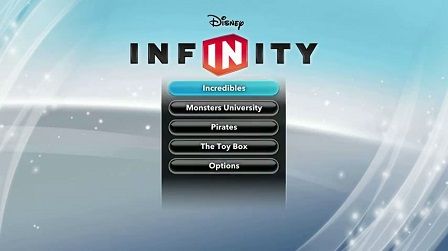 The play set mode is where Iíll start off with; since itís the one I enjoyed the most. When you buy the Infinity starter pack you gain access to three different play sets, The Incredibles, Monsters U, and Pirates of the Caribbean. Each has their pros and cons when it comes to their specific gameplay.

The Increidbles is the most vertically oriented of the three, letting you climb various buildings in the city to collect new Toy Box items (all sets have this) and complete missions. You collect coins to buy new vehicles for the town and also to upgrade (and expand) Ednaís island base. This gives you access to more missions which can unlock special items for your character, like the glide pack or the hover board. The biggest problem with this set piece is just that combat is non-stop and generally not very good. Mr. Incredible has a ground-pound special attack that can be tricky to aim. Robots are constantly falling from the sky which can make traveling around a slog. And some of the bigger robot take at least three combo strings to take out, and donít really show when they are being hit or not. This is the smallest play set, when it comes to overall land, but makes up for it by how much you can climb up and explore.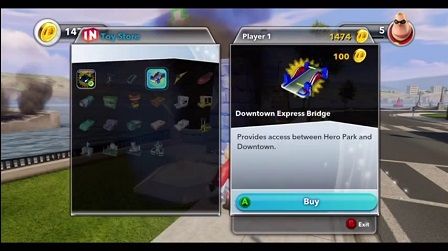 The Pirates of the Caribbean set is almost the complete opposite of the Increidbles one. Pirates presents a large area for you to explore, via your ship, where you can dock at several islands to complete quests. Combat is split between either being on your ship, or when you're docked, having Jack fight man to man. The combat is pretty good though, either on the ship or on foot. While on the boat you can fight like in Assassin Creed 3ís naval battles, rotating the camera to fire, or else taking direct control of a cannon for more accurate shooting. If you are on foot, Jack swings his sword around and shoots his pistol in pretty fast combat, at least compared to the other two (Sully/Mr. Incredible) characters. The coins you get in this mode contribute to upgrading your ship, or Jackís own equipment. The negative on this set piece is that it is almost too big. You really need a map when youíre on the ship telling you the name of each place, or where you can/canít go. Also, the ship movement is a tad sluggish and slow. Itís nowhere near as bad as in AC3, but I always wanted the ship to be moving faster. Also one of the early quests had a weird hiccup where it didnít tell me how to actually accomplish it. I had to ask a friend how to do it.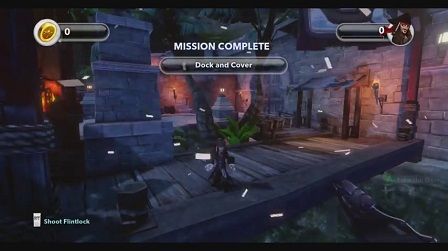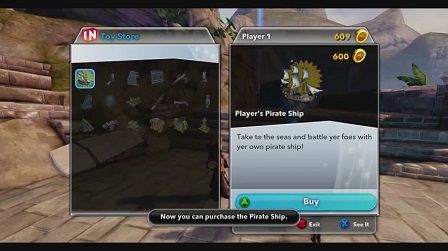 Monsters U is somewhat scrapping the bottom of the barrel, in terms of game mechanics and overall Disney lore/story. The story has you as Sully being at school in a competition with the rival/affluent ďFear TechĒ school next door. They trashed your school and itís up to you to repair the damage, get revenge on them, and to win some vaguely defined (and completely pointless) contest. Think of a mis-mash of Animal House, Revenge of the Nerds, and oddly enough the Bully video game from a few years ago. God, where to begin? First off, like with the Pirates area, this play set is almost too big to actually be able to be navigated well. In Pirates it semi-makes sense, but in this area, it just feels un-needed.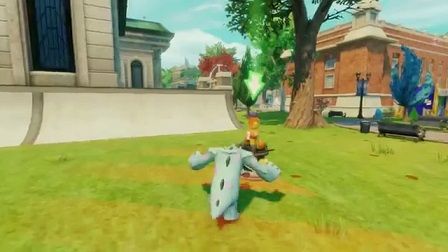 Iíll give you an example: I finished the ďmainĒ part of the story. I won the big competition in a completely underwhelming cut-scene, the game dumped me back to the world, and I got an achievement for finishing the story. I had one last side-mission to do, to go visit M.U. frat row. I went to the area, waited for this door to slowly open, and it unlocked an entirely new (and previously unseen) area, full of additional side-quests, new things to collect, and so on. I then got up from my couch and shut my 360 off.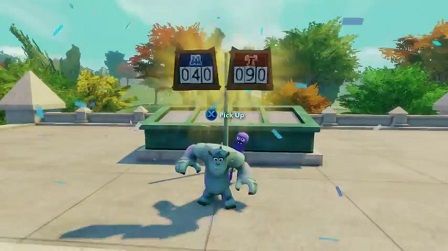 Aside from this, it also manages to combine the worst parts of the Incredibles set as well. Combat really is not good, along with enemies that random appear in your own school area that seemingly are invincible. Also, when they hit you, the currency you get drops from your character. Fret not though, because unlike in the other two play sets, the currency here is largely worthless. You can buy story-quest related items but except for the T.P. launcher, none of them are really fun. Iíd recommend you buy a bike early on. Going between M.U. and Fear Tech is fairly long, and while the bike isnít much faster, it can help break up the monotony. Aside from this, everything else is related to launchers or finishers of pranks. So when you walk by something it usually hits you, stunning you for a few seconds.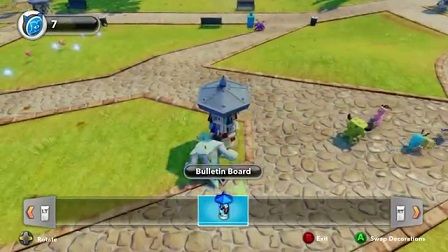 The jumping is also a bit shoddy, more so than the other two sets, combined. I had instances of my character leaping off rails for no good reason, of invisible walls around buildings, or not being able to successfully grind a rail on the bike to save my life. You occasionally will miss jumps in Incredibles or Pirates, but itís almost non-stop in this set.

The Toy Box stuff is conceptually interesting but I didnít personally find it empowering. To the modeís credit, you can create cool, simple games, levels to explore, or just random stuff to mess with. You can also get the Tron Buggy to drive, and as you do Daft Punk plays. Thatís a damn good touch, to be fair. I have three small-ish problems with this mode:

1. Iím by myself, so I donít have anyone else to really play with me for it. I can invite people in, but itís not very fun.

2. Their world/sharing system isnít implemented yet. It will be soon, but at the moment, you canít share levels with your friends. This isnít make or break (yet), but it is a small bummer. I have a lot of people Iím friends with who have the game, and itíd be nice to see what they came up with.

3. A lot of the semi-required tools are locked behind their slot machine system. As you level each character in the game, and do generalized (Toy Mode) challenges, you get spins in a randomized board to pick out a new toy to unlock. I can see why trying to slow the progress down so you canít unlock the Muppets, or Winnie the Pooh , or the Scrooge McDuck Money Bin at the start, since those items arenít required. Other items are though, and they are locked up. Things like checkpoints for racing, new camera angles for the toy box, or some of the other basic elements, shouldnít be blocked off. Actually, Iím wrong: the Scrooge Money Bin should a required thing from the start.

Still, this mode does have a lot of potential, if you can get into it. Most of the options are easy to access, however, I couldnít figure out how to change the actual theme of the levels. When I first got into it, I put on a Little Nemo sky-theme disc. For the life of me, I canít figure out how to remove that effect and go back to the normal sky. I can use another disk to use that sky and it replaces the underwater one, but thatís it.

Adamís View

While Marc focused more on the core game, my part will focus on the multiplayer features, what to expect with the extra stuff available to purchase and a bit of comparison to Skylanders.

First, I want to start with a quick comparison. The inclusion of a jump already helps give Disney Infinity a good leg up over Skylanders. Why that series never had jump to start with is beyond me, but being able to hop from platform to platform or explore that much more of the world is a great idea that rewards the curious and helps younger gamers start learning some of the jumping finesse needed in future titles they play.

Looking at the multiplayer, youíll really only be able to play the Toy Box mode with the base characters. To hop into individual worlds, another character from that same world is needed. Disney knew this, and capitalizes on this by providing a sidekick set (Mike, Mrs. Incredible and Barbosa) or villains set (Davy Jones, Randy and Syndrome) that features the perfect complement of characters to go multiplayer with. Why they didnít just allow any character in any world is beyond me, outside the fact that itís more money for Disney.

However, getting annoyed with the money issue aside, the co-op is handled great, a lot better than what Skylanders does. Instead of being tethered to one screen, the game splits in half, allowing players to go their own ways and only meet if they want to do a quest. Even then, one can keep doing missions while the other just explores and entertains themselves. In the Monsters U world, my wife loved just tossing the monsters around and changing their looks, while I did some missions and found collectibles to unlock more options for her to change monsters.

The co-op Toy Box mode is also enjoyable, letting both players build what they want or letting one design while another runs around and see what is going on. Having two players also helps to give more slot chances to get Toy Box items, which Marc talks about above.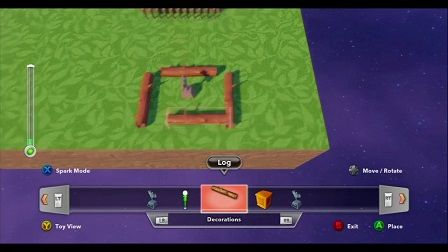 Now, to get into what may break the game for some people, the purchases. Characters cost about $14 individually, although you can find plenty of sales or buy one get one deals out there already. Sure, they look nicer than Skylanders, but thatís still almost $5 more than base figures for that game. Packs of three are also available for $31, which is a bit of a savings, but if you donít want or need those three characters youíre out of luck.

In addition, not all characters coming in three packs. Particularly, a few Cars characters and Incredibles characters can only be bought individually, and Toys Ďr Us is also offering an exclusive crystal version of Lightning McQueen that is sold separately. Like Skylanders, I look for this to happen more in the future.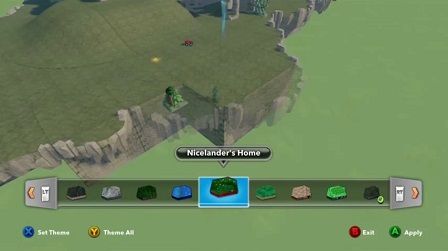 Two play sets the game has also canít be accessed without buying a $36 dollar pack as well: The Lone Ranger and Cars. The sets come with only two characters, but also has the play set piece that has to be used to unlock the level. Why the higher price for this is beyond me, except to keep the money rolling.

While The Lone Ranger set is fun to play, the Cars set sometimes seems a bit lacking. Personally, I couldíve just gone with using a few Cars characters in the Toy Box mode, if I wanted to use them at all.

The biggest difference from Skylanders, and what could be the biggest cash grabber, are the $5 discs. The discs can unlock new items for the Toy Box mode and can also give stat bonuses for characters. However, they are all random. So, you could hit a Stich blaster or Fix-It Felix power-up early on, or spend $50 and never see it. So, itíll be up to people to see how many times they want to try and get a disc, or finally give in and try eBay.

Marcís view again

Graphically, the game is on a simple framework, but it actually looks good. There is some clever stuff going on in some of the sets. The Incredibles set doesnít have fully destructive buildings but they do get damaged which is a nice touch. In the Monsters U set when you get a new important item, the Infinity movie looks great. Some of the Pirates stuff is a tad weird, but thatís because itís based off actual people. The exaggerated look for Monsters/Incredibles looks natural but Pirates is awkward at first. You get used to it though. With the Toy Box stuff the graphics look better. The Tron and Candy Crush level (from Disney) looks great.

Audio is a bit mixture of good and bad parts. The sound effects fit in well, and the music, both as you play and the incidental stuff all is good. The negative aspect is dealing with some of the voice acting. Some of the characters are voiced by their actual voice actors, Craig T. Nelson voices Mr. Incredible, Charlie Day voices Art (Monsters U), and Chris Sarandon sounds like he is reprising his role as Jack Skellington. Those are all good ďgetsĒ as far as Iím concerned. They couldnít get everyone though, and some of the sound-alikes donít sound alike to me. The guy doing Sully at first sounded like John Goodman but that faded as I played. The guy doing Jack Sparrow does a passable job, but you can tell itís not quite there.

Pros


The play sets are a good idea

Toy Box mode lets you be creative

Itís fun to go around the worlds, collecting stuff

John Vignocchi

Cons


Monsters U is kind of busted, and the other sets have small issues

Some of the generalized adventure tasks are very hard

Slot machine unlocks for Toy Box doesnít equate to a lot of fun

The 411

Disney Infinity is an ambitious project from studio. While it has similar ideas as Skylanders, it goes beyond it and tries to evolve the ďToy + Base = GameĒ formula. It has some rough spots initially, but those can be ironed out given enough time. If they can start getting some figures/sets that people are really excited about, then theyíll have a winning franchise on their hands.

Graphics
8.0
Thereís a slightly exaggerated cartoony look, but given the source material, it works. Some of the detail in the buildings is good.
Gameplay
8.0
Itís simple but enjoyable enough. Each play set has some issues but the Toy Box can let you be inventive with the systems.
Sound
7.5
The music and sound effects are fairly solid. Some of the voice acting is good, and some is noticeably not quite right.
Lasting Appeal
9.0
The core play sets can be done in a few hours each. But the Toy Box and the new toys will keep you busy, if youíre invested in them.
Fun Factor
8.5
Itís more fun with friends, but itís nice to explore some of the Disney worlds. Hopefully they can iron out some of the difficulties with it.

Overall

8.2

[ Very Good ]

legend
comments powered by