SPOTLIGHTS
Scribblenauts Unmasked (PC) Review
Posted by Marc Morrison on 10.05.2013

Join 411mania's Marc Morrison, Maxwell, and thousands of DC characters in this Scribblenauts sequel. Does this game manage to break the mold? Find out inside!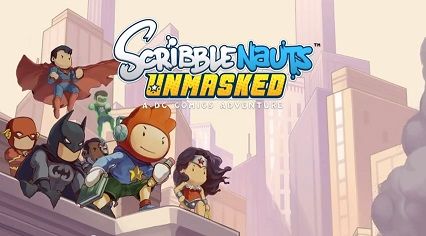 Title: Scribblenauts Unmasked: A DC Comics Adventure
Publisher: Warner Bros.
Developer: 5th Cell
Genre: Puzzle/Platformer
Players: 1 Player
Rating: E for Everyone

Scribblenauts has always been a bit of a weird series to me. While the theory of creativity is endless in the game, the base mechanics (interacting with objects/people, moving around), and bewildering logic of some puzzles, made prior Scribblenauts games kind of a chore to get through. To be fair to this game, I did finish it (fairly quickly, actually), but the problems remain the same. Actually a few new fun problems creep up with the DC characters they introduce.

Scribblenauts DC (what I'm calling it) is founded on the principle of traveling to new DC locales, helping various random people out, or else initiating the story quest for the area to get the Starite (magical star thing). You portray Maxwell as he and his sister Lily are sucked into the DC world due to a combination of his magic journal and her magic globe. There are 11 of these levels for you to tackle, be it Metropolis, Gotham City, Oa, to slightly lesser locations like Joker's Funhouse, or Atlantis. Each area has an initial story (blue) quest you can try to get the Starite, which usually require the hero of that location, Wonder Woman on Themyscira for example, fighting against her rival Vixen, who is partnered up with "Doppelganger". Doppelganger is an evil clone of Maxwell that was re-created and is causing the majority of the havoc in the game. These boss fights usually go in states of 3 or 4, countering the villain, or Doppelganger until they transport out. Most of them are pretty simple but enjoyable to figure out.




The same can't be said for some of the general puzzles in the game world. A lot of them are just nonsensical quests, boiling down to you performing a simple action (throwing a ball, shooting an item), or coming up very basic solutions to very basic problems. One of these generated quests was "I need a getaway vehicle." So I created a car and the quest was done. Or another might say "I need a medical device", so you need to come up with something a doctor would use, and the quest is done. Most of these quests are incredibly simple and fairly basic. A few of them have unique hooks, like changing the color palette or messing with the look of the game but it's not many of them that do this.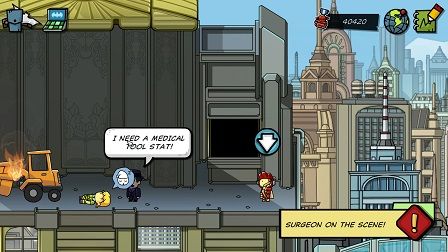 The hub world is broken into three types of levels, which determine your reward. For Gotham, Arkham Joker's Funhouse and Wayne Manor you get basically "Batman Bucks". Under the Superman umbrella is Metropolis, Fortress of Solitude, and Watchtower. Quests completed in these levels are Superman bucks. And finally under the Green Lantern path is Oa, Central City, Themyscira and Atlantis. You get Green Lantern currency for this. So, there are three types of currency for you to buy things with.

The items you can buy are four-fold. You can either buy new levels, aside from Gotham, Oa, and Metropolis, the later levels are gated behind a certain price. You can buy unlockable powered costumes for Maxwell to wear. You can buy new power sets for a created hero. And finally you can buy "Origin Stories" for the big 6 characters (Supes, WW, Batman, GL, Flash and Aquaman) in the game.

Aside from the basic coins you can earn, you can also get double coins from Mister Mxyzptlk by completing his challenge for goals. So he might have random challenge that you can only use female DC heroes for a stage. Or you can't summon weapons for a stage. Some of these are easy to abide by, but some aren't. Conversely, you can also get a currency deduction (for completing goals) if you use the same word twice. So if you said you needed a "Gun", and then another person needed a "Laser Gun", the second object would be a 50% deduction on winnings.

The Origin Stories are actually kind of a highlight. You go through simplified versions of each character's basic introduction and need to provide them with items to get to the next area. So Jor'El will go "What can I put my baby into so he makes it to Earth?" Well, "Rocketship" works pretty well. Again, this stuff isn't overly complicated but I appreciated it, none the less. I only wish there was more than 6 of these to go through.




The powers (for created heroes) is interesting. You can buy special moves like energy beams, batarangs, flight, smoke clouds and etc. Most powers have different colors associated with them, so you can give your hero a red laser attack, with a blue smoke bomb, and a pink plasma attack. This lets you create a hero to your own personal likes, but this process is flawed in two ways I'll list below.

The power suit stuff might be the best, but their implementation is sloppy. There are 57 different outfits to choose from ranging from Superman and a Blue Lantern to Two-Face or Booster Gold. I'm not quite sure why there are three costumes for Azrael though. Different suits net you different powers. Being a Red Lantern lets you fire red beams, create weapons for melee, increase melee damage, your health/speed, and let you fly. Meanwhile, wearing something like the Harley Quinn costume lets you use a mallet, a gun, and resist some poisons. Every suit has different innate abilities that correspond decently well with the base character.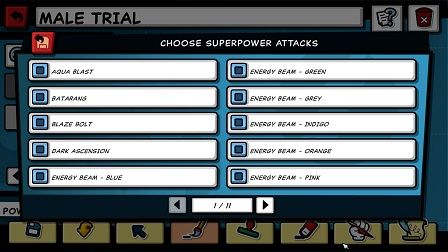 Problems arise though with some of the more powerful/useful suits. Say you wish to be Superman, you gain more strength, health, flying ability, laser beams and a freeze breath. Some of these abilities are innate and never are off (like flying). Others though are activated in a weird power cycle. It usually goes "laser eyes, freeze breath, melee attack", if you just keep pressing on the attack button. There's no way to keep firing your lasers or freeze breath for an extended period of time. Nor is there any way to actually dictate which power you want to use. Superman isn't the only one with this problem, Dr. Fate, any of the Lantern Corp, Starro, etc. Even if a character has only two attacks, the game gets confused on what attack it should be using. There is just no way for the player to take control in this fashion.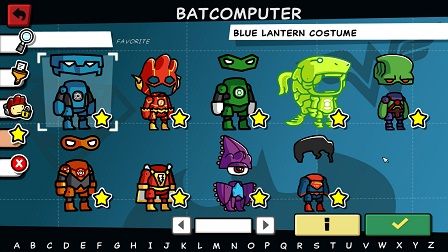 This issue of "no control" further compounds itself into other areas in the game. For as much theoretical potential there is in the character creator, it is the biggest pain to actually use effectively at all. It is utterly baffling as to how you can change your character's clothing. There is a "stamp" option for outfits, but it is out of scale. Everything about this mode is counter-intuitive when it comes to actually making a character.

Even when playing the game, quests have a faulty logic a good chunk of the time. Flash's quest involved me and Flash against Doppelganger and the Reverse Flash. Doppelganger puts tar on the road to ensnare Flash so that they could win. The first time he did this, I jumped out of the way, which made the game kind of freak out. The second time I played it normal, but it took me about 10 minutes to figure out how to escape. I tried "peanut oil" on the tar, and it did nothing. I tried freezing it with a gun, setting it on fire, making it weightless or non-stick and nothing. Finally I just clicked on the Flash himself and typed in "Fast", and he got out of it. If you don't do some quests exactly how the game wants you to, then you won't be able to finish them. And since the game is predicated upon coming up with creative solutions, this puts a hamper in what the goal of the game is.

I also encountered a fairly nasty startup bug where in, if I played the game once, it was fine. But if I played twice, exited out, and tried to boot up a 3rd time, the game would refuse to load. It would just pop up with a "Crash Reporter" program saying a crash dump file was created for me to look at. The way to fix this is just to exit out of Steam and reload it. This will work for 2 or 3 more times (depending on luck), but eventually, the Reporter program will come back.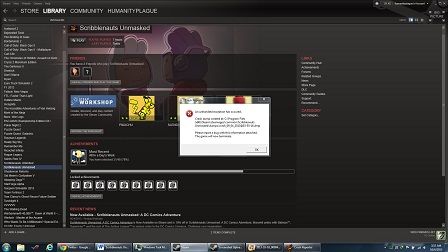 Graphically the game is simple but has a clean look to it that makes it stand out. It's not going to win any technical awards but the artistic license is there and used to full effect. There are around 15 (or more) versions of Superman and most of them look different from one another while still keeping the overall look consistent. Comic book-style scenes help introduce/conclude the story and look great though and more should be in the game.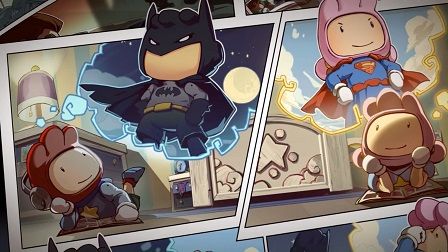 Audio is perfectly fine for the game, with not a lot to speak on. There is some light voice acting but I think only one character actually speaks words (other characters just grunt and what not). The music is a bit simple at times but generally gets across the idea of a DC world. Sound effects are fine also but I think they pitched down the effect for when you collect a Starite which sounds a bit weird.

Replayability is kind of a weird factor in the game. The side quests are seemingly infinite and can keep you playing forever, if you wanted. However most of them are brain-dead easy and not fun. I got through the main story and the Origin Stories in about 5 hours or so, getting stuck occasionally. There is Steam Workshop support but it's only relegated to characters or items, and not quests. Still, if this game does grab you, you can have a lot of fun with it for a long time.

Pros

Lot of DC characters to summon

Some good Origin/Story missions

You can be creative with some solutions

Detective Chimp is in the game!

Cons

Side missions are really simple

Powers don't work right at all

Some story missions are exceeding difficult

Liana K isn't in the game

The 411
I had fun with Scribblenauts Unmasked but the game is unbalanced a lot of the time. It swings from being completely open-ended to having only one item to solve puzzles too randomly. While the idea is great, the execution is a bit lacking in spots. It's worth checking out if you're a DC fan or a Scribblenauts fan but a small warning to those who aren't, you might be lost for a while.

Graphics
8.0
The game has a deceptively crude look but that just makes it clean. A good art style and some fantastic looking story scenes work well.
Gameplay
6.0
There is too much design-wise that feels half-cooked or just not thought of. Still, when you beat a puzzle it feels good that you did it.
Sound
7.0
The music is unspectacular but fits into the game world well. Not a lot of voice acting at all and some sound effects are off.
Lasting Appeal
7.0
Steam Workshop support is nice but a bit limited. The side quests are endless but just aren't that interesting. Game can be beaten quickly if so inclined.
Fun Factor
6.5
The logic of some puzzles drags this down, as well as most of the combat. It can be good to come up with a creative solution, though.

Overall

6.9

[ Average ]

legend
comments powered by