The Stanley Parable (PC) Review
Posted by Marc Morrison on 10.19.2013

411mania's Marc Morrison explores an empty office in this adventure game. See what he, and more importantly the Narrator, thinks inside!




Title: The Stanley Parable
Publisher: Galactic Cafe
Developer: Galactic Cafe
Genre: Adventure Game
Players: 1 Player

This is a story about a man named Marc who had to review a game called The Stanley Parable.

Marc worked for a website called 411mania.

Marc's job was simple: he sat at his desk in his room and he reviewed PC games.

Orders came to him through his friend and co-editor Adam Larck, asking him to look at various PC games and give reviews on them.

This is what Marc did every day of every month of every year, as long as there was a PC game to look at.

Marc relished every game that came in, as it added to his Steam library quite nicely.

And Marc was happy.

And then one day, something very peculiar happened.

Something that would not really change Marc;

But something he would never quite forget.

He had been talking with Adam for a few when Adam asked him to review The Stanley Parable.

Having nothing else on his plate, Marc agreed to it. After all, a new Steam game is a new Steam game.

Something was very clearly peculiar. Perplexed, confused, Marc found himself unable to think of what to say about the game.

But as he came to his wits and thought about it, he booted up Microsoft Word and began to write this paraphrased narration from the game.

I'll try to make this short, seeing as The Stanley Parable is almost barely recognizable as a game. It's more of an interactive story in the "Choose your own adventure" genre. Honestly, it would fit into an art museum just fine with a sign over the computer saying "Experience this how you want." While Stanley does share "gameplay" elements, it's not really a game in any traditional sense.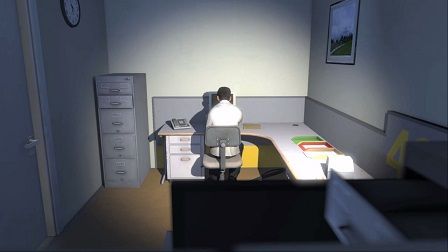 You play as the titular Stanley, who is an office drone with the employee/desk number of 427. One day he shows up to work to find it is completely deserted. No one else is there and he has no orders to do on his computer. Feeling shocked and alone, Stanley decides to explore the office and see if anyone is there or what is going on.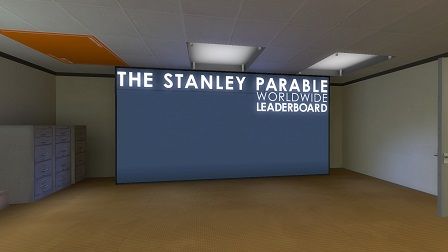 That, in essence, is the basic story/foundation for the game. The other big component is a slightly omniscient narrator (Kevan Brighting) who acts as a sort of Jiminy Cricket mixed in with GlaDOS. Actually, the narrator really reminded me of Jim Dale's narration (both in context and in being narrated by British fellows) in the tv show "Pushing Daises." The narrator explains what is going on, and guides you into making choices.

Or not.

If you desire, you can just ignore the narrator entirely and forge your own path. It's all kind of up to you, really. Stanley operates on what is essentially an interpretation of parallel dimensions known as "Many-Worlds Interpretation". For every choice you make in the game, it creates a split. Those splits beget other splits, which beget other splits and so on. You can get a general idea from this diagram: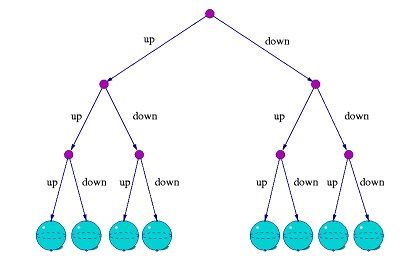 As you play through the game the first time, you'll make a series of choices. When you play through a second time, you can chose to alter one of those choices you made, to see if it creates a new ending (or series of choices). Playing through a third time, can bring about more choices to be found, or changed, which can lead to a 4th playthrough and so on. I'm being intentionally vague over what I did, choices I made/endings I got, because that is the point. If I told you what I did, it would ruin the experience for other players and defeat the purpose of trying it at all.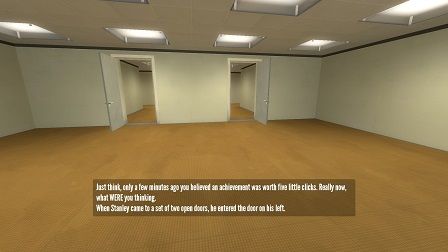 On a philosophical note, it's interesting to compare this game with BioShock Infinite. Both games attempt to cover the same ground when it comes to quantum mechanics. The difference is Stanley actually makes good on what it sets out to do. BioShock is a completely linear experience through and through, with nothing the player doing having much of any consequence, outside of scripted story beats. The ending in Infinite is given as a great reveal of possibilities and choice but the game itself offers you NONE of that as you actually play it. Don't get me wrong, telling a single narrative without any choices in a game is fine, but to have the main conceit of the story to be about choice and having none of it (or none of it with gameplay relevance) in the game, is a failing on the game.




On the flip side, Stanley does care about choice. It is literally the only game mechanic in the game, so it actually means something. As you make a choice, the way back is closed so you can't renege on it, without restarting the game from scratch. This leads to your choices actually having consequences for the story and can determine which of the ending(s) you'll be able to see.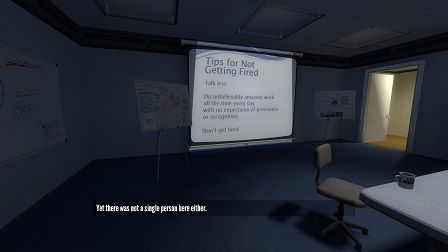 Both graphically, and aurally the game is perfectly serviceable. The game looks like it's running on the current level tech of the Source Engine. It's not as flashy as Portal 2's effects, but the environments are nicely detailed, and there is some good lighting in the game. The big draw with the sound is the narrator, obviously, and he does a fine enough job in the role. There is some good environmental music as well, but the sound effect for things you can interact with, could be a bit louder.

Pros

Provides actual choice in the game

Some endings are pretty funny

The narrator is handled well

Cons

You can see all endings in under 3 hours, except for one (which takes 4 to complete)

Can be hard to keep track of your choices

It's not a game as such, but an art piece

The 411
The Stanley Parable exists not as a technical or gameplay tour de force, but one about choice and the conceptual nature of story in games. It's a short experience but one that is almost unheard of in today's action-focused video game climate. If you like games that make you think or occasionally laugh, then The Stanley Parable is for you.

Graphics
8.0
It's a Source Engine game which means good levels and crisp, clean graphics. Nothing mind blowing, but solid none the less.
Gameplay
9.0
Offering meaningful choices for a game, is few and far between. It's a short but rewarding experience.
Sound
7.0
The narrator is what makes any of the sound work. The music is fine, but the game is almost bereft of sound effects
Lasting Appeal
3.5
If you really get into the minutia of the game, you could maybe spend 4 hours, total? Some of the achievements are hilarious though.
Fun Factor
7.0
The actual "game" play is simple, but I enjoyed it for the story and level of relative freedom you have in the game.

Overall

7.0

[ Good ]

legend
comments powered by