Injustice: Gods Among Us Ultimate Edition (PC) Review
Posted by Marc Morrison on 11.23.2013

411mania's Marc Morrison looks at the PC port of this well-liked fighting game. See what he thinks of the transition inside!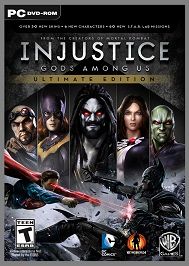 Game: Injustice: Gods Among Us
Genre: Fighting
Players: 1-2
Developer: NetherRealm Studios, High Voltage Software
Publisher: Warner Bros. Interactive Entertainment
Rated: Teen


Yes folks, another Injustice review here at 411mania! With this one, we're up to four, with the first one, the second one and the third one (the third one is mine) here, which you can peruse at your discretion.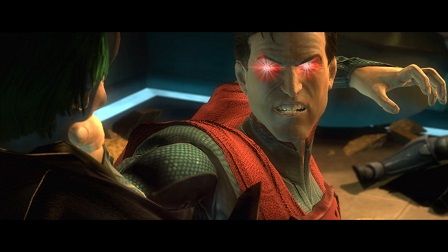 With that said, I'm going to focus more on the PC side of this release and how it actually works, from a gameplay and from a network perspective.

...Which is to say it's "kind of okay".

Injustice, as a whole, is a perfectly decent fighting game. The roster is largely varied mix of traditional heroes and villians. The fighting system is varied with special moves, super moves, "The Clash", level transition attacks, and a natural-feeling combo system.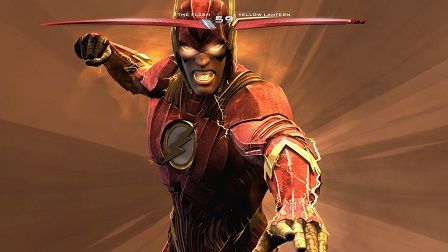 However, the PC port has a few fundamental problems that should be addressed:

The biggest problem with the game, and one that persists as I write this, is the highly variable/inconsistent framerate. Don't get me wrong, when the game is running at normal speed, it looks great, even better than its console brethren. The big qualifier is "when" though, as there are some instances of the game dropping framerate and speed dramatically. The game normally runs at between 55 and 60 FPS. However certain things would trigger slowdown, dropping that number to between 25 and 30 FPS. Initially the slowdown things would be doing a super move, doing "The Clash" move, or doing a level transition move. However, that did even itself out, only doing it on occasion. The game would also massively slow-down right before fights, during conversational interludes, or during mini-games. The video would lag behind the audio talking by a good 4 or 5 seconds and would only catch up during the actual fighting. This slowing down issue did make certain mini-games easier (the Joker's one for sure), but it was too random. If slowdown occurred at every spot in the game, they could address it. But it seems to happen at different points, under different conditions, which can be a real killer in such a timing-focused fighting game.




On this note also, the game takes incredibly long to actually load up. It seems to cache itself into memory pretty hard, at least from my own experience. The first load can take anywhere up from 45 seconds to 4 minutes (I timed it), but if you quit out and reload, it'll take 20 seconds max. The specs on my machine exceed the "recommended" specs as well, so I'm not sure what is going on with it.

The networking/online battles is a semi-mess at the moment, but should need addressing. To be fair to the game's matchmaking works better than Mortal Kombat's did. It can take a while to get into a fight, but as you fight, it's not as herky-jerky as MK's was. However, it does run noticeably slower than the single player. I clocked it running at around 45 FPS, on average which…isn't right. I'm not sure if it's the network code or how the game handles multiplayer, but it shouldn't act this way.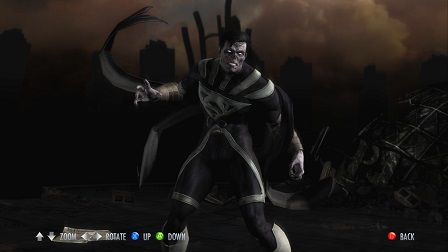 Injustice is a perfect port of the console versions for good and for bad though. The DLC characters (Zatanna, Batgirl, Zod, Martian Manhunter, Lobo, and Scorpion) are all present. Scorpion is worth a specific mention because of his transition. They broke his spear move! When he does the spear now, he'll yank the person to them and give them a quick attack automatically. If you do a powered-up spear, then he'll yank the opponent to him and he'll be stunned for a bit (like normal). His teleport punch might be pretty game-breaking though (in an exploitable, fun way), so that's good. All the DLC costumes and such come with this package as well, unlocked, which is good.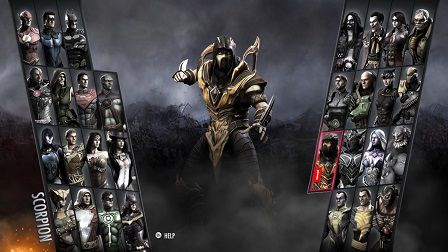 For some reason, this game sees fit to include the "WBID" (Warner Bros ID) system for…no reason at all. The WBID system was put into place to tie into the mobile game, and so you could unlock costumes and such. Well, the costumes are already unlocked, so it's a bit moot. The more baffling thing is, that like the console versions, it barely works at all. The game has been out for a week and the service still doesn't work for me.

Pros

Same satisfying combat as the console versions

DLC characters adds to an already beefy roster and there is good variety between everyone

When it is running right, the game looks superb

Cons

Highly inconsistent and variable framerate. Multiplayer is slower than normal game speed

WBID is a useless & broken feature

The main storyline still makes zero sense. So it's exactly the console one then

The 411
Injustice is still a perfectly fine game, if you can look past the issues of it. The combat is fun, the characters are diverse and there is a good amount of content in this expanded package. The problems come up with the transition to the PC side, the WBID system, the networking being mediocre and the speed of the game varying wildly with no discernable reason. If your machine has no problem with the game, then you'll enjoy it, but if you run into these issues, it will be a frustrating experience.

Graphics
7.0
The game can look phenomenal….when the speed is correct. When it's not, it can look pretty gnarly. The new costumes are well designed.
Gameplay
8.5
As before, most of the gameplay holds up nicely. The new characters have some interesting moves, the super moves are effective, but the Clash is still awkward.
Sound
9.0
The voice acting is still the highlight here with Kevin Conroy, Grey DeLisle & Lacey Chabert doing some good work. Music and sound effects set a good tone.
Lasting Appeal
7.0
If the online issues are fixed, this would be higher. You may not play much online due to them. Mission mode, and other fighting modes can keep you busy, though.
Fun Factor
7.5
If not for the speed issues, this game would be a lot of fun. They can detract from the experience though in unpleasant ways. Scorpion is a blast to play as.

Overall

7.8

[ Good ]

legend
comments powered by