Guacamelee! Super Turbo Championship Edition (PS4) Review
Posted by Liana Kerzner on 07.15.2014

Liana Kerzner grapples with this upgraded indie luchador hit, and it packs a bigger punch!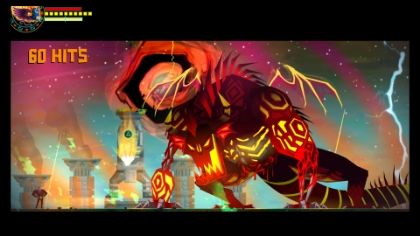 Title: Guacamelee! Super Turbo Championship Edition
Publisher: Drinkbox Studios
Developer: Drinkbox Studios
Genre: Side Scroller Beat-Em-Up
Players: 1-2 (no online co-op)
Rated: E 10+

Remember when games were hard, but in an awesome way? Like those nearly impossible Mario levels? Or the Mega Man zone you could never quite pass? Guacamelee! Super Turbo Championship Edition continues the homage to these games that the original game began. And it does so in exciting, challenging, hilarious fashion.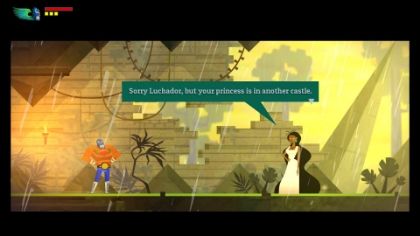 Guacamelee tells the story of Juan, a lowly Agave farmer with a crush on El Presidente's daughter and dreams of becoming a Luchador. Dios de los Muertos is approaching, and in good Mexican action movie fashion, El Presidente's daughter is kidnapped by the evil undead Calaca. Juan finally dons a Luchador mask, meets a female lucha named Tostada, and we have our excuse to beat the snot out of tons of skeletons while shifting between the land of the living and the land of the dead. Many retro gaming homages ensue. But if you've played the original, you know that.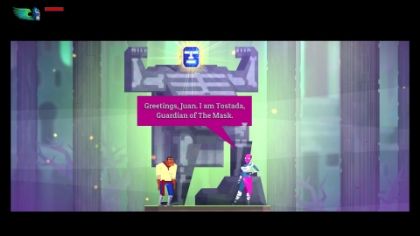 Guacamelee Super Turbo Championship Edition includes all previous Guacamelee! DLC, as well as some add-ons that don't just give the player more. They actually enhance the original experience, adding more details, humor, and challenge to the story. But don't freak out about the "challenge" bit: you won't encounter anything in the new content that's as difficult as the Tule Tree. Ohhhhh the Tule Tree is hard.




Instead, Drinkbox Studios reroutes the game's campaign to include new elite enemies that offer challenge without being too frustrating. When I reviewed the original Guacamelee, I had concerns that the game was actually too hard for most players. The new version seems to have eased off on the difficulty on the campaign portions. This is, in part, due to the DLC costumes that grant you different abilities. You now earn these costumes via a dual currency system that distributes a limited number of silver coins alongside the pesos from the original version. I saved up my silver coins and bought Diablo's suit as soon as I could. It made the combat portions a lot easier, and also looks spiffy.




The new stuff includes a great new boss, the Trio of Death. Drinkbox adds the new character to the first showdown between Juan and Calaca in deliberately brazen style. The charm of Guacamelee! is tied to its self-awareness.




The look of the new stuff is appropriately turbo-charged, but it doesn't seem completely out of place. The fact that the Trio of Death is more complicated-looking than past Skeleton henchmen is incorporated cleverly into the plot. The new music, similarly, is a bit different, but not glaringly out of place. I would have loved an increased variety of music in the overall game, but again, budgets are an issue with indie games, and the retro homage style of Guacamelee! buys the game a pass in that regard.

A small but cool detail on the PS4 version is that the LED panel on the controller flashes in a festive, multicolored light show in time with the music when you're awarded a new ability. A much more important addition is INTENSO mode, officially spelled in all caps, but I'm not going to do that again, because people hate it. Intenso mode is like God of War's rage meter: combos build up a meter, and when it gets past a certain point, you can activate it to get out of tight spots or cause greater damage just for fun. Intenso is great in the challenge mode areas, as well as the trickier campaign parts. It appears as a third bar underneath your health and stamina, and there are two very nice elements to it: you don't need the bar completely full to activate it, and you can turn it off if you only want to use a portion of your accumulated Intenso. This is a continuation of the attention to detail that made the original Guacamelee! so great.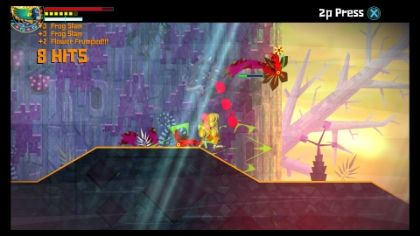 Of course, nothing makes the toughest platforming easier. I like taking on the optional stuff that is punishingly hard, so when I'm done a session of Guacamelee! Super Turbo Championship Edition, my hands ache, my neck is sore, I'm jittery as all crap, and I am happy. But the revised difficulty on normal mode, due to various factors, is much better for those who just want a laugh. The Jaguar Javier boss fight, in particular, seems notably easier than the original game. I had a ton of trouble with him when I played the original Guacamelee! but I blew through that fight this time around. Either they purposely toned down the difficulty on that fight, or something about the new mechanics made it easier. Either way, it smooths out what used to be an unnatural spike in difficulty.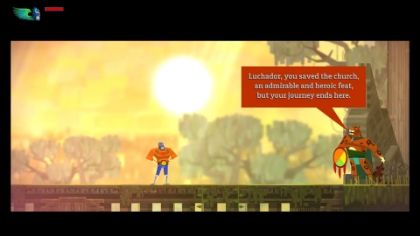 Guacamelee is still tough. It's just no longer too tough. The flow of the game is so amazing that the minor gameplay flaws are more glaring than they probably should be. It surprised me that the controls are still pretty loose when you turn into a chicken. To an extent, the chaos is deliberate, but it led to some frustrating moments for no good reason, especially when jumping in the tight spaces the chicken is specifically designed to maneuver. The other somewhat disappointing thing is that with all the additions, there's still no online co-op. There are numerous possible budgetary and creative reasons for this, but, online co-op is something of an assumption these days, so I feel the need to say that it's not present here. It's living room co-op or nothing, which is, in fairness, just as legitimate a choice as the more common online-only co-op scenario.

Of course, these two gameplay issues are decidedly minor in the face of the other refinements in an already great game. Overall, Guacamelee! Super Turbo Championship Edition outdoes the original, and that's a tall feat. Because of this, I wholeheartedly recommend the new version for new players and those upgrading from the PS3 to the PS4. For fifteen bucks, you can't go wrong... unless you don't like a challenge.

(Guacamelee! Super Turbo Championship Edition is also available on Xbox One, Xbox 360, and Wii-U)

Pros

Intenso combat mode adds an interesting new layer of gameplay

Comedy and great character designs continue with the new content

Campaign difficulty on normal mode is less punishing than the original

Cons

Pollo Power chicken mode controls are still somewhat loose

Lack of online co-op in an enhanced edition is disappointing

Um... there is really nothing else wrong with this game!


The 411
Guacamelee! Super Turbo Championship Edition is the new definitive version of the game. For fifteen bucks, you can't get better value in a game, both in quality and in the amount of content. The characters and designs are memorable, and the new pop culture references maintain the humor of the original. If this is your first opportunity to play, don't hesitate. If you're looking to revisit the game, the extra laughs might still be worth the money, especially if you didn't buy the DLC.
Graphics
10.0
The new stuff works with the old stuff, which is harder than it might sound. The new character designs are very clever.
Gameplay
9.0
Seamless integration of new content. Gloriously smooth controls, other than the chicken stuff.
Sound
9.0
Seamlessly integrated, fresh, and extremely necessary new music.
Lasting Appeal
9.0
Guacamelee! is intended to be played through twice, so there's a lot of value for the money. Also, numerous optional side quests and challenges stretch the play time significantly.
Fun Factor
10.0
The writing, characters, gameplay, and overall concept are calibrated for maximum fun.

Overall

9.4

[ Amazing ]

legend
comments powered by