SPOTLIGHTS
Nether Regions 03.29.12: The Heartbreak Kid (1972)
Posted by Chad Webb on 03.29.2012

A look at Elaine May's wonderful satire from the early 70's with pre-Beethoven Charles Grodin…










































Nether Regions started as a segment of the Big Screen Bulletin in the movie-zone that meant to showcase films that have been discontinued on DVD, are out of print in the United States, are only available in certain regions outside the United States, or are generally hard to find. Now it is a column all its own! You might ask, "Why should I care about a film I have no access to?" My goal is to keep these films relevant because some of them genuinely deserve to be recognized. Every time I review a new film I will have a list of those I covered below so you can see if they have been announced for DVD release, or are still out of print.








MISSING:




THE HEARTBREAK KID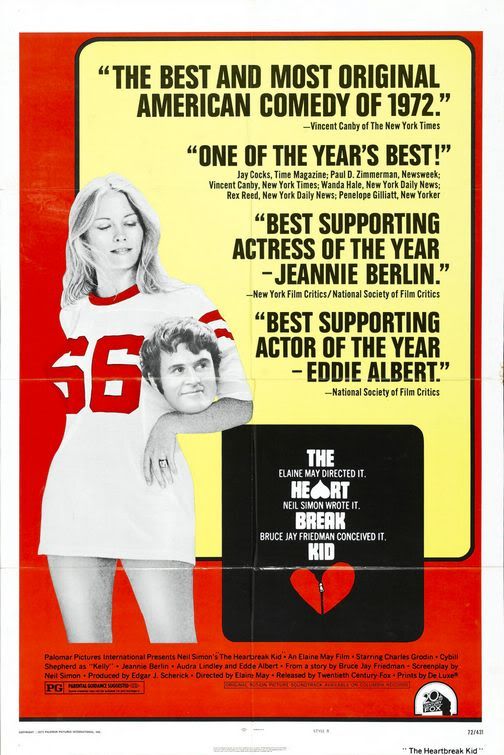 Starring: Charles Grodin, Jeannie Berlin, and Cybil Shepherd
Directed By: Elaine May
Written By: Neil Simon
Original Release Date: December 17, 1972
Missing Since: 2005-2006
Existing Formats: VHS and DVD
Netflix Status: Not Available/Can Be Saved in Queue
Availability: Very Rare






When the Farrelly brothers remade The Heartbreak Kid in 2007, they almost completely missed the mark on what made then original such a success, not to mention so hilarious. On the surface, and at first glance, it appears that the Farrelly's did an adequate job in tackling that 1972 comedy. It does not take long to realize that the Ben Stiller vehicle lacks the heart and the satirical edge necessary to fully respect the premise. Elaine May's approach to Neil Simon's The Heartbreak Kid proves that subtlety and feeling go a long way. It remains a classic to this day.

I saw the remake before I had the opportunity to watch the original. I knew that the original existed, but finding a copy was difficult. Experiencing the first vision of a story on film after you have already endured the recycling is interesting to say the least. I found myself expecting, and in some cases looking, for the same flaws of the 2007 venture. As the movie progressed, I was laughing more and more, and realized that I wasn't searching for imperfections any longer. I observed that beneath all the jokes and gags, The Heartbreak Kid is actually a very intelligent piece of cinema.

This tale of tragedy begins with Leonard Cantrow (Charles Grodin), a man who works in sporting goods and is trying to have sex with his girlfriend Lila Kolodny (Jeannie Berlin). She is saving herself for marriage, so what does Lenny do? He marries her, and gleefully anticipates the wedding night. Lila's parents are more than willing to give her away. It is a happy day, but then reality hits during the car ride to the honeymoon destination. Lenny and Lila are heading to Miami Beach for sun and relaxation. At first, the energy level is high, with both singing and excited. Lenny is excited about rounding the bases, while Lila is thinking about their future.

On the way to Miami, she talks about looking forward to the next 40 or 50 years, and to a guy who rushed into the marriage, this thought it scary. Lila spills egg salad on her face, sings the same songs over and over, and demands constant updates on how pleasurable the sex is. Once they arrive at Miami Beach, both are ready to soak in the heat rays. Lila refuses lotion, and pays the price with nasty sunburn all over her body. This incapacitates her for a couple days. In the meantime, Lenny has been swept off his feet by a beautiful blonde bombshell named Kelly (Cybil Shepherd). She greets him with the sun beating down on her back, and she quickly scurries into the ocean with the waves bouncing around her. To Lenny, this is a life changing moment. His solution is to divorce Lila in favor of Kelly, but all does not go according to plan.

It might not seem all that hard, but the task of being mean to someone and transforming that into a funny situation is not easy. Many filmmakers screw this up, and that is what Director Elaine May was confronted with for The Heartbreak Kid. The screenwriter, in this case Neil Simon, along with Elaine May, must walk fine lines with the characters. They cannot be too cruel or too nice. Leaning too far into one territory would cause the entire objective to collapse. This is the theme that lies at the center of The Heartbreak Kid. It is a story about how we treat one another, packaged in a satire about the institute of marriage.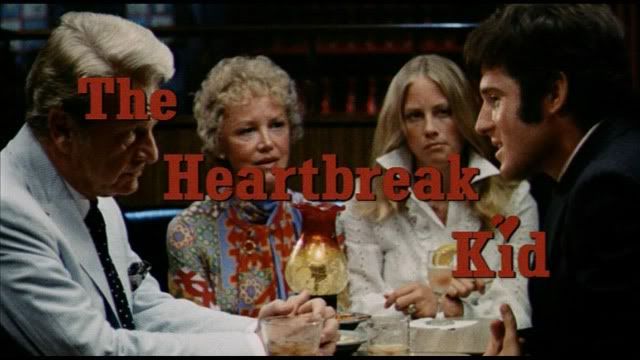 Lenny and Kelly with
Mr & Mrs. Corcoran

The role of Lenny requires the character to be fairly harsh towards Lila. It is an escalation from Lenny thinking he made a mistake to Lenny taking steps to correcting that mistake. Charles Grodin captures these shifts in attitude perfectly. Initially just the reaction on his face says it all as the car trip to Miami does not seem so fun after the newlywed excitement wears off. After the expressions of annoyance fade, Lenny's temper is tested as Lila constantly interrupts sex with questions. Once Kelly enters the fray, Lenny is determined to drop Lila and embrace Kelly. The fact that Grodin portrays Lenny as not a total jerk makes the film effective. He has made some bad choices, but there are traces of desperation in Lenny that make it harder to dislike him.

Playing Lila meant taking on the most risk. Elaine May's daughter, Jeannie Berlin understands that she must evoke the irritating qualities of a woman (that a man would notice) without going overboard or exaggerating heavily. What makes Berlin's performance so remarkable is how Lila is exposed in a different light as Lenny's quest goes deeper and deeper. Lila represents a character that is ordinary, flawed, and most importantly…human. Sure, she smears egg salad on her face, but what fun would it be living with someone that possessed no quirks or faults? Lenny, like many males, is searching for that perfect "10" of a woman, and doesn't comprehend that Kelly's flaws will arise soon enough.

It goes without saying that some men get married, and are miserable with their partner until they die. Divorcing is a big step, and doing so would be a painful hassle, so they stick with it. Kelly Corcoran needed to be the type of girl that could push a man like Lenny over the edge from not just wanting a divorce, but moving forward to obtaining one for real. In only her second role as an actress, Cybil Shepherd followed acclaim from The Last Picture Show with The Heartbreak Kid. It is certainly believable that a gorgeous college student like Kelly could drive a man bananas. Her looks have enabled her to tease and tempt men at her will. She has her father wrapped around her finger, and compared to him Lenny is an easy catch. Guys are so mesmerized by her beauty that they fail to see the forest for the trees.

Kelly's father, Mr. Corcoran, is almost definitely an early inspiration for Robert De Niro's Jack Byrnes in Meet the Parents. He is a father who has never been faced with legitimate competition for his daughter. He wants nothing to do with Lenny from the moment he meets him. He sees him as a distraction. When faced with the possibility that Lenny may not go away, he says "There isn't a damn thing I like about you." Eddie Albert earned an Oscar nomination for his contribution here, and who could blame the Academy? The look of sheer disdain on his kisser is priceless, and it is during those scenes where Mr. Corcoran utters no dialogue that makes Albert's turn so hysterical.

The Heartbreak Kid was Elaine May's sophomore effort as a filmmaker. She directed a grand total of four films, and this might not be the first time you see her on this segment. The movie chronicles a disastrous marriage. How fitting that a marvelous cinematic "marriage" occurs between May and screenwriter Neil Simon (The Odd Couple, The Goodbye Girl). Simon's script is a brilliant example of dark satire that is restrained to the point where the director can mold it appropriately. A female at the helm was a wise and wonderful choice to highlight a story from a man's perspective. She and Simon grasp how the characters can maneuver and evolve in this brand of comedy.

The Heartbreak Kid is not a masterpiece. The excuses Lenny unloads on Lila when she is recuperating in the hotel room are so ridiculous that even the slightest investigating from Lila would reveal the truth. Regardless, watching Lenny rush out of the room, dressing and brushing his teeth simultaneously, makes the implausibility of the explanation tolerable. The fashions and music (such as Cy Coleman and Burt Bacharach) are a bit dated, but still contain charm. It is criminal that a film nominated for 2 Oscars, 3 Golden Globes, and one that appeared at #91 on AFI's 100 Years…100 Laughs list is not on DVD.

The opportunity for a double dip upon the DVD release of the remake was ready and waiting with the remake, but here we are, and a comedy classic has been discontinued on DVD, and is extremely hard to find. Of course, you can watch the movie in its entirety on Google video, and that is better than nothing, but the picture quality is not respectable, and observing Grodin's subtle reactions is a significant aspect of what makes his character so funny to watch. You can unearth out of print copies of this on Amazon used, and probably on auction sites from $60 - $300. The VHS goes up to $35.

Final Rating = 9.0/10.0



--Out of Print--
The Taking of Pelham 123 (1998-TV)
The Stepfather 3
Latin Lovers
State Fair (1933)
Wings
Sleuth (1972)
Johnny Guitar
Assembly
High Noon Part II: The Return of Will Kane
Ishtar
The Prehysteria! Trilogy
Only Yesterday
Ocean Waves
The Little Norse Prince
Breaking the Waves
Cruel Story of Youth
Two Rode Together
The Portrait of a Lady
Love with the Proper Stranger
Betrayal
Willard (1971)
Ben
The Wizard of Speed and Time
Return from the River Kwai
Clarence
It Happened One Christmas
Napoleon (1927)
A Brighter Summer Day
Little Darlings
Karen Carpenter Double Feature
The Crimson Pirate
Roman Polanski's Pirates
The Mighty Thor: 1966 Cartoons
Hulk: The 1966 Cartoons
Mr. Boogedy Double Feature
Captain America (1990)
World on a Wire
Stanley Kubrick's Boxes
Shanks
7 Women
Last Summer
We Sold Our Souls for Rock 'N' Roll
Saxon – Heavy Metal Thunder: The Movie
Christopher Columbus: The Discovery
1492: Conquest of Paradise
The Decline of Western Civilization (1981)
The Decline of Western Civilization Part II: The Metal Years
The Decline of Western Civilization Part III
Execution of Justice
The Gambler
Death of a Salesman (1951)
Italianamerican & American Boy
Greed

--Available on Netflix, Instant Watch (But Not to Purchase)--
The Heartbreak Kid
Cinemania
Richard Burton's Hamlet
Orson Welles' Othello
The Keep
The Swimmer
Only the Lonely
North
The Cook The Thief His Wife & Her Lover
SubUrbia

--Available through Amazon Video on Demand Only--
Barfly
Seconds
King Solomon's Mines (1937)

--Now Available on DVD--
The African Queen
A Return to Salem's Lot - Available Through Warner Archives
Phantasm II
Red Cliff Part 1 and Part 2 - All Versions Available
The Stepfather
The Stepfather 2
Homicide
America, America
Cavalcade - Available in the 20th Century Fox 75th Anniversary box set
Ensign Pulver - Available Through Warner Archives
Children of the Corn 2: The Final Harvest
The Unholy Three - Available Through Warner Archives
The Magnificent Ambersons - Available with Citizen Kane Blu-Ray set
Salem's Lot
1-900
I'm a Cyborg, But That's Ok
Captain America - The 1979 Movies

--Other Articles to Read--
The Artist: Analyzing Its Popularity

When Going to the Movie Theater Became Torture

The Best and Worst Movie Posters of 2011

Top 50 Movies of the Decade (2000-2009)

The Best and Worst of 2011

Check out my Top 10 Pet Peeves articles as well:

The Pet Peeves of 2011
The Pet Peeves of 2010
The Pet Peeves of 2009
The Pet Peeves of 2008
The Pet Peeves of 2007
The Pet Peeves of 2006
The Pet Peeves of 2005













---


"The plural of Chad is Chad?"
--From the movie Recount

comments powered by