SPOTLIGHTS
411 Movies Interview: Steve Mason of ESPN Radio's Mason and Ireland Show
Posted by Tony Farinella on 04.30.2012

411's Tony Farinella sits down with Steve Mason for an exclusive interview about his show with Lakers play by play announcer John Ireland, Mason and Ireland, his career, and a whole lot more!

Steve Mason is the co-host of the Mason and Ireland Show along with John Ireland, the Lakers play by play announcer, which airs Monday through Friday from 2pm to 6pm Pacific time on 710 ESPN Radio. They talk about anything and everything that has to do with the world of sports in L.A. Being a fan of the show I reached out to Steve Mason for an interview about what it's like working in the media world, his approach to the show, and his career path. I hope you enjoy my interview with Steve Mason and be sure to listen to their show Monday through Friday. It's an entertaining and informative look at the world of sports.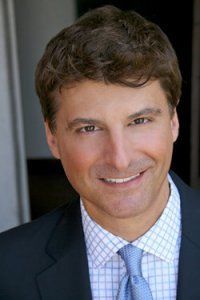 TONY: Having been involved in the media world for quite some time, how has your approach changed over the years?

Steve Mason: The approach has changed for a lot of us who do what we do because there was a time when the information wasn't necessarily available. Before there was an Internet, we had access to wire services and all sorts of information before the general public got it. Now, thanks to ESPN and blogs and all the sources online, everybody can see information at about the same time. So, really, the business that I'm in now is the opinion business more than it is the facts and the numbers. The business is much more about opinion now.

TONY: On one of your recent shows, you mentioned that you find yourself working more than ever with the new media landscape. Do you enjoy this new landscape?

Steve Mason: The great thing about the way this business operates now is that the harder you work, the farther you go. Anybody that does what I do can be working 24/7, literally, and cranking out more and more content. I think the business, the way it's structured now, rewards people that work really hard. I work non-stop and I think it has paid off because I have that worker mentality.

TONY: With it being opinion based as you mentioned, is it ever difficult to criticize someone on your show and you might have to interview them or have them on your show in the future?

Steve Mason: It is the trickiest part of the job. Anybody who works for sports media, you are dealing with an audience and also with partners. My radio station has a deal, ESPN Los Angeles, has a deal with the Lakers to broadcast their games. We have a deal with USC to broadcast USC football. I'm part of both of those broadcasts. It does make it a little bit tricky because you're always walking kind of a fine line. It's not so much that there's a lack of truthfulness, but you have to be very tactful when you're dealing with certain issues and certain people, especially when you're talking about people that we're in business with, like the Lakers or USC.

TONY: I want to talk about John Ireland a little bit and your chemistry with him. Did it happen instantly or did you have to work at it?

Steve Mason: It absolutely happened instantaneously. I was working for a radio station down in San Diego called The Mighty Six Ninety, and I was doing nights, and every night, they put me with somebody different. I worked with a bunch of people during that span, people that have gone on to great careers, like Michelle Tafoya. The moment John walked into the studio, we had instantly clicked. It's hard to believe, but after all these years, I don't even know if we've had as much as a disagreement off the air. We disagree on the air all the time, but off the air, I don't think we've had one.

TONY: What do you think makes the show work as well as it does?

Steve Mason: I think what makes the show work is that John and I are naturally very different. A lot of times, people will try to create differences between two hosts on a show. This happened completely organically. John is California born, grew up here. I'm from the Midwest . John is more of an NBA guy. I'm more of an MLB guy. We have these natural views. He's very conservative politically. I'm very liberal politically. The fact that our views break so naturally the opposite, that it just makes it work. It's the fact that we disagree on everything that gives us chemistry as opposed to agreeing on everything.

TONY: What is it about the world of sports and media that interests you artistically?

Steve Mason: I like being in it. When I say in it, I like being in the middle of anything that is a really big story. I like being in the middle of the NBA playoffs. I like following an NBA season. I've got to do six Olympics and I like being right in the middle of the Olympics. You feel like you're in the middle of the big story of the day. I really, really enjoy that. That's what gets me up every morning, knowing that I'm going to be in the middle of some big story, not necessarily life or death, but that everybody is following and that I get a say in it. That's the part of it that I enjoy the most.

TONY: Did you have a singular moment as a child when you knew that this was what you wanted to do?

Steve Mason: I remember being a little kid and reading the sports page out loud every day to my dad. I read it like it was the sportscast. I read it front to back every single day. I think from that, I got the idea of what I really wanted to do with my life. I'm the same with sports that I am about politics, entertainment, movies, and TV. I'm an information junkie. I love getting, processing, and thinking about new information, new ideas. That's really what this job allows me to do on a daily basis, to develop opinions based on the access that I have to major stories and major events and to be able to relate in a first person way to people what it's like, what it feels like, what it sounds like, and what's going on in the game, what's it like to be in the arena. All those kinds of things are the things I really enjoy.

TONY: When you knew that this was what you wanted to do, what was the reaction like from your parents?

Steve Mason: I don't think that my parents and my relationship with my parents are very much like anybody else's. It was a weird thing in my family. I grew up like a little mini adult. I don't think my parents ever really completely understood what I was doing. When I was fifteen years old, I bought five minutes of airtime daily from a radio station in Toledo, Ohio, and went out and sold the ads that paid for that time and gave me a little something extra every day. I did a live sportscast from my bedroom every afternoon at five thirty in the afternoon. I'd get home from school and get ready to do a sportscast. I think that my parents didn't really get all that I was doing. They knew it was good and it had the potential to lead somewhere, but I don't think they ever fully understood what I had going on.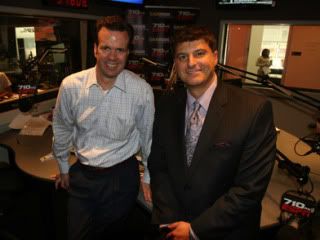 TONY: As soon as you finish a show, do you know instantly whether it was good, bad, or otherwise?

Steve Mason: Yeah, absolutely. I know when we wrap a show, if it felt good to me, very much like a professional athlete. You know if you're in that zone or not in that zone. The difficult part about any show that's a daily show, whether it be what John and I do, Jay Leno, David Letterman, there are naturally ups and downs. When we have a bad day, everybody can kind of tell. I know after a show, if it was a really good show or a bad show of it was just OK. The idea is to be able to never let anybody know it's a bad show.

TONY: You've mentioned on the show that you are very fan interactive and the fans can talk to you before the show at your local Starbucks. How important is it to have that relationship with the fans?

Steve Mason: When you get down to it, I like people a lot. I think everybody has kind of figured out, if they want to talk to me, they can find me at Starbucks two hours before I go on the air. I notice some of the regular people coming in, asking me questions, asking me about last night's game, all that stuff. I think it's really, really useful. There can be a little disconnect between my opinion on something and the average fan's opinion on something. That's what makes it fun.

TONY: What do you think it is one thing that a journalist needs to survive in this industry?

Steve Mason: I would say I don't consider myself a journalist. That would be the best way to answer that question. I consider myself to be a talk show host, but that doesn't necessarily make me a journalist. There are elements of journalism in everything that I do, but again, a journalist generally speaking deals in facts. I'm really dealing more in 'why' and more in what it means than I am in the 'who', 'what', 'where', if that makes sense. For me, the important thing is what I learn from that experience as opposed to what that experience was. By the time, I'm on the air tomorrow at 2pm, everybody's going to have a chance to read all about tonight's Laker game. It's up to me at 2pm tomorrow to come up with some different way of presenting what happened tonight. I don't consider myself to be a journalist. I consider myself to be a talk show host. I think it's an important distinction.

TONY: Who do you enjoy listening to and respect in the media world?

Steve Mason: Wow, that's such a big question. Generally speaking, I enjoy anybody that is out there and doing their own thing. I see it all the time. Jim Rome is a friend of mine for many, many years. Jim figured out what he wanted to do and who he wanted to be at a very young age, and he's gotten very good at doing that. I appreciate anybody that's out there and doing exactly that. They have a distinctive voice and are doing their own thing and unapologetic about it. They say what comes in their head and deal with the ramifications later. Anybody that's in that category. I've always been a huge David Letterman fan. I grew up very much on David Letterman. I've worked with Tom Snyder for a number of years. Tom was a really good friend of mine. He was a great mentor to me. Johnny Carson is an idol of mine. I think generally speaking, I love broadcasters. I mean that in the true sense of the word. People that can talk about any subject that comes across their plate. Anybody from Walter Cronkite to Vin Scully to Chris Matthews to Johnny Carson. I just like broadcasters. Larry King was a great broadcaster. I like all the old talk show hosts from the seventies, guys like Dick Cabbot and David Frost, guys that I grew up watching and listening to over the years.

TONY: What I really enjoy about the show is the fact that you are not afraid to put yourself out there and be truthful with the audience about anything and everything you have gone through in your life, both as a person and as a talk show host. What have you learned about yourself throughout this journey?

Steve Mason: I think the most valuable lesson I've learned is that you cannot please all the people all the time. In fact, you're best off in this business when you are pissing about half the people off. That's the name of the game. There's a radio research thing they do where they take listeners to a radio show and they ask them to rate the hosts, five being they loved them and one being they hate them. What you want is to have as many people giving you five's and one's as possible. The worst thing you could be is a three. You don't want anybody to think, 'Yeah, he was just OK.' You live in people loving you and hating you. You got to learn to deal with people disliking you because when you put yourself out there, you're going to rub people the wrong way and you're going to piss some people off. People will dislike you for any number of reasons, and you have to live with that and know that even though you spend four hours a day on the air in L.A., there are people in L.A. that just never like you. That just goes with the territory.

TONY: When you are watching a game, do you find yourself viewing it more through the eyes of a fan or a talk show host?

Steve Mason: I think I watch everything like a talk show host. Anything that happens to be on TV, anything that I read, I'm thinking, 'Is there some way that I could use this on the air? Can I compare this to something that is going on in sports in L.A. ?' I'm constantly filtering everything through the show. I get twenty hours a day to prep for the four hours I'm on the air. Anything that happens through those other twenty hours, I'm thinking about how I can put it on the air or spin it on the air.

TONY: I know you have a done a lot of media and sports interviews in your career, so I have to ask, what do you think is the best and worst interview you have ever conducted?

Steve Mason: The best interview I think I did was an interview with Peter Bogdanovich, a film director, directed The Last Picture Show. It hasn't aired yet. It's for my new talk show on PBS, which is going to premiere later this year. I did this sixty minute sit down with Peter who ended up talking to me about how he was in love with a Playboy Playmate back in the seventies named Dorothy Stratten. She was killed by her ex husband. He talked to me about how he found out, how they fell in love, how he wound up marrying her little sister. The best interviews are the ones where you almost feel like you're peeling an onion. That's the sense I got from that interview. He talked about things with me that he's never talked about before. In terms of interviews that didn't go well, there have been a ton, obviously. I hung up on Rick Barry, who is a Hall of Fame basketball player from the Golden State Warriors, because I had asked him several questions, and each time, he challenged the premise of the question. I felt like he was just being a jerk, and I ended up hanging up on him. That's about as bad as an interview can go. I've had others. Chris Penn, Sean Penn's brother, must have dropped about eight or nine F-bombs during a national interview I did with CBS in the late nineties. The interview thing had delay buttons being used, so nobody could really understand anything that was happening. Things can go really bad in an interview really fast. The great ones are the ones where it feels like you're not doing an interview. The bad ones are the ones where it feels like you're asking this question, followed by this question. When they are really good, and you know this, from doing what you do, it feels like you're in the flow of a conversation. That's when it's going really well. Some days I can get there, and other days, for whatever reason, I don't get there with certain people. That's just something you have to live with.

TONY: Looking back on everything, has the journey been what you expected?

Steve Mason: No, absolutely not. I could never have imagined when I was a kid doing my sportscast in my bedroom that I would someday be hosting pre-game from a Laker game. That was just unthinkable to me when I was a kid. I don't think I ever could have guessed how far I would get or what a crazy ride it would be. When I was a kid, I always thought something big could happen for me. I just never had a context to figure this would be what it could be. There are lots of moments in my life. My dad lives in Cleveland, and I love to bring him to things I get to do, things that I get to cover. I can see on his face how crazy and amazing an experience might be. It's natural that you tend to after a while just get used to it. 'Oh, I'm at a Laker game' or 'I'm in the locker room talking to Kobe Bryant'. 'Oh, that's just what my job is.' When I fly my dad out and he gets a chance to do some of the stuff that I do, I get to see the look on his face and I'm reminded by him that I get to do really cool things on a regular basis. And I feel really lucky and blessed to be in that spot. When I'm doing well, I have that in the proper perspective. Sometimes I forget how cool it is, what I get to do on a daily basis. But I never, ever could have imagined getting to where I've gotten.

To follow me on Twitter: @411interviewer
comments powered by