SPOTLIGHTS
Editor's Note 06.21.12: Fathom Events - Frankenstein & The Tempest
Posted by Chad Webb on 06.21.2012

If you've ever seen the advertisements for Fathom Events at the movie theater and were curious about them, this week I take a look at what they offer and review the screenings of Danny Boyle's Frankenstein and Des McAnuff's The Tempest....

































Editor's Note






You've seen the ads before the movie starts. They promote various stage productions that people can watch on the big screen instead of paying high prices to be at the actual theater. Fathom Events offers one-night only passes for sporting events, operas, concerts, and even plays. If you have a Regal of AMC cinema in close by, these pre-feature commercials have become commonplace. Most of the time I disregarded them since the primary advertisement was for operas, which can be fabulous entertainment, but I have no desire to see one in a movie theater.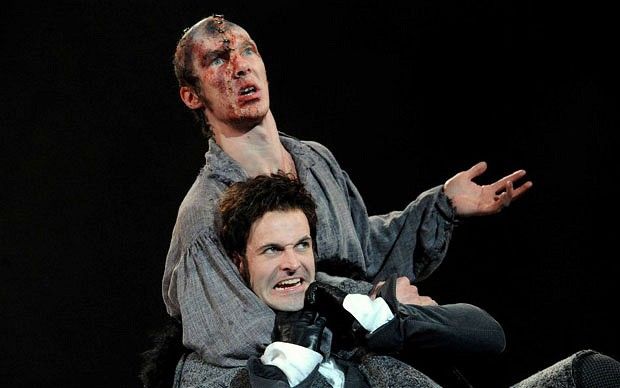 The creature confronts
his creator.

Recently however I discovered that a play from London and one from Ontario were going to make their way onto US movie screens. The first was Frankenstein, directed by Danny Boyle; starring Benedict Cumberbatch and Johnny Lee Miller. Having heard about this production as it opened in the U.K., I regretted not being able to see it. Every now and then, I thought, certain stage plays end up on DVD. Perhaps there was a chance for this one. Whether it will or not remains to be seen. Danny Boyle is an Oscar winning filmmaker, so the outlook is positive is we're consulting the magic 8-ball. But when Fathom Events announced that it would be shown in a limited engagement for 2 nights only, I decided not to take any chances.

Thankfully my first fathom Events happening was tremendous fun. The first nights showing was the original casting, with Cumberbatch as the creature and Miller as Victor Frankenstein. The second night the two stars would reverse roles as they did in London during its initial run. I elected the original casting. Depending on where you live, the distance to travel to a theater playing Fathom Events might be far, but it's worth the effort. The theater wasn't overly crowded, and the play was two hours with no intermission, which is perfectly doable.

My wife and I have both read Mary Shelly's novel and seen the more popular movie adaptations, so this stage version was of particular interest. To be honest, I have never been an enormous Danny Boyle fan. I know many people that are, but only a couple of his films really connected with me, and even those I probably wouldn't revisit. But anytime a major Hollywood director tries his hand on the stage, I try to check it out. Frankenstein is one of the very best things Boyle has ever done. Not only is it faithful to the novel, moreso than previous adaptations, but he also integrates his own distinct touches throughout, and it is all boosted by the crackling, powerhouse performances of its leads.

We all know the story by now so I won't dwell on a lengthy summary. Dr. Victor Frankenstein creates an artificial man. He rejects it. The creature escapes and proceeds to swear vengeance on his maker. Boyle's vision proves that if you are only familiar with the 1931 Universal classic from James Whale starring Boris Karloff, you have been missing out. While that and its sequel Bride of Frankenstein are undeniable masterpieces of horror, they strayed enough from the book to leave room for someone else down the road to tackle a re-telling. That person would be Kenneth Branagh in 1994, who selected Robert De Niro to portray the creature. True, it is close in detail to Shelly's tale, but in spirit, that film is a total mess. I hated it, thought it was clumsily constructed and poorly acted. Boyle's Frankenstein rights all the wrongs of Branagh's failure. Although not strictly a cinematic experience, this play should fulfill purists and movie buffs alike.

The play begins by establishing its patience. The creature's awakening is intense and deliberately paced as Cumberbatch grunts and rolls around on the floor for an extended period of time. Boyle understands how crucial it is for the audience to believe that this living "experiment" would be able to walk, so we witness his birth and the period where he finds his footing. It is a brilliant sequence, relatively silent, but vital for the rest of the action. The same attentiveness to logic occurs later with his speech, which was a huge quandary in Branagh's film. The first glimpse of Dr. Frankenstein occurs after the creature has stood up for the first time and fled the premises. He realizes what has happened, and then he disappears for the first half as viewers observe the creature's exploration and education. This account separates itself by assuming the perspective of the creature, and from that, we have a firm grasp of his emotions, his motivations, and his fury.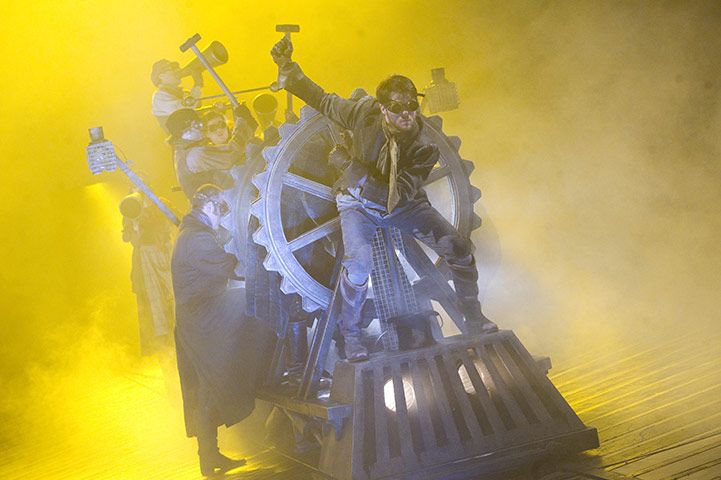 A train energetically
invades the stage

The two leads deliver fierce, zealous performances, though the creature is without question the showier role. I cannot judge how Johnny Lee Miller fared during reverse casting evenings, but Benedict Cumberbatch is sensational as the abandoned, tortured concoction. Never missing a beat from start to finish, whether it be in terms of speech or overall mannerisms, Cumberbatch induces fear and suspense as he seeks revenge on those who have done him injustice. Johnny Lee Miller is just as much the villain as his creation, but no less fervent, troubled, or filled with conviction. Miller's approach to Dr. Victor Frankenstein is that of someone who simply bit off more than he could chew by attempting to play God. When together on stage, Cumberbatch and Miller are magnetic, leaving everyone on the edge of their seats with their verbal and physical jousting. George Harris is fine as Victor's father, but puzzlingly, it is never explained why he is black and Victor is not. If a weak link exists, it would be Naomi Harris as Victor's fiancée, but even she is relatively strong as a "Snow White" symbol of optimism and innocence.

Nick Dear supplies the script, and with Boyle's guidance their rendition focuses more on the nature of humanity and development than it does horror or fright tactics. The feelings are visceral, landing a gut punch instead of making you jump. Whale's film is great, but Boyle's Frankenstein raises so many profound questions and stirs up plenty of thought-provoking discussion about being responsible for your actions, what "life" means, that yearning for companionship, and more. Mark Tildesley's stage design is amazing, especially the canopy of light bulbs that looms over the creature, signifying the electricity in Victor's lab. The visuals supplement the excitement with eye-catching beauty. The most bizarre moment sees a steam train overwhelming the stage to convey 19th century industrialization. Boyle's Frankenstein asks us who the victim is and who the criminal is. Previous adaptations make Victor out to be kinder and perhaps more oblivious to what he launched. Boyle and Dear might shave away some of Shelley's other themes, such as Victor's work to animate the creature in the first place, but by shifting the point of view, the audience observes this timeless story in a whole new light and is sympathetic towards the creature.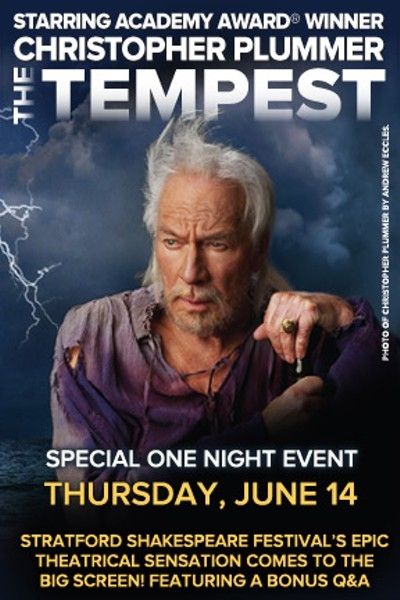 Advertised for the following week was a performance of William Shakespeare's The Tempest starring Christopher Plummer. The play was originally recorded in the summer of 2010 at the Straford Shakespeare Festival in Ontario, Canada and had about the same number of people in my theater as Frankenstein. Having only seen the 2011 film directed by Julie Taymor and starring Helen Mirren, I was anxious to see it without Taymor's alterations and with the traditional male in the lead role. It's hard to cite a favorite Shakespeare work aside from Hamlet, but The Tempest is quickly moving up on my list. The strange story has just about everything: comedy, action, drama, fantasy elements, and of course romance. Plummer and the rest of the cast are exceptional in a production that didn't require any innovative set design, just the actors giving it their all.

The story transpires on a remote island where the magician Prospero (Christopher Plummer), the exiled Duke of Milan, seeks to restore his daughter Miranda (Trish Lindstrom) to her rightful place. He has waited there for 12 years after his brother Antonio (John Vickery), with the aid of Alonso the King of Naples, deposed him and set him adrift with Miranda. Gonzalo (James Blendick), the King's Counsellor, secretly gave him supplies (food, water, books) to take in his boat. His personal books gave him the opportunity to expand his knowledge of magic. On the island he encounters Ariel (Julyana Soelistyo), who he saved from a trap set by a witch who previously controlled the island. Now the sprite Ariel does his bidding. Caliban (Dion Johnstone), son of Sycorax, is the only other inhabitant. He is a deformed monster. Initially they all help each other, but Caliban attempts rape on Miranda and is then made into Prospero's slave. The play opens when Prospero discovers that Antonio, Alonso (Peter Hutt), Gonzalo, Sebastian (Alonso's brother), Ferdinand (Alonso's son), and many other crew members returning from a wedding. Prospero causes a shipwreck and has Alonso and his son separated, each believing the other to be dead. Three sub-plots then take off. Caliban joins up with Trinculo (Bruce Dow) and Stephano (Geraint Wyn Davies), two drunkards. In another, Sebastian and Antonio conspired to kill Alonso and Gonzalo, so Sebastian can become King. Finally, Prospero wants to establish a romance between Ferdinand (Gareth Potter) and his daughter. Using his spells and careful manipulation, Prospero's plan to right all the wrongs done to him goes well.


Christopher Plummer & Trish Lindstrom
as Prospero & Miranda.

Plummer was 80 when he assumed this role, and anyone who has followed his film offerings in recent years knows that the Oscar winner has not lost a step and is still handing in some of the most stirring turns of his career. His Prospero is obviously the center of attention and Plummer masterfully recites Shakespeare's text with vigor, intimacy, and heartfelt enthusiasm. Each of his speeches is saturated with the necessary doses of fiery emotion, calmness, contemplation, and determined resiliency. Many of the characters are given slightly different interpretations. Trish Lindstrom acts as Miranda, a young virgin who has more of an edge in this exercise. Julyana Soelistyo is a theatrical wonder as Ariel, truly embodying the guise of a sneaky sprite. Dion Johnstone is wide-eyed and engrossing as Caliban, while Bruce Dow and Geraint Wyn Davies hilariously portray his partners Trinculo and Stephano. Alonso and his lords are the most difficult characters to nail as none of them have a lot of memorable dialogue. However, John Vickery is magnificent as the conniving Antonio, while the splendid James Blendick's affable Gonzalo will be hard to top in the future.

Des McAnuff directs The Tempest and apparently he is known for his glitz and glamour style, but this is not an ostentatious affair. Any effects that are inserted come across as relevant to the proceedings, but like most Shakespeare plays, this is an actors place to shine. The sets are commonly bare bones, which is terrific. McAnuff and company pinpoint the humor, though do not rely on it, and flesh out numerous passages that one might not even think were funny. Trinculo and Stephano are the major source of laughter, but not the only ones. This Tempest emphasizes relationships, and wants us wholly invest in all the bonds, grudges, and deceptions. Below the comedy, romance is key to the movement of the story, but again, this is infused with laces of amusement and avoids being sappy. This might not be The Tempest as Shakespeare imagined it, but all the crucial elements and themes remain in tact and motivating: Alonso's redemption, Prospero's forgiveness, Antonio's wickedness. McAnuff and Plummer collaborated in 2008 for Caesar and Cleopatra, which was also critically acclaimed. The Tempest was adapted for the 1991 film Prospero's Books starring John Gielgud. Critical reaction was divided.

Plummer announced that this will not be his final stage role, and during the bonus 20-minute Q&A he stated that if he were to depict another Shakespeare character, it would be Falstaff. Much of the Q&A is not a Q&A at all, but rather an absorbing discussion about filming stage theater, the number of cameras, how much time they were allocated to finish it, and so forth. Richard Burton made comments about this as well when his version of Hamlet was recorded. All in all, I'm glad to have seen The Tempest again. The manner in which it balances so many different, idiosyncratic personalities, varying tones and plot threads is fascinating and remarkable. It is one of those stories that will provide new insights and layers with each repeated viewing.

I'm not sure if Frankenstein or The Tempest will see a DVD release, but maybe they shouldn't, or if it does happen maybe the gap between theatrical screening and DVD release should be a wide one. With movie ticket sales fluctuating from year to year and leaning towards disappointing all the time, I wonder why Fathom Events hasn't tried to expand the material they show. Few will venture to a movie theater for a sporting event or a concert since they would likely take either being there live or just watching it on TV. Fathom Events should be releasing more musicals, plays, and operas, all events that cannot be seen by people in many states. I realize New York wants tourists to visit the Big Apple and uses Broadway as a main attraction, but I see no reason why shows that have already enjoyed a lengthy run can't be screened in theaters. Having the public go to the theater for an event they will not be able to witness anywhere else (aside from visiting the specific city) could only be beneficial. It just strikes me as unfortunate and sad that so many stage shows come and go with only those groups close to the venues able to catch them. Tell me millions would not want to see The Book of Mormon or Wicked. There are probably many reasons why this will not become a reality, financial costs being chief among them, but as time moves along, people will have less of an incentive to drive to a movie theater. I see an opportunity here, even if it's a small one, to change that.

Frankenstein = 9.0/10.0
The Tempest = 9.0/10.0






--Other Articles to Read--
Nether Regions
The Artist: Analyzing Its Popularity
When Going to the Movie Theater Became Torture
The Best and Worst Movie Posters of 2011
Top 50 Movies of the Decade (2000-2009)
The Best and Worst of 2011
The Pet Peeves of 2011














---


"The plural of Chad is Chad?"
--From the movie Recount
comments powered by