SPOTLIGHTS
411 Fact or Fiction Movies/TV 7.20.12: The Dark Knight Rises Edition
Posted by Ben Piper on 07.20.2012

Will The Dark Knight Rises live up to the hype and be the best of Nolan's trilogy? Whose Joker was better, Heath Ledger or Jack Nicholson's? Is Michael Keaton still the best big screen Batman? 411's Dustin James and Steve Cook debate these topics and more in this week's all-Batman 411 Fact or Fiction: Movies!




The biggest hyped movie extravaganza (this side of The Avengers) of the year is now upon us, as The Dark Knight Rises hits theaters everywhere this weekend. With that in mind, we've all decided to make this week's Fact or Fiction 100% bat-based. Joining me in this endeavor is Steve Cook and Dustin James. Let's see what they thinků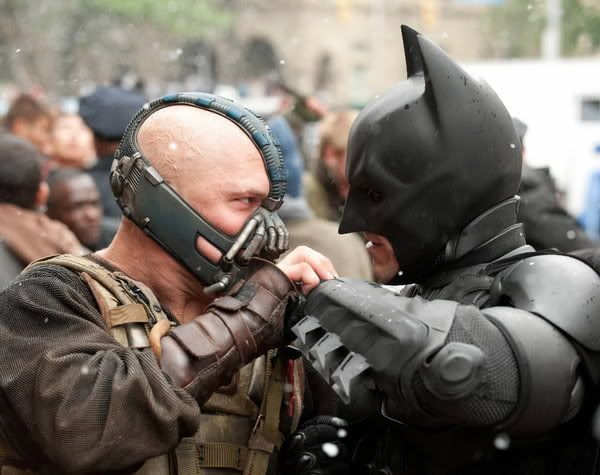 1. The Dark Knight Rises will live up to the hype and be the best installment of Nolan's acclaimed trilogy.

Dustin James: Fiction. Even though I think The Dark Knight Rises is going to be a fantastic movie, it's going to be hard to top the greatness that was The Dark Knight and Heath Ledger's amazing performance as "The Joker". People who go into a movie expecting to be blown away usually end up disappointed more often than not and even though I expect The Dark Knight Rises to be a great movie, people will constantly compare it to The Dark Knight and that just doesn't work in the movie's favor. It also really doesn't help the movie that Heath Ledger's performance in the last one was so amazing as it really puts some added stress on everyone to be able to create villains who can get people talking like Ledger's version of "The Joker" did. Can Bane and Selina Kyle do that? I don't know, but hopefully I can avoid those promises of "an ending that will shock the world" long enough to enjoy it for myself. On a side note, a surprising appearance from "The Riddler" would definitely do the movie tons of good in my book and could potentially help raise it above The Dark Knight. Seriously, how does "The Riddler" not get any love in Nolan's trilogy?

Steve Cook: Fiction. I know it's the job of movie experts to tell you whether or not something is going to be totally awesome before it gets released, but it's not something I feel that I have the authority to do. The odds are really good, as The Dark Knight was really awesome & Batman Begins was pretty solid too. The Christopher Nolan Batman movies have delivered thus far, and I see no reason why this one won't. But to say it will be the best one yet? That's a big hill to climb, as Mr. James did a fine job of pointing out.

I must say that I was skeptical when I found out that Bane would be the lead villain, but I've heard good things.

Score: 1 for 1

2. Ledger's Joker > Nicholson's Joker.

Dustin James: Fact. I think I made it pretty clear in the last question that I think Heath Ledger's version of The Joker was one of the greatest performances in cinematic history. Growing up, I was always a huge fan of the Batman series and while I thought Jack Nicholson did an incredible job as the crazed clown in the 1989 movie, Heath Ledger brought it to a whole new level in The Dark Knight. With his scars that resembled a smile, long hair, and blotchy make-up, Ledger added something to the character that we have never seen before. We've all known for years that The Joker is a maniacal lunatic, and Ledger's performance brought that out more than anyone else has in history. Why so serious?

Steve Cook: Fiction. Damn it Ben, asking me to pick between Jokers is like asking Batman to pick his favorite Robin. There is no such thing as a bad Joker, so I've decided to go with the one that Dustin didn't pick. Many that rate Ledger over Nicholson do so because his performance was more real. Me, I prefer my Jokers over the top, and Nicholson was certainly larger than life in the Joker role. He wasn't quite as insane as Ledger was, but brought more humor to it. Yes, the Joker is a maniacal lunatic, but he's also a funny son of a gun!

Score: 1 for 2

3. The Dark Knight Rises will get Oscar nominations for Best Picture and Best Director for Christopher Nolan.

Dustin James: Fact. While I'm horrible at actually predicting movies that go on to get nominated for Best Picture, I'll definitely give The Dark Knight Rises an edge on being nominated in that category. As for winning the category? That's a completely different story. As far as Best Director goes, if Christopher Nolan isn't nominated for an award, the Academy should all be shot with air soft guns and beaten with sticks. I haven't even seen the movie yet, but I can tell just from the previews that the guy once again did an excellent job with his latest venture into the Batman world. No one has done "The Dark Knight" better than Nolan has and let's hope the Academy recognizes this on his way out....

Steve Cook: Fact. Part of the reason that they increased the Best Picture nominations from 5 to 10 was the fact that people would always complain about popular movies like The Dark Knight getting left out. I think the Academy tries to make good for that snub by including The Dark Knight Rises among the nominees. I don't think it'll win, but it will be one of the few nominees that the general public has actually seen. Nolan was also snubbed in the Best Director category for The Dark Knight, and I think he'll get some love from the Academy for his last effort with the Batman franchise.

Score: 2 for 3



Switch!!!






4. Michael Keaton's performances of Bruce Wayne/Batman are still the best of the big screen bunch.

Steve Cook: Fact. It's probably not a secret, but the quality of Batman movies is mainly dependent on the bad guys. People remember Jack Nicholson & Heath Ledger's performances as The Joker more than their counterparts playing Batman. Catwoman & The Penguin were highlights of Batman Returns, and if anybody remembers anything about Batman Forever it's probably the Riddler. I eliminate Val Kilmer & George Clooney right away, as Kilmer had the personality of a board & even though Clooney seemed ideal for the Bruce Wayne role given that it's basically his life, he didn't really click as Batman.

So it comes down to Keaton & Christian Bale. Bale has been very good in the two most recent Batman movies, and I may be convinced to rank him #1 if he kills it in The Dark Knight Rises. But Keaton still presents the best mixture of the Batman & Bruce Wayne characters. He's serious, but not so serious that you can't laugh at him at the right times.

Dustin James: Fact. This is easily a two-horse race like Cook just mentioned. Val Kilmer was just "meh" as Batman and George Clooney was absolutely horrible. Christian Bale has done a fantastic job so far in the series, but it's hard to top the greatest of them all. Michael Keaton did such a tremendous job as Bruce Wayne that it's really going to be hard for anyone to ever top that performance. Cook is also 100% correct when he said that the quality of the Batman movies is usually dependent on the bad guys, so does it really matter who plays the Dark Knight? I don't even think Clooney's crappy performance as Batman would have affected how great of a movie The Dark Knight was due to the awesomeness that was Heath Ledger.

Score: 3 for 4

5. The Dark Knight Rises will surpass The Avenger's amazing success and be the year's box office champ.

Steve Cook: Fact. It's a little tough to believe considering how great Avengers has done at the box office, and sometimes the third part of these trilogies ends up being a letdown. But all indications from people that have seen it are that this movie's going to deliver a satisfying conclusion to the Nolan trilogy. All the Marvel superheroes are awesome in their own special way, but there is only one Batman. The Dark Knight rose the bar for Batman movies and people are going to be intrigued in what will come next for the Caped Crusader. Not only will The Dark Knight Rises bring in the casual movie goer, it will bring in the movie snobs that typically don't deem superhero movies worthy of their time.

Dustin James: Fact. You would have to be stupid to bet against any super-hero movie having major success right now. Everyone seems to have a major fetish for caped crusaders at the box office right now and much like The Dark Knight did in 2008, I expect The Dark Knight Rises to come out and shatter box office records as well. The Avengers had extremely shocking success this year and something tells me that The Dark Knight Rises will top that due to the interest of everyone wanting to see how this trilogy is going to end and the promise of a "surprise ending" definitely doesn't hurt matters. Buy your stock now people.

Score: 4 for 5

6. Anne Hathaway will prove to be an awesome Selina Kyle/ Catwoman.

Steve Cook: Fact. It doesn't take much to be an awesome Catwoman, and Hathaway has the advantage of coming after Halle Berry, who did a pretty bad job of it in a movie that most of us would like to forget. Basically, to be a great Catwoman you need to do two things:

-Look great in latex
-Don't be too annoying

Hathaway does a good job of not being annoying in most of her movie roles, and I think she'll fill out the Catwoman suit pretty well. What's not to love? I'm not sure she'll live up to the Michelle Pfeiffer version that stole Batman Returns (or if you want to go really old school: the Julie Newmar version), but she's a solid actress and should pull off the role without much trouble.

Dustin James: Fact. I don't have much to add to what Cook just said. What does it really take to be a good Catwoman? Sure, Anne Hathaway has the unfortunate pleasure of having to follow in the footsteps of Michelle Pfeiffer, but like Cook mentioned, Halle Berry recently came out and stunk up the joint as Catwoman so it shouldn't take much for Hathaway to leave everyone satisfied. Plus, I have 100% faith in Christopher Nolan making sure that this version of Catwoman is unlike any we have seen before. You really think this man is going to let us down? C'mon now...

Final Score: 5 for 6

With all due respect to my colleagues, I have to disagree with their answer to question five. With no 3-D ticket sales boosting the overall bottom line, I don't think The Dark Knight Rises will catch The Avengers. Also, with a runtime of almost three hours and a relentlessly grim tone, I wonder if it will get as many repeat viewings as Marvel's big measuring stick. But that's just me.

With that, thanks to Steve and Dustin for stopping by, and see you all again same bat-time, same batů You get the idea.
-BP



TWITTER

http://www.twitter.com/411s_Ben_Piper
http://www.twitter.com/411mania
http://www.twitter.com/411wrestling
http://www.twitter.com/411moviestv
http://www.twitter.com/411music
http://www.twitter.com/411games
http://www.twitter.com/411mma




comments powered by