SPOTLIGHTS
Nether Regions 08.16.12: The Emigrants
Posted by Chad Webb on 08.16.2012

The first part in Jan Troell's extraordinary tale of a Swedish group who leave their homeland for better opportunities in America. This is a movie they should have shown in school…










































Nether Regions started as a segment of the Big Screen Bulletin in the movie-zone that meant to showcase films that have been discontinued on DVD, are out of print in the United States, are only available in certain regions outside the United States, or are generally hard to find. Now it is a column all its own! You might ask, "Why should I care about a film I have no access to?" My goal is to keep these films relevant because some of them genuinely deserve to be recognized. Every time I review a new film I will have a list of those I covered below so you can see if they have been announced for DVD release, or are still out of print.








MISSING:




THE EMIGRANTS












Starring: Max Von Sydow, Liv Ullman, and Eddie Axberg
Directed By: Jan Troell
Written By: Jan Troell and Bengt Forslund (Based on Vilhelm Moberg's Novel)
Original Release Date: September 24, 1972
Running Time: 191 minutes
Missing Since: July 7, 1994
Existing Formats: VHS and Region 2 DVD
Netflix Status: Not Available
Availability: Extremely Rare






As I watched Jan Troell's The Emigrants, all those details from my history classes over the years came rushing back. The story follows a group from Sweden who travels to America in search of a better life. I obviously cannot verify with a certainty the attitudes, conditions, and ways of life concerning Europeans who crossed the Atlantic in the 19th century, but my gut tells me that this depiction is likely the most authentic you will ever see. This is a foreign film that was nominated for 5 Academy Awards, including Best Picture, and was also one of the most expensive Swedish pictures of the period with a budget of over $2 million. The Emigrants is a long undertaking to be sure, but I found it to be a mesmerizing, poignant, and eye-opening experience.

The events unfold in 1844 with text that briefly outlines the type of place in which our main characters reside. That place is the Smaland province in Sweden where farmer Karl-Oskar (Max Von Sydow) and his wife Kristina (Liv Ullman) live an arduous, occasionally brutal existence. We meet Karl-Oskar's parents and witness the events that led to him inheriting the property and taking his wife. The land they farm must support the entire family, but it is proving to be increasingly strenuous and harsh. The amount of fertile soil is few and far between, yet the powerful winters and lack of sufficient rain make the acreage worse. That doesn't include tools breaking, supplies being damaged, or any other issue, such as the barn catching fire or random sicknesses. At the same time, Karl-Oskar's family is increasing in number all the time. He and Kristina often discuss whether or not they should have sex because it usually results in a pregnancy, thus a new mouth to feed.


Karl-Oskar & Kristina
share an intimate moment.

Robert (Eddie Axberg) is Karl-Oskar's younger brother, and because he is not the oldest, the family farm will never pass to him, so he must find his own way in the world. He contracts himself to a year's worth of labor to a neighboring farmer, a cruel man who beats him whenever possible. One such incident leaves Robert nearly deaf. Nothing can be done about this abuse though. The local law enforcement is on the farmer's side, and when Robert decides not to return for work, the Sheriff comes a knockin'. It is Robert who first voices the idea of moving to America, specifically to his co-worker and friend Arvid (Pierre Lindstedt) who agrees almost immediately to the trip. Much to their chagrin, money is required for boat-fare, so they cannot walk or ride there. As Arvid so eloquently puts it, "Damned ocean." Eventually Robert shares his idea with Karl-Oskar, who also has been researching the possibility of picking up and starting anew in the US of A.

Meanwhile, Danjel (Allan Edwall) is an independent preacher who is constantly under scrutiny. He believes that God speaks to more than just the Church. Despite being threatened with excommunication, going to jail, and so forth, he continues his work with the local outcasts, prostitutes, and clueless elderly folk, giving them Holy Communion. He chooses to join Karl-Oskar's clan because nothing but trouble awaits him at home. As one collective unit, they embark on their quest for the land of opportunity despite urgings from the vile local parson to stay and do what they can. But before they can step foot on a new continent, everyone must survive the perilous sea voyage complete with cramped living quarters, numerous illnesses, and sparse food that is rotten.

The greatest gift a movie lover can be given is patience. If you possess just a little of that, The Emigrants will be thoroughly rewarding. It clocks in at just over 3 hours, but Jan Troell's saga is absorbing and stirring from start to finish. Aside from merely observing this fascinating odyssey, one of the primary themes is clash between expectations and reality. Most of the fantasy notions stem from Robert, who has a small book that evidently rambles on of how wonderfully blissful America is. Among the passages: The slaves lead blissful lives, everything is sparkling clean, and there is no upper and lower class. Robert explains that in America there are only those who have lived long enough to become rich and those who are new and not rich yet. Danjel amplifies this with his people. Robert told others the exaggerations he was reading. Danjel goes above and beyond embellishing. He informs his crowd that they do not need to study English because God will instill them with the language as soon as they step off the boat. He also wrongly lifts their spirits by saying that if they are pure of heart; they will not suffer from sea sickness. Through Robert and Danjel, viewers understand how and why emigrants made certain assumptions about America.

As a whole, The Emigrants masterfully recreates this period in history with unfathomable naturalistic skill while also capturing the humanity and intimacy of its characters in an irreplaceable fashion. The performances are an important link in this glistening chain. Max Von Sydow (what other man could they hire?), one of the finest actors of any generation, already known from his films with Ingmar Bergman (The Seventh Seal, Wild Strawberries), hands in a reservedly fervent turn filled with care and conviction. Liv Ullman is breathtaking, greeting the audience as a blonde-haired blue-eyed girl perched on a swing. Her transition from a naive girl to a stalwart mother is subtle and hypnotizing. Ullman has no equal in The Emigrants when the camera lingers on her silently. The emotions in her expressions, the information she unloads just through a painful glance, a meaningful stride, or uncomfortable positioning exhibits a rare splendor. Both establish a chemistry that just cannot be taught. At some point, the leads must be talented enough to pull it off on their own. Ullman and Sydow accomplish this, speaking and moving with an undeniable sense of urgency, separating themselves from legions of other forced actors in costume dramas or historical epics. Allan Edwall is also riveting, and perhaps the best pick for a character study as Danjel. I identified with Karl-Oskar on familial level, but I connected most with Eddie Axberg's Robert, whose exploring not only a new world but his own maturity as his coming-of-age sub-plot is blended seamlessly with the central thread. Not one cast member falters in Troell's equation.


The Nilsson family
aboard the ship
to America.

The number of foreign films to garner a Best Picture Oscar nomination is only six, which makes it even more depressing that few can soak in the elegance and artistry of Troell's paramount effort. This was only his third film, and he served as director, cinematographer, editor not to mention co-adapter of Vilhelm Moberg's novel Unto a Good Land. Just handling all of these tasks is praiseworthy, but add on that Troell manages to balance each and every facet of the filmmaking process with control, affection, and pride and you have a monumental, awe-inspiring achievement. The cinematography accentuates the magnificently placid color palette and encapsulates the drastic changes in nature they encounter from the unforgiving, cold grounds in Sweden to the lush green forests and grass in America. The "look" is crucial. The contrast and scale must be vast and epic, but not too flashy or ostentatious. Our senses have to embrace every nook and cranny. Troell finds the right groove and never stumbles. The editing is deliberate and unhurried, lingering on certain sequences so we can fully grasp the images, the meaning, and all the layers of each moment. And regardless of the fact that The Emigrants relies more on seeing and watching than hearing and figuratively digesting, the dialogue, rapport, and interactions are believable and organic.

If there is a criticism to be made about The Emigrants it is the score from Erik Nordgren, which swells in the most illogical of places and bubbles there. It comes across as a composition better suited for a horror film. I'll admit it is memorable, and who's to say a somber or inspirational score wouldn't have been dull in exchange, but Nordgren's selections and Troell's timing had me scratching my head at times. No doubt an expedition such as this one is filled with horrific obstacles, but I'm not sure they needed to be united with such hair-raising tunes. Vincent Canby of The New York Times wrote what he perceived as a flaw: "As he showed in Here's Your Life, Mr. Troell, who is a fine cameraman, simply cannot resist the extra shot of sunlight-reflected-in-water that becomes just one too many, a thing of movie decoration." After reading that, I did recall that Troell integrated a bunch of those shots, but they're decorations that supplement the richness of the environment and allow for instances of clarity and contemplation. Pretentious maybe, but effective.

The Emigrants is hardly the only film about emigration and immigrants, but it has to be the most accurate, and in terms of dealing with the subject head-on, it is probably the best. Most films graze over the immigration aspect of the tale, leaving it as a stepping-stone as the main characters rise to power, fall in love, or seek fame and fortune. Take The Godfather, Far and Away, or even Scarface to a degree, as fitting examples. The closest comparison to The Emigrants is Elia Kazan's America, America, which is an adventure, not a life's drama about a pilgrimage. Similarities exist, but The Emigrants is solely about journey, what led up to the departure and with its sequel The New Land, what came after. And as grand as Troell's scope and vision are, we never lose track of the souls who inhabit this universe. He presents wide shots of the lands and caravan and arranges that smoothly with close-ups and zooms on the cast. If all the character nuances and minor details are not totally devour upon your first sitting, I have a feeling The Emigrants is just as fulfilling the second time around.

Final Rating = 9.0/10.0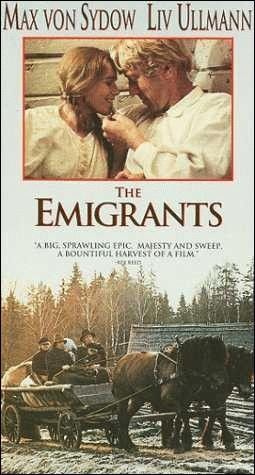 --Out of Print--
The Taking of Pelham 123 (1998-TV)
The Stepfather 3
Latin Lovers
State Fair (1933)
Sleuth (1972)
Assembly
High Noon Part II: The Return of Will Kane
Ishtar
The Prehysteria! Trilogy
Only Yesterday
Ocean Waves
The Little Norse Prince
Breaking the Waves
Cruel Story of Youth
Two Rode Together
Love with the Proper Stranger
Betrayal
Willard (1971)
Ben
The Wizard of Speed and Time
Return from the River Kwai
Clarence
It Happened One Christmas
Napoleon (1927)
A Brighter Summer Day
Little Darlings
Karen Carpenter Double Feature
The Crimson Pirate
Roman Polanski's Pirates
The Mighty Thor: 1966 Cartoons
Hulk: The 1966 Cartoons
Mr. Boogedy Double Feature
Stanley Kubrick's Boxes
Shanks
7 Women
Last Summer
We Sold Our Souls for Rock 'N' Roll
Saxon – Heavy Metal Thunder: The Movie
Christopher Columbus: The Discovery
1492: Conquest of Paradise
The Decline of Western Civilization (1981)
The Decline of Western Civilization Part II: The Metal Years
The Decline of Western Civilization Part III
Execution of Justice
The Gambler
Death of a Salesman (1951)
Italianamerican & American Boy
Greed
The Godfather Saga: A Novel for Television
The Legend of Nigger Charley
The Soul of Nigger Charley
Quadrophenia - Available 8/28/12
Wuthering Heights (1939)
The Defiant Ones (1958)
Revenge of the Stepford Wives
The Stepford Children
The Stepford Husbands

--Available on Netflix, Instant Watch (But Not to Purchase)--
The Heartbreak Kid
Cinemania
Richard Burton's Hamlet
Orson Welles' Othello
The Keep
The Swimmer
Only the Lonely
North
The Cook The Thief His Wife & Her Lover
SubUrbia

--Available through Amazon Video on Demand Only--
Barfly
Seconds
King Solomon's Mines (1937)

--Now Available on DVD--
The African Queen
A Return to Salem's Lot - Available Through Warner Archives
Phantasm II
Red Cliff Part 1 and Part 2 - All Versions Available
The Stepfather
The Stepfather 2
Homicide
America, America
Cavalcade - Available in the 20th Century Fox 75th Anniversary box set
Ensign Pulver - Available Through Warner Archives
Children of the Corn 2: The Final Harvest
The Unholy Three - Available Through Warner Archives
The Magnificent Ambersons - Available with Citizen Kane Blu-Ray set
Salem's Lot
1-900
I'm a Cyborg, But That's Ok
Captain America - The 1979 Movies
Captain America (1990) - Available through MGM Limited Edition Collection
Wings
World on a Wire
The Portrait of a Lady - Available on Blu-Ray 11/20/12
Reykjavik-Rotterdam
No Holds Barred
Johnny Guitar - Now Available on Blu-Ray and DVD!

--Other Articles to Read--
Fathom Events: Frankenstein & The Tempest
The Artist: Analyzing Its Popularity
When Going to the Movie Theater Became Torture
The Best and Worst of 2011
The Pet Peeves of 2011














---


"The plural of Chad is Chad?"
--From the movie Recount
comments powered by