SPOTLIGHTS
A Fool's Utopia 9.6.12: Typecasting Jim Parsons
Posted by Ron Martin on 09.06.2012

This week in one man's utopia we take a look at the career prospects for Jim Parsons, make more NFL predictions, saltine crackers, Pro Kadima and start our journey towards Halloween with the Cadbury Screme Egg!

While researching for The Resurrection of Zombie 7 podcast, I've come across several items stating Linda Blair turned down several horror roles in order not to be typecast as a horror chick after her appearances in The Exorcist and The Exorcist 2. You hear this all the time (more in horror than any other genre). Actors don't want to be "typecast" or they get tired of playing the same role over and over (this happens in TV more often than not). It's not something I've ever understood as it seems if you have work in front of you, you take it. Then again, I've never had the celebrity that these people have so therefore I've never experienced that high and confidence.

This brings me to Jim Parsons.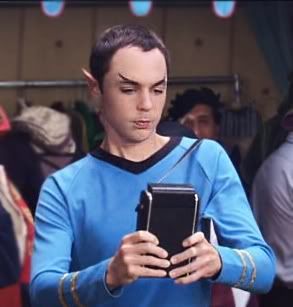 Parsons is going into his sixth year playing television's favorite socially inept nerd. He has rightfully won awards for his portrayal of Sheldon Cooper and looks to portray him at least a few more years as the show has not slowed down or jumped the shark. Great for Parsons – that's some good money, right? However, what happens when the show is over? Castmates Johnny Galecki and Kaley Cuoco have already proven their versatility in order to get more work and can easily slide into another hit TV show (which if they did, would give either of them entrance into the elusive three successful sitcom club). The rest of the cast will find work in other characters via either TV or movies, but Parsons, for better or for worse will be Sheldon Cooper the rest of his life.

Parson's main work before Big Bang Theory came via the stage and perhaps he will retreat back to the stages of Broadway and bask in the glory that is stage acting with its nightly instant gratification and acting fulfillment without the glory of the lesser mediums of TV and movies. However, anyone who sees him on stage will be going to see Sheldon Cooper play Elwood Down in Harvey. The only other thing I've ever seen Parsons in was his brief non-speaking role in The Muppets and even then my first thought was Sheldon in a cameo.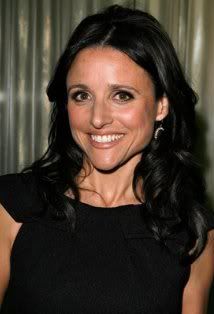 It's not hopeless for Parsons of course. There are examples of typecasted television actors who have eventually re-invented themselves. Neil Patrick Harris eventually got away from Doogie Howser and perhaps may even have made Barney from How I Met Your Mother into his most well known character. In order to do that, however, he had many misfires, had to disappear for more than a decade and had to do a ridiculous but entertaining stint in the Harold and Kumar films. Julia Louise-Dreyfus finally broke the curse of the Seinfeld cast in The New Adventures of Old Christine which eventually led to her role in Veep. Again, however, that was after several misfires and almost ten years after Seinfeld. Her castmates (not Jerry Seinfeld, who somehow remains a top name even without doing anything since 1998) still suffer from typecasting. To this day, when Michael Richards shows up on a screen, you see Cosmo Kramer.

The best course of action for Parsons is probably what he will do. Retire to stage acting for awhile and do voiceover work. There's no doubt that Parsons is talented enough to do voiceover work without invoking the crowd into hearing Sheldon Cooper. With a couple of big animated films to his credit, and a few years out of the spotlight, Parsons would be able to jump back into TV or film, reinvented. That is, unless CBS stupidly decides to spin his character off. Yes, Sheldon is a big reason for the success of the show, but works best when part of the ensemble cast. Too much Sheldon would get quite a bit irksome really fast. Big Bang Theory is probably best served without a spinoff as their best chance (a married Howard and Bernadette) has already passed.

Perhaps Parsons will be happy playing a different variation of Sheldon Cooper for the rest of his life. How many years did Kelsey Grammar play Fraiser Crane? Reba McIntyre starts a new show this fall that is basically the same as her old show with new actors and a different location. Tim Allen switched shows but basically plays the same guy with daughters instead of sons. The casts of all the long running animated shows seem happy to provide their voices for as long as TV will pay them to do so. It'll be interesting to see which way Parsons goes once Big Bang Theory has its final episode.






FIVE RANDOM THOUGHTS



1. MORE NFL PREDICTIONS:

a. The Saints and Patriots will both be Super Bowl contenders and the media will act like both teams are way overachieving. How many times do we have to see this? I've seen some people in the media having the Saints at 8-8! They will win 10-11 games and be in the playoffs easily. The Patriots will do what they always do and that's dominate the AFC, despite no one in the media picking them to be in the Super Bowl – ever.

b. The Dallas Cowboys and Pittsburgh Steelers will both underachieve and the media will be shocked. Members of the media have actually picked the Cowboys to win the Super Bowl. That is insane. Is there a team that's a bigger mess than the Cowboys? Jason Witten is injured; Miles Austin is injured; the offensive line is brand new; Dez Bryant could be suspended at any moment; Tony Romo can't win big games to save his life and they have an unproven commodity at running back. Sounds like a Super Bowl contender to me!

c. Members of the media will make predictions going into Week One and then completely abandoned those predictions after Week One. It's funny how the media overreacts to the games every single week. The team that looks the best each week will be given a "Super Bowl Participant" crown despite the fact that it's just one of 17 weeks.

d. RANDOM BASEBALL THOUGHT: I'm not much of a baseball fan, but I know who the good teams are and such. That's why I'm a bit baffled by The Washington Nationals choice to sit their star pitcher for the playoffs. I completely understand why they've given him an inning count for the season. They're looking out for him long term. However, there's no guarantee that they're going to get a season like this one ever again. I know baseball is different than football or basketball and it's easier to build a dynasty because of the lack of a salary cap, but for a team that has never been to the playoffs in their current incarnation, you would think they would do whatever they can to ensure a World Series appearance. I'm not saying play him at this point, because you do want him for years to come, but why didn't they think of this earlier in the year and start him later in the season or pull him in the middle of the season in case they made it to October? I'm not a baseball guy, so it's entirely possible there's something I am completely missing here.



2. Here I am going over my column last week (after it was published) and scrolling down, I count four pictures. That can't be right, because it's a five by five column. Nope, my dumbass only included four of the categories. I wish that I could somehow blame my computer for this, but I think I must have accidentally deleted the fifth category and just not caught it. Yeah, I'm a dumbass and you can feel free to call me that. I thought maybe no one would catch me on it, but an anonymous guest called me out on it so I have to finish up the five here right now. Here you go: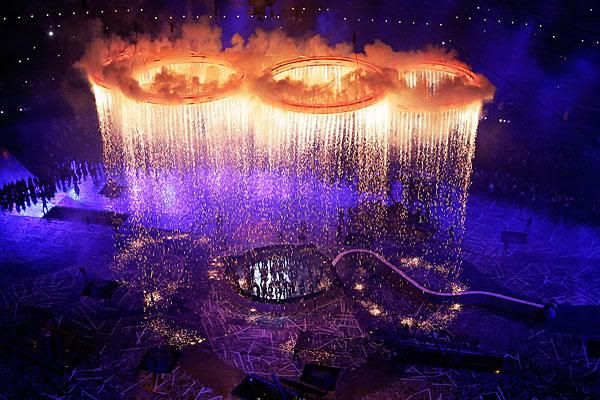 Top Five Things I Watched This Summer

1. The London Summer Olympics
2. Tosh.0/Workaholics
3. Louie
4. The Hatfields and McCoys
5. Grimm

Just remember that I watched Grimm this summer off my DVR, so technically it was a summer show for me even if I did devour a couple episodes a day for a few weeks.

3. Why is it that store brand saltine crackers always taste different than name brand saltine crackers? You would think the formula for making a saltine cracker would be a simple one that would produce a specific result across the board, but no, the generics are different. Blindfold me and feed me saltines – I can tell the difference.


4. Why does NBC hate ratings? This statement could be interchanged with "Why is Grimm airing on Mondays?" or "Why is Grimm now moving back to Fridays?" NBC couldn't stand that they had a new show that had buzz and the potential to bring ratings, so they had to destroy it. Grimm performed well for a new show on the dead night – Friday -- last year. For some reason, NBC decided success is evil so it ran the first few episodes of Season Two on Monday nights. No big to me because I got the show on series record on my DVR. However, the ratings for the show on Monday nights has been down. If NBC doesn't realize that the Monday audience differs greatly from the Friday audience then why are these people allowed to have jobs? Seriously, how do I get a job where I get paid 5-6 figures to screw everything up? The plan was to always move Grimm back to Fridays. Okay. So why not debut it with the new seasons of Whitney and Community, it's actual lead-ins on Friday nights? Just as an aside, could these three shows have audiences that are any different? Ridiculous.

Oh, NBC, you silly bitch. When will you learn?

5. As it should be for everyone, for me September 1 is the unofficial beginning of the holiday season. Holiday season of course meaning two months of Halloween and two months of Christmas with some Thanksgiving thrown in and a drunken escapade on New Year's Eve. I may bitch and moan about all Halloween items (and depressingly Christmas items) in late July and August, but come September 1, I throw all that out the door. I am smart enough to pace myself so as not to burn out a holiday before its time. There's nothing worse than getting too Halloween and realizing you're over Halloween and ready to move onto Christmas.

That's why I'm pacing myself and that's why I never buy anything Halloween before September 1. That didn't keep my from noticing, though. The little supermarket in the little town I live in has had Halloween candies out since the third week in August. It's hard not to see them in the middle of the main aisle. The first thing that caught my attention was this…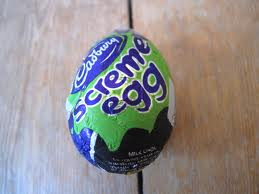 Cadbury is getting all gory on us. My first thought upon seeing this item was – "Wow, why did it take so long for Cadbury to expand into another holiday?" It makes so much sense. The second thought I had was "Wow, why am I so excited over a Easter tradition with a little green food coloring?" I've decided it doesn't matter. I love the color scheme and the egg has that Halloween feel to it even if it just a repurposed Easter candy. It's new this year and I love it as I would love my own children, if I ever had any.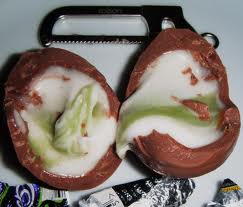 As you can see, the inside goop is now green and white (are a mixed puke green color if you like) instead of the unborn chicken color and white. Why do unborn chickens taste so good? I've been planning on writing about this for weeks and a couple of days before my column comes out, that damn Matt over at Dinosaur Dracula wrote about them in his Halloween Countdown. Damn him! He'll write about them better than I. For the record, the egg tastes exactly like the Easter versions you've come to know and love. Also for the record, after taking a bite, I remembered I don't like Cadbury Eggs. However, that won't keep me from buying more of this if just for decorative purposes.


USELESS TRIVIA AND SHAMELESS PLUGGING

LAST WEEK'S USELESS TRIVIA

In which Aladdin film did Robin Williams not voice the role of the Genie and why?

ANSWER: The Return of Jafar and because he was in a dispute with Disney. Williams voiced the role of the Genie in Aladdin for union minimum as a favor to Disney with the understanding that his name or image not be used in marketing the movie and that the Genie would appear on less than 25% of the movie poster. Aladdin was going head to head with another Williams project, Toys, for a few weeks in the theater. Disney balked on both promises and Williams held a grudge when it came time to do voicework for The Return of Jafar. Disney replaced him with Homer Simpson himself, Dan Castellanata. With a new administration at Disney and a public apology, Williams was brought back into the fold for King of Thieves and even made him a Disney in 2010.

Big ups to KING BOO and CODY PREIMESBERGER for getting part of the answer correct and bigger ups to DUSTY for getting both part pretty much correct. Also, even though he didn't have the correct answer, big ups to BEN PIPER anyways since yeah, I basically stole this segment from him. You should be reading Ben anyways – always entertaining stuff.

SHAMELESS PLUGGING

As always, I'm going to plug The Resurrection of Zombie 7 podcast. We just put up our show about The Exorcist 2 where we discuss the possibilities of Pazuzu being a succubus, Regan vs. Sexy Regan vs. Demon Regan, the differences between a psychiatrist and a psychologist, Dana Plato, how old Courtney Cox looks, my fascinations with shiny objects and whether or not the film could be considered Sci-fi, paranormal or horror. Yeah, we tend to go on rants. Exorcist 3 will be out Sunday and I think that's our best show to date. Big announcement coming soon!






THIS WEEK IN RETRO



Prokadima!

Sunday night, I'm at CVS cruising their early Halloween section and picking up some necessities when I see their summer items are 75% off. Never one to balk at 75% off, I take a gander at what they have to offer and what do I see? A Prokadima set for a little under two bucks! It took me all of three seconds to snatch it off the rack. Don't know what Prokadima is? Well, you could just gander (why do I keep typing that word?) down below at the picture. For those of you who can't wait that long, it's basically two wooden paddles and a rubber ball.

Now, I know what you're thinking – why the hell is this in RETRO if you just bought it on Sunday? Well. It's in RETRO kids because I got one of these when I was about ten years old for Christmas. I didn't think they still made them. The set comes with no rules, so you make your own rules. When I was a kid, these rules were bounce the ball of my bedroom wall in the apartment where we lived and try to hit it back – similar to Racquetball. My mom, of course, immediately put a stop to this in which I astutely replied "Then why did you buy it for me?" Five minutes later I was on the side of the apartment building playing the same game off the brick wall of the building.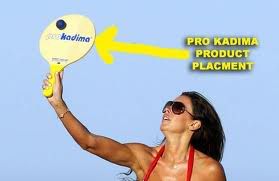 I may be looking at this through the haze of nostalgia, but there is something strange about the Prokadima set I purchased earlier this week. The paddles seem to be made of flimsier wood and the ball is not quite plastic but not quite rubber. It makes a hideous sound when it hits the flimsy wood. Perhaps this is the same sort of material from my younger days but I prefer to think that over time Prokadima companies all over the world decided to downgrade on quality since the sport was downgraded to the discount racks at CVS.

Again, if you don't know how to play Prokadima, it's okay. There are no known rules except "hit the ball with the paddle." You don't even have to hit it at another paddle. I hit the ball at my sister several times. Turns out – it's just as fun! Dogs, sisters, babies – whatever! Prokadima promises minutes of fun before you lose the little blue ball and are forever bored again. Yeah, I already lost the ball. Damnit!






23 Years Ago Today


September 6, 1989

#1 Single



"Cold Hearted" by Paula Abdul



#1 Album





Repeat Offender by Richard Marx



#1 Movie





Uncle Buck



I must leave you now.




comments powered by