SPOTLIGHTS
411 Fact or Fiction Movies/TV 9.14.12: Week 348
Posted by Ben Piper on 09.14.2012

Would Viggo Mortensen be an excellent choice to play Dr. Strange? Will Resident Evil: Retribution be a better than average installment of the franchise? Are people interested in seeing a documentary about the life of Roger Ebert? 411's Tony Farinella and Mike Gorman debate these topics and more!




Blah blah blah, Fact or Fiction, Blah. What? We all know what we're here for, no sense in me padding it out under false pretenses with empty platitudes. You're here for Fact or Fiction, and I've got your Fact or Fiction! This week we've got Tony Farinella and Mike Gorman sharing their expertise.




1. Resident Evil: Retribution will be a better than average installment of the franchise.

Mike Gorman: Fact. I think that there appears to have been a lot of thought on the part of Paul WS Anderson as he got his third installment, the fifth in the series, of Resident Evil underway. This time out the film seems to be drawing on a lot of the continuity ground work that has been laid out as the series has progressed, pulling in older characters and bringing us all deeper into the inner workings of the up until now still very mysterious Umbrella Corporation. Sure we know that they are global dominators but we have yet too see much of their actual infrastructure. I also think that this is one film series that will benefit from the 3-D experience. These films tend to be fun roller coaster rides that you don't need to wrap your brain around in order to understand them. I think that Retribution seems poised to deliver on all the points the previous films have hit and even more.

Tony Farinella: Fiction. Do we really need another Resident Evil film? I know it will make money and there is interest in it because of the fanbase, but sequels, prequels, reboots, I'm completely burnt out on them. It's unnecessary and only done to make money. I'm clearly not the market for this film, but how much more can they squeeze out of this franchise?

Score: 0 for 1

2. A documentary on the life of legendary film critic Roger Ebert is something you'd be interested in seeing.

Mike Gorman: Fact. I will be honest. I was very torn on this one. I am not sure his life in general would make for the most fascinating or ground breaking of documentaries but I do think that if it put a focus on where his love of film and how his life has shaped his perspective on it, this could be a success. I would like to see the evolution of his credentials and experience as a critic laid out. Also, I bet it would be a lot of fun for other critics to be able to review the film.

Tony Farinella: Fact. I think it's a fantastic idea. I'm a huge fan of Roger Ebert, Gene Siskel, and Richard Roeper, and I'm endlessly fascinated by what they do and how they do it. I've read his autobiography, which is what the documentary is based on, and he has led a very unique life. It would be interesting to hear more about his relationship with Gene Siskel, how he handled his death, and his own health issues. Ebert has become more personal in his blog writing, and I think his story is an inspirational one about living life to the fullest even when your health has taken a turn for the worse. The talent behind it, Martin Scorsese and Steve James, who directed the incredible Hoop Dreams, is top notch, so this will be a great documentary.

Score: 1 for 2

3. Shia LaBeouf's assertion that he's done with big Hollywood blockbusters is disappointing.

Mike Gorman: Fact. Stay with me here... I did not choose "Fact" because I think that the Shia LeBeouf blockbuster ouvre has come to a close. I do not morn the loss of his wooden acting on my big screen. Instead, I chose "fact" because there is one major coded disappointment wrapped up in this assertion. The very clear fact that such a public declaration is clearly a publicity stunt to see just who will clamor for it not to be true and therefore revealing the truth that his turn as leading mean on big budget Hollywood disasters is far from over. My own truth is that I could really care less if he stays or goes, as I know that my hard earned theater going money will still most likely stay as far from this man as possible.

Tony Farinella: Fiction. I've never liked Shia LaBeouf or been impressed with any of his films. Disturbia is the only film of his that I sort of enjoyed because it was done as B-movie entertainment. Still, it wasn't anything to write home about in terms of his career. I sure don't want to see him doing independent work because I usually gravitate towards those films as opposed to the big blockbusters. I'd rather he stay with the big blockbusters because I don't spend my time or my money on them. So, I'm pretty much indifferent to this news which is how I feel about most of the work of Shia. I do agree with Mike, however, that he's just trying to make headlines. I don't believe this story has a real leg to stand on.

Score: 1 for 3



Switch!!!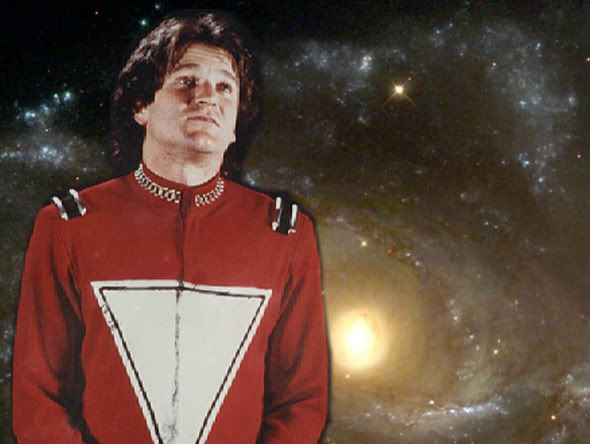 4. Robin Williams returning full time to star in a network sitcom would get you to tune in.

Tony Farinella: Fiction. It depends on what Robin Williams does with the part and the role. If he acts like the typical Robin Williams, where he is loud, manic, and annoying, I won't be all that excited about it. If he plays it more low key, relaxed, and actually acts, I'll be interested in what he does with it. I have a feeling, however, that it will be more of the same from Williams. When he gets a chance to be let loose, it's not a good thing. He needs to be reeled in and work within the confines of a show, not be left to his own devices.

Mike Gorman: Fact. While I do agree with Tony that a series that is just Williams being Williams, ie. wacky, zany over the top energy every moment would grow tiresome very quickly, I think that there is one thing we have seen blossom on television recently that would give me hope, the writing. I think that right now we are seeing a return amongst television sitcoms to solid writing and character development that constructs interesting storylines layered with strong humor that doesn't just rely on pop culture zingers or puns to be funny. I think that in this current television environment Williams would be able to find a vehicle that would allow him to play to his strengths and also showcase some of his more out there antics. He is a brilliant comedian and I think there are some great writers/producers out there right now who could allow him to shine.

Score: 1 for 4

5. Viggo Mortensen would be an excellent choice to play Dr. Strange in the Marvel Cinematic Universe.

Tony Farinella: Fact. Viggo is one of the most interesting, unique, and out-there actors that we have in Hollywood. He is perfect for the part of Dr. Strange. He will add so much to this character and make him quite entertaining and fun to watch for the audience. This is great casting, and I can't wait to see what he does with this role. I know he will knock it out of the park.

Mike Gorman: Fiction. I have to vehemently disagree. I think that Mortensen is a fantastic actor who probably would be good in the role but I do not think it is at all the right part for him. Mortensen tends to bring a rough edge to his performances that works well for most of the characters he has played but Dr. Strange requires something different, more of a razor sharp scalpel's edge to continue my metaphor. In my opinion the character of Dr. Strange requires a lithe, precision that I just don't think Mortensen would bring to the performance. He is a surgeon and steeped in aloof mystic tradition. I would also rather see an actor who is a better physical approximation of the representations of Dr. Strange in the role, someone a bit less physically robust perhaps. This whole discussion may just be a moot point as Marvel announced the several days after the initial rumor of his casting that it was not true and that there had been no talks with Mortensen.

Score: 1 for 5

6. Russell Crowe making his directorial debut on a biopic of controversial comedian Bill Hicks is an idea you can get behind.

Tony Farinella: Fact. Crowe always been a difficult actor to work with because of how intense he prepares and how much he puts into every role, so I don't think it will be any different when he directs. I think it might end up being a masterpiece. Bill Hicks is a very captivating subject for a biopic and when you add someone as eccentric as Crowe to the mix, I have high hopes. There is a chance it could go over budget and Crowe could go crazy as well. I'm leaning towards it being a giant success, however. I'm always interested to see what actors bring to the table as directors, especially someone like Crowe.

Mike Gorman: Fact. I completely agree this time. I think that while Crowe is best known for his big budget blockbuster roles, he has done some earlier independent work that showed the true intensity and depth of his process. I am certain these are things that he would bring to a project of this nature. He has been talking about doing the Hicks film for going on five years and to see that he is finally getting it into production is a testament to the effort he will put in. Hicks was a complicated and hilarious man whose life deserves the care and attention that Crowe is promising. My only concern is that Crowe is so invested in the project that this being his first feature direction could lead to some self-indulgence that could over complicate the film. If he is able to keep his focus sharp and the intensity he shows present though, it could as Tony suggested truly end up a masterful work.

Final Score: 2 for 6

And that's that, Tony and Mike don't find much common ground. Many thanks to them both for taking part, and see you all once again next week!
-BP



TWITTER

http://www.twitter.com/411s_Ben_Piper
http://www.twitter.com/411mania
http://www.twitter.com/411wrestling
http://www.twitter.com/411moviestv
http://www.twitter.com/411music
http://www.twitter.com/411games
http://www.twitter.com/411mma




comments powered by