Alternate Takes 09.15.12: Top 10 X-Men Characters
Posted by Shawn S. Lealos on 09.15.2012

From Wolverine and Cyclops to Professor X, Rogue, Nightcrawler and more, 411's Shawn S. Lealos counts down the Top 10 X-Men characters of all time!

Welcome to Week 219 of Alternate Takes, my name is Shawn S. Lealos and you have entered my world.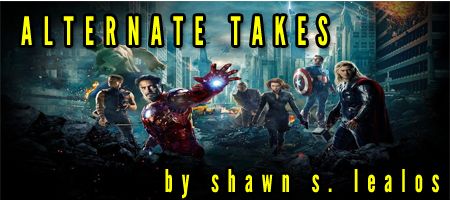 Thanks for stopping by Alternate Takes this week. I am on the road, out of town, so I am going to skip the VS. this week and just cut to the meat and bones of the column. BY THE WAY, THERE IS A MAJOR SPOILER FOR THE X-MEN VS. AVENGERS COMIC BOOK THAT CAME OUT THIS LAST WEEK IN THIS COLUMN. YOU HAVE BEEN WARNED.

By the way, The Avengers slaughtered X-Men 2 last week, 822-118.

1. The Dark Knight (1-0) – 887
2. Dark Knight Rises (1-1) – 629
3. The Avengers (1-1) – 505
4. Superman II (1-0) - 339
5. Batman Returns (0-1) - 330
6. Spider-Man 2 (2-0) – 318
7. Hellboy 2 (1-0) – 255
8. Blade 2 (0-2) – 201
9. Daredevil (1-0) - 170
10. X-Men 2 (0-2) – 132
11. Fantastic Four (0-2) - 89




For those who read comics, you know that Cyclops killed Professor X at the end of the "X-Men vs. Avengers" storyline. The series' writers said that Professor X was no longer needed in the X-Men universe, since all his students were grown adults and they had taken over the teaching. Since he was a thing of the past, they felt he was better used dead than alive. I don't know how I feel about this, and since no one stays dead forever, it may not matter.

But as an X-Men fan from the early days of the team (I started reading comics in the 70s), I thought I would count down my personal Top 10 members of the X-Men for this week's column.



10. ANGEL



Warren Worthington III was one of the original X-Men and that alone gives him some precedence on a list like this. However, what really pushes him over Iceman is the fact that Angel went on to become a major badass over his career. He lost his wings, he gained them back, he became a major player in the Four Horsemen of the Apocalypse and then he became Archangel, a very dangerous character. A lot of X-Men went through transformations in their careers, but Angel has completely morphed from a boring member of the X-Men into something very unique.



9. BEAST



Another original member of The X-Men, it is clear that Hank McCoy also morphed into something different, but he has been the blue Beast for so long that his human look (which was really lame) is almost forgotten. He is the smartest of all the X-Men and also served in prominent roles in the Avengers and Defenders. He also had one of the better recent storylines in Joss Whedon's run when he tried to help cure the mutant gene.



8. ROGUE



Rogue started out as a villain before finally turning sides and joining forces with the S-men. She is Mystique's daughter and almost killed Ms. Marvel before finally turning to the side of good. The X-Men were never able to teach her to control her powers (although that did happen by other means), but they taught her how to be a hero and deal with the world that she used to hate. She also got it on with Gambit, who did not make my Top 10 for personal reasons.



7. NIGHTCRAWLER



Nightcrawler is one of the best types of superheroes. He has a lot of religious guilt to go along with the fact that his mutant powers make him look like a demon. As a result, he pretty much hates himself while fiercely protecting those he loves. He has been part of some of the best X-Men storylines and his death meant as much to the members of the team as anyone's.



6. JEAN GREY



Jean Grey could have been higher but I feel her best contribution to the X-Men was through her death (and staying dead). She was an original member and the true love of Cyclops. Her death was one of, if not the biggest moment in comic history. Honestly, she sucked as Marvel Girl but was fantastic as Phoenix and became the team's greatest villain as Dark Phoenix. Forget about the resurrections, because her original death makes her one of the most important X-Men of all time.



5. STORM



Next to Cyclops, no one has led the team more and longer than Storm. While she is spending less time as a superhero lately, she remains one of the most powerful of the X-Men. At first considered a Goddess, it turned out she was just another mutant, although one with immense powers over the elements. While Cyclops was the defacto leader of the team, Storm was its greatest leader.



4. KITTY PRIDE



What makes Kitty Pride so great? It is not her powers, which are not that big when battling super villains. It is not her size, as she is one of the smallest. However, it is her heart and her loyalty to her team, friends and family. After the original X-Men, Kitty was really the person you see when you look for a child brought in and raised as a member of the X-Men. From that young teenager, she grew into a strong leader and teacher for the team. Kitty is the perfect example of the good the school could do for young mutants.



3. PROFESSOR X



He is the man that started it all, the man whose dream built the X-Men into a legitimate team. Professor X melded the X-Men into a unit that existed to create a world for mutants that fit his visions and beliefs. Without Xavier, there would be no X-Men. He was the father of the cause, and that is why his death is so important now. In death, he will always be remembered as the man who started a new religion.



2. CYCLOPS



If you want to go to Shakespeare, Cyclops is the son that was destined to take over kingdom from his father. The fact that Cyclops killed Professor X was necessary for this analogy to occur. He has grown from a brash young man into a strong, determined leader. If X-men vs. Avengers showed anything, it is that Cyclops is as strong of a leader as Captain America is, and that says something. Cyclops is the X-Men and everyone else just follows his lead.



1. WOLVERINE



Wolverine is the exception. Yes, this is a popular choice that will be hated by just as many people. Wolverine has always been the cool choice when talking about favorite X-Men characters but that is because he is the one with the most grey area in his loyalties. He is his own man, willing to do anything to achieve his goals and never one to take orders. He is the perfect antihero in the Marvel Universe. He is also one of the strongest, most loyal members of The X-Men for many years. While he will never be a true leader, he is someone who will fight to the death to protect the team and is the most interesting character in the X-Men universe.




September 21, 2012

Dredd



Directed by Pete Travis

Starring Karl Urban, Lena Headey, Olivia Thirlby
September 25, 2012

The Dark Knight Returns, Part 1



Directed by Jay Oliva

Starring Peter Weller, Michael McKean, Wade Williams, Ariel Winter
February 1, 2013

Bullet to the Head



Directed by Walter Hill

Starring Sylvester Stallone, Jason Momoa, Christian Slater, Sarah Shahi, Adewale Akinnuoye-Agbaje
May 3, 2013

Iron Man 3



Directed by Shane Black

Starring Robert Downey Jr., Guy Pierce, Cobie Smulders, Gwyneth Paltrow, Paul Bettany, Ben Kingsley, Don Cheadle, Jon Favreau, William Sadler



June 14, 2013

The Man of Steel



Directed by Zack Snyder

Starring Henry Cavill, Amy Adams, Russell Crowe, Michael Shannon, Kevin Costner, Diane Lane, Christopher Meloni, Lawrence Fishburne
June 28, 2013

R.I.P.D.



Directed by Robert Schwentke

Starring Ryan Reynolds, Kevin Bacon, Mary-Louise Parker, Jeff Bridges
R.I.P.D. is an upcoming action-comedy crime film set to be directed by Robert Schwentke, based on the comic book Rest In Peace Department by Peter M. Lenkov. The film will star Ryan Reynolds and Jeff Bridges as Nick Walker and Bo, respectively.
July 26, 2013

Thor 2: The Dark World
August 2, 2013

300: Battle of Artemisia
July 26, 2013

The Wolverine
October 4, 2013

Sin City: A Dame to Kill For
April 4, 2014

Captain America: The Winter Soldier
May 2, 2014

The Amazing Spider-Man 2
August 1, 2014

Guardians of the Galaxy
comments powered by