SPOTLIGHTS
A Fool's Utopia 10.4.12: New Show Roullette
Posted by Ron Martin on 10.04.2012

This week in one man's utopia, I take a look at four new shows and decide whether my original preview of the shows were correct. Also, for no extra charge, we talk Scarefest, the Ghost Hunters Halloween show, the return of Halloween Wars and partying on Halloween with Elvira at the Bates Motel.

This is pretty much an annual thing. I preview all the new network shows in June or July, but when they actually start to air, I'll record a handful of them (and not just the ones that I thought were interesting and were going to record anyways) to see if maybe they can win me over/change my mind. Last year, I was big on Two Broke Girls in my previews, but hated the actual show. It was so popular, I gave it another shot later in the season and still hated it. I just don't get why people like it. Then again, I don't understand why people like Two and a Half Men either. Here is my take after a few (or one) of four new shows.




Ben and Kate

This show is pretty much what I thought it would be. It's the kind of show that when you read the script, everything looks good on paper. You would read the script and think 'Wow, this is a funny show!' Unfortunately, that doesn't translate to the screen. I can really pinpoint what's not working for me on this show. There are lines in the show that when they are delivered, I think to myself – that should be funny, but it's just not. I know that points to the acting, but I don't think the acting is seriously awful. Perhaps it's just the chemistry between the cast. Something's not working – if they can find out what it is and fix it, this could be an entertaining show. I do question the casting of a supporting female who looks almost identical to the lead female save for her accent. I'd be willing to bet anyone a paycheck that before the first season is over, this one sleeps with Ben, probably during a drunkfest. I'm also not real big on the "pull at your heartstrings" flashbacks to when Ben and Kate were kids. They could get rid of those and I wouldn't cry.





The New Normal

After watching two episodes of this show, I still haven't made up my mind on it. For me, Ellen Barkin is carrying the entire show at the moment with her racists, homophobic mom act. The kid does nothing for me. The gay couple does nothing for me. The surrogate mom does nothing for me. They don't straight up make me want to turn the channel. They're just there. Unlike Ben and Kate, I did chuckle a couple of times when watching these episodes, but always at the hands of either Barkin or a guest star. Luckily for me, one of the two episodes I watched was all about Barkin's character getting duped by a short fat guy into a couple of bouts of sex and I can honestly say that I thoroughly enjoyed every scene she was in – except for the flashbacks. Again, it seems needless. Some shows can pull it off (Malcolm in the Middle, That 70s Show). This is not one of those shows. I probably won't be watching any more of this show, but I can see it gaining an audience.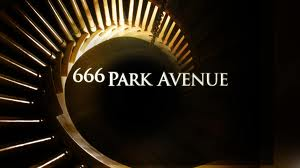 666 Park Avenue

I originally dismissed this show as a yuppie attempt at a horror series. It still may end up being that, but for now, it has my attention. Not 'OMG I have to watch every single week' attention, but I am interested enough to catch the next episode. I'm a little leary of the fact that these people went to a job interview that consisted of "I don't do charity – get out!" and then ended up getting the job when the girl spouted out some sort of building history in New York. In fact, I don't like the two main characters very much. I'm more interested in Mr. Doran, the supposed demon that makes the tenants in the building do his evil building or he'll have them sucked into the wall – literally. Apparently being "managers" of an upper East Side apartment complex means you go to fancy events, get clothes bought for you and go to driving ranges – no actual work in the building is necessary. This show is hanging on by a thin line, but I'm in for a second episode.




Made in Jersey

I predicted this show as the worst of the season in my previews and after seeing an episode – I stick by that statement. A girl from Jersey comes into a big law firm in New York and wins cases using her street smarts. Martina literally solved this case singlehandedly. She works at a huge law firm full of lawyers who have been working as lawyers for years and years. In fact, she's only worked there for four weeks but she is so much smarter than every single person she works with that she figures everything out on her own. I'm willing to suspend disbelief for the purposes of a TV show, but really? She got this position be denoting in a meeting that a pair of pliers are used only for zipping up tight pants and could never be used as a murder weapon. True story. That's all you need to know.



FIVE RANDOM THOUGHTS



1. For the second time in three years, I found myself at Scarefest in Lexington, KY this past weekend. There was a reason for my adventure, it wasn't just a random event. I was adding to my Ghost Hunters International collection by meeting up with Paul Bradford, Scott Tepperman and THE SLAUGHTER for the first time and Joe Chin for the second time in two months. Yes, I survived a meeting with the great Joe Chin for a second time. I try to stay to his left, just in the corner of his eyesight and I do not eat Hostess snacks in front of him. That last part is very important. Like any other meeting I've had with GHI cast members, it was a good time. I am kind of curious what people think I look like. This is the third time I've met someone who reads a column of mine and have gotten "You're not what I pictured." I hope that's a good thing. If you're a fan of the show and you get the chance to meet any of these guys and girls at a convention near you, I highly recommend it – especially is Paul and Scott are there together.

While at Scarefest, I also had the time to meet a few other people I had been wanting to meet such as Denise Crosby, Dee Wallace and Josh Gates from Destination Truth. Let me say, for a lady over 60, Dee Wallace is still getting it done. Gates doesn't make very many con appearances so his line was incredibly long all day long and rivaling that of any other line at the convention. It should be noted that two of the convention top draws, Malcolm McDowell and Clive Barker, had to cancel for various reasons. Like every other celebrity I've ever met at one of these events, everyone was crazy nice. My only regret is that my doctor has me on a diet that includes no alcohol because of a spasming esophagus (and you are encouraged to make spasming esophagus jokes in the comments) and I wasn't able to stick around and buy everyone a round at the bar like I did last time I was at that particular convention. I've always said the cats on GH and GHI are people I think I'd want to have a beer with and got to do it once – and I shall do it again! Dee Wallace can participate if she likes as well.


2. Speaking of GHI, Destination Truth and all things SYFY paranormal, for the second time in four years, Ghost Hunters will not be doing a live ghost hunt on Halloween Night. I don't know if this was a Pilgrim Films call, a Jason Hawes call or a SYFY call, but I don't like it. I may have been down on recent seasons of Ghost Hunters and even more so on the new Jason Show that Ghost Hunters has become, but I've always liked the live investigations on Halloween Night – even the 2008 show which was kind of like watching a train wreck. It's a nice Halloween tradition and the perfect thing to have on your TV if your setting up a spooky atmosphere in which to hand out Halloween candy or in the background of a Halloween party. It was always scored decent ratings, but SYFY played around with the format too much by first moving it from 9-3 AM, to making it a primetime affair from 7-1 AM, to adding an hour to making a huge commercials for all things SYFY. Instead, SYFY has decided to air a live finale of this season of Face Off, a makeup reality show that I have absolutely no interest in. SYFY has managed to screw everything up since the spring, with debuting new shows and moving shows around – nothing has worked.




Face Offs ratings are a little bit better than the skeleton version of Ghost Hunters, but then again Friday Night Smackdown is the highest rated show on the network, so why not have a live wrestling event on Halloween? Again, I don't know who pulled the plug on the Halloween show, but I do know that we have the entire GHI team and the entire Destination Truth team sitting on the sidelines doing nothing. You want to get crazy? There's like three other ghost hunting shows on SYFY – get some of those personalities. There really is no good reason that we're not getting a live ghost hunting show on Halloween night. It's not like GHI and Destination Truth haven't done this before. They did a live ghost hunt on St. Patricks Day in 2011.

I understand that live TV is hard and probably more expensive. There's no guarantee that a ghost hunt is going to yield anything, but watching the live Halloween shows that actually worked, you don't need anything to happen. The suspense should be enough to carry the show. SYFY dropped the ball with this one, much like they've dropped the ball with just about everything this year.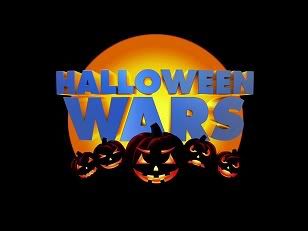 3. Speaking of dropping the ball, let me tell you about one channel that didn't drop the ball – the Food Network. You all know of my growing love for this channel, but I am excited that they are bringing back Halloween Wars, though I spoiled part of what I liked about the show last year in seeing who the "surprise horror guests" were. Not as good as last year's list, but I'm still stoked about the show. I'm curious whether or not they are using five brand new teams or if they are recycling several of the people from last year. How many pumpkin carvers can there be in the world? The show has just the right amount of Halloween camp mixed with incredible skills of pumpkin carvers, candy makers and cake makers. The first episode airs this Sunday and I am sure I will get stuck on The Food Network 9 PM Sunday slot for the next nine months.

4. I would have thought David Blaine would have went away by now. Nope. The stuntman is now going to surround himself with a million volts of electricity for three days. Does anyone care at this point? I suppose if I were in the area in New York area on that side of town, I'd stop by for five minutes and see the spectacle, but since I will not be in the area, I don't care enough beyond this paragraph. Does anyone?


5. I made my way to Halloween City this week. It's obviously one of those Halloween stores that pop up in early September. This particular one focusses a little more on costumes than goodies, but I did find some cheap Halloween decorations, including this six foot wall zombie portrait.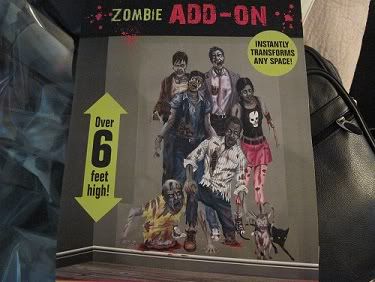 If you'll notice the cardboard cover says that this decoration comes in two parts. I didn't see that and thought I could just roll this mother out and post it on the wall. Not only am I stupid, but the creators of Scene Setters lied. It does come in two pieces, but there are three separate parts of the scene that you have to cut out.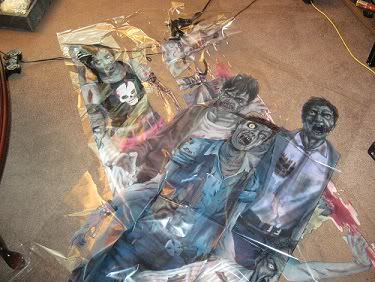 Had I known that cutting was going to be involved, I may have balked on the whole deal. This is a Scene Setter add-on. You're supposed to added it to one of the more expensive "scenes" that cover and entire room in your house. I've always wanted to try one of those scenes on for size. The Halloween season is young, so who knows, I may yet. Has anyone had an experiences with these? For the record, the "instructions" on the cardboard cover of the piece are entirely wrong as to how the scene is split up amongst the two pieces. It doesn't matter – it's pretty easy to figure out. I'm not very good with scissors and tapes, but I think I did a decent job this time. I give myself a B-.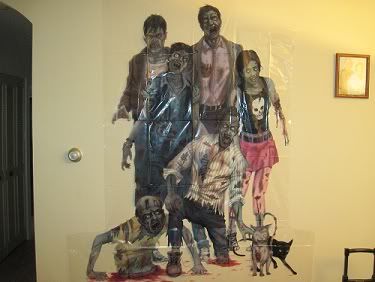 USELESS TRIVIA AND SHAMELESS PLUGGING

LAST WEEK'S USELESS TRIVIA

John Stamos played Jesse Katsopolis on Full House. However, the character had a different name during the first season of the show. What was it?

ANSWER: Cochran. The producers changed his last name to Katsopolis in the second season to take advantage of Stamos' Greek background. It was explained that he was going by the name Jesse Cochran because it sounded more like a rocker name. With the change in format for 411mania, it seems the comments from last week were wiped out, so I can't give kudos this week. I know at least one person had the right answer – if that person was you, stand up and take credit!


SHAMELESS PLUGGING

Yeah, I now got two shameless things to plug every week. If you're a horror fan, perhaps you love this. If you're not, perhaps you are not reading this. Still going with The Resurrection of Zombie 7 Podcast. This week we released our Halloween episode with an in depth review of The Asylum's Halloween Night as well as some talk about what we like to do on Halloween. We had to have our Halloween show way early because the rest of the month is devoted to the Pumpkinhead series.

On top of that, the Zombie Reckoning Podcast debuted yesterday on The Horror Palace Network. Our first episode pits Zombieland vs. The Funhouse in the Battle for the Carnival. Check it out!






THIS WEEK IN RETRO



This column is no stranger to Elvira. I think I've written about here in the previous five Halloween seasons that I've had here at 411mania and I intend to write about her in the sixth – I guess I already have. This may not be the only time I write about her this month. What Cassandra Peterson has done with what should have been a short term regional character is nothing short of amazing. The fact that she's been the "Queen of Halloween" for nearing 30 years is a testament to her talents. Of course, it helps that she has giant sized boobies and knows how to work them.

As a witness to her recent appearance (as Cassandra Peterson for once) on the Counting Cars show on The History Channel to have work done on her one of a kind car from Elvira, Mistress of the Dark, Cassandra is still getting it done big time! She seems ageless, but that's neither here nor there. I have a problem every Halloween season. It seems like I get my Halloween on big time the entire month of October, but when the big day arrives, I have little or nothing to do. Elvira doesn't have that problem. She is contractually obligated to be somewhere on Halloween, every Halloween. Not only that but the places that want her to be where they are, bid for appearance.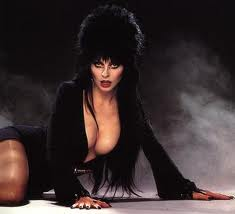 Let me take you back to 1989 where the highest bidder that particular Halloween was Slice. Slice is still around, but nearly as prominent as they were in 1989. They were a fairly new soda and I swore that their orange flavor was the best orange drink I ever had. I think I just wanted to believe that. Mandarin Orange Slice and Mug Root Beer were having a contest with the winner receiving a party date with Elvira at the fabled Bates Motel in Hollywood.

I've been unable to uncover what the exact details of the contest were. I would guess it's the generic "buy some Slice, send an entry form in" sort of ordeal. The prize was indeed a party with Elvira on Halloween at the Bates Motel. Seeing as how the Bates Motel façade wasn't an indoor working set, the party was actually held in a tent on the grounds of Motel. To this I say – who cares. I'm partying with Elvira on Halloween and the Bates Motel is behind me! Apparently, the liquids served weren't Slice and Mug Root Beer. Hmmm….is there a better opportunity to get a slightly inebriated Elvira to reinact the infamous shower scene?! Yes, please.



23 Years Ago Today


October 3, 1989

#1 Single



"Girl I'm Gonna Miss You" by Milli Vanilli



#1 Album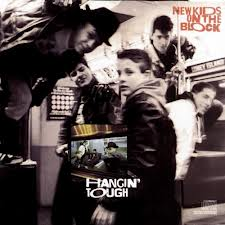 Girl You Know It's True by Milli Vanilli



#1 Movie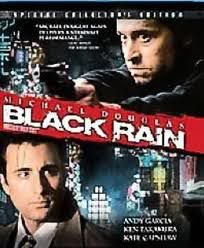 Black Rain



I must leave you now.




comments powered by