SPOTLIGHTS
411 Fact or Fiction Movies/TV 10.05.12: Week 351
Posted by Ben Piper on 10.05.2012

Will Taken 2 be as good as the original? Is Seth MacFarlane a good choice to host the Oscars? Will Frankenweenie be a weird kid's movie that adults will enjoy? 411's Jeremy Thomas and Robert Cooper debate these topics and more in this week's 411 Fact or Fiction: Movies!




As you all most assuredly are aware by now, we have a new comments section! So far, so good, I must say. If you haven't signed up for it via Disqus yet, what are you waiting for? Get on that posthaste and let your opinions be known. Just play nice, because we're watching. Trolls shall not be tolerated.

This week for the Fact or Fiction, we've got 411 stalwart Jeremy Thomas matching wits with the music zone's resident metalhead Robert Cooper. Let's see what they have to say.




1. Taken 2 will be just as good as the original.

Jeremy Thomas: Fact. I realize that this is a tall statement; I loved Taken. That being said, I didn't see how a Taken 2 would work. The story seemed pretty complete with the first one. What we know of the story for the second makes a lot of sense though in terms of a continuation; while it obviously wasn't a preplanned sequel, it fits naturally with what came in the first one and it gives Liam Neeson an opportunity to do a lot more ass-kicking. Really, this is a pretty simple formula and I think that the filmmakers know that: piss good old Brian Mills off by putting a member of his family in danger, throw a bunch of bad guys in his way and let the carnage unfold. It's not overly complex but that's what makes the first film work so well. I'll watch Neeson in just about anything, but this is one I'm really excited about seeing.

Robert Cooper: Fact. Now granted, I have only seen bits and pieces of the original move, and by what I saw, I found to be enjoyable. Just as Jeremy says, the story of Taken seemed like it was only meant to be contained in one movie. Also as Jeremy says, what they have shown for the second movie does make sense in relation to the other movie. I don't think that the studio really planned on releasing a sequel, but we do get more of Liam Neeson kicking the ever loving crap out of kidnappers. Though one must wonder how original of a movie this could be when the plotline for this one seems to be quite similar to the plotline of the last, but then again, Liam Neeson may be like Mario from the Super Mario games, they kidnap someone and he beats them senseless and rescues the kidnapee until it happens again.

Score: 1 for 1

2. You'd tune in to A Knight's Tale TV series.

Jeremy Thomas: Fact. For an episode or so, sure. I can't promise I'd watch more than that though. I actually am not a fan of A Knight's Tale and I don't think that Brian Helgeland mixed the modern music and past storyline all that well; the plot was also fairly dully executed. But that doesn't mean it wasn't an intriguing idea and with another pass at it, someone could do it well. Ronald D. Moore has done well with TV in the past and he could do some good things here; the show's biggest problem of course is going to be avoiding the label of "ABC's Game of Thrones wannabe." I think that will be very tricky, but there is potential.

Robert Cooper: Fiction. As much as I'd like to say Fact, I can't bring myself to do it. I liked the movie back in the day (when I saw it in 9th grade), but I don't really see it translating all that well to the small screen. Granted, there is room for more stories to be told, since (SPOILER SPOILER SPOILER) the movie ended with there being plenty of options when it came to a sequel. But I don't think there was enough in the characters, or the scenery, or the story to really warrant a show based around it all. It can still be done, but I don't think I'd be all that interested in it.

Score: 1 for 2

3. Rebooting The Mummy franchise so soon after the last movie is a bad idea.


Jeremy Thomas: Fiction. Don't get me wrong here; I dislike Hollywood's constant obsession with rehashing past ideas as anyone. But there are a couple things I need to point out. First off, no one liked that Sony was rebooting Spider-Man and yet it was very successful and garnered a fair amount of fans, myself begrudgingly included. The Mummy franchise was clearly dead in the water after the beyond-mediocre Tomb of the Dragon Emperor, which gave the franchise to Rob Cohen and let Rachel Weisz get away. That was in 2008, a year after Spider-Man 3 so the time frames are about the same. The other thing is that with Stephen Sommers' take on The Mummy, the studio went in an action direction. If Universal keeps this in more of a horror mode, they could offer something new (or a new take on the original old concept). This is more than a total rehash and they have several ways they can go about it. It COULD turn out very poorly to be sure, but I'm not going to say it's a bad idea without reservation.

Robert Cooper: Fiction. What do they have to lose?, I personally liked the original The Mummy as well as the animated series that it spawned (that I watched as a kid, so mind that fact), but after that, I felt that this series was a sliding slop of bad film after that. Just like Jeremy, I don't like studios rebooting franchises every few years, but in some cases it works. I liked the new Spider-Man film, even though I felt that it was too soon to remake the Spider-Man films. I also agree that there are other directions the series could take, I think that it is perfect setting wise for a horror film, and not one of those crappy jump scare films either.

Score: 2 for 3



Switch!!!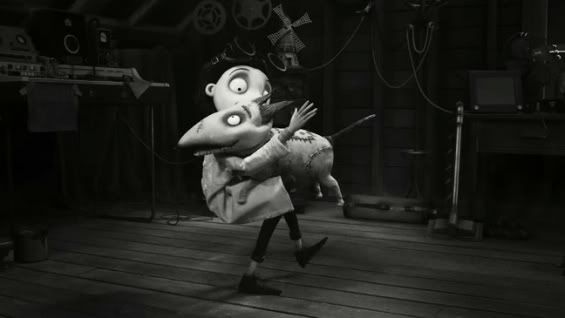 4. Frankenweenie will be a delightfully weird and wonderful kid's movie that adults will enjoy as well.


Robert Cooper: Fact. I think that the premise is definitely weird and I think that the idea of the movie is good enough on paper for it to be wonderful. When I saw the trailer, and I thought that there was room there for some character development and drama, especially if Disney wants to explore some darker idea such as death and rebirth and things of that sort. I think that is something that Disney has been good at (but perhaps that is only when Pixar is involved) not treating the kids like idiots by talking about serious things at their level as well as making some things that adults can enjoy.

Jeremy Thomas: Fact. That certainly seems to be the word. As Robert said, I had some good hopes when I saw the trailer; a family-oriented take on the classic Universal horror tropes sounds like a lot of fun and the original 1984 short was a lot of fun, so I was already looking forward to seeing what Burton was going to do in expanding it out and animating it. Burton's been very hit-or-miss over the last few years; I think I enjoyed Alice in Wonderland more than many cinephiles but Dark Shadows had a lot of issues and his last couple animated efforts, Corpse Bride and 9 (the latter of which he admittedly only had a production credit on) aren't favorites of mine. However, the buzz around this is quite good and I think Burton and Disney should be able to do some good stuff here.

Score: 3 for 4

5. Seth MacFarlane is a great choice to host next year's Oscar telecast.

Robert Cooper: Fiction. I said Fact, until I reconsidered exactly how high of a caliber a "great choice" is. I know that nowadays hosting an award show is not the hardest job in the world, but I think Seth MacFarlane can do a good job. The guy is charming and has good jokes, but I don't know if he'll be as good as someone such as Billy Crystal (who I was totally around to watch...), but he can't be as bad as Hathaway and Franco, who tried, but I think they over-tried. I doubt I'll watch though, it always ends up being bullcrap, just like the Grammys.

Jeremy Thomas: Fact. Maybe this is just due to the poor track record the last few years, but I think he'll be great. The last one I really enjoyed was Jackman in 2009, and he wasn't an all-time great by any stretch. Hathaway was good but didn't gel with Franco and Crystal was a flop last year by doing some tired material (although it was nice to see his opening musical number again for nostalgia's sake). MacFarlane has a great sense of humor and he's able to be funny without absolutely needing to resort to the risqué stuff he does on Family Guy. I think he has the possibility to pull off a Ricky Gervais/Golden Globe-type show, which I would be all for because it would take some of the hot air out of the ceremony's pretentiousness which can only be a good thing. You can honor the best in cinema and still seem somewhat down to earth, after all.

Score: 3 for 5

6. A big screen Manimal movie is a horrendous idea.

Robert Cooper: Fact. But it sounds horrendously amazing! I love terrible movies, and having not a damn clue in the world what Manimal was, and when I read it, I can see the makings of the worst type of Kevin James movie (the type starring Kevin James). Granted, if someone were to go a route like Grant Morrison's Animal Man where instead of being rich, make him an everyman and delve into the psychology of a man who has felt what it feels like to be many different animals....but who am I kidding, Hollywood will totally turn this into wacky hijinks and goofiness with Kevin James (and/or Rob Schneider) as THE MANIMAL!!!

Jeremy Thomas: Fact. But yes, as our resident Metal god of the Music Zone said, horrendously awesome. I think this would have potential to be the worst film ever in a good way. I'm talking about the kind of thing that would (hopefully) force Will Helm to make a long-awaited return JUST to cover it as a Misunderstood Masterpiece. Manimal is a gloriously bad cult classic TV show which, for you readers who weren't around when it aired in 1983 or haven't seen it elsewhere, is about a Bruce Wayne-like millionaire who can shape-shift into other animals and uses this to fight crime. This show is ripe for Hollywood to screw up in a giant, Green Hornet-like combustion of failure. Can't wait to see it in the bargain bin.

Final Score: 4 for 6

And there you go. Jeremy and Robert agree more often than not. Thanks to them both for stopping by, and see you all again next week!
-BP



TWITTER

http://www.twitter.com/411s_Ben_Piper
http://www.twitter.com/411mania
http://www.twitter.com/411wrestling
http://www.twitter.com/411moviestv
http://www.twitter.com/411music
http://www.twitter.com/411games
http://www.twitter.com/411mma




comments powered by