Alternate Takes 10.06.12: Top 6 Comic Book Movies of 2012
Posted by Shawn S. Lealos on 10.06.2012

From The Dark Knight Rises and The Avengers to Amazing Spider-Man, Dredd 3D and more, 411's Shawn S. Lealos counts down the top 6 comic book movies of 2012!

Welcome to Week 223 of Alternate Takes, my name is Shawn S. Lealos and you have entered my world.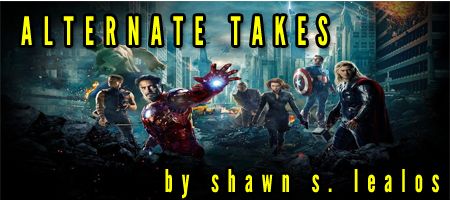 As some of you now know, I took over the 411 Movie Zone's Top 5 column and our first topic was Top 5 Reboots. I mention this here because I have an open invitation to readers of 411mania.com to add your voice to the articles each week. If you want to be involved in writing up your Top 5 for that week's topic and have it published on 411mania, send me an email at Rocker1018(at)yahoo.com. Also, if you have any ideas for future Top 5 columns, feel free to drop me an email as well.

Also, a lot of you probably noticed that we have a new comment format here at 411mania.com, and I'll be honest, this is miles better than what we had before. To take part, log in to the system using one of the social media methods or register an account with Disqus. There is a way to log in right now with only an email address, but that is temporary, so best bet is to go ahead and get set up with one of the other methods. The best thing about this new system is that it encourages readers to carry on discussions, instead of just posting random comments.

This system will make the entire commenting system at 411mania a much better experience, where we can carry on conversations about what we love and not have to worry about trolls who just want to derail the topic.

Back to this week. I said last week that I planned on reviewing a triple shot of movies, including The Avengers Blu-ray, The Dark Knight Returns Part 1 and Dredd 3D. That won't happen this week after all. I am currently finishing up interviews for my upcoming book (learn more about that here) and haven't had time to watch anything this week. I will get on that though.

Since I won't have that ready for you this week, I am going to talk about something else.

Since Dredd 3D was the last comic book adaptation of 2012, here is my ranking of the best comic book movies of this year (theatrical releases only).



6. Ghost Rider: Spirit of Vengeance



You have to feel bad for Ghost Rider fans. Sure, the two Nic Cage movies based on the character were fun in their own rights, but they were still movies with Nic Cage playing Johnny Blaze. Cage, a self professed comic book geek, looks like he respects the character, but the movies just never connected. The guys who made Crank directed this movie, so at least there is a lot more interesting stuff to look at than in the first movie. While I am actually a fan of Nic Cage and love the filmmakers, this just wasn't a great effort. I will admit that, on a base level, I did enjoy it at points though. However, on a strong year of comic book movies, this is easily in last place on my list.



5. Men in Black 3



The reason that Men in Black 3 ranks low on this list is because the year was so good for comic books. The movie is a clear improvement from the second movie, which failed in many areas, and the special effects by Rick Baker were spectacular. Josh Brolin was also solid in his mimicking of Tommy Lee Jones, and once he went back to the past, Will Smith was solid as well. One problem I had was that I really didn't buy the bad guy, and the time travel elements were just a bit strange to me (why did everyone forget about K, but Will Smith remembered him? I know they tried to explain it, but it just didn't work in my mind, especially after the brilliance of Looper). It was fun, but wasn't near the next four movies.



4. Dredd 3D



The fact that Dredd 3D flopped at the box office remains a tragedy. Much like Punisher: War Zone, this movie is exactly what fans of the Judge Dredd comics wanted from their movie. Then, once it finally got made, no one cared enough to go watch it. Blame Sylvester Stallone and the first movie adapting the material because this version is great. Dredd deserved much better than it received at the box office, and thanks to that we will probably never see another chapter to his story on the big screen.



3. Amazing Spider-Man



In any other year, The Amazing Spider-Man would rank No. 1 on this list. In 2012, it fell to two of the best comic book movies ever made. Marc Webb, who made 500 Days of Summer, helmed the movie and did a great job, crafting a fantastic and exciting experience. Andrew Garfield took over as Spider-Man and blew Tobey Maguire out of the water. I also loved Emma Stone as Gwen Stacy and was happy to see her instead of Mary Jane Watson again. They also added a lot of room to move in future installments and created a really fun and exciting story in this rebooted effort. Sam Raimi's movies were great, but this version was on a completely different level.



2. Dark Knight Rises



One thing that holds "Dark Knight Rises" back is that it never reaches the amazing levels of "The Dark Knight." On its own right, it is an exciting superhero movie that is also a great social drama. The acting is spectacular, Christopher Nolan improved his action directing with each effort and this one featured one of the best finales of the trilogy. Bane was a perfect villain and Christian Bale went out in style. It was a masterpiece, but a bit below the second movie in the series and not as good as this year's best.



1. The Avengers



If a 12-year old comic book fan told you what he wanted to see in a comic book adaptation, what you might get is The Avengers. Yes, Christopher Nolan's Dark Knight trilogy transcended comic book movies, but The Avengers is everything a comic book movie should strive to be. Joss Whedon, the king of the geeks, knows what fans want and he gave it to them. The action, the dramatic moments, the comedy, the geek-out moments and the characterization is all there. This is not a cinematic masterpiece, but might be the greatest comic book movie ever made.





February 1, 2013

Bullet to the Head



Directed by Walter Hill

Starring Sylvester Stallone, Jason Momoa, Christian Slater, Sarah Shahi, Adewale Akinnuoye-Agbaje
May 3, 2013

Iron Man 3



Directed by Shane Black

Starring Robert Downey Jr., Guy Pierce, Cobie Smulders, Gwyneth Paltrow, Paul Bettany, Ben Kingsley, Don Cheadle, Jon Favreau, William Sadler



June 14, 2013

The Man of Steel



Directed by Zack Snyder

Starring Henry Cavill, Amy Adams, Russell Crowe, Michael Shannon, Kevin Costner, Diane Lane, Christopher Meloni, Lawrence Fishburne
June 28, 2013

R.I.P.D.



Directed by Robert Schwentke

Starring Ryan Reynolds, Kevin Bacon, Mary-Louise Parker, Jeff Bridges
R.I.P.D. is an upcoming action-comedy crime film set to be directed by Robert Schwentke, based on the comic book Rest In Peace Department by Peter M. Lenkov. The film will star Ryan Reynolds and Jeff Bridges as Nick Walker and Bo, respectively.
July 26, 2013

Thor 2: The Dark World
August 2, 2013

300: Battle of Artemisia
July 26, 2013

The Wolverine
October 4, 2013

Sin City: A Dame to Kill For
April 4, 2014

Captain America: The Winter Soldier
May 2, 2014

The Amazing Spider-Man 2
August 1, 2014

Guardians of the Galaxy
comments powered by