SPOTLIGHTS
411 Mania Interview: Matthew Lillard
Posted by Tony Farinella on 10.09.2012

411's Tony Farinella sits down with Matthew Lillard (Trouble with the Curve, The Descedants) for an exclusive interview about his directorial debut in Fat Kid Rules the World!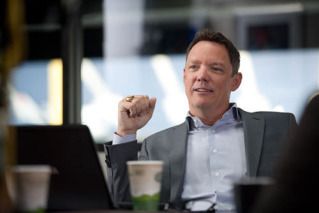 Matthew Lillard is becoming quite the serious actor these days with his dramatic turns in Trouble with the Curve and the Descendants. Not only is he acting in serious films, he also directed one in Fat Kid Rules the World, based on the Young Adult novel by K.L. Going. Recently, I caught up with the actor/director to talk about his career, Fat Kid Rules the World, and even some NBA basketball. Fat Kid Rules The World, opens in NY on October 5th, in LA on October 12th, and will be available on October 25th on VOD. There is also a YouTube link which includes the entire interview if you are interested in listening to the audio.



Matthew Lillard: Who is this?

TONY: Hi, Matthew. This is Tony Farinella from 411mania.com. How you doing?

Matthew Lillard: Hi, Tony. I'm tired. I'm fucking exhausted. I drank too much two nights in a row.

TONY: Well, thanks for doing this interview even though you're tired. I appreciate it.

Matthew Lillard: Glad to be here. I'm happy to do it. It makes a huge difference in our life, in the life of our movie so I appreciate you doing it. I shouldn't drink so much the night before we talked.

TONY: What lessons have you learned from other directors that you've worked with that you used on this film?

Matthew Lillard: What lessons? I learned a lot from every director. I've been acting since I was thirteen. I'm forty-two years old. I've basically learned lots from the directors I've worked with over the years. In terms of don't do this or do that, nothing specific. I was trying to explain it to somebody recently. It's a little like Slumdog Millionaire when you don't realize you're learning something and all of a sudden you're applying what you subsequently learned years ago. It's an amalgamation of all my experiences. The actor I am, the man I am defines the director I've become, so it's a little piece of everyone. You learn stuff from Alexander Payne's ideas to collect options like Kurosawa. That sticks with me. The way Wes Craven can lead people to try to be great and be a quiet leader. You get things from everyone. Raja Gosnell on Scooby Doo showed me the monitor to see what wasn't working and ask me how to fix it. The idea of including actors in the process, I got that from Raja. You're just a piece of everyone.

TONY: In terms of this script, was there something in particular that resonated with you and made you want to do it?

Matthew Lillard: Yeah. I'm that guy. It's called Fat Kid Rules the World, but it has nothing to do with somebody being fat. Everyone, at some point in their life, feels like they don't belong, that they're on the outside looking in. I was that kid in high school. I had a severe learning disability, braces and glasses, and was overweight, a heavy kid. I sucked at football and I was terrible at math. I ended up in drama class because they accepted me and found something that I was good at and found something that I loved. To me, that's what happens in this movie and that's what drew me to it. I loved the idea that Troy Billings is a kid that's lost and about to kill himself and finds punk rock music and it saves his life.

TONY: You mentioned all these things you went through when you were growing up. Because of that, does it make what's happened to you now that much more satisfying?

Matthew Lillard: No, not really. I don't look back on those things with negativity. They made me who I am, the man I am, and I like who I am. What makes it satisfying is having a career that I love, being able to call myself an artist after thirty years in this business and seeing myself doing it for the rest of my life. That's what gives me joy, really, not rising from the ashes, so to speak.

TONY: I recently had a chance to see Trouble with the Curve, which I loved, by the way. I thought it was a beautiful, quiet film with great performances, great moments of comedy. I want to ask you, working on this film with Clint Eastwood, and you mentioned Alexander Payne, working with George Clooney, they are two terrific actors, but they also have great screen presence. They have this certain aura about them. What was that like, for you, working with those two fantastic actors?

Matthew Lillard: The fantastic actor part, always a privilege. You're working with guys that are going to bring their A-game and you're basically working in stuff that you know people are going to see. Certainly with Descendants, you realize you're on a script that's fantastic and same with Trouble. You realize you're going to be a part of something that's a really good movie. In terms of a screen presence, the first time you meet Clint Eastwood, you realize clearly enough that he's just a normal guy, same with Clooney. Having being around for a long time, the fame aspect isn't nearly as interesting as the acting aspect. If you're going to be in a scene with Clooney, especially in that moment in that movie, you know he's going to bring his game and that's what's exciting; more so than the idea of hanging out with a screen presence.

TONY: It's interesting that you mentioned that because I talked to Josh Lucas a couple of weeks ago and he was telling me how having a kid has really changed what he wants out of Hollywood. He's much more interested in good stories, good screenplays that are going to resonate with people as opposed to fame, because that's the least satisfying part of his job. What has that been like for you, to be a part of films like Trouble with the Curve,The Descendants, and Fat Kid Rules the World, where you have a connection with it and it really means something to you?

Matthew Lillard: Well, Fat Kid certainly. The other movies, I'm a gun for hire. Make no mistake, that was Terminator 15 and Aliens 17. As an actor, if I have a great part in a great story and a great director, I'm in. If it's positive and reinforcing to families, that's great, too, but if it's violent and I can get to play a killer, that's awesome. I don't really judge those things. As a filmmaker, I'll tell you right now, if I could direct Avengers, that's what I want to do. I want to be that guy. If I could do Iron Man, if I could be Jon Favreau, I wouldn't mind telling any of those big stories. I like being an independent filmmaker. It's been a great experience, but the reality is I really want to make big movies.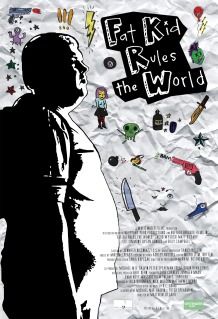 TONY: With these big movies, it seems like the story is such a big part of it, the heart and the soul of the story.

Matthew Lillard: (laughs) I don't think that's true. I don't think there is a heart and soul to the big movies. I think that's the problem with big movies.

TONY: Certain movie big movies can have it. The good big movies have it is what I'm trying to say.

Matthew Lillard: Yes, that is true. If you look at Descendants , we ended up doing well because we platformed it, but the difference between Avengers and Trouble with the Curve is crazy. But I agree with you. Yes, sorry, go ahead, continue.

TONY: Is there something in particular that you're looking for now with scripts?

Matthew Lillard: I'm looking for a great script. That would be fantastic. I'm looking for a script that I can score in, that it's worth spending two years of your life on. I mean, that's what I'd love to find. It's hard. Our industry's changed so much. Not many people are making movies and if they're making movies, generally they're going to guys that make movies. If you have a film that's a go, it's so rare and they're so hard to get them that even big directors are doing smaller movies now. There's nobody making movies. If there is an open directing assignment in general, those scripts aren't that great. It's an interesting time as a filmmaker. It's an interesting time trying to break into the industry in a different way.

TONY: I had a chance to listen to you on the ESPN 710 Podcast with the Kamenetzky Brothers talking about how you're a big fan of the Clippers. Now that the Lakers have all these pieces, does that make you hate the Lakers even more?

Matthew Lillard: More, I hate them more. I despise them more. I hate them more. The better they get, the more I want to crush that team.

TONY: What is it like …

Matthew Lillard: So hateful of the Lakers, so hateful of the organization, all they do is win? It's easy. That's what it's like.

TONY: Do you have a lot of fellow …

Matthew Lillard: Haters of the Lakers? Laker Haters. I'm sorry, go ahead, I keep interrupting you with this idea that it's funny to hate the Lakers openly. Sorry, go ahead, told you I'm sorry.

TONY: Do you have a lot of people who you work with that are Laker fans?

Matthew Lillard: Yes, of course. Everyone likes people on top. Hollywood is full of a bunch of people who like to be winners. That's what we are in Hollywood. It's just like high school with expensive cars. There are few people out there with the courage and the soul to love the Clippers more than they do the Lakers. Yes, I'm calling people who like the Lakers terrible.

TONY: I'm one of those people then, Matthew.

Matthew Lillard: We are people with character.

TONY: This new career path for you, has it been sort of a conscious effort or has it just sort of happened with these projects you're working on now as opposed to previous films?

Matthew Lillard: It's love. It's love from the universe. It's luck. If these movies come along in ten years, or they come along tomorrow, you're just lucky to have them. That's the reality. We're guns for hire. You hope the next one you get is a good one. Look, you never start a movie and go, 'Wow, this is going to suck.' You always have some kind of hope it's going to work out and sometimes they do. Hey, I gotta go. I gotta jump off this phone. Sorry. Thank you so much for helping us.
comments powered by