SPOTLIGHTS
The TV List 10.12.12: Top 10 South Park Episodes
Posted by Michael Ornelas on 10.13.2012

From "Scott Tenorman Must Die" and "Imaginationland" to "Trapped in the Closet," "Woodland Critter Christmas," "You're Getting Old" and more, 411's Michael Ornelas counts down the top 10 South Park episodes of all time!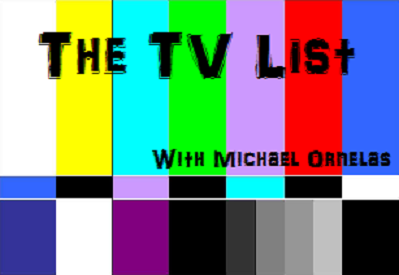 Welcome back, loyal 411 readers. It appears that my picks last week went over alright with the masses (that or the new comment system bailed me out), so I'm back with a new topic that could easily screw up that good will (I wouldn't have it any other way!). Before that, however, I want to talk about my non-TV viewing. I checked out the Emmy-winning Game Change made for TV movie and was really impressed. Granted I don't know anything about politics or how accurate it is, but it told a great story and was well executed. On top of that, as someone who's only seen a handful of Bond films, I'm going through all of them as we approach the release of Skyfall. So far I've watched Dr. No, From Russia with Love, and Goldfinger. I'll post my ranking of all of them at the end of the run.

This week's topic is the 10 best South Park episodes. South Park is in the midst of its sixteenth season and only has four episodes left in it. With relatively short season (they've fallen into a fourteen episode format in the past several years), South Park has managed to sustain its longevity (it's contracted to last at least through a twentieth season). The problem with South Park, however, is the same thing that makes it brilliant – it's produced completely in six days every week. This leads to many ideas being overthought or not thought out enough and ultimately the premises are much funnier than the execution. But the other side of that coin sees South Park put out some hilarious and topical content that, when done well, is a crowning achievements in TV comedy. So let's dive in and honor some of the great episodes that this show has given us.

Before I start, I have one thing to address: I will count an "episode" as a story arc, so you could see a two-parter or three-parter on this list, as long as they tell one primary story and require that many installments to do so.


Honorable Mentions: Make Love, Not Warcraft (season 10), Professor Chaos/Simpsons Already Did It (season 6), and Le Petit Tourette (season 11)




X
Woodland Critter Christmas (season 8)




"What did I just see?" were the first words out of viewers' mouths after that blood orgy scene. One of the darkest twists this show has ever taken (arguably darker than the Scott Tenorman episode), the Satanist belief of the Critters was something that nobody could have seen coming. This is probably the South Park episode that I have watched the most (at least by choice). The framework of classic Christmas-time cartoons laid out a solid formula for the show to follow, and they dished out a fantastic parody that is just sick on so many levels. This episode isn't for everyone (I think that goes without saying), but if you're a fan of dark comedy, this redefines the genre. The tenth place spot on this list was almost a literal coin toss between this and "Le Petit Tourette" but after some tie breaking from friends and my love of how different this episode is in comparison to the standard format of the show, this stole the number ten spot.



IX
Good Times with Weapons (season 8)




Many of the episodes that I love of the series are "kids being kids" episodes, wherein Stone and Parker exaggerate and distort common acts of kids and play up the naïve factor ("The List" was the second closest to making this top ten). Everyone knew that kid who, if he'd hurt someone, would spout "don't cry" or "don't tell" as the first words out of his mouth. If you were lucky, you'd get an "are you okay?" but that was rare. The mix of that common childhood character and the show's great representation of anime-stylized animation created an absolutely hilarious episode in which the kids, just being kids, buy weapons and play fight with them, but of course it gets out of hand and someone gets hurt. The lengths that Cartman goes through to hide Butters is a wonderful exaggeration on being "that kid." But even before that moment (the ninja star to the eye), the episode still hit on all cylinders because there was also always "that kid" when you'd pretend to be superheroes and he had all the powers he wanted and didn't honor the limitations of the game. Again, that kid had to be Cartman here. This is just a great episode from start to finish, and holds up today just as much as it did when it first aired.



VIII
Trapped in the Closet (season 9)




This is the famous episode that caused Isaac Hayes to leave the show, Tom Cruise to play hardball with Viacom at the risk of him pulling out of the third Mission: Impossible film, and the Church of Scientology to add another enemy to their pretty extensive list. The name of the episode parodies R. Kelly's epically long music video of the same name and uses it to jab at John Travolta and Cruise for their being Scientologists. In addition to all that though, they make the religion look absolutely ridiculous as only South Park can. The thing is, they were just using the truth and putting their snarky tone on it to open many eyes toward what Scientologists actually do and what they believe (as the words on screen so blatantly pointed out in the clip above). The episode was actually submitted for an Emmy was one of the announced nominees, and on top of that, it was ranked #17 by TV Guide in a list of best TV show episodes of all-time. This was a revolutionary episode and one of the most important ones in the show's history, so there was no doubt in my mind that this would make this list.



VII
Tsst! (season 10)




This episode would place higher if the third act of the episode was able to match the brilliance of the first two. At the peak of nanny shows, South Park had a natural parody as the worst-behaved kid in television history happens to be Eric Cartman. But instead of letting any of the TV nannies find success in changing him, they turn to the dog whisperer, Cesar Milan, and have him discipline Eric as though he were an animal. This was so well done, and seeing Cartman as a subservient child to his mom was a riot as we've never got the chance to see that from him in the series without it being a ruse. The episode kind of lost me with the actual physical embodiment of Cartman's "good self" taking over his body after wanting to kill his mom in her sleep, as the transformation scene was a little too supernatural for an episode more grounded in reality. They put it back on track, obviously, with the obedient Cartman stuff (although Cartman's mom having feelings for Milan also could have been better executed) but I just feel this episode could have been a little better. It's still hilarious though and one of my favorites, so even as is, it's good enough for me to put it at number seven.



VI
Night of the Living Homeless (season 11)




As a huge fan of zombie movies, I thought this episode nailed that parody by paralleling homelessness with the mythos of an undead virus. The idea that homeless people flock to areas with a high concentration of people with spare change was a good starting point, but then they did the scene Kyle's dad who gave the last of his change to a homeless guy and then realize he didn't have enough money to get home and started asking "change?" with the rest of them was the brilliant parallel of "becoming one of them." Between the clip above, the town's homeless expert failing to commit suicide so many times to avoid a brutal death (and in the process living through several self-inflicted gunshots), and all the zombie movie references, this episode is the strongest one-part episode from what I consider to be the show's strongest season.

The 10 Episodes of TV I Enjoyed Most This Week
10. Key & Peele – "Episode 11"
9. Up All Night – "Jerry Duty"
8. Dexter – "Sunshine & Frosty Swirl"
7. 30 Rock – "Governor Dunston"
6. American Dad! – "Killer Vacation"
5. Modern Family – "Snip"
4. It's Always Sunny in Philadelphia – "Pop Pop: The Final Solution"
3. The League – "Training Camp"
2. Homeland – "Beirut Is Back"
1. Modern Family – "Schooled"

…and the worst episode I watched: The Secret Diary of Desmond Pfeiffer – "A.O.L.: Abe On-Line"




V
You're Getting Old (season 15)




There was a lot of fuss after this mid-season finale aired about a year and a half ago, and immediately talks of "is South Park over?" began to find its way into conversation about the show. Stan is growing up, and with that, he's realizing that a lot of what kids his age like is absolute crap. And the show represents that literally, as music sounds like farting and things are starting to appear fecal in nature, and…it's just messy. This was one of the very few times I've laughed at fart and poop jokes as an adult, but the show got away with it because it wasn't gratuitous and very relatable as almost everyone grows up and grows out of what they used to like after the realization that it's really not all that great. The diagnosis of cynicism was really clever as well. The fact that the show came back and made it very clear that it wasn't actually ending was great, and felt a little bit like when they returned from the season 1 cliffhanger of who Cartman's father is and aired an episode about Terrance & Phillip just to screw with the viewers. It was actually around this time, however, that I hoped that the show would be ending its run after a couple of really disappointing seasons, but then they used the second half of season 15 to do all the Mysterion episodes which I thought were fantastic, and season 16's second half has been really solid so far, so I guess news that they're sticking around through at least a twentieth season could still provide us with some quality television. This episode may find its way down the list as time goes by, but for now I think it's the most recent great episode.



IV
Imaginationland (season 11)




This trilogy won an Emmy award and the sheer scale of it was incredibly impressive. The episode kicks off with the boys looking for a leprechaun and Kyle betting Cartman $10 that it doesn't exist (but if it does exists, he would have to suck Cartman's balls). So naturally they find it and it warns them of a terrorist attack. The boys end up finding out that the attack is on the imagination after they are taken to Imaginationland and witness the attack. Butters is left behind which sends us into part two. I'm not here to give a synopsis, just a justification for the pick and the ranking. The fact that the animators were able to represent the likeness of so many famous and iconic imaginary characters is awe-inspiring. The references are plentiful and they even manage to bring back the Woodland Critters when the evil imaginary characters are introduced (and naturally they're the most twisted). If you haven't seen these three episodes, check them out because they are definitely a step in the right direction for animated storytelling.



III
Ginger Kids (season 9)




The show has always claimed that it doesn't leave anyone out or single anyone out when it comes to who it might offend. This episode arguably fostered a distaste for "gingers" among its fanbase, which is terrible…but it's just so funny. I'd argue that this is the funniest episode of the series – the fact that it's so well-structured and great storytelling propels it to third on the list. It seemed like it was around this time that South Park plots stopped letting Cartman get away with all of his horribleness and have to deal with the consequences of his actions. Not only did this episode do that, but it put Cartman in the shoes of what he hated so much…and he managed to redirect his hate elsewhere and serve as a dictator amongst redheads. The ending scene of this episode where the other boys tell Cartman he's not really a ginger is priceless.



II
Scott Tenorman Must Die (season 5)




This episode is the quintessential South Park episode. It still, to this day, has the most shocking moment in the show's history in the revelation that Cartman feeds Scott Tenorman's parents to him in a chili con carnavale as revenge for Tenorman selling Cartman his pubes for something like $12. It took Cartman's character to a dark place that he could never recover from, and as a result has gotten even more terrible in the eleven seasons since this episode aired. It was such an overreaction that the first time I saw this episode, I had to rewatch the closing scene several times to believe that I really just saw that on television. And it was more and more hilarious every time. Of course, Scott Tenorman gets his (just?) revenge in the 201st episode of the series (entitled "201") and reveals to Cartman that they actually shared a father and were half-brothers, which is devastating to Eric. Also in this episode (the listed one, not 201) is Cartman trying to train a pony to bite Scott's genitals off which gives some pretty funny moments as well. All in all, this episode is a perfect 10, a score that I think South Park has only earned from me one other time…



I
Margaritaville (season 13)




This episode, to me, is the show's masterpiece, and I'm willing to accept that maybe not everyone agrees with me. This episode isn't the funniest of all their episodes, but the parodies they weave together to parallel the economy, religion, and the American mindset in general are unfathomably clever. What's odd is that Parker and Stone themselves have said they like this episode a lot more in premise than their execution of it, but I think they hit it out of the park here (as did the Academy of Television Arts & Sciences, as it won the Emmy award for Outstanding Animated Program (half-hour or less) at the 61st Annual Primetime Emmys). I absolutely loved this episode as soon as it aired, and was skeptical if it would hold up, and in most ways it has. The jokes aren't as funny because South Park in general (and more specifically in the later seasons) relies on topical humor, so they're bound to out-date eventually, but I find that the story is still perfectly executed. This was easily in my top three when I started compiling this list, and when I had my top ten, I just couldn't justify not putting it first.


Hopefully you enjoyed my picks and have some of your own that didn't make my cut. I got it down to about 20 episodes and had a really difficult time narrowing it down. I was surprised how many early episodes made the top 20 but not the top 10, but the show definitely hit its stride around season 7. I'd call season 11 the runaway best season as it had 4 episodes in the top 20, with the ninth being a runner-up. Anyway, that's all I've got for you this week. I don't know my topic for next week, so I'm definitely open to your suggestions!


Shows of which I have seen every episode (including shows still on the air):
Da Ali G Show; American Dad!; American Horror Story; Andy Barker, P.I.; Andy Richter Controls the Universe; Angry Boys; Aqua Teen Hunger Force (including name changes); Archer; Arrested Development; The Batman; Batman Beyond; Batman: The Animated Series; Beast Wars; Better Off Ted; The Big Bang Theory; Big Bite; Black Mirror; Bob's Burgers; The Boondocks; Bored to Death; Boss; Breaking Bad; Brickleberry; Bunk; Childrens Hospital; China, IL; Clerks: The Animated Series; The Cleveland Show; Clone High; Comedy Bang! Bang!; Community; Conan (on TBS); The Critic; Curb Your Enthusiasm; Delocated; Dexter; The Drunk & On Drugs Happy Funtime Hour; Eagleheart; Eastbound & Down; Ed; Entourage; Episodes; Family Guy; Firefly; Flight of the Conchords; Franklin & Bash; Freaks & Geeks; Friends; Frisky Dingo; Futurama; Game of Thrones; Go On; Happy Endings; Harvey Birdman, Attorney at Law; Homeland; House of Lies; How I Met Your Mother; Hung; The Increasingly Poor Decisions of Todd Margaret; The IT Crowd; It's Always Sunny in Philadelphia; Jackass; Jon Benjamin Has a Van; Justified; Key & Peele; Kid Notorious; The King of Queens; The League; Louie; Lucky Louie; Luther; The Middle; Modern Family; Monk; Mr. D; Mr. Show with Bob & David; My Name Is Earl; NTSF:SD:SUV::; The Office (UK); The Office (US); Parks & Recreation; Party Down, Portlandia; Rhett & Link: Commercial Kings; Scrubs; Sealab 2021; Seinfeld; Sherlock; The Simpsons; Sons of Tucson; South Park; Spiderman: The Animated Series; Sports Show with Norm MacDonald; Star Wars: Clone Wars; Summer Heights High; Superjail!; Tenacious D; That '80s Show; Tim & Eric Awesome Show, Great Job!; Titus; Tosh.0; Trailer Park Boys; Twin Peaks; Ugly Americans; Undeclared; Up All Night; The Venture Bros.; Viva La Bam; The Walking Dead; We Can Be Heroes; The Whitest Kids U' Know; Wildboyz; Wilfred; Workaholics; 30 Rock

Shows I'm currently watching:
Avengers: Earth's Mightiest Heroes; Cheers; Dinosaurs; Mad Men; Malcolm in the Middle; Manimal; Most Extreme Elimination Challenge; The Powerpuff Girls; Psych; Shameless (US); Sons of Anarchy; That '70s Show; Tiny Toon Adventures; The Wire

Shows on my radar, but haven't yet started
All in the Family; Animaniacs; Battlestar Galactica; Becker; Boardwalk Empire; Boston Legal; Boston Public; Boy Meets World; Californication; Castle; Chappelle's Show; Chuck; Covert Affairs; Criminal Minds; Dallas; Death Note; Doogie Howser, M.D.; Downton Abbey; Dr. Who; The Drew Carey Show; Everybody Loves Raymond; Farscape; Frasier; The Fresh Prince of Bel-Air; Fringe; Girls; The Good Wife; Greg the Bunny; Happy Days; Haven; Home Improvement; Home Movies; Homicide: Life on the Streets; House; In Living Color; The Jeffersons; Just Shoot Me!; The Kids in the Hall; King of the Hill; Lie to Me; The Life & Times of Tim; Lost; M*A*S*H; Metalocalypse; NewsRadio; Northern Exposure; Oz; Person of Interest; Pinky & The Brain; The PJs; Reaper; Reno 911!; Rescue Me; Robot Chicken; Roots; The Shield; Six Feet Under; The Sopranos; Spin City; Sports Night; Stella; Suits; Taxi; The Tick; The Twilight Zone; Upright Citizens Brigade; Weeds; The West Wing; White Collar; Will & Grace; The X-Files; 24; 3rd Rock from the Sun; 8 Simple Rules

Thanks again for reading – feel free to voice your agreements or disagreements below!

comments powered by