SPOTLIGHTS
411 Mania Interview: Silent Hill: Revelation 3D Director Michael J. Bassett
Posted by Tony Farinella on 10.26.2012

411's Tony Farinella sits down with the director of Silent Hill: Revelation 3D for an exclusive interview about the film, which opens today!



There's no question that the Silent Hill fan base is passionate and dedicated to the video games and the films. So when Michael J. Bassett was announced as the director for the new film, which is in 3D, you can imagine that you he heard a lot of suggestions and input from the diehards. As he tells me in the interview, he tried to make a film that would satisfy him, the fans, and also create new fans of Silent Hill. You can be the judge of that this weekend when Silent Hill: Revelation 3D is released in theaters. The film has an incredible cast including Adelaide Clemens, Carrie-Anne Moss, Sean Bean, Kit Harrington, Radha Mitchell, Malcolm McDowell, and Martin Donovan. In my interview with the director Michael J. Bassett, we discussed the fans of Silent Hill, the actors, 3D, and what to expect from the monsters as well. There is also a You Tube link which includes the interview in its entirety.



TONY: What has it been like for you getting a pulse on what the Silent Hill fans want while also trying to have your own vision? What has it been like balancing those two visions into one?

Michael J. Bassett: It's incredibly hard to satisfy the diversity of fans to make a movie which each individual fan feels is for them. There's a point where you realize you can't do that. As a fan myself, not just of Silent Hill, as a movie fan, a comic book fan, a game fan, every movie that comes out that I'm looking forward to, I have an expectation and desire for it be just like what I want. Sometimes a filmmaker will come up with something which completely exceeds what I'm hoping for or is very different from it or it's disappointing. I feel that along with every other movie fan when it happens.

With Silent Hill, because I'm a gamer from way back and I love the games, I wanted to do something which was respectful and true to what the games were and at the same time make a movie that I wanted to make, that was a challenge as a filmmaker that I was interested in and that put things on the screen in which I wanted to see within the framework of what Silent Hill is. It's a hugely difficult thing to do. I keep an eye on what the fans are talking about and what they like and don't like. There was a point at the production where we happened to have a conversation where we think this is the right way to go forward and we hope that it's respectful, but the bottom line is it has got to be something that's true and what I think works as a movie.

Beyond that, it can't be a movie just for Silent Hill fans. It has to be a movie that will appeal to more people than that, where we can make new Silent Hill fans and bring them into the world of the games and that universe of all of the really exciting things that Silent Hill is. And that's the real key of this. I've got to make a movie for myself, a movie for the fans of the games, and a movie for fans of the first movie who want to see a sequel, and more importantly, make a movie which works for the mainstream audience who don't know. They just want to see a great, scary horror movie.

TONY: One of the great things about this movie is that you have a great cast of very diverse and established actors. How important in a film like this is it to have a good cast like this and performances that make it believable?

Michael J. Bassett: I think you sort of answered the question in your question in a way. With horror movies, because you're taking the audience into a place which is unreal and beyond their experiences, particularly Silent Hill, which takes into you a really pure fantasy horror world. You're dismantling the real world and creating a whole new environment. You want there to be performances and actors that you can relate to. The key to it all was casting Adelaide Clemens as Heather Mason, because without her performance, without us relating to her and sympathizing with her and wanting her to succeed, you don't have anything. When she's frightened, we're frightened. When she's struggling and deciding to take control of her life, we're with her in that moment.

Then I started putting in other performances. I've got Sean Bean playing her dad like he did in the first movie. Sean's great in the movie. He plays the father figure, the heart of the piece. We understand why Heather so desperately wants to find him. Kit Harrington, this great young actor, most people know him from Game of Thrones. You think he's a love interest, but he might be something else. You want him to be a great guy, but you're not sure about him. He fulfills a lot of purpose for me. Then I put in Martin Donovan, who's a terrific character actor. I've got Malcolm McDowell and Carrie-Ann Moss as Claudia Wolf. As the gamers know, she's a terrifically powerful figure. That's what you try to do. You get young performers and surround them with a really strong cast, so that when they're journeying through this world and we stop and you meet these new characters, they all make a really strong impression very quickly.

TONY: In terms of the 3D aspect of the film. A lot of filmmakers like to use 3D in different avenues. For you, personally, how did you want to use 3D in this film?

Michael J. Bassett: I was quite circumspect about using 3D to start with. I know it's something the producers really wanted. I hadn't really been a fan of 3D in a lot of movies. I thought the live action 3D was very poorly done because it was all post production 3D on many, many movies. I won't name names, but we all know the one that really damaged that 3D reputation. I thought if I was going to do a 3D movie, I wanted to shoot in 3D. I was excited to use the technology and see what those challenges were. Because Silent Hill is a fantasy horror movie, it takes you into this other universe. I thought, 3D, if any format can help push you into that new world and make you feel like you're somewhere different and completely immersed, I thought 3D could do that. We shot this with 3D cameras on the set and it allowed me to really frame it and pace it and shoot it in a way which I think made the very most of 3D.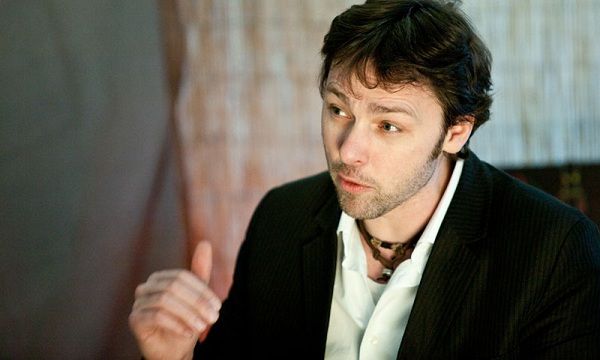 I was very nervous, because Silent Hill is a dark environment and 3D is difficult to shoot in the dark. So I made particular choices and took great care to try to make it work as well as possible. Through the shooting, the editing, the sound design, the mixing of the whole picture, it's a pure 3D movie and those are moments where I have lots of fun, where stuff comes out the screen at you. More than anything, I wanted to use it to immerse you in a new world and there are places where the 3D works beautiful. Aesthetically, it works fantastically well. I hope the audience goes and sees it in 3D, because it's the right way to experience the film.

TONY: We've mentioned the 3D aspect and we talked earlier about trying to have your own vision, the fan's vision, and trying to get new fans into it. Besides those aspects, what was the most challenge part about on set filming this movie?

Michael J. Bassett: Wow. I try to shoot movies as real as possible, so it's a challenge for the actors because I want them to have a real physical experience making the movie. With 3D, the cameras are bigger and it's slower to physically make the film. We shot it in Toronto in the winter, so it was cold. As much as anything, because I want it to be real, we built huge bits of Silent Hill. I wanted the actors to be able to relate to the monsters. Silent Hill has a whole load of monsters. It's a really rogue gallery of creatures. What I wanted to do was build those creatures and have the actors be able to relate to them on set. The biggest challenge is making the monsters there and really putting the actors in an environment where they can relate to it and be fearful of it.

For me, as a filmmaker, one of the great pleasures is going to a workshop where they're building creatures. I love that side of filmmaking, the physical side of it, so the challenge is making sure the monsters felt real to the actors. There's one digital creature in the movie. It's a terrific monster and there's no way of doing it with puppets or with performers. Mostly, it's the challenges of making these creatures feel as frightening as possible for the actors and therefor for the audience.

TONY: With the film being released this Friday, I know it's so hard to predict how people are going to respond to something and what they're going to get out of it, but do you have a pulse on how you think fans are going to respond to this film this Friday?

Michael J. Bassett: I have no idea how anybody's going to respond to it. You make a movie that you hope you'll like and hope the audience will like it. I made it knowing there are a lot of Silent Hill fans out there that expect a lot from the movie and I hope it fulfills and hopefully exceeds their expectations. Truth be told, I don't know how the audience is going to react. You never know how a movie's going to do. However my prediction's going to be, I'm probably going to be wrong, so I'll keep that to myself.

TONY: What is it about the Silent Hill fans that make them so unique and so passionate?

Michael J. Bassett: That passion comes from the fact that the games are made with such artistry and care. If you're a creative person and like your horror, there are very few forms where it comes together as well as Silent Hill. You really got to respect the fans for delving into mythology and spending time with the legend that is Silent Hill. I think that's why the fans are so particular and you try to make them as happy as possible. As a fan myself, I can understand their expectations are heightened. There's nothing quite like a Silent Hill fan.
comments powered by