SPOTLIGHTS
A Fool's Utopia 11.01.12: Disney Will Own Everything
Posted by Ron Martin on 11.01.2012

This week in one man's utopia we take a look at Disney purchasing Lucasfilms and what that may mean, we talk Colts football, my newest two year old video game venture, Night of the Living Dead and cancelling Halloween.

I hope everyone had a fantastic Halloween! I hope you got out and made the day something different even if all you did was hand out candy while watching a scary movie on TV. There certainly is no shortage of scary movies on Halloween night. That being said, it's time for me to brag about being a prophet.

Way back in the first half of January of this year – the 12th to be exact – I wrote a column entitled "Stories to Watch in 2012." There hasn't been a whole lot of forward business with the NBC Sports Network or The Dark Tower. Guns N Roses Rock N Roll Hall of Fame induction didn't reunite the band as I had predicted, but the thing that I thought was the longest shot actually came true.

From that column:

"…, As for George Lucas, this is just a hunch, but he's getting up there in years and I can very much see him signing a deal near the end of his life to sign over his universe to Disney, much like Jim Henson tried to do before his death. Disney and Lucas already have a working relationship with both Star Wars and Indiana Jones represented in Disney Parks. There may be nothing on that front this year, but I'll be looking for signs."

Yeah, I'm like Nostradamus.




It was more of an educated guess. Let's take a look at the facts. George Lucas is closing in on 70 years old. He has taken a lot of heat in the last 15 or so years for Episodes 1-3 of Star Wars and the fourth Indiana Jones movie. He has a working deal with Disney already that includes an Indiana Jones stunt show, a Star Wars themed area complete with attractions, photo ops and a gift shop, an Indiana Jones roller coaster at Disneyland and Star Wars weekends in May/June at Disney Studios Park. The two sides just came together to recreate the Star Wars attraction for the first time since the 80s. Lucas knows the Disney company and he knows they won't do anything to tarnish the legacy that Lucasfilms has created.

As I mentioned in the blurb above, Jim Henson was on the verge of signing a deal with Disney before he passed away for the very same reasons. He knew the Disney company was going to take care of his legacy. It just so happens that Disney didn't get their hands on the Muppets until years later. I've been critical of how Disney has used the Muppets since their purchase, but I would never say they did anything that would tarnished the Muppets legacy. They just underutilized them. With a resurgence in Muppets popularity due to The Muppets, Disney has finally figured out the best way to use The Muppets to benefit them and fans of The Muppets.




Just three years ago Disney purchased Marvel for roughly the same price. Marvel's doing just fine. The Avengers has made over $1.5 billion worldwide and you didn't see Disney forcing Mickey Mouse into the movie.

Its moves like this, on top of their working agreement, that would make George Lucas feel comfortable selling the rights to his universe to Disney. Under the Disney umbrella, Lucas knows that his vision and legacy will be immortalized. Disney has the money, the want the product and Lucas can blame them if everyone hates movies 7-9.

From the Disney side, this is obviously a huge boon. The $4 billion? That's nothing compared to what Star Wars 7-9 is going to make worldwide. On top of that, they no longer will have to pay royalties to use Lucasfilm franchises in their parks. However, potentially, that's not even the biggest boon of the deal. Is it out of the realm of possibility that Disney uses this purchase to throw it in the face of Universal? Who would care about Harry Potter world if Disney had something similar using Star Wars? It may take awhile to build, but the potential to make millions and millions of dollars off the property for the next 30 years is there.

Reality check. Disney now owns PIXAR, ABC, ESPN, The Muppets, Marvel and now Star Wars. It's only a matter of time before they own everything. Disney CEO Bob Iger seems intent on buying any franchise that has the potential to make money. Coca-Cola – watch out!




FIVE RANDOM THOUGHTS



1. I've been pretty true to my swearing off The Office. It was so atrocious that I couldn't hack another season – even if it's the last one. The character of Dwight has been so diluted that I don't think I'll even be watching his spinoff. However, I did catch the last ten minutes or so of the Halloween episode last week when I got home. My only observation was that Ed Helms is insanely skinny. Something's going on there, kids.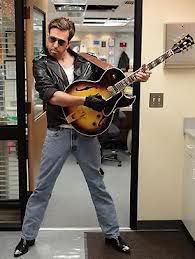 I did see a rerun of a Season Three episode of The Office while Andy was still in Connecticut with Jim and Karen. Perhaps no character on the show has changed as much as Andy.

2. SPORTS THOUGHTS:

a. I am a surprised as anyone that the Colts have a winning record going into November. They have already surpassed the win total I had for them this season (3). Andrew Luck appears to be the real deal and Reggie Wayne continues his Hall of Fame career (though I don't think he'll get in). Imagine what this team could have done the last three years if they'd had real coaching the entire time instead of Jim Caldwell?

I'm not like many around here that have the Colts in the playoff picture. I understand if the season ended today they would get the sixth spot, but let's be realistic. As easy as the schedule may be and as weak as the AFC is, the Colts will not be in the playoff hunt by the end of November. They just don't have enough talent right now. Next year, with another draft behind them, a year under Luck's belt and a year for the defense to get used to the 3-4 – that might be a different story.


b. My fantasy season has taken a turn for the worst. Between bye weeks and injuries, I've been decimated. My four teams are a combined 1-7 the last two weeks. Three of my teams lost this week despite great performances from their QBs. Matt Stafford, despite me losing, just saved himself from being benched because I was seriously considering it.

c. The NBA season has officially started!! And I really don't care.

d. Like with the Colts, people around here have already declared Indiana's basketball team the National Champions. It's great that they are preseason #1 and they are going to be very good. There's no reason they shouldn't be a #1 seed come tournament time. However, they still have to perform. No team is #1 all season long. Of course, the next time the team comes into my bar, I won't be telling them that. I'll still card them, though.


3. I always said that I would go to wrestling PPVs whenever they came to Indianapolis. I did go to Wrestlemania VIII. I went to IYH: Buried Alive. I went to handful of house shows and RAW tapings. However, since wrestling's decline in 2001 and the decline of my interest, I haven't attended a single show. I didn't go to the SummerSlam we had here a few years ago. Now we have Survivor Series. If the show was old school and chock full of Survivor Series elimination matches – I would be there. It would be a no brainer. After reading the recap of RAW and seeing Team Foley vs. Team CM Punk, I even briefly considered it. They must be having problems selling tickets because they are running a lot of ads in this area (Tickets starts at $25). However, I would spend $100 on tickets to see mostly Divas and five minute squashes. My declaration of seeing PPVs in Indy was tinkered down to "The Big Four" PPVs and now has become "Well, if it's the Royal Rumble or Wrestlemania…"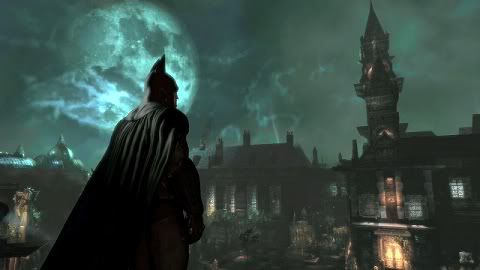 4. I know I am two years behind on this, but I just bought Arkham Asylum for my XBOX 360. I bought it mostly because I went to Wal-Mart looking for a copy of IT for $4. They didn't have it, so I ended up browsing the $20 video game bin and this gem was in there. I'm about 4 hours invested and its fun. It's okay. It's no Skyrim but it's going to be $20 well spent. There's an awful lot of "you watch while we show you what happened" going on this far in the game. However, after a massive game like Skyrim for the last six months, I appreciate the linear storyline of Arkham Asylum. Twenty bucks well spent?

5. There are usually a handful of times a year that I am grateful to live in the Midwestern United States. This week was one of them. We had some wind. We had some rain, but we didn't have Sandy. As soon as I am done writing this column, I will be prepping my house for trick-or-treaters tonight. I'll be sitting on my front lawn with a Crown Black and Coke in one hand and a bowl full of candy in another. I'm still debating on whether or not I'll be wearing my Ghostface costume. For those in the path of Sandy, I can't imagine not having Halloween. As of this writing, I haven't heard one way or another about Halloween on the East Coast. I'd imagine that a lot of places have to cancel trick-or-treating because there are a lot of neighborhoods that don't have power. I've never missed a Halloween (though I did have a Halloween without power thanks to me forgetting to pay the bill) and I hope that the kids on the East Coast find something to do Halloween wise.


USELESS TRIVIA AND SHAMELESS PLUGGING

LAST WEEK'S USELESS TRIVIA


Kind of a tough one this week – The Haunted Mansion is one of a few attractions that can be found in all Disney Parks (Anaheim, Orlando, Paris, and Tokyo). What makes it unique from all the other attractions that are in all four parks?

ANSWER: It's the only attraction that's in all four parks, but it in a different "land" in each park. It's in New Orleans Square at Disneyland; Liberty Square at Walt Disney World; Fantasyland at Tokyo Disneyland and Frontierland at Disney Paris.

THIS WEEK'S USELESS TRIVIA

Since I am writing this on Halloween, let's take a look at a well known Halloween tradition. Carving pumpkins originated from the UK and the tradition of carving what other vegetable?

SHAMELESS PLUGGING

As always, check out our latest episode of The Resurrection of Zombie 7 Podcast on iTunes. Before we head into a one night stand episode next week, we have to wrap up our series on Pumpkinhead this week. Currently available for download – our review of Pumpkinhead 4. It's about an hour long. You can listen in your iPod while you do dishes. I do.

The latest episode of The Zombie Reckoning Podcast is at Horror Palace. It just went up today and it's a Battle for Halloween between the movies Trick R Treat and Trick or Treat. I'd do the right thing and embed a player below so all you would have to do is click play, but due to a nine hour live Halloween show one of the podcasts is hosting on the site, Horror Palace is down for maintenance at the moment. If you get a second in the next week, check it out or download us on iTunes. It's a bit longer. Perfect to help your work day or commute go by faster. I tell my best ghost story on the show.






THIS WEEK ON RETRO



I'm not going to make RETRO very long this week. It's Halloween and I have a lot of stuff left to do. Above is the movie you should be watching tonight as you hand out candy to trick-or-treaters, or attend a Halloween party. Even if you do nothing else in the Halloween sense. It doesn't get much more RETRO than 1968!

The movie above is the original 1968 black and white version of Night of the Living Dead, a movie so good that they teach entire college sociology courses using Night of the Living Dead. This movie is in my top five movies of all time. I don't have an actual list, but if I did the top five would be Night of the Living Dead, Scream, The Crucible and two others. It's amazing that I've seen the movie a hundred times, it's 44 years old and it's still amazingly effective.

I have a Night of the Living Dead poster that I bought at my very first horror convention about ten years ago. Through the years I've had it signed by just about every surviving cast member (Duane Jones died in 1988) and the great George Romero himself. It's not worth a lot of money because all the autographs are personalized to me, but it's worth a lot to me.

At that same horror convention, I met Bill Hinzman (the zombie looking through the window below), better known to horror fans as Graveyard Zombie. I bought him a shot of tequila and we did a shot together. He gave me a free autograph the next day because he remembered and well, likes tequila. Hinzman passed away about a year ago. I still take great pride in telling people (especially if we're watching the movie) that I took a tequila shot with Graveyard Zombie! RIP, Mr. Hinzman and thank you for the experience.

If you have 90 minutes to spare, do yourself a favor and watch the movie at the link above or somewhere else. It's public domain so it's not hard to find. You'll be amazed how effective a 44 year old movie is! It's just that good. If you watched this movie last night on Halloween, then congratulations – you win.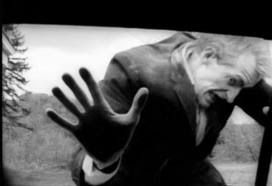 23 Years Ago Today


November 1, 1989

#1 Single



"Miss You Much" by Janet Jackson



#1 Album





Janet Jackson's Rhythm Nation 1814 by Janet Jackson



#1 Movie





Look Who's Talking



I must leave you now.




comments powered by