SPOTLIGHTS
A Fool's Utopia 11.22.12: The Sixtrh Annual Guide to Thanksgiving TV
Posted by Ron Martin on 11.22.2012

This week in one man's utopia, I tell you what to watch on Thanksgiving day. Here's a hint: A lot of football! Plus thoughts on Aerosmith's new album, The Big Ten expansion, The Art of Being Nick, Angry Video Game Nerd the movie, the little known Family Ties spinoff and more.

I have a few column set in stone – my TV previews in July, RETRO Halloween and this one, Your Guide to TV on Thanksgiving. I would say it's my easiest column of the year, but that's not exactly true. It is nice to already have a topic ready to go. This is my sixth Turkey Day at 411mania and for the most part they've been good ones. I hope your Thanksgiving is full of tryptophan and football. I know mine will be.

Thanksgiving is one of a few days of the year where it's okay to sit on your couch all day and feel yourself getting fatter. You'll burn those extra pounds off over the weekend with your Black Friday shopping. Right? While you're living it up and carb-loading for the marathon weekend, here's a guide to what you should be watching on TV. If you follow it to a tee, you will be perfectly entertained for an entire day and will be my personal hero.

9:00 AM – NOON

Macy's Thanksgiving Parade, NBC or CBS




I'm not saying you have to get up before 9 AM to catch the whole thing. DVR it if you wish, but you don't need to be present for the entire three hours to get full credit. Hey, you have to get up early for work more often than not. It's the holidays – sleep in! When you do get up, however, the Thanksgiving Day Parade is the only acceptable television watching at this time. You don't have to pay full attention, but it should be on your TV. I know I've said this six years in a row now, but I'll say it as long as this column exists – the parade is a snapshot of pop culture at that particular time. It's also a great start to the season. I usually watch the NBC version, but both versions are going to give you giant Garfields and show tunes.


12:00 PM – 12:30 PM

I Love Lucy, TVLAND

Like with any other holiday, there are a ton of marathons on Thanksgiving Day. As time filler, you can't do any better than Lucy. Having Adam Richman tell me about good sandwiches just doesn't cry Thanksgiving to me like Lucy does. We're in luck; this is the episode where Lucy gets attacked by a giant loaf of bread. True story.


12:30 PM – 3:30 PM

NFL Football: Houston Texans vs. Detroit Lions, CBS




A couple of weeks ago, this looked like a mismatch that you could turn away from after the first quarter. It still looks like a mismatch on paper, but after last Sunday, you just never know. If it turns into too much of a blowout, you can always fall back on Lucy or the Roseanne marathon on CMT. The Lions have been disappointing this season to their fans and anyone who kept Matt Stafford in a keeper league and was banking on him having another good season in order to be competitive, but are now 4-7 mostly because of Stafford's ineptitude. The Texans should roll, but they look like they want to give away a game. As disappointing as the Lions have been, they are not the Jaguars and would gladly take a game if the Texans want to give it up.


3:30 PM – 4:30 PM

The Godfather, Part II, AMC

It's seems odd to say that such a violent film has become a Thanksgiving staple, but AMC has ran a Godfather marathon for a few years now, so it's become another Thanksgiving comfort food. Chances are you are eating during this timeframe because of some unwritten rule that says Thanksgiving "dinner" needs to be 3-4 hours earlier than your regular dinner just to screw up your digestive system. You have an hour to kill before the next football game. Why not spend it with one of the greatest films of all time?


4:30 PM – 7:00 PM

NFL Football: Washington Redskins at the Dallas Cowboys, FOX




The Cowboys and Lions are Thanksgiving traditions. However, you should tune into this game just to see rookie phenom, RGIII or as one of my favorite porn stars, Courtney Cummz, calls him "Bobby Three Sticks." He promises to be entertaining even against a good defensive backfield. Some interesting Thanksgiving facts: Dallas is 6-0 against Washington on Turkey Day. Tony Romo is 5-0 on Thanksgiving as a starter. Dallas is far from a lock, but those stats were enough for me to pick them in my Pick Em pool.


7:00 PM – 8:00 PM

Punkin Chunkin, SCIENCE

By all means, if the Dallas/Washington game is closer than I think it will be, you should be watching that. If it's a foregone conclusion, seek out the Science Channel and watch guys come up with new and inventive ways to shoot pumpkins out of homemade cannons. It's a symbolic ending of Autumn and an embracing of the upcoming holiday season.



8:00 PM – 9:00 PM

Charlie Brown Thanksgiving, ABC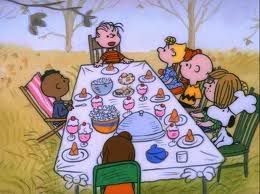 This is a must watch every Thanksgiving. Unfortunately, ABC is dead set on running it as an hour special tossing This Is America, Charlie Brown: The Mayflower Voyagers on the backend of the hour. If you have the Garfield Holiday DVD like I do, feel free to pop in the Garfield Thanksgiving special after Charlie Brown Thanksgiving at 8:30. Otherwise, you should watch The Mayflower Voyagers just to see how terrible it is. It's like The Star Wars Holiday Special - everyone should watch it once. This may be your last chance to see this special before Disney buys all the rights to Peanuts. It's coming. You know it is.


9:00 PM – YOU FALL ASLEEP

Sunday Night Football: New England Patriots at New York Jets, NBC

I can't suggest you watch the much hated Patriots without taking a hit to my soul. However, by the time you get to this game, it will be all but over. At this point in time, you've went back for seconds and maybe thirds so you're on the verge of a food coma anyways. Might as well have football on in the background as blissful sleep smacks you in the face. Sleep can be a bitch when she wants to. Football is as much a part of Thanksgiving as the parade and Charlie Brown at this point, so why not? This will be the most lopsided game of the day. You won't feel like you're missing anything if you fall asleep. Go ahead. Do it. I'll be back to tell you what to watch next year.





FIVE RANDOM THOUGHTS



1. In the category of "be careful what you wish for…" I got my wish of one more Aerosmith studio album. I bemoaned Steven Tyler's joining the American Idol cast and his subsequent bickering with his band mates. My main complaint at the time was that I just wanted one more Aerosmith studio album to go out on. I got my wish in Music From Another Dimension, the band's first studio release since Honkin' on Bobo in 2004 and their first album of all original songs since Just Push Play in 2001.




I'm listening to it as I write this. This is my second time through the album and it certainly has an old school Aerosmith feel to it. Unfortunately, it has an "old school" feel as in late 70s/early 80s when the band broke up and replaced Joe Perry with Jimmy Crespo. It very much has a Night in the Ruts/Rock in Hard Place feel about it. The tracks run together. That would be fine if you could tell one song was ending and another beginning, but the tracks are so similar that there were a couple of times that I had no idea what track I was on. At one point, I was convinced I was on Track 5, but secretly I was on Track 8. There are no real memorable guitar riffs or songs that highlight Tyler's unique vocal abilities, both staples of Aerosmith albums.

That's not to say the album is terrible. Like I said, I'm only on my second listening of the album and sometimes these things grow on you. There are a handful of tracks that keep me listening. "Street Jesus," "Luv XXX" and "Freedom Fighter" come to mind. A this point, I doubt Aerosmith is gaining new fans. Music From Another Dimension is far from Aerosmith at their best, but I'm glad to have it.


2. Last week, I embedded a video of the Angry Video Game Nerd in the RETRO section of this column. I've seen a handful of his videos and give the guy all the credit in the world for taking a love of video games and turning himself into a brand. I laughed out loud when I learned there was an Angry Video Game Nerd movie in the works. To me, it was on par with the idea of making a movie out of Hungry, Hungry, Hippos. The trailer for said project was recently released. Check it out:





The plot looks like it revolves around the Nerd and the legend of the Atari version of ET, which was a game so bad that thousands of cartridges were allegedly buried in the desert. Tackle the Area 51 Extra Terrestrial myth (which also takes place in the desert) onto the story and you might have something here. I'm not saying this movie will be a smash hit or even released in theaters, but I think I'd give it a watch. Regular readers of the column know of my problems with the NES game Top Gun. It was the Top Gun sequence in the trailer that pushed me over the top.


3. SPORTS THOUGHTS:

a. As much as I hated the New England/Colts game last week, it was a necessary evil. It tempered the expectations of the fans in this area and brought them back to Earth. Yes, this team is overachieving, but they can't play with the big dogs yet. Yes, Andrew Luck is really good, but he is not elite yet. I do take solace in the fact that Belichick being a jerk cost him his best playmaker for the rest of the regular season. I don't wish for injuries and I actually like Gronkowski (He bangs porn stars!), but its karma.

b. I've been meaning to speak on this for the last few weeks but for some reason, it keeps dropping off my radar. Why did the Pro Bowl balloting for the NFL start in Week 7?!! I understand the Pro Bowl is a big joke, but you're going to choose the best players of the season before the season is even half over?! Really?! I guess that means RGIII and Alex Smith are on the roster and Aaron Rodgers and Drew Brees aren't because of the first few weeks of the season? Hell, it took Peyton Manning a few weeks to get his rhythm, so I suppose at the week 7 mark, you'd leave him off the team in favor of Joe Flacco or Matt Schaub? If this is what the Pro Bowl is, then perhaps the pundits are right and the NFL should just get rid of it.

c. The Big Ten expansion into the Northeast is so ridiculous that I had to laugh at it. What I think is most telling is that both the Big Ten and Maryland (I know Rutgers also joined, but I didn't see that press conference) openly admitted that the move was 100% about money. The Big Ten wants in the Washington DC/Baltimore and New York markets. Maryland wants the Big Ten Network money. I was sort of amazed that there were no pretentious speeches about increasing the conferences academic standards or an inevitable growth. Nope. The Big Ten understand that no matter how shitty it is, it's always going to make money because people aren't going to walk away from the product no matter what happens (See State, Penn). No matter how shitty Indiana football is, 40,000 students and alumni are going to fill the stadium every home game to see the team get annihilated by the likes of mediocre football programs like Michigan State.

What I think suffers most is the Big Ten community. I live in a Big Ten city. I used to serve tables at a local (but nationally recognized) pizza joint. I had returning customers from Columbus, Ohio, East Lansing, Michigan, Champaign, Illinois, etc. whenever their respective teams were in town to play Indiana. Of course, there was good natured teasing, but in the end everyone in the area is rooting for Big Ten schools in bowl games or the NCAA basketball tournament. I just can't see someone driving from Maryland to Indiana for a basketball game. It feels more like a professional sports division now than a college conference. I dislike Houston, Tennessee and especially Jacksonville, but I don't feel any connection with their fans. I don't root for them in the playoffs. They're just another.

This is not a knock on Maryland or Rutgers. I am sure they are fine schools and additions to the Big Ten. It was weird enough walking into a shop and seeing Nebraska on our basketball schedule last year. It's going to be even stranger seeing Rutgers on it in a couple of years. It's a money grab and in a way I appreciate the honesty of all involved saying it's a money grab. At some point, I just wish someone would stand up to the almighty dollar.


4. Hey, I called it, baby! Animal Practice, Partners, Made in Jersey, Last Resort and 666 Park Avenue have all been given their walking papers. In my Fall TV Previews, I foresaw a quick ending for these shows. I'm a little disturbed that Malibu Country, Ben and Kate and The Mindy Project all got full season runs, but we'll see the fates of those shows in May.




On the good side, I'm extremely happy to see Bob's Burgers get renewed for another season. It seems to be the forgotten show in the FOX Animation Domination block. It is by far the best show in that block as well, so I'm happy people are coming around to it.

I'm extremely surprised The Neighbors got a full order. It had six episode guilty pleasure written all over it when I gave it a thumbs up in my Fall Previews. Color me surprised.


5. HOLIDAY THOUGHTS:

a. If you're a guy who doesn't have to be pulled out to some early morning Black Friday shopping by a significant other, I have some Black Friday tips for you.

i. Sleep in. Unless you are trying to get a new computer or TV for a few hundred bucks off, there's no reason for you to get up at some insane hour. Outside of those big ticket items, most of the Black Friday sales go on all weekend long.

ii. The next three days are going to be the best days all year to buy DVDs. If you're a Blu-Ray guy, I can't help you. Technology frightens me. I hit Wal-Mart, K-Mart, Target and Best Buy over the course of Saturday and Sunday in search of just DVDs. Last year, I added 24 DVDs for my collection for under $60.

iii. Don't pay over three bucks for one of the aforementioned DVDs unless it's a season of TV or a new release. These stores have DVDs for $4-5 all year long. Don't blow your load on "deals" that will be around the rest of the year.

iv. If you can swing it, hit the stores late. I'll hit Wal-Mart Friday night after I get off of work (which will actually be very early Saturday morning). The place is a ghost town. It also looks like it was hit by the zombie apocalypse. As I said before, unless it's a big ticket item, it will be there all weekend. It'll be the same price at 11 PM as it was at 11 AM.

b. I put my Christmas Tree and some of the décor out this past weekend, which is the earliest I have ever done this. I usually use the weekend after Thanksgiving for this, but weekend plans dictated otherwise. I know some people put up Christmas trees on Christmas Eve. This seems odd to me. All that work for two days of enjoying the fruits of your labor. That's like carving a jack-o-lantern on Halloween. It's weird to me. I was just curious as to when you guys put your stuff out (if you do at all). I'm trying to get a feel for what's normal. Growing up, my mom was always a big Christmas person so our tree went up Thanksgiving night.




USELESS TRIVIA AND SHAMELESS PLUGGING

LAST WEEK'S USELESS TRIVIA

Before the merging of the two families and the adopting of the last name "Brady," what was the last name of the faction that would become the Brady girls? Excluding Alice, of course, as she was already working for the Bradys as a maid.

ANSWER: Martin. Yeah, somehow I am probably related to the Bradys, which would mean that I can't marry Marcia. Big shout out to RON420 for getting the right answer and even including the maiden name "Tyler." I swear that's not a pseudonym for the pot smoking version of me. Unless I was so stoned that I don't remember posting…interesting.


THIS WEEK's USELESS TRIVIA

Which US President officially declared Thanksgiving a holiday?


SHAMELESS PLUGGING

As always, check out our latest episode of The Resurrection of Zombie 7 Podcast on iTunes. We just started our series on the Final Destination series. It's a tricky one in that I haven't seen most of the movies. This cause my reaction to be a first watch reaction as oppose to something that has had time to set. Also, there's no real villain. Even with The Exorcist series, we had Pazzuzzu. Now we just have an entity called Death.

The latest episode of The Zombie Reckoning Podcast is still available to be listened to on The Horror Palace Network or on iTunes. We just posted a new episode yesterday. It's the BATTLE FOR BLACK FRIDAY putting Dawn of the Dead up against Chopping Mall. Listen to me spout off about how good Dawn of the Dead is for over an hour! Check it out at the links above or just hit play below!












THIS WEEK ON RETRO



I'm guessing you didn't know that this existed. Until last week, I didn't know it existed either. Scott Valentine joined the cast of Family Ties in Season 4 as Mallory's motorcycle riding, leather jacket wearing bad boy with a gold heart boyfriend, Nick Moore. The character became an instant hit with fans. NBC was set on giving Nick a spinoff show. They were so set on it, that they tried to film three different pilots including Nick being from Detroit and running a daycare for troubled teens. The third pilot took and on August 27, 1987 we got The Art of Being Nick.

Above is the first ten minutes of the pilot episode. If you like it, the rest of the episode is available from the same guy on YouTube. Big ups to the guy for keeping in the commercials from 1987 as well. The show takes place in New York and revolves around Nick moving in with his older sister and her son. The sister is played by Kristine Sutherland (who would become famous later on as Joyce Summers, Buffy's mom on Buffy the Vampire Slayer). The sister is part owner of a bookstore with her partner, Rachel, played by Julia Louise-Dreyfus, who was fresh off a run on Saturday Night Live. I'm sure you need no introduction as to her later exploits.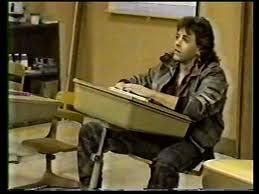 Nick gets a job at the bookstore in spite of being supremely unqualified. He basically gets the job because Rachel is single and horny. In the very first episode, Sutherland's character gets engaged and the son has to go through some emotions, helped by Nick. There is plenty of classic Nick here from a number of "Heys" to him taking everything that is said far too literally. Would the show have lasted? I don't know. This one episode works, but how many times can we see the rough on the outside, soft on the inside Nick unexpectedly come to the rescue. If the series were to go down a more daring path like giving Nick a bad girlfriend or see him deal with being unable to break through the glass ceiling in the art world, it could have been interesting. We will never know.

We will never know because only the pilot aired. No more episodes were ever produced despite the spinoff finishing second in its timeslot in its only showing. Rumor has always been that the producers of Family Ties cut the show because they were afraid to lose such a popular character on their show. I've read that The Art of Being Nick is a prequel to Family Ties and that it takes place before he met the Keatons. However, Nick mentions a couple of times in this pilot that he went away for a while and now he's back. Who knows? These four paragraphs are probably the longest tribute to The Art of Being Nick on the internet. That makes me a sad panda.




23 Years Ago Today


November 22, 1989

#1 Single



"When I See You Smile" by Bad English



#1 Album





Janet Jackson's Rhythm Nation 1814 by Janet Jackson



#1 Movie





Harlem Nights



I must leave you now.




comments powered by