SPOTLIGHTS
A Fool's Utopia 1.31.12: Worst Movie Ever Made?
Posted by Ron Martin on 01.31.2013

This week in one man's utopia we take a look at a movie that may or may not belong on the worst movies ever made list. Also, at no extra charge, we talk football memories, The Dark Tower and Natasha Leggero.

Because I'm a dork, I'm fond of saying things like the following: "Night of the Living Dead is in my Top Five Movies of All Time. Of course, there are about twenty movies in my Top Five Movies of All Time." That being said, the same thing holds true for my least favorite movies of all time. Just to get the point across, I tell people that such and such a movie is in My Top Ten Worst Movies of All Time. I don't know why I add five movies to the worst list, but I do – so just deal with it. Movies like Meet the Feebles actually belong on the list. Then there are movies like Final Destination 5 which had a large budget, access to top Hollywood talent and an entire franchise of successful movies from which to build from. It belongs on the list because of the ultimate failure in every category when it was set up to succeed. Then there are just personal movies that I hate, which are beloved. Good Will Hunting is a prime example of this. I won't go into why I dislike this movie so much here – but maybe in another column.

The point of the column is that I may have found a movie that trumps them all – but I don't know if it belongs on the list. I need your help to decide if it counts. I know. It sounds weird, but just hear me out. I've tried the line on numerous girlfriends – and it never works on them either.




1983 bought up Sleepaway Camp, which was a typical nondescript 80s slasher film until the shocking ending. The ending vaulted the movie to "cult classic" status, which means someone thought they could make more money off of the name. They were right as the late 80s saw two more campy (pun intended) slasher flicks with the Sleepaway Camp name even if the main character was recast and had virtually no similar attributes to the girl in the first movie. That's okay. They weren't good, but they were fun in the way that generic 80s slasher movies are fun.

Then came 1992. Jim Markovic was hired by Double Helix Films to direct Sleepaway Camp IV: The Survivor. There was only one problem. After a single day of filming, Double Helix went bankrupt and the product had to be abandoned. Approximately thirty minutes of rough, uncut footage had been recorded and for Sleepaway Camp fans, this became the Holy Grail of footage. It was a mythical masterpiece that would provide them with more of what they craved.

Best Buy actually unearthed the footage as an exclusive "fourth disc" in their Sleepaway Camp Survival Kit box kit. It was a great selling point for sure, but the footage left a lot to be desired. At least hardcore fans of the series got to see what they had been waiting for all those years. Next came sleepawaycampfilms.com, a website for all things Sleepaway Camp that revived interest in the series. This directly led to the 2008 film Return to Sleepaway Camp which bought back Felissa Rose in the role of Angela Baker (Who had been played by Pamela Springsteen in the second and third installments of the film). Everyone was happy, right?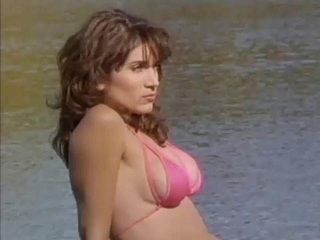 Not exactly. What about this unfinished Sleepaway Camp IV: The Survivor film? Someone, somewhere (sources seem to vary as to who) cut a final edit of the movie using 70 minutes from the previous three films as "filler." I don't really understand how something can be considered "filler" when it encompasses 70% of your film, but whatever. I paid two dollars to watch this "movie" on Amazon On Demand for The Resurrection of Zombie 7 podcast. No, I won't link to it, because I don't want to be responsible for anyone else paying two dollars to watch the film. Instead I will tell you the entire film:

1) Words come on the screen to tell you the entire plot because there isn't enough footage to distinguish the plot on its own

2) An attractive lady sits on a dock in a bikini. Her name is Allison. She is supposedly a survivor of one of the camps from the first three movies (as told to us by the words in the previous scene)

3) Random (and I mean completely random) scenes from Sleepaway Camp 1-3 with ill-timed cuts and horrible editing.

4) Girl from dock is almost raped by a Park Ranger. She runs. She meets a hunter. Hunter and Ranger are dead. We don't know how.

5) Fin.


This is one of the worst "films" I have ever seen – mostly because I had already seen 90% of it in previous films and the new stuff was terrible at best. It was a70 minute fanboy youtube video – and a poorly done one at that. With the understanding that this was edited together by a fan with no money using 20 year old footage, I'm almost willing to let it slide and not count it as an actual movie to avoid having it in my top ten worst movies of all time. That being said, people are making money off of this. For example, they made $2 off of me! That's two trips to pervert row at the local strip club. That's two double cheeseburgers at McDonalds. This is even being sold for $15 at horror conventions and on the internet. ARE YOU F@%!NG KIDDING ME?!!!!!!

What do you think? Do I let it slide or do I nail it on the dishonorable list just because they're charging money for it?




FIVE RANDOM THOUGHTS



1. I may just have majorly missed on the update to the story, but does anyone know if Media Rights Capitol is still in talks with Ron Howard over producing The Dark Tower movies/TV series? Last I heard, they were "in serious talks," but that was some months ago and I can't seem to find an updated version of the story. It seems silly to me. This is a pile of money just waiting for someone to come by and claim it. Of the dozens and dozens of Stephen King adaptations that have been made into movies, we can't get his largest and most dynamic on our screens? With Harry Potter and Twilight out of the way, the world needs a new franchise so badly that Hollywood is creating them with things like The Hunger Games. If I remember correctly, The Lord of the Rings had so much trouble finding funding it came very close to getting made. Sometimes I just want to walk around Hollywood offices and smack everyone I see.

2. Another sign that I am old – I'm going to guess you've all known about Natasha Leggero for a long time. With a DVR full of things I need to watch as well as a job, this column and a weekly podcast wherein I have to watch movies in order to participate (not to mention this spasming esophogus I've been battle for about 8 months now), it's rare that I just randomly see something on TV. I did catch a Natasha Leggero special on Comedy Central and couldn't turn it off. The girl was hilarious! I am a fan and now trying to devour everything she's done. I'm way late on this, aren't I?






3. SPORTS THOUGHTS:
a. Unless it's going to go straight into nothing but gimmickry like JJ Watts lining up as a receiver or Jeff Saturday playing for both teams, the Pro Bowl has to go. It's meaningless. The players just want a free trip to Hawaii (and who can blame them). They should just get the people who created MTV's old Rock N Jock sports shows to come in and make the event something similar to that with some skills competitions. What's even worse is that players get bonuses for making it to the Pro Bowl and sportscasters use Pro Bowl appearances as a measure of how successful a player is when it really is anything but. As much as I love the guy, should Andrew Luck really be a Pro Bowler just because Tom Brady didn't want to go?

b. That being said, I did think it was really cool that Jeff Saturday got to switch teams for one play so he could snap to Peyton Manning one last time before he retires. I suppose I am in the minority on that just because Saturday to Manning was a mainstay in my life for like 13 years.

c. Super Bowl week – suppose I should make a prediction that I have no real rooting interest in either team. Though it wouldn't bother me if Baltimore won, I'm going to root for San Francisco because Jim Harbaugh is in the Colts Ring of Honor and because I'm pretty sick of the whole Ray Lewis fiasco. SNL killed it this weekend with their Ray Lewis skit…





d. I know I'm in the minority on this one as well, but I loved, loved, loved the Parks and Recreation episode from a couple of weeks ago where the male cast members went all over real places in Indiana to perform a number of bachelor parties – including Lucas Oil Stadium to hang with Jim Irsay, Andrew Luck and Reggie Wayne. I can say this. Andrew Luck is no Peyton Manning when it comes to acting. Reggie did pretty good, however! The mention of Martinsville (which is a 15 minute drive north of where I live) just re-affirmed where I believe Pawnee, Indiana to be located by various mentions of highways and travel times on the show.

e. Since she was in the news, I took a chance to take a look at Wes Welker's wife. Uhmmm…..yeah – Tom Brady's got nothing on this guy. Damn!




4. Last night I was hunkered in the doorway of my bathroom with my battery powered radio, a flashlight and my phone. Living in the Midwest, this is not uncommon for me – in JUNE! A tornado warning in January?! Are you f@%!ing kidding me?!! I know the overall temperature of the oceans went up a degree last year (which is insane!). I also am pretty in the middle when it comes to political issues (I don't want to take anyone's guns, I don't think tax hikes are the answer, I don't believe in the trickle down economy, blah blah blah), but anyone who honestly believes Global Warming is some sort of left wing conspiracy isn't allowed to talk politics with me. At that point, you're just a puppet that your own party doesn't even care about and I don't respect your political opinion enough to discuss it with you. Doesn't mean I don't like you. I actually have a pretty good friend who is basically a Republican cartoon, but he knows I have no respect for his political opinion so we don't talk politics. It just means if you truly believe that, after all the evidence – then nothing is going to be accomplished by us talking politics. Instead, let's have a beer and talk sports – that always turns out better, right?

5. This is probably another sign that I'm old, but I am really digging this new trend of re-mastered 80s and 90s CDs for $5 at various stores around town. I've been buying a couple a week to add to my music collection. This week, I got a little crazy and picked up Madonna's Madonna, RUN DMC's S.O.U.L., No Doubt's Tragic Kingdom and a greatest hits Billy Idol album. Not bad at all. Since the holiday season I've picked up some Duran Duran, Buddy Holly, Dean Martin, Soundgarden, Tenacious D and a generic 80s CD. Sue me, I'm a product of my time. I'll be back next week. There's an Offspring CD with my name on it. On a sidenote, for a little more, I also picked up the re-mastered Nirvana Nevermind CD. I really want the 25th Anniversary Set for about $30. It has 13 unreleased songs on it. Anyone have it? I just wandered if it was worth the extra cash.


USELESS TRIVIA AND SHAMELESS PLUGGING

LAST WEEK'S USELESS TRIVIA
Lance Henriksen is one of two actors to be killed by a Terminator, a Predator and an Alien. Who is the other?

ANSWER: Bill Paxton. Another guy I'd love to interview. Lance Henriksen has never been turned into a steaming pile of shit by Kelly LeBrock – so Bill has that going for him! Big Ups to PACO_SMITH and DILLA7 for knowing the correct answer! I actually wasn't even aware of it until I researched for the Henriksen interview.

THIS WEEK'S USELESS TRIVIA

In honor of Super Bowl Week – which NFL player has the most Super Bowl appearances? Not necessarily wins, but apperances.

THIS WEEK'S SHAMELESS PLUGGING

We're going into February and we're not stopping this summer camp ordeal! Watching Sleepaway Camp IV: The Survivor literally sent me to the hospital. Don't believe me? Check out our Facebook Page to see a picture of me after the podcast. It was that bad. It doesn't deter me or Hammer from continuing our journey through the Sleepaway Camp franchise. Next up -- Return to Sleepaway Camp!

We're working on interviewing Felissa Rose for our Sleepaway Camp Wrap Up show – I'll keep you updated! Until then, below is an easy way to stream last week's episode! Do it!










THIS WEEK IN RETRO


I told you guys almost six years ago that I was going to play this video every year before the Super Bowl.

Last year, before the Super Bowl I shared various memories I had of various Super Bowls. This year, much in the same way, I'm going to share memories of football in general. They begin with this 1985 Bears team. This is my first memory of football. Indianapolis had the Colts, but had just gotten them and there were generations of Bears fans populating Indianapolis at the time, so the Bears were shoved down my throat. The first game I remember watching was the Bears/Patriots Super Bowl. I was rooting for the Bears. It's somewhat symbolic that even a month short of my tenth birthday I was already rooting against the Patriots. I thought it was cool that William "The Refrigerator" Perry got to score a touchdown. Now, in hindsight, I wish it would have been Walter Payton, but I didn't know better back then.

I soon became a Colt fan after the acquired Eric Dickerson in I think 1987 and made the playoffs. They played the Cleveland Browns in the first round of the playoffs (when only five teams made the playoffs). They played well for a half – I think the even having the score tied at halftime. Things fell apart in the second half and I remember the Browns running a running play on 3rd and Ten and making the conversion. I knew the game was over and starting a long tradition of me giving up on games way early – I turned off the TV.

I can't remember the exact year, but I was 14 or 15 years old and started picking games. I didn't miss a single game the first three weeks of the season. A neighbor of mine (who was probably 24 or 25) decided that I should help him fill out his parlay cards. I thought his girlfriend was supermodel good looking, but then again I was 14 so what did I know. The deal was for every week he won a parlay card, he would get me a picture of his girlfriend topless. This was when I learned picking against point spreads is a lot harder than picking straight up. I never did get to see them.

In the early 90s, I hated the Buffalo Bills. They dominated and were in the same division as the Colts. At the time the Colts were playing Jim Kelly and Dan Marino twice a year. When they went down 35-3 to the then Houston Oilers in the 1993 playoffs, no one was happier than me. When they came back and won the game 41-38 – well, that was the beginning of the end for me. God has hated me ever since.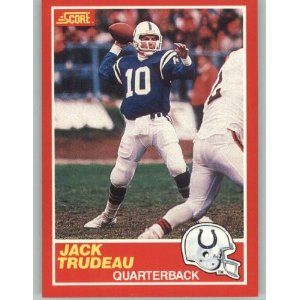 As a Colts fan in the late 80s/early 90s, this sounds terrible to say, but I anxiously awaited for the game where the Colts starter (Gary Hogeboom, Jeff George, Chris Chandler) to get injured for the season and the great Jack Trudeau would come in and lead the Colts to just enough victories to need to win and have three other teams lose in order to make the playoffs in Week 16 (this was before byes). I actually remember a season when each team had two byes.




23 Years Ago Today


January 31, 1990

#1 Single



"How Am I Supposed to Live Without You" by Michael Bolton



#1 Album





…But Seriously by Phil Collins



#1 Movie





Driving Miss Daisy



I must leave you now.




comments powered by