SPOTLIGHTS
411 Mania Interview: Coach Bill Courtney
Posted by Tony Farinella on 02.19.2013

411's Tony Farinella sits down with Coach Bill Courtney of the Academy Award winning documentary, Undefeated, for an exclusive interview!



Bill Courtney was the coach featured in the moving and hopeful documentary Undefeated, which won an Academy Award for best documentary in 2011. Like Hoop Dreams before it, Undefeated shows what life is like for young high school athletes trying to make it when everything is working against them. Recently, I caught up with Coach Bill Courtney to talk about the film, what it was like watching himself on camera, and his approach to coaching. Undefeated is currently out on DVD and Blu-Ray and is definitely worth adding to your collection. It's an amazing piece of filmmaking. You can also listen to the audio of the interview on the You Tube clip I have provided in the article.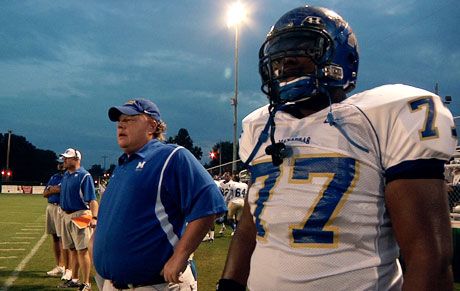 TONY: What's your perspective on that season? Now that you're removed from it, how do you process it all now?

Bill Courtney: The perspective on the season, that's broad. In terms of how I feel about that season, you gotta remember it was the last of a seven year period of time and those seniors on that team I'd known since they were in eighth grade and my perspective on the team is really this area that the kids come from. The demographic of the data is this: an eighteen-year-old male is three times more likely to be incarcerated than he is to go to college from those three neighborhoods. The last few years of Manassas we graduated thirty-six seniors and thirty-five went to college.

My perspective is that those kids were undefeated by their circumstances and some notions of character, discipline, and commitment that were foreign to them and rose up above their circumstances and have fought from a very tough place to try and make a life for themselves. My perspective is although we didn't reach our goals on the football field, I think those kids reached far loftier goals in their personal life. I'll take that. I'm proud of that. I'm proud of the kids and proud of those boys who figured out how to become good men. That's really what my perspective on it is.

TONY: The documentary shows all the highs and lows of the season, and I was so impressed with how you handled them all and how you found ways to navigate through them. I wanted to ask you: What did you draw on, previous experience, to help you keep going during those highs and lows of the season?

Bill Courtney: Well, before I give you the answer to this, there is a preface and the preface is I'm a Christian, but if you're not, that's OK with me. I have Agnostic friends, I have Jewish friends, and I have a couple of Muslim friends. The reason I'm saying that is if you don't necessarily agree with my faith and I don't necessarily agree with your faith, I find that nothing but personal. I think too many times faith can be a barrier to people seeing eye to eye. I'm telling you that, although when I say I'm a Christian, it doesn't mean that I'm one of those guys who is going to say you're wrong and you're doomed to Hell. I think that entire notion is ridiculous. That's my own personal faith. Having said that, the basis of my faith is forgiveness. What other reason would there be for Jesus Christ if it weren't so you could have forgiveness?

And if I, as a grown man, expect forgiveness from who I think is the God of the universe, what kind of hypocrite would I be to then not as a man give forgiveness to a young teenage kid who makes a mistake? So to answer your question, what did I draw on to continue to persevere with kids who continue to screw up? It's rooted soundly in the faith I have that it's not something nice to do, rather it's a responsibility. There is no finish line. What I mean by that is no matter how bad I screw up, I do believe I can go to my God and ask for forgiveness and I will be granted it.

There's never a finish line. There's never enough's enough. I would be nothing more than a hypocrite if I set a finish line for these kids. There's no finish line, there's no, 'OK. We made it. Everything's great.' It's a daily grind to constantly pound commitment, character, discipline, all those into their heads and you keep illustrating that the way you walk through life and continue to forgive and continue to teach, you hope overtime you're able to exact some measure of change in their lives.

TONY: It seems like you really knew the pulse of your team and you knew how to handle each player differently. How do you do that? How do you gauge the pulse of your team?

Bill Courtney: I think there's a lot of really good coaches and I think there's a lot of really bad coaches. I think the number one problem with bad coaches is conceit. There's coaches who actually believe that they can draw X's and O's on a piece of paper and then teach kids and those will win games. One of my fundamental things that I say all the time is kids win games and coaches win players. I believe if you win the player's hearts and minds, they'll win games. If you win their soul and make sure they understand what perseverance, commitment, and character is, so I spend a lot more time getting to know my players and coaching them as human beings rather than as football players first and then coach them as football players.

So that when you spend that time and that investment with those people, you find out what makes them tick and find out if they can handle tough love or if they need a pat on the back or if they need to be yelled at. You build a relationship with them based on them as people and not as football players first. Once you win them as people, then they win games based on the way you coach them and you know how to coach them based on what you've learned about them as people.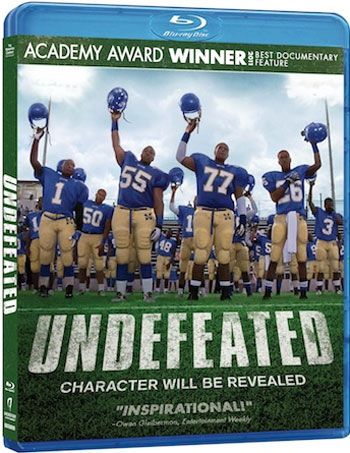 TONY: I'm sure it's hard to pinpoint just one singular thing, but if you had to pick one moment from the season that signifies what it was all about, what moment would that be?

Bill Courtney: Wow, that's a tough question because there's so many moments, but I really think the game we played Trezevant, and we were down twenty to nothing at halftime and came back and won it by one point at the end because Trezevant didn't really care a whole lot about character and commitment. They were all about football and we were all about everything but football. It was a dichotomy of approaches to kids and the game. And we won because we persevered at the end and because what we're teaching is perseverance. Additionally, it kind of personifies what Undefeated is. You don't get defeated by your circumstances just because you've been hit in the mouth in the first half. It doesn't mean you can't go out and give it everything you've got and still win if you persevere and if you don't lose sight of fundamentally what defines you as a team and as an individual. That game personifies and indefinites who we were as a team and what that season was about.

TONY: We see throughout the film how you're watching a lot of game film. What's it like for you in this documentary to watch yourself on film? What do you take away from watching yourself on film and what are some things you look at and maybe want to improve on or change as a coach?

Bill Courtney: There's two things. I'm absolutely convinced that my wife went to the Fun House display at the fair and installed mirrors in our home. I just don't feel nearly as fat. I leave the house and I don't feel fat. I talk about character, commitment, discipline and integrity, and then I lose my temper, get upset, and I'll let a cuss word slip. That's not who I am and that's not what I want kids to see. I don't want those kids to grow up as young men and think it's OK to just talk any old way. To be honest with you, the thing I carry away from it when I watch it is that if it's anything I would have changed, it would be that I would have enough personal discipline in my own life to watch my tongue a little bit. Beyond that, it kind of is what it is. Those kids are who those kids are. And that is who I am. There's not a whole lot I'd change about it.
comments powered by