SPOTLIGHTS
Alternate Takes 03.02.13: Batman Inc. Spoilers
Posted by Shawn S. Lealos on 03.02.2013

Thor takes on Jean Grey, Superman battles Hellboy and more in the latest Superhero Knockout Fight Club! Plus, 411's Shawn Lealos takes a look at a major character death in the pages of Batman, Inc.!

Welcome to Week 243 of Alternate Takes, my name is Shawn S. Lealos and you have entered my world.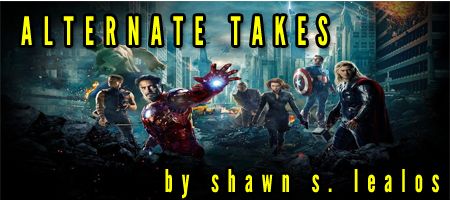 This article will be full of SPOILERS!!!!!!! You have been warned - don't cry if you keep reading and see that I spoiled what happened in this week's Batman Inc.

And to make sure you don't accidentally see it, here are puppies…




On to the spoilers.

It was just a couple of weeks ago I was talking about how much I disliked Damien Wayne, and I remember a couple of you talking about how you have grown to like the little brat. Well, that was apparently the point for writer Grant Morrison. Morrison spoke this week about the fact that, in "Batman Inc" #8, he kills off Damien Wayne.


"What we did was turn this little monster into a superhero," Morrison said. "He's a little brat, but he's a super-brat. It's all about the family and the family going to hell. The two adults in the story are both culpable. The kid's the good guy."
And with that, Grant Morrison wrote the story where Bruce Wayne's son dies.

Now, there have been a lot of rumors about why this happened, and one of them makes a lot of sense. I read that when a writer-for-hire takes over a comic book title, they have to leave the title as it was when they took over. Grant Morrison has been on Batman for years, but he is about to wrap up his run. He created a lot of things, and has seen in the past that when he leaves a title, the next writer will wipe out a lot of what he created (see: X-Men). Damien Wayne was a Grant Morrison creation, so he had the pre-teen superhero die - like a hero. He figured if his creation was going to be eliminated, it should be done right. So he did it himself.

It is also a good thing they killed Damien Wayne, because he makes no sense in the New DC 52. The heroes of the DC Universe have not been around long enough for Batman to have been fighting crime long enough for the entire Talia relationship to have occurred as it did. I know that DC changed the history and accelerated Damien's age, but this was still a sore spot in the rebooting.

As for the issue itself, this was a tough one to read. Basically, the entire issue was a metaphor for mothers and fathers fighting and their children being the ones made to suffer. This showed through the entire time Damien fought his clone and begged his mother to stop fighting his father. However, what made it even tougher to take was the fact that Talia pretty much ordered the death of her own son in this issue.

Yet, Damien was riddled with bullets and beaten almost to death and continued to fight, while trying to beg his mother to stop. Then it took a sword to finally kill Bruce Wayne's son. He died a hero, fighting to the end. In this comic, I didn't hate Damien Wayne like I have for much of his existence. In his death, I found a way to respect him. This was a solid sendoff for Grant Morrison to one of his most interesting creations.




The first match of last week's knockout was an easy win, as Flash proved to be way more powerful than The Wasp, and destroyed her 231-18. Another match that wasn't close was Doctor Strange beating Booster Gold, 224-32, proving that Booster's ability to know the past was no match for the Sorcerer Supreme. Black Bolt eeked out a win over Cyborg, despite the fact that Bolt is one of the most powerful men in the universe. Finally, Moon Knight used his fighting skills and possibly powers of the moon to beat Savage Dragon, despite Dragon's super strength and healing factor.

Interesting trivia: Savage Dragon is the only Image comic book character still written and drawn by its creator (Erik Larsen). Dragon isn't an unknown character either, enjoying his own animated television series back in the '90s. Guess people really believe Marc Spector can beat the Dragon (I don't mind because Moon Knight is a personal favorite of mine).

We are now in Round 2 of the Knockout Fight Club. The winners from the first round now fight to see who moves on. This round has what I think will be the toughest choice of the entire tournament for people who actually vote for who they really think can win a fight.



Thor





Jean Grey


Superman





Hellboy


Black Panther





Spider-Man


Silver Surfer





Captain America


2013
March 8 - Oz: The Great and Powerful
March 29 - G.I. Joe: Retaliation
April 12 - The Evil Dead
May 3 - Iron Man 3
May 17 - Star Trek: Into Darkness
June 14 - The Man of Steel
June 21 - World War Z
June 28 - Kick-Ass 2
June 12 - Pacific Rim
July 3 - The Lone Ranger
July 19 - R.I.P.D.
July 26 - The Wolverine
August 2 - Red 2
August 2 - 300: Rise of an Empire
August 6 - Percy Jackson: Sea of Monsters
September 6 - Riddick
September 13 - I, Frankenstein
September 13 - Machete Kills
October 4 - Sin City: A Dame to Kill For
October 25 - The World's End
November 1 - Ender's Game
November 8 - Thor 2: The Dark World
November 22 - The Hunger Games: Catching Fire
December 13 - The Hobbit: The Desolation of Smaug

2014
April 4 - Captain America: The Winter Soldier
May 2 - The Amazing Spider-Man 2
July 18 - X-Men: Days of Future Past
August 1 - Guardians of the Galaxy

2015
March 6 - Fantastic Four
May 1 - The Avengers 2
November 6 - Ant-Man



















comments powered by