SPOTLIGHTS
The Hollywood 5 & 1 03.02.13: Jennifer Lawrence Vs Scarlett Johansson Edition!
Posted by Steve Gustafson on 03.02.2013

Jennifer Lawrence battles Scarlett Johansson in Vs, Glen Mazzara discusses working on The Walking Dead, Joss Whedon comments on the likelihood of another solo Hulk film, Lindsay Lohan's latest court problems, the UFC's Carly Baker is your "& 1" Model of the Week and more!







































A WORD FROM STEVE...
Welcome back! How was your week? Have you taken a second to vote for Leola Bell? As you may or may not have heard, voting for Playmate of the Year has started. Leola has been a friend of mine and a friend to 411mania.com and she gets endorsement. Click on the LINK and vote daily! Thanks!

I took a few minutes to interview The Canyons' James Deen! We talked about the Lindsay Lohan situation, Cowboys & Engines, and Betty White!

It's MARCH MADNESS! I'm sure some of you think college basket ball when you hear that but real men know it's all about MILE HIGH MADNESS! Right now Round 3 of Mile High Madness is now underway and the field has been trimmed to 16 porn star pairings! Yes, it's a bracket full of fun with all of your favorite adult film stars. Fan voting for Round 2 concluded on February 20 in the single-elimination social media tournament from Mile High Media and only the most popular pairs remain in The Sexy 16!
Sign on to Twitter to follow (and vote) on all the action! Just follow @MileHighMovies for the complete coverage! To view the updated Mile High Madness tournament bracket, check it out HERE!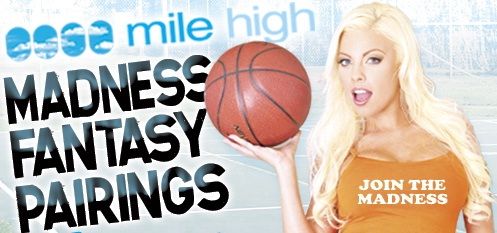 Who's greeting us this week? It's none other than...Melissa King ! You might not have known who she was outside of Delaware last week but this former Miss Delaware Teen courted bad news when it came out she has dabbled in the adult film world. Alleged. Alleged. Of course, we here at the Hollywood 5 & 1 never judge and she's always welcome on these pages!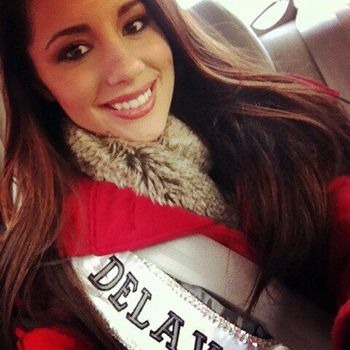 I'll admit that I was 100% positive how the voting last week was going to turn out. You all stuck to the script and showered the super hot (physically and professionally) Jennifer Lawrence with votes! She took out the lovely Naomi Watts and here are the numbers:

Jennifer Lawrence 83.02%
Naomi Watts 16.98%

Some complainted last week about the not-so-sexy pic of Naomi but would it have really mattered? Even if she was naked, I doubt she would have made it a close competition. Lawrence is burning up the scene and in a few years, she'll be in Scarlett Johansson bombshell territory...

Wait a minute. That's not a bad idea!



Jennifer Lawrence VS Scarlett Johansson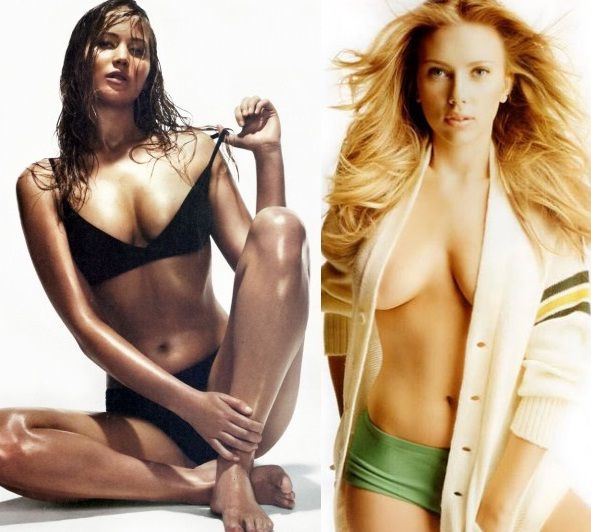 VOTE!




PIC OF THE WEEK!
Well, well, well. Look who it is again! Yes, it's been a whirlwind few days for Jennifer Lawrence, who just won an Oscar, went brunette on Monday, and by Wednesday was in Hawaii shooting the blockbuster sequel The Hunger Games: Catching Fire.

Everyone needs to unwind and she's no better than you or I. Lawrence was spotted on her hotel balcony drinking wine with a friend and smoking a suspicious-looking cigarette.

Man. That's a weird looking cigarette.





WHAT THE HELL?
Shadow ands Act reports that they recently spoke with Halle Berry, and that she will be returning as Storm for X-Men: Days of Future Past, once a few contract details are finalized. Here's what they said:

"She did confirm to me that she would be returning in the role. Most likely. Practically 90% sure. And she nodded a lot too. I can't say, and neither could she say that it's definitely a done deal, and that the contracts have all been signed, with all the "i"s dotted and the "t"s crossed.

A few details that are still being negotiated which she couldn't get into. But since she did tell me that the film starts shooting in April, it's highly unlikely that talks are going to suddenly and horribly fall apart at this point, and the producers have to scramble to find a replacement at the very last minute."

Thoughts on Berry returning as Storm?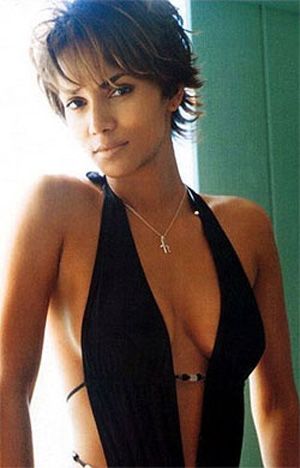 TWITTER-A-GO-GO!
Make sure you're following all the comings and goings around 411mania on Twitter! Follow me for some witty tweets from time-to-time as well. Dana White, Jesse Jane, and Larry Csonka follow me. What are you waiting for?



http://www.twitter.com/stevethegoose
http://www.twitter.com/411mania
http://www.twitter.com/411wrestling
http://www.twitter.com/411moviestv
http://www.twitter.com/411music
http://www.twitter.com/411games
http://www.twitter.com/411mma









Spider-Man 2!
Can there be too much cast? The Amazing Spider-Man 2 has signed another big name to its ever-expanding cast, with Chris Cooper joining the production as Norman Osborn. Variety reports that Cooper has signed on to star as the CEO of Oscorp, who was made mention of several times in the first film without actually appearing on screen.

Osborn famously goes on to become the Green Goblin, one of Spidey's most formidable foes in the comic-books, although with Electro and Rhino on antagonist duties in this sequel, it remains to be seen whether he'll take a villainous turn at this stage.

In other Spidey news, Emma Stone recently spoke about the casting and script and said, "I'm in it, Andrew is in it, they just cast Dane Dehaan as Harry Osborn who is such a great actor. And Shailene Woodley as Mary Jane, who's also wonderful. So there's all that and the script is very, very good. I'm very much looking forward to it...I'm very happy that our first one was received so well, it'll be cool in the next one to see how Gwen and Peter bridge that distance that was between us at the end of it. I think the way it all unfolds is pretty neat. And I hope they continue letting Gwen be heroic, I think they might!"

Thoughts on the cast and expectations for the sequel?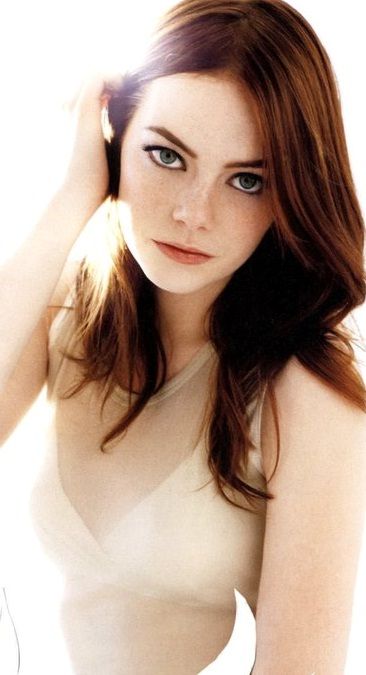 Will Emma make it to number 3?




Will HULK SMASH?
Geek Chocolate reports that director and writer Joss Whedon shared his thoughts on the possibility of another Marvel Studios solo-movie for The Hulk.

During the Glasgow Film Festival on Sunday, Whedon reportedly stated: "Hulk is a tricky son of a bitch. He's the Claudio of superheroes. Because the problem is it's a very popular character, but it's not a superhero. Half of it's a superhero, half of it's a werewolf. And you can't structure it like a superhero movie, you can't light it like a superhero movie. How do you develop that? It would be extremely difficult. The one thing you would have in your favor would be Mark Ruffalo. But right now I don't know if they have plans to do that or not, because he works so well as part of a greater whole, but by himself, it's tough. I don't envy the guys who went before."

Recent reports by Latino Review claiming Marvel Studios was planning a 'Planet Hulk' spinoff movie as well as a third Avengers movie that would adapt the plot of 'World War Hulk' were inaccurate and untrue according to Ain't It Cool News.

The Hulk will likely next appear in The Avengers 2 slated for May 1, 2015.

Do you want to see The Hulk on his own? What did you think of his first two big screen offerings?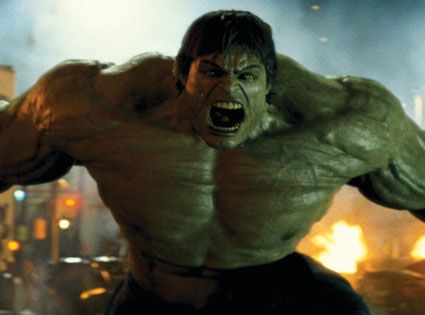 How would YOU do a Hulk movie?




Dead Walking!
I haven't really covered any TV news in these parts but I might throw out a few things here and there if it calls for it. The Walking Dead is a smash hit and has clutched onto pop culture so it fits! Glen Mazzara recently spoke with Rohan Williams of Scene Magazine in Australia about the last few episodes of The Walking Dead, what's left to come this season, the creative team for next season after he is gone and more. Check out the highlights:

On whether he was happy with how the episode "I Ain't a Judas" turned out: "Yes, I was! You know, we spent a lot of time building to that episode, where Andrea finally connects with the rest of the group, and I think the audience had a lot of expectations about how that was going to go. But given what each character's dealing with, I thought the episode made a lot of sense. It was a good character piece. I was happy with the way it came together."

On whether he pays attention to reviews and forums about the show: "I do! I do! I'm very interested in how the material went over with the audience. I think it's hysterical that people debate these things the way they do; it's a lot of fun to read that. A lot of people have very strong reactions, both positively and negatively, to every episode. It doesn't affect how we write the show. The show is completely shot and edited and in the can by now. We're further down the road, and the creative team for Season 4 has already put together those scripts. So it doesn't affect how we tell the story, but it's always fun to see how things are received."

On why Axel had to die in "Home": "Excellent question. First of all, let's think about the timeline. Glenn and Maggie are kidnapped, and later that day, Michonne arrives and says, 'you need to rescue your friends'. So Rick and those guys arrive at night, and over the course of that night, they shoot up Woodbury, and they free Daryl in the wee hours of the morning. So you have about three episodes playing over two days. So The Governor's attack is like a day and a half after that, right? So he attacks pretty quickly. People watching it are saying, 'oh, it feels like it's a week later'. No. It's been about 15 hours when he goes to attack. When The Governor shows up, he's not there to invade the prison or launch a major attack, he just wants to send a message to these people. And as he's doing that, he will look ineffectual if it does not result in a death. You know, we want to have a big gun battle, but he's not invading, so he's just going to snipe at somebody, and that's going to result in a death. Otherwise he looks completely impotent."

On who else was considered for death in that episode: "To be very honest, I didn't want to kill off any of the major characters. We obviously didn't want to kill Rick. Carol was on the chopping block, but I didn't want to kill Carol, because we have a story coming up with her. We looked at the possibility of killing Beth. I don't think that actor knows that. You know, I love Emily Kinney. But I felt that would have had too big an impact on the group. It would have just devastated poor Herschel. It would have taken him down a path I didn't want for the rest of the season. And we were already dealing with Maggie's feelings about her sexual assault by The Governor, so we didn't want to complicate that with mourning for her sister. We talked about killing Carl in that episode! We really did... unfortunately, you know, by the process of elimination, we got to Axel. Now I like Lew Temple's performance of Axel very, very much, and we were just starting to find that character and develop him in a way that we loved. And we probably could have had more stories with him. But The Governor was the main character in that piece. We needed to make sure he was not ineffectual. Because otherwise he's not a bad guy that could possibly take out our guys. So that was really important."

On having to weigh the value of potential stories involving characters against the value of their deaths to the narrative: "You do! You do. And there are other things coming where the story breaks a certain way to service The Governor or Rick. Those are the main characters. You have to service those main characters. But I have to think about those choices. If the show ever falls into a rhythm in which characters are being saved just because we like those characters, then it's going to feel artificial. It's not going to feel riveting and thrilling and unpredictable every week. You have to make these tough choices."

On the Governer being more of a gentleman than in the comic: "That was a decision on my part. I really did not want The Governor to be an arch-villain. I wanted to see a person develop into this character. My motto for The Governor was that he's a man who's narcissistic enough that he believes this apocalypse is about him. That this is thrusting him onto the world stage, and that a thousand years from now, when humanity survives and kids are studying history books, his name will stand out like Augustus Ceasar or Charlemagne or some other great historical figure who kept the lights on during a dark age. I thought that was very interesting. I had not seen that character before, someone with a sense of history about him. So I spoke with David about that, and David was interested in playing that character. He did not want to play an arch-villain. And if you look at what [Walking Dead creator Robert] Kirkman's done, Kirkman actually introduced that character as an arch-villain in the comic book, and then went back in novels, after the character had been killed off in the comic book, and filled in his back story to show how the character developed. So even Kirkman sensed that arc is an interesting one, he just went back to it after the comic book material was realised. So that's an interesting character. I think all of us wonder how The Governor can commit such atrocities, and I had a very strong perspective about that going in."

On how closely he's adhered to the comics: "I think the show has been a completely different beast. Now, what happens to it in Season 4, since I've left the show, is up to the creative team that's in place. But I believe you have to take liberties with the material, because part of the nature of that comic book is that it is so unpredictable. You want to play with audience expectations, and sometimes give it to them in a surprising way. Sometimes you don't want to give it to them, you want to withhold it, which leads to some frustration for a lot of the comic book readers. But, you know, there's about 100,000 people who read that comic book, and there's 11,000,000 people watching the show. So I think a lot of the decisions we've made have found a wider audience."

On working with Robert Kirkman: "Well, Robert's an executive producer on the show. He's in the writers' room. So all the material we've developed has been with his blessing. He's been a full creative participant, so he's fully involved in the development of this material. As far as the comic book goes, no, he keeps that separate. We don't discuss it. One time he slipped with a spoiler about a major death in issue 100, and all the writers were sort of upset. 'Don't tell us! We want it to be a surprise!' They didn't want to know that. So the comic book is very, very different from the show, and he writes it on his own. We have no participation in that."

On whether the higher profile of showrunners over the past few years is a good thing: "I think so! You know, the showrunner provides the vision for the show. I think the showrunner deserves it! They're driving the creative vision of the show. So even though it is a collaborative medium, the showrunner is the equivalent of the director of a feature film. That's the person who shepherds the work through the entire process. Showrunners dedicate themselves to the shows. We're involved in all aspects of the show, both creative and production-wise. We're responsible for budgets, schedules, wardrobe, casting... there's no aspect of the show that I'm not involved in, that I don't approach from a position of authority. You're approving hair styles, you're approving wardrobe, you're approving props, you're approving this and that. The directors are the ones who are rotating through the system. So I think that's fair. I think if you look at a show like Community, that was certainly a show that was Dan Harmon's voice. It's a demonstrably different show without him. That's what we get paid for as showrunners, to add our voices to the show. Darabont had one particular voice, I have another. And the fans see that! The fans recognise that. That is recognition of the dedication of a lot of men and women who pour their hearts and souls into these works."

On whether his storylines will wrap up in time for his exit at the end of the season: "Well, the next guy, Scott Gimple, has been involved for a while. And Robert Kirkman and Gale Anne Hurd and Greg Nicotero, the creative team, were all producers on Season 3. So there's no material there that is surprising to them. They were involved in developing that material. That being said, listen... the season finale will be a bombshell, as you say. We wouldn't be The Walking Dead if we didn't push the storytelling every week. So those folks have their work cut out for them, you know? Hopefully the ratings will hold for this season and at the end of my run they'll be in a position to have a successful Season 4. We'll see what happens."

Great stuff and was more open than I would have expected! Thoughts on The Walking Dead so far?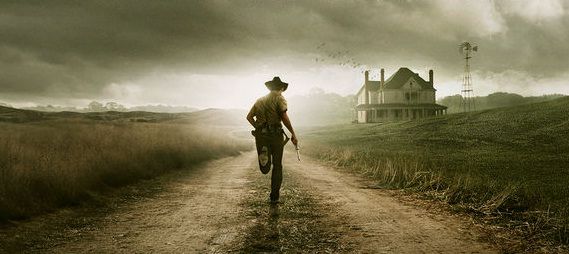 What other changes are in store from the graphic novel to small screen?




The Green Inferno!
I'm not a big horror guy but this looks...interesting to me. While at the Glasgow Frightfest, Eli Roth told IGN about how he came up with the story for The Green Inferno and the problems he encountered while shooting it.

He makes a lot of cool points.

"It was one of the craziest experiences of my life making that movie. I love cannibal movies – I love Cannibal Holocaust, I love Cannibal Ferox, and I wanted to do one. I feel like they are due for a comeback. But I wanted to do it for a really good reason, and I didn't really have that story. So it was something that was percolating.

Then I was thinking about student activism and 'Occupy Wall Street' and looking at students getting involved in causes over Twitter. Looking at how people are re-tweeting 'Save Pussy Riot' and 'Save the Dolphins.' Actually it was right after I wrote the script that Coney 2012 happened, and I was like 'This is it. This is what my movie's about.'

It's about these kids that get so caught up in a cause because it's sexy, they don't even really take the time to learn what it's about. And you think of all these 100m YouTube views, and all these t-shirts sold and all those mugs. And then the guy's jerking off in the street and Coney's still out there, and it didn't mean sh*t. Nothing. Absolutely nothing. It was completely useless. OK yes, it raised awareness. But so what? It didn't catch him. It didn't stop him. I think that people want to fix things instantly, and they can use their phones to do that now.

So I wrote about these student activists who want to save these un-contacted tribes in the Amazon. Which is happening now. These corporations with GPS looking for natural gasses go in, kick out the tribe – kill them or move them out of there. Then just destroy the village and take out the gas which is in the ground. So I wrote about these students that want to stop that. They chain themselves to trees and protest and stream it and hash-tag, and it works. It actually shuts down the operation. Then on their way home, their plane crashes. And the very people they save are like "Ah, food – that's great!" It's like a free lunch, and they are brought back into the fold of absolutely barbaric, primitive man. People that have had no contact with the outside world.

So when we shot it, I wanted to film somewhere that was really, really, really in the Amazon. Really, authentically off the grid. We scouted in the summer-time and went up the river for hours and hours and found this village where there was no electricity, no running water, grass huts. Ten people in a shack. And it looked incredible; it looked like a village from another time, so we asked if we could film there. But I was told that we have to tell them what a movie is because they have no idea. They've never seen one. They've never even seen a television. So they went back with a television and a generator and showed the village Cannibal Holocaust, which I couldn't believe. And the villagers – thank god – thought it was a comedy. The funniest thing that they'd ever seen. And they wanted to play cannibals in the movie. So we had the entire village acting in the film. And they speak Quechua – which is like another language from another time.

It was a really amazing experience to live there for a month. It was five hours of travel every day, and it was no joke. We could have died any number of times – there were floods, and there were rock-slides, there were tarantulas, snakes, animals walking through shots. It was crazy. Wild horses that if you got near them would kick you and bite you. And the bugs attacking you. And it was 110 degrees – it was brutal.

Yet it was this jungle adventure – we had cameras and everyone was just so up for it. Everyone got up in the morning every day at 4.45am and got in the Land Rovers and shipped our stuff, lugged it to the boats, went up the river, lugged it to the village. And going deep into the jungle to film these sequences.

Lorenza – our actress from Aftershock – she's the lead, and she got devoured by bugs. You'd wake up and mosquitos and ants had bitten your face. You've have to sleep completely covered from head-to-toe or you'd get devoured.

But I wanted it to look like a Werner Herzog film. They call the river Aguirre because the last film to shoot there was Aguirre The Wrath of God. And we went even further beyond where they went. So it really looks like a Terence Malick film. Or Apocalypto. We strapped cameras to remote control helicopters and ran them over the Amazon. The footage looks jaw-dropping. There have never been cameras where we were. So we start in New York City and go all the way to the ends of society. You don't think these places exist until you get there, and you can't believe it.

And it was so nice to talk to these kids – every kid in the village is in the movie – and you bonded with all of them. You became friends with all the kids and all the old people. And then by the end they were all playing with iPhones and iPads. We've completely polluted the social system and f*cked them up.

But we also housed every hut in the village – we gave them metal roofs. We put corrugated metal on all their roofs and that was all they wanted because they live in straw and it rains so that really changes things for them."

That's a pretty awesome little story.




It was a pic of Eli Roth or her. I made the right decision!




What's the VIDEO BUZZ?
What a mess! I think the lawyer fits his client. Lindsay Lohan has an incompetent lawyer representing her according to the judge in her criminal case. Yes, Judge Jim Dabney reamed Mark Heller out, saying he was incompetent to practice law in California and said Lindsay either has to get another lawyer who knows what he's doing or she has to come into court and waive her right to a competent California lawyer.

The judge made it clear to Heller that he doesn't have a clue about criminal law, questioning his competence to handle the case. The California lawyer who's sponsoring Heller to appear in Lindsay's case didn't show up today, and the judge made note of that, not that it would really matter, because the sponsor never practiced law a day in her life. Wow.

Jimmy Kimmel did a skit on Jimmy Kimmel Live in which he lampoons the claim of Lohan's lawyer that the actress would do a motivational speaking tour in order to avoid jail time. You can check out a video of the skit below:

What do you think?










Welcome back to the & 1 Model of the Week! I'm going to use this area to introduce a lovely young lady that you might not be familiar with. Sometimes I'll ask them some questions, so we can get to know them a little better.

This week our & 1 Model is ... Carly Baker! She's the newest UFC ring girl and already making tongue wags in a video (and accompanying stills) from her Zoo Magazine photo shoot.

Really this is an excuse to give props to our excellent team of MMA writers over in the MMA section. Make sure you click on the tab above and check out the latest articles and columns. I'd put their insight on the same level or above any site out there!

Oh yeah, but first, Carly!


Ladies and Gentlemen, I present… Carly Baker!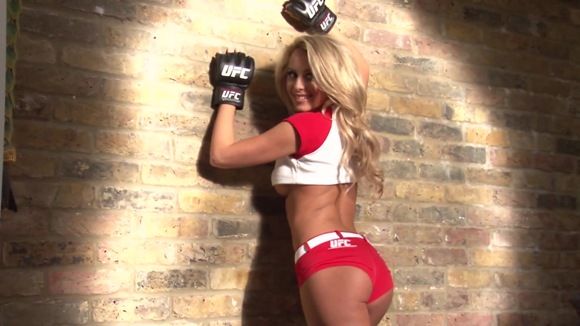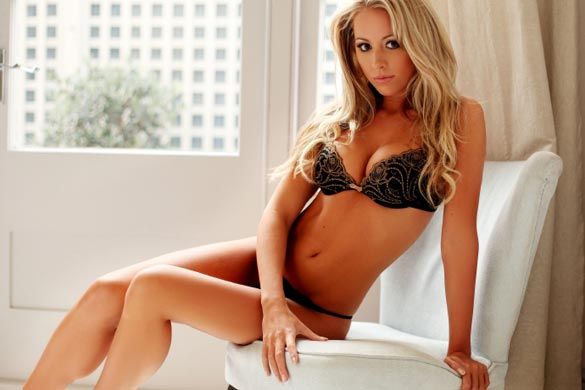 For more go to Twitter @MissCarlyBaker!



Why don't we take a look at the full video?






Before I say GOODBYE!
Playboy has been kind enough to release me on the lovely Playmates. Here's some interviews to keep you entertained!

Miss January 2012
Miss February 2012
Miss May 2012

Do you enjoy the 5 & 1 format? Then check out the other fine 5 & 1 features on the site:
* Jack McGee holds down the fort across the pond with his MMA 5 & 1!
* Tony Acero puts the Wrestling world in a headlock with his Wrestling 5 & 1!

Give my blog a glance HERE! And tell a friend!

Make sure you check out my Big Screen Bulletin every single Monday! All the movie news and rumors that you missed over the weekend!

I started a suicide prevention resource site. Give it a look and share! www.youcanendure.com . If you or someone you know is feeling isolated, don't hesitate to call the National Suicide Prevention Hotline 1-800-273-8255.




Finally, if you have some down time and are looking for a great place for great fun, check out Tiger Flash Games!

All pictures courtesy of Maxim Magazine, Complex, Huffington Post, V Magazine, People, FHM, Details magazine, www.cnn.com, and www.imdb.com.

comments powered by