SPOTLIGHTS
411 Fact or Fiction Movies/TV 3.8.13: Week 372
Posted by Ben Piper on 03.08.2013

Should NBC replace Jay Leno with Jimmy Fallon? Will Oz The Great And Powerful be a disappointment? Would James McAvoy be a good choice to reboot The Crow? 411's Will Helm and Ron Martin debate these topics and more!




What's up, my good people? Time for us to do that Fact or Fiction thing once again. This week finds us in the company of longtime 411 staffers Will Helm and Ron Martin. Why waste any more valuable time? Let's do this…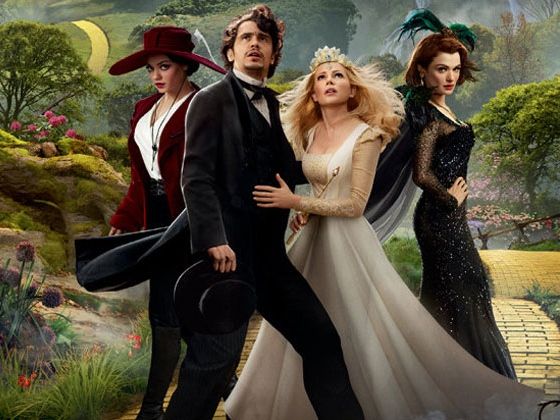 1. Oz The Great And Powerful will prove visually stunning, but a disappointment otherwise.

Will Helm: Fact. For this long-time cinephile, The Wizard of Oz stands as a visual masterpiece of early American film. Alas, due perhaps to the bar having been raised multiple times in the intervening near-75 years, The Wizard of Oz lacks the cache that it once had (and I'm sure the discontinuation of the yearly springtime television broadcasts of the film hasn't helped matters). Helmed by Sam Raimi -- wait . . . what?!? -- Oz the Great and Powerful provides a prequel to L. Frank Baum's literary oeuvre, this time with the "Wizard" as the main character -- portrayed by idiosyncratic auteur James Franco, who seems an odd fit for the film. Raimi, well-versed in blockbuster effects and deft handling therein -- except for Spider-Man 3 (*shudder*) -- should make the film into a solid and stunning movie, with set pieces and visuals the likes of which Victor Fleming could never have dreamed, as well as, perhaps a Bruce Campbell of a different color. The film should also be aided by three talented -- and visually stunning -- female leads: Rachel Weisz, Michelle Williams, and Mila Kunis. However, the fading of the Wizard of Oz mythos, coupled with Franco's lack of a proven track record as a leading man, could easily be an obstacle on the yellow brick road to box-office success for Oz the Great and Powerful.

Ron Martin: Fiction. I do agree it will be visually stunning. I also am weary of the casting of James Franco as the lead. However, I would disagree with Will that the original Wizard of Oz has lost any of it's "cache" as he put it. The characters and the storyline are timeless. You can mention any of the characters, the yellow brick road, the Emerald City, etc. to someone who is 90 or someone who is 9 and they are going to understand what you are talking about. They play The Wizard of Oz once a year on it's anniversary in theaters and they are always packed -- in fact, you have to buy tickets two months in advance. That's why anything being done on TV or in Hollywood about Oz has been held to such a high standard even 75 years after it's release. While Return to Oz in the 80s tried to capture the darkness of the Oz books, but that's not what the audience wants to see. Will Oz, the Great and Powerful hold up to the original? Probably not. As long as it tells a good story, looks great and is whimsical, I will not be disappointed. For reference, see: Alice in Wonderland, 2010.

Score: 0 for 1

2. NBC replacing Jay Leno with Jimmy Fallon on The Tonight Show in 2014 would be the right call.

Will Helm: Fact. Remember a few years ago when a spry giant leprechaun took over The Tonight Show until NBC remembered it was NBC and screwed it all up? TBS sure does. Luckily, NBC has the chance to remedy that situation by promoting the very deserving Jimmy Fallon to the legendary late-night desk upon Jay Leno's "retirement" next year. Leno, the long-time replacement for Johnny Carson and impromptu replacement -- or usurper -- of Conan O'Brien, has nothing left to prove -- and even tarnished his legacy a touch with the aforementioned skullduggery -- and, by bowing out gracefully, can heal some of the wounds left by his unceremonious return. Fallon, meanwhile, has surprised many -- including me; so unconvinced was I of his worth to replace Conan O'Brien some years ago that I started a "campaign" to take over Late Night in his stead . . . yeah, that was a thing that happened -- and has matured from the goofy SNL pretty boy who would ruin sketches by cracking up with Horatio Sanz to a steady late-night host with an identity and comedic vision of his own, seemingly as a tongue-in-cheek parody of an overgrown frat boy. Fallon has earned the right to take over the mantle of The Tonight Show -- though would it kill them to make the show in New York, like the days of old? -- and should. (leaving the Late Night desk to be mine! All mine! Muahahahahahahaha!).

Ron Martin: Fiction. I don't understand Will's thought process here. How has Fallon earned anything? By re-uniting the cast of Saved by the Bell and dancing with The First Lady? I openly admit that Fallon has done much better than I ever thought he would with the talk show. Of course, my expectations of him were supremely low. I understand NBC's thinking in that Fallon is established and more over with the younger crowd than Leno. At 11:30, there just isn't as much of a younger crowd watching and he'll be competing with Jimmy Kimmel for the same crowd while all the old folks who accounted for 80% of Leno's ratings by falling asleep with their TVs on will flip over to Letterman because it's someone they know. The best thing NBC could probably do is bring someone in (I've heard Joel McHale thrown around and I think he would work just fine) as a guest host once a week for a year or two in order to get The Tonight Show crowd used to this particular person, then hand the show over to him while Fallon continues to grow as a show host in the later timeslot. This is what worked for Leno and think it's the easiest transition. However, this is NBC and no one screws up better than NBC!

Score: 0 for 2

3. James McAvoy would be a great choice to star as the title character in the reboot of The Crow.

Will Helm: Fiction. Based on the legendary independent comic series from James O'Barr, The Crow has had a legacy in film for which "sordid" would be an understatement. The original film, released in 1994, rode its dark tenor and the untimely death of Hollywood scion Brandon Lee to box-office success. Due in part to Lee's death, the character could not be carried over into a successful franchise, as sequels of lesser and lesser regard were released even until 2005, featuring Vincent Perez, Eric Mabius, and even Edward Furlong in the lead role. Alas, the star of the television series The Crow: Stairway to Heaven, Mark Dacascos, is too busy acting as chairman for Kitchen Stadium America to reprise his role. As can be seen, the decline of The Crow was slow, steady, and inevitable . . . so of course there must be a reboot! While it would seem that the idea of James McAvoy -- already experienced with genre pictures such as Wanted and X-Men: First Class -- portraying the Crow is a great one, it would more than likely prove dangerous due to a high risk of McAvoy becoming unfairly typecast -- his remarkably balanced film resume impressively spans multiple genres -- and the eroded cache of the Crow, which is nowadays a property largely embraced by a small segment of the Hot Topic set and few others. A risk such as a reboot of The Crow calls for an unknown to elevate and not an established commodity such as McAvoy to drag down.

Ron Martin: Fact While I am normally very vocal against remakes and reboots, The Crow franchise is in serious need of a reboot, not that the motion pictures relied on one another outside of the myth of the Crow to begin with, but a well marketed reboot would be a welcome addition to the summer season of schlock and awe. While I am not thrilled with the idea of James McAvoy taking over the role, I'd be willing to see if he could pull it off. I was never a fan of Heath Ledger as an actor, but I'm not above admitting that he completely destroyed it with The Joker in The Dark Knight. Whie McAvoy has had some success in ensemble stuff and movies that didn't rely on him to carry, this could be the role that makes him a household name as it would have with Brandon Lee had he not tragically died during the filming of the first Crow movie. I have to think that the movie would get a lot of marketing and be a big deal so it should be used as a vehicle to make a new superstar. I much prefer giving McAvoy the chance to shine than seeing Mark Wahlberg or Bradley Cooper in the role.

Score: 0 for 3



Switch!!!






4. Dead Man Down will be a completely unremarkable action picture that will prove to be instantly forgettable.

Ron Martin: Fact. This movie already has two strikes against it going in. Strike One -- 95% of action movies are completely forgettable once you leave the theater or turn off the DVD player. Strike Two -- everything outside of a sex tape involving Colin Farrell has been completely forgettable. The only reason the sex tape wasn't forgettable is because the girl was crazy hot. Admittedly, I'm not much of an action movie fan, but what was the last action movie that wasn't based on a comic book or part of the Bond series that actually mattered? The only way I would personally watch this is if there were some girl who got "in the mood" so to speak because of Colin Farrell and I got laid because of it. I'm not above that. In fact, I encourage it.

Will Helm: Fact. Dead Man Down . . . Dead Man Down . . . Which movie was that again? Seriously, I saw the trailer for this flick somewhere along the line, noted that it had a decent cast -- Colin Farrell, Noomi Rapace, and Terrence Howard, among others -- and instantly forgot about it. Despite the cast, everything about this film seems painfully generic. From the plot -- gangland revenge/love triangle or something -- to the eterna-gray cityscape setting -- must all hard-boiled films look like the love child of Blade Runner and Se7en nowadays? -- there isn't anything about Dead Man Down that doesn't feel trite and derivative. The utterly generic nature of Dead Man Down makes me believe that these vaunted actors are just in search of a payday or this film sat on the shelf for ages . . . although . . . what's that IMDB? "Stu Bennett ('Kilroy') performs as professional wrestler for World Wrestling Entertainment (WWE) under the name Wade Barrett. WWE Films is one of the producers of this film." Bwahahahahahahahahahahaha. Too funny . . . but it still looks forgettable.

Score: 1 for 4

5. A sequel to Crouching Tiger, Hidden Dragon should not be made without Ang Lee's involvement.

Ron Martin: Fact. I say Fact mostly because I don't think there's a need for a Crouching Tiger, Hidden Dragon sequel. If there truly was a need for it, we would already have it. It has been thirteen years since the original and any dip back into that territory would be just due to creative bankruptcy on the part of Hollywood. They couldn't even use the excuse of "striking while the iron is hot." That being said, if they must go forward with a sequel, I don't see any reason they should let anyone else direct other than Ang Lee. A major part of the success of Crouching Tiger, Hidden Dragon was because of directorial decisions made and the vision of what Ang Lee wanted out of his film. I wouldn't trust someone else to take over the directorial duties and pull off the same type of movie, which is what audiences would expect.

Will Helm: Fact. Even though I believe that the proper statement should be "A sequel to Crouching Tiger, Hidden Dragon should not be made," any consideration of making this abomination without the help of Ang Lee is a terrible, horrible, no good, very bad idea. Crouching Tiger, Hidden Dragon is a poetically stunning film, not least due to Ang Lee's singular, refined vision. Without him, any sequel would pale in comparison to the original, losing the tenor irretrievably. Lee extracted the very best from his actors, most -- if not all of which -- haven't been the same since. (By the way, what happened to Chow Yun-Fat's career? Curse of the Golden Flower was decent, but Dragonball Evolution? Seriously?) Furthermore, one of the keys to that aforementioned tenor is the finality of the film itself; the entire tale is self-contained and any possibility of a sequel would fray the film's artistic threads forever.

Score: 2 for 5

6. Ted Danson, Tom Selleck, & Steve Guttenberg reuniting for a 3 Men sequel is an idea you can get behind.

Ron Martin: Fact. This is probably because I am a child of the 80s and 90s and it has more of a nostalgia feel for me. I don't think you can sell this to the teen audience or anything, but there's money to be made as long as the three stars don't get too crazy in their salary demands. It also depends on the idea for the sequel. I can dig the three guys dealing with a grandchild. Is it too pretentious to play on the Three Men and a Baby ghost urban legend and make Three Men and a Ghost? If it's well written, I can see this being a mildly successful film. Plus, I'd like to see Guttenberg in action again. I can't even remember the most recent film I saw him in. It's like the 80s ended, Guttenberg disappeared, showed up and danced a few episodes and disappeared again. If this is going to happen, they should speed through the process as the wave of 80s nostalgia is giving way to 90s nostalgia as those who kids in the 90s are hitting their 30s now.

Will Helm: Fact. OK, Hollywood producers, here you go: Three Men and a Little Wedding. Boom. Done. Home run. Thanks for playing; email me so you know where to send the check. We'll negotiate action-figure rights later.

A third -- and perhaps final installment -- of the Three Men franchise, actually tentatively titled Three Men and a Bride (blech; my title's better), could be an excellent idea if merely as a nostalgia trip. In the intervening years since Three Men and a Little Lady, the career paths of Danson, Selleck, and Guttenberg have taken some interesting turns. In recent years, Selleck has become a TV-movie stalwart, thanks to the "Jesse Stone" series of films; he's also currently the patriarchal star of the highly regarded police drama Blue Bloods. He's solid and dependable. Danson seemingly recently reinvented himself as TV's cool hipster uncle, with turns on the criminally short-lived Bored to Death and appearances on Tim and Eric Awesome Show, Great Job!. Guttenberg, meanwhile, may not have carried the same level of success as his co-stars -- his last film was apparently 2010's Ay Lav Yu, a Turkish romantic comedy -- but he carries with him a certain cache just by being Steve Guttenberg. Seriously, this is Carey Mahoney we're talking about, people. The reunion of these three stars could be enough to sell the film to the 30-and-over crowd, who could easly drag their kids out for a "family movie night" and box-office riches. Now, the only remaining questions: will the producers will invite Leonard Nimoy back to direct and push the "ghost kid" to make another cameo?

Final Score: 3 for 6

Will and Ron began in complete disagreement but by the end of things manage to split the difference. Thanks to them both for stopping by, and see you all again next week.
-BP



TWITTER

http://www.twitter.com/411s_Ben_Piper
http://www.twitter.com/411mania
http://www.twitter.com/411wrestling
http://www.twitter.com/411moviestv
http://www.twitter.com/411music
http://www.twitter.com/411games
http://www.twitter.com/411mma




comments powered by