SPOTLIGHTS
Alternate Takes 03.09.13: Top 10 Comic Crossovers
Posted by Shawn S. Lealos on 03.09.2013

From DC's world-shaking Crisis on Infinite Earths and Marvel's epic Avengers vs. X-Men to Secret Wars, House of M, the Infinity Gauntlet and more, 411's Shawn Lealos counts down the top 10 comic crossover story arcs!

Welcome to Week 244 of Alternate Takes, my name is Shawn S. Lealos and you have entered my world.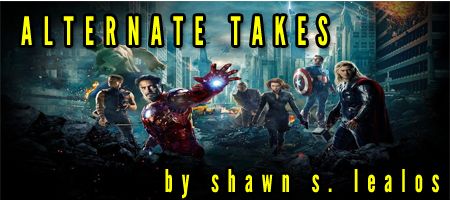 The Age of Ultron crossover event just started and it looks to be the next big event in the Marvel Universe. Unlike other crossover events, this one looks like a contained alternate history miniseries. Basically, the first issue shows the world in ruin, Ultron has taken over, and most of the heroes are already dead. The issue deals with Hawkeye on a rescue mission, as he saves a captured Spider-Man. When he returns to the underground hideout of the surviving heroes, some don't want to allow them back in and it turns out that Hawkeye is one of the only surviving heroes who still wants to save their friends over hiding for their own safety.

The surviving heroes include Iron Man, Luke Cage, She Hulk, Invisible Woman, Wolverine, Thing, Beast and Emma Frost. Captain America is also there, and while the heroes want him to help them survive, he appears to be a broken man. While there is a lot of story to tell, this was a nice start, showing the world in which these heroes now live in.

With Age of Ultron the newest crossover from Marvel, here is a look at my Top 10 best comic book crossovers.

Note: I hated Civil War, which is why it is not in my Top 10. Deal with it.



10. Final Crisis

The tag line was "the day evil won," and this storyline pretty intensive, and much more entertaining to me than the next big event, Blackest Night. The bad guy here is Darkseid and it starts off with a shocking death, as Martian Manhunter is murdered to kick start the event. Next up, Hal Jordan is framed for murder, and Batman is kidnapped when he realizes what happened, and the world is without three of their greatest heroes. The story also includes the apparent death of Batman as he sacrifices himself to stop Darkseid.



9. Sinestro Corps War

The Green Lantern Corps have always been interesting, although I really can't stand the Guardians. However, the entire Lantern universe became awesome when Sinestro built his Yellow Sinestro Corps and the 15 books that comprised the Sinestro Corps War made them a true threat. Sinestro is one of the most interesting bad guys in DC and this series really brought out the best in his character.



8. Avengers vs. X-Men

Avengers vs. X-Men led to the Marvel Now campaign, with the mutants branching off into two groups, those who allowed Captain America to help integrate them into society, and the ones led by the rebellious Cyclops. In A vs. X, the first half of the series saw the X-Men fight The Avengers, as Cap wanted to capture Hope to hide her from the oncoming Phoenix Force and the second half saw the X-Men win when the Phoenix Force takes over the bodies of some of the most powerful members of the X-Men. It was a clash between two of Marvel's biggest teams.



7. Annihilation

Released around the same time as Civil War, this crossover was much more fun. This was more of a cosmic crossover event, with characters like Nova, Silver Surfer and the Guardians of the Galaxy. The Annihilation Wave sweeps through the galaxy, destroying everything in its path, and it is up to these cosmic characters to save the universe. This started with the death and resurrection of Drax the Destroyer, giving him actual intelligence, and continues on with the partnership between Thanos and Annihilus, who uses the power of Galactus to become nearly invulnerable.



6. 52

52 was a risky prospect by DC Comics, a weekly comic that stretched out over a year, a comic a week. It also did not include the Big 3 of Superman, Batman and Wonder Woman, taking place after Infinite Crisis. Instead, minor heroes took the main stage and what resulted was a brilliant storyline that told stories of minor characters like Booster Gold, Ralph Dibny, Steel, Animal Man, Adam Strange, WillMagnus, The Question and - best of all - Black Adam. This is the series that made Black Adam one of the greatest characters in the DC Universe to me.



5. Secret Wars

This is a very personal pick. I started following comics in the late 70s when I was a kid and one of the biggest, and coolest to me, crossover events was Secret Wars. Basically, all the heroes and villains are kidnapped from Central Park in NYC and then reappear changed. Spider-Man has a new black costume, The Thing is gone, and more interesting changes took place. Then, Secret Wars tells exactly what happened. It was a great dream fight set up by The Beyonder, where the heroes and villains were forced to fight, with the winning team getting everything they ever desired. I kind of hated what they made The Beyonder in Secret Wars II, but I loved this original series.



4. The Infinity Gauntlet

For fans who see Thanos as the main enemy of The Avengers in the new Marvel movies, here is a chance to see why he is such a badass. This is the greatest Thanos story, as the powerful villain gathered the six Infinity Gems and created the gauntlet as an ultimate weapon to impress his lover, Death. He enslaved Galactus and Eternity and it took a group of heroes, led by Adam Warlock, to finally defeat him.



3. House of M

This is the comic book series where Scarlet Witch goes from being an annoying character and it turns her into a completely repulsive and self centered "hero." When Wanda realizes she had two children who died and their deaths were wiped from her mind, she uses her immense powers to completely change the world, making mutants the dominant force, giving everyone a new happy life and honestly making the world a better place. However, Wolverine remembers what the world was really like and sets out to convince other heroes that this is not how the world was supposed to be. Finally, it ended with the destruction of a large percentage of the mutant population, something that remained in effect until A vs. X.



2. Age of Apocalypse

Released in 1995, Age of Apocalypse affected every title in the X-Men universe, and takes place on an alternate earth (Earth-295). It all began when Legion (Professor X's son) decides the world would be a better place if Magneto never existed. He goes back in time with a number of X-Men and attempts to assassinate Erik while he and Charles Xavier were working with WWII survivors. However, Charles sacrificed his own life to save Erik from the assassination, and as a result, it was Professor X who never existed. It also means the X-Men never existed and changes everything you know about the mutant cause.



1. Crisis on Infinite Earths

A lot of major crossovers offer changes, but most of the time they are forgotten over the years. Even something major like Civil War isn't really important now. However, Crisis on Infinite Earths changed everything. Every superhero and villain had their origins changed and the DC Universe rebooted their entire brand. The same thing happened recently with the New 52, and fans freaked out, but DC does this every couple of decades. The story saw a giant battle against the Anti-Monitor, with all the different earths involved. It featured the death of Supergirl and Barry Allen and was the most important comic crossover at all time.




Three number one seeds made it into the second round (Black Panther beat Sentry as the one upset of the one seeds) and all three of those number one seeds won again this week. The other match saw Spider-Man beat Black Panther, 350-79, an impressive win since Panther beat the all-powerful Sentry because he was a tactical genius, but was slaughtered by Spider-Man. Your votes, but it seems more like a popularity vote in both of those cases.

The number one seeds that won included Thor squeaking out a win over Jean Grey, 267-148, Superman beating Hellboy, 366-65, and Captain America (who in round one was predicted to be able to beat anyone if given the time) losing to Silver Surfer, 296-124.

Here are this week's fights.



Colossus





She Hulk


Iron Man





Wolverine


Captain Marvel





Wonder Woman


Firestorm





Professor X
2013
March 29 - G.I. Joe: Retaliation
April 12 - The Evil Dead
May 3 - Iron Man 3
May 17 - Star Trek: Into Darkness
June 14 - The Man of Steel
June 21 - World War Z
June 28 - Kick-Ass 2
June 12 - Pacific Rim
July 3 - The Lone Ranger
July 19 - R.I.P.D.
July 26 - The Wolverine
August 2 - Red 2
August 2 - 300: Rise of an Empire
August 6 - Percy Jackson: Sea of Monsters
September 6 - Riddick
September 13 - I, Frankenstein
September 13 - Machete Kills
October 4 - Sin City: A Dame to Kill For
October 25 - The World's End
November 1 - Ender's Game
November 8 - Thor 2: The Dark World
November 22 - The Hunger Games: Catching Fire
December 13 - The Hobbit: The Desolation of Smaug
2014
April 4 - Captain America: The Winter Soldier
May 2 - The Amazing Spider-Man 2
July 18 - X-Men: Days of Future Past
August 1 - Guardians of the Galaxy
2015
March 6 - Fantastic Four
May 1 - The Avengers 2
November 6 - Ant-Man
comments powered by