SPOTLIGHTS
Alternate Takes 03.23.13: Civil War Breakdown
Posted by Shawn S. Lealos on 03.23.2013

Emma Frost takes on Moon Knight, Spawn battles Namor, Cyclops tackles Doctor Strange and The Hulk goes toe-to-toe with Luke Cage in the Super Hero Knockout, plus 411's Shawn S. Lealos breaks down the Civil War comic book series!

Welcome to Week 246 of Alternate Takes, my name is Shawn S. Lealos and you have entered my world.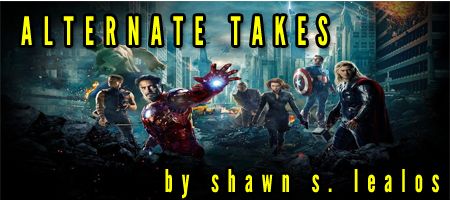 Last week, I noticed people in the comments debating Civil War, including one comment that hating that story was "the cool thing to do now." Well, I don't know if it is cool to hate that story, but I do hate it and I will tell you why.

Marvel's Civil War storyline almost killed comic books for me. I came from a simpler time, the seventies and eighties, when superheroes fought super villains and the guys in the white hats (almost) always defeated the dastardly baddies, proving right always overcame wrong in the end. Comic books for me were morality tales, where an awkward school kid/industrial millionaire/super-powered family could put on a costume and be the hero all kids need to look up to.

Then something happened. It was a seed planted in the sixties where the mutants known as The X-Men came on to the scene and fought the good fight, only to have the actual U.S. Government come after them with giant robots and legislation to persecute them based solely on the fact they were born different. It was a story based in fact. It is Jews being persecuted by the Nazis, pushed into a death trap based on their heritage. It is African Americans fighting for their civil rights while angry old white men demanded they remain on the back of the bus. Move forward a decade and it is homosexuals fighting for their rights to love who they wish to love, despite right-wing conservatives calling them sinners. The X-Men were the outsiders, the people born different who had to fight the people they were sworn to protect, yet remaining the better individuals in the end.

Maybe that was when things began to change.

Spider-Man was always getting into trouble but the people who mattered, such as The Fantastic Four and The Avengers, knew he was a good guy. He fought the good fight, had numerous police officers confusing him as the bad guy, but at the end of the day most people knew he was a good guy. But somewhere in his history, there were traces of what was to come.

The Punisher was given to us as an anti-hero. He set his sights on Spider-Man in the beginning but we soon learned he was out to protect the streets from the trash that polluted it. But at the end of the day, he was a killer. He killed the bad guys, but he was never someone that fit in with the other superheroes. He was seen as crazy, psychotic, a vigilante. He was a bad guy to men like Captain America, an individual Frank Castle always respected, but he was never pure enough to be a hero. Yet he was loved by fans just the same.

Maybe that is when things actually started to change.


Civil War began with a horrific incident in Stamford, Connecticut when the young superhero team of the New Warriors, the focus of a reality show, found themselves in over their heads and were unable to stop a villain named Nitro. The villain destroyed several city blocks, killing over 600 people, including 60 children who were at school that day. Thanks to this event, public sentiment towards heroes dropped and people blamed every one of them for the carnage. Even popular heroes like The Human Torch were targeted and he was hospitalized following an attack by normal people outside a movie theater.

Iron Man, at one time an opponent of the "Superhuman Registration Act," was now its leading backer. The law passed and S.H.I.E.L.D. was given the task of rounding up any superhero who refused to register his secret identity and become a government employee, fighting whoever the government said they had to fight. When Captain America refused to help round up renegade heroes, men he had fought alongside and counted as comrades, he became an enemy of S.H.I.E.L.D. and they attempt to arrest him for not "following orders."

The superheroes split into factions, with Iron Man leading the government forces against Captain America and the heroes who wished to remain free, thus being outlaws wanted by the authorities. This is where the series lost me. Spider-Man is convinced to join the government forces and reveals his identity on television in front of the media. One thing that really bothered me was when Spider-Man told Iron Man he didn't mind working for S.H.I.E.L.D. but refused to be an Avenger because he felt what they were doing to heroes, locking them in the Negative Zone as criminals, was wrong. Iron Man attacked Spider-Man for daring to quit The Avengers and eventually government agents almost killed Spider-Man. This all led to a hero I have loved for years, with a secret identity that the entire world now knows, watching as an assassin tries to gun him down, shooting his beloved Aunt May instead. It all ends with Captain America being arrested after surrendering and then being assassinated in front of the world.

All the while, author Mark Millar says that Iron Man was the good guy in the story.


What happened to me is I saw the heroes I loved all fighting each other. I saw the government demanding all heroes reveal their secret identities and start working for them. When this was attempted before as the Mutant Registration Act, it was considered wrong. To force mutants born with these powers to register with the government was seen as a bad thing, persecuting them all over again for something they have no power over. Now that they did it to all super powered beings, it is suddenly all right? And Iron Man supports it completely? The incident with Spider-Man almost being killed because he didn't want to be an Avenger, Captain America almost getting arrested at the start because he didn't want to "follow orders," and other things like Goliath being murdered by a Thor cyborg Iron Man built makes me question how he can be seen as the good guy in this story.

Needless to say, I felt like dropping all superhero comics after this event. And suddenly Iron Man was the hero I hated the most. He became the head of S.H.I.E.L.D. He employed super villains to hunt down renegade heroes. He ended up fighting more friends, such as when Thor returned and took issue with Iron Man using his DNA to create the duplicate which killed Goliath. Finally, after the Secret War with the Skrulls, Tony Stark was stripped as director of S.H.I.E.L.D. and the entire agency itself was disbanded. Tony Stark was left friendless, almost powerless, and alone. I couldn't have been happier.

**

In 2008, it was time for a new Marvel movie. I was excited as anyone because I had followed Marvel since I was a kid. One of my favorite titles was easily The Avengers and now there were rumors they would finally band together in a movie. Despite my feelings on the hero from the comics, I still found excitement swelling up at the news.

First, they had cast Robert Downey Jr., Hollywood's Renaissance Man. The guy had survived a dangerous drug addiction to return better than he was before. He had surprised the hell out of me in the excellent Kiss Kiss Bang Bang and was on the way to making a complete comeback to the mainstream. Iron Man did it for him.


When I reviewed the movie I said "Iron Man pays off the geek love with actual references that moves the story. It is a mixture of parts: a war movie, a superhero movie, a character drama and a comic geek's wet dream rolled into one." It sounds like hyperbole but it is all true. What made me hate the comics so much was the fact Millar took the fun out of the story. It was as dark and disturbing as you might expect. Heroes fought, heroes killed. The problem was that it was other heroes who took the brunt of the pain.

The movie goes in the opposite direction and won me back over to 'Ol Shell Head by making him fun again. There were political allegories here as Tony Stark is a weapon's manufacturer. He is captured in Afghanistan and had to build a weapon of his own, the old grey armor, to fight his way out. But things got great. He built his new armor in a scene that was a riot to watch. He fought a gloriously over-the-top villain in future Oscar winner Jeff Bridges. And that last scene where, against everyone's advice, Tony exclaimed to everyone "I am Iron Man!" was brilliant.

This movie is a perfect example of what I love about comic books from my childhood. You have a hero who fights for truth, justice and the American way. He is not tied down by politics and is not someone used to promote a specific point of view. He is a superhero who finds a super villain and the two fight. There is a lot of action, some fun one-liners and just enough smart dialogue and plot to make the movie more than brainless popcorn fun.

I don't need my comics to be dark and overly serious to be smart. I just need them to be intelligent stories that present what turned me onto them most when I was a child needing a hero to look up to. Iron Man the movie did that for me and while Iron-Man the comic character became a pompous, self righteous prick, I can still fall back on the films to remember what I loved so much about him many years ago.




The thought that Batman can beat anyone given the time needed prevailed last week as he easily beat The Flash, 567-147. Despite Flash's almost unstoppable powers, Batman still had no trouble winning this one. While Black Bolt is considered one of the world's strongest heroes, he fell to the power of the Scarlet Witch, which makes sense because she is scary powerful herself. Final tally: 391-243.

Green Lantern, an intergalactic cop, had little trouble bringing the bounty hunter Lobo in with a 485-182 victory.

Finally, in a tough fight, Martian Manhunter beat The Spectre, 354-290. This one I cannot agree with at all and here is why: The Spectre has the Divine Wrath as a servant of God, has almost limitless power and is considered the most powerful being in existence. Also, he can manipulate reality to create paralyzing fear and all he needs to do is bring fire into the equation to have an easy advantage over Manhunter. But, this is your tournament and Manhunter wins.



Namor





Spawn


Cyclops





Doctor Strange


Luke Cage





The Hulk


Emma Frost





Moon Knight
2013
March 29 - G.I. Joe: Retaliation
April 12 - The Evil Dead
May 3 - Iron Man 3
May 17 - Star Trek: Into Darkness
June 14 - The Man of Steel
June 21 - World War Z
June 28 - Kick-Ass 2
June 12 - Pacific Rim
July 3 - The Lone Ranger
July 19 - R.I.P.D.
July 26 - The Wolverine
August 2 - Red 2
August 2 - 300: Rise of an Empire
August 6 - Percy Jackson: Sea of Monsters
September 6 - Riddick
September 13 - I, Frankenstein
September 13 - Machete Kills
October 4 - Sin City: A Dame to Kill For
October 25 - The World's End
November 1 - Ender's Game
November 8 - Thor 2: The Dark World
November 22 - The Hunger Games: Catching Fire
December 13 - The Hobbit: The Desolation of Smaug
2014
April 4 - Captain America: The Winter Soldier
May 2 - The Amazing Spider-Man 2
July 18 - X-Men: Days of Future Past
August 1 - Guardians of the Galaxy
2015
March 6 - Fantastic Four
May 1 - The Avengers 2
November 6 - Ant-Man
comments powered by