SPOTLIGHTS
Comics 411 04.03.13: DC vs. Marvel Edition!
Posted by Steve Gustafson on 04.03.2013

News and thoughts on Thanos standing front and center in the latest Marvel event, Dark Horse bringing George Lucas' original Star Wars script to comics, a preview of Superior Spider-Man #9, a review of Guardians of the Galaxy #1 and more!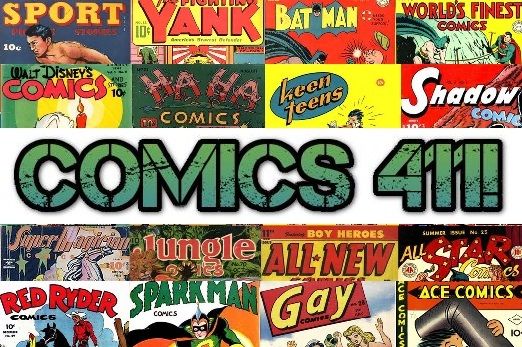 Welcome to the Comics 411! My name is Steve Gustafson and this is the launch of what hopefully might be the start of something bigger. Take that for what you will.

Let's back up. Some of you might remember that years ago 411mania.com had a Comic Book section. You'll also remember that the section vanished. Plenty of rumors surround the demise but what matters is whenever comic book related news items were talked about, people would join in the debate.

Last year I took a short hiatus from my Hollywood 5 & 1 and Big Screen Bulletin. While away I started tinkering with ideas for a new column. One of those ideas being a straight comic book themed one. I feel that many folks who visit here for Movie, TV, Wrestling, Music, or MMA news also have a passing interest in comic books. I sat on the idea because my schedule at the time didn't allow me to fully commit and I didn't want to start something and have to give it up after a month. It wasn't so long ago that I a call went out for column ideas and I polished my comic book one off and sent it to the higher powers. Which brings us to the column you are now reading.

I have a goal where I want this column to be 6 months and a year from now. I have an idea of how I want it to look. Right now, it's a big slab of marble. Over the next few months, with your help, I'll be able to carve it down. YOUR input is vital. I want your ideas on Roundtables, what kind of news should be covered, reviews, previews, favorite web comics, Kickstarter campaigns to support, and interviews. I'll be adding in lists (because we LOVE lists, right?), videos, and contests. The first few weeks will be a feeling out process because I won't continue doing features that get little to no reaction. ALL FEEDBACK, GOOD OR BAD, IS WELCOME! I'll be making banners and "official" names for features but until then, expect to see generic titles.

Now, I know some of you out there aren't REAL comic book fans. You clicked here out of curiosity or pity. Maybe you're related to me and feel some sort of obligation to support me. It doesn't matter. I appreciate every hit. But for those out there who are new to this, I give you...How to Start Reading Comic Books!






Need more comic book love at 411mania? Check out Shawn S. Lealos' Alternate Takes!

And away we go...



READER ROUNDTABLE

For our first Roundtable, I wanted to get a sense of who I'm writing to. I'm realistic. There is FAR TOO MUCH comic book news for me to cover in one column. Where does your heart lie? When it comes to comic books, no bigger question than: DC or MARVEL?. Both have icons, both love mega crossover events, and both offer a diverse universe. Which one speaks to you? Are you a strict fan of one? Let us know!

I threw in the "independent" option as well. If you vote that way, make sure you tell me who you support; Image, Valiant, Dark Horse...

Also, support your vote below. I'll be adding my two-cents in the comments as well and from time-to-time, I'll add your comments in the next column.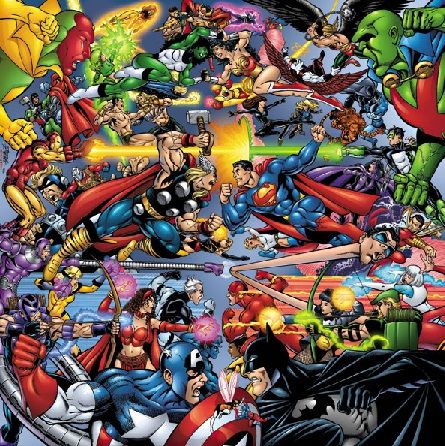 NEWS!

I'm throwing out a little bit of everything in the news section this week. Over time I'll get a good gauge of what you like and don't like and go from there.


Dark Horse comics has announced that it has plans to take George Lucas' original idea for Star Wars and turn it into a comic book series. They will be working with J.W. Rinzler, executive editor at LucasBooks and artist Mike Mayhew (Avengers) to adapt the rough draft original screenplay.

Three years before Star Wars in 1977, Lucas put his first ideas down, which included "lazer swords", Jedi Annikin Starkiller, General Luke Skywalker, an alien lizard named Han Solo and Sith Knights. It was then called The Star Wars.

Star Wars editor Randy Stradley said: "I'm not sure where I first read about The Star Wars—it was years and years ago—but the idea of Luke Skywalker being an older Jedi General, and Han Solo being a six-foot-tall lizard, turned my Star Wars fan brain on its side. I always assumed this would be one of those stories that would be 'lost to history,' so getting to work on bringing it to life is kinda like a dream come true."

Rinzler added: "While researching in the Lucasfilm Archives I've found many treasures—but one which truly astounded me was George's rough draft for The Star Wars. His first complete imaginings were hallucinating to read—mind blowing. While working with George on another book project, I once asked if we could adapt his rough draft. He was hesitant. Years later, with Dark Horse's invaluable help, we showed him a few drawn and colored pages of what it might look like. He gave us the okay."

The project was originally thought up in 1974. The eight-issue comic series will launch in September.

I've read the original script and it pretty much confirmed to me that Lucas was super lucky and really never had a long term "vision" for the Star Wars universe.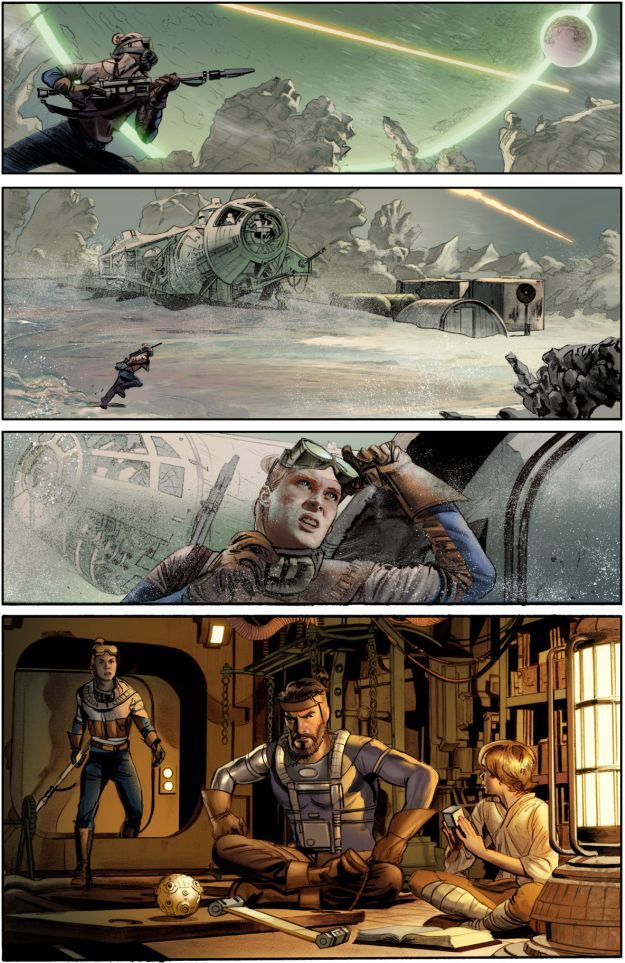 Less than a month after DC Comics announced that Astro City will return in June as part of "DC proper," the company has revealed the acclaimed superhero series by Kurt Busiek, Brent Anderson, and Alex Ross will actually be released under the Vertigo banner.

While that will make little difference to fans of the long-running comic, the move helps to bolster the mature-readers imprint, which only recently lost the Hugo Award-nominated Saucer Country and its longtime flagship Hellblazer (relaunched as Constantine in the DC Universe). Astro City will certainly stand out as a rare example of a superhero title on the Vertigo stable.

Astro City #1 is previewed as:

ASTRO CITY is back in a new, ongoing monthly series that showcases old heroes and new, as The Ambassador comes to Earth, and an ordinary man is caught up in a cosmic conflict! Featuring the return of favorites like Samaritan and Honor Guard, and the debut of some new sensations! Plus, the seeds of a new mystery: Who is the Broken Man? The entire award-winning creative team is back to kick off a new epoch of the human and the super human. Get in on the ground floor of Astro City's next epic!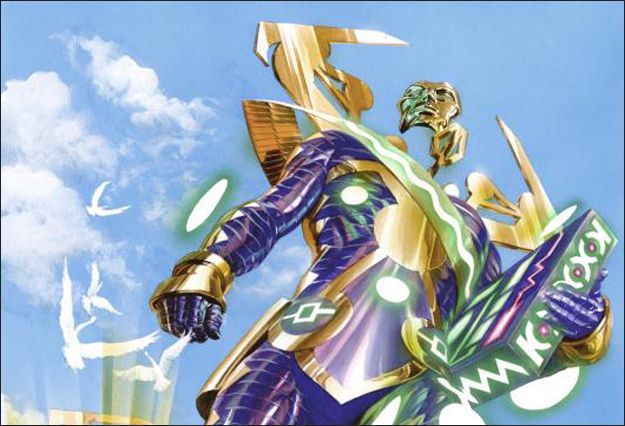 Are you ready for more Thanos? Marvel is betting you are. Their next mega six-issue comic book event begins : With our heroes at the other end of the universe, who is left to protect Earth? Enter Thanos, the galaxy's most ruthless threat and an unparalleled force of brutality who brings order to the chaos of life through murder. The greatest threat to the Mad Titan's work—and perhaps the universe's greatest hope—is something he created leaving no world safe. Earth's last hope may lie in the hands of a man who can level cities with a single whisper: Black Bolt, king of the Inhumans. But can the fearsome leader of a race hated and feared by his world, lead his people against Thanos? If they fall, so does the Earth—and the entire universe with it.

This is Marvel's Infinity.

Written by New York Times best-selling writer Jonathan Hickman> and illustrated by superstars Jim Cheung, Jerome Opena, and Dustin Weaver, INFINITY debuts in August with an oversized first issue.

Readers get their first look at Marvel's Infinity for free on Saturday, May 4 as part of Free Comic Book Day with FCBD: INFINITY. In this all-new story by Hickman and Cheung, witness the opening shots of the war that will be heard around the galaxy. Plus, relive Thanos' first solo story which has never been reprinted till now.

Every issue of INFINITY includes a code for a free digital copy of that same comic on the Marvel Comics app for iOS and Android devices. Additionally, each issue of INFINITY features special augmented reality content available exclusive through the Marvel AR app, including cover recaps, behind the scenes features and more that add value to your reading experience at no additional cost.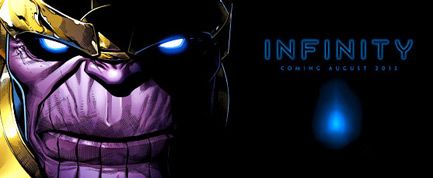 IDW Publishing and DC Entertainment have announced the meeting between two of my favorite pulp heroes, The Rocketeer and The Spirit. The four-issue series begins in July and will be written by Mark Waid with art by Paul Smith. THE ROCKETEER/THE SPIRIT: PULP FRICTION will contain both a murder mystery and political intrigue. The story will take place in the Spirit's gritty Central City as well as the sunny skies of Los Angeles. There will be plenty of action and humor in the series. Waid had this to say, "Not many writers have been lucky enough to write The Rocketeer or The Spirit, so I feel like I've won the lottery. This is one of the most exciting—and scariest—assignments I've ever undertaken. Luckily, I've got Paul Smith to make me look good!"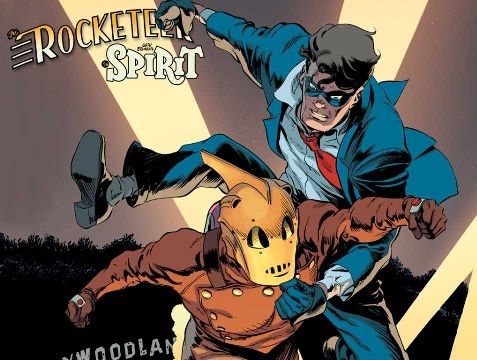 This July, writer Sam Humphries and artist Andre Araujo shine an entirely new light on an all-new, all-android Avengers team – Avengers A.I.! Spinning out of the event Age Of Ultron, Avengers A.I. sends fans deeper into the synthetic core of the Marvel Universe, great for new and lapsed readers alike!

Described as "A brave new world is unleashed and only one team of Earth's Mightiest Heroes can save us from the future. Gathered together by Hank Pym, The Vision leads Victor Mancha, Doombot, and the mysterious Alexis in a race to contain an unfathomable Pandora's Box of destruction! And which side will Monica Chang, Agent of S.H.I.E.L.D., find herself on?"

"Springing out of the increasingly razor-thin crawlspace between the organic and synthetic worlds comes 'Avengers A.I.'," said Axel Alonso, Editor In Chief, Marvel Entertainment. "When one of the Marvel Universe's preeminent brainiacs, Hank Pym, embarks on a long road to redemption, he must assemble a team unlike any other, a team composed of heroes that will challenge the very definition of 'Artificial Intelligence' and the way you look at super heroes."

"I could not be more psyched to be ushering the Avengers and the Marvel Universe into the Age of A.I." explained Humphries. "This book is futureshock crashing into the world outside your window. Once the A.I.s are unleashed, there is no turning back. Even the phone in your pocket could be a threat against humanity. It's an exciting and dangerous new era for Earth's Mightiest Heroes."

Each issue of Avengers A.I. features special augmented reality content available exclusive through the Marvel AR app – including cover recaps, behind the scenes features and more that add value to your reading experience at no additional cost.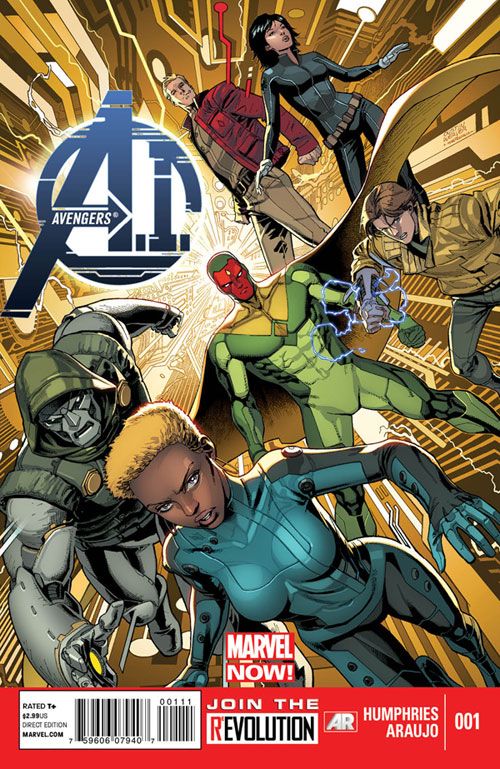 DC Entertainment launched the "We Can Be Heroes" campaign to help bring awareness and aid to the hunger crisis in the Horn of Africa last year, and met their two-year goal of $2 million in just one. To expand the campaign encouraging fans of the Justice League to be real-life heroes, DCE is launching an indigogo crowd-funding aspect to We Can Be Heroes, they announced via press release.

It started just yesterday at indiegogo.com, rotating incentives encouraging donations will be available, each mini-campaign focusing on one member of the Justice League. The first, running through May 7, 2013, focuses on Batman with incentives like a signed, sketched, numbered Batman: Earth One hardcover, t-shirts, special events, studio tours, other signed comics, games, and much more. More information in the video below.







REVIEWS!

Do YOU want to be a reviewer for COMICS 411? Send me an email at stevethegoose@gmail.com to find out how!

I picked up Guardians of the Galaxy #1 (Writer: Brian Michael Bendis, Art: Steve McNiven, John Dell, and Justin Ponsor, Publisher: Marvel Comics). I'll admit that I'm a huge fan of the old school team of Charlie 27, Vance Astro, Martinex, Nikki, Starhawk, and Yondu. They were a weird mix but they worked and their world gave an interesting glimpse of the future that "might be". When Keith Giffen revamped the team for ANNIHILATION, I picked it up, expecting to hate it. I admit to being wrong. Big time.

Fast forward and today we have a Guardians movie and a new series for Marvel to push. How is it? Good. Not great but good. Bendis does what Bendis does and that's write the characters the way he wants them to be. Which may not be the way they've been portrayed before. His strength is dialog and it's on display here. At the expense of action. But you can't doubt the dynamics he sets up between Peter Quill (the Starlord) and his dad, who happens to be the Ruler of Spartax. That alone drew me in and may be the hook for most people. The issue starts off with his father interrupting Peter in the midst of hitting on a chick and sitting him down and telling him that no one is allowed to interfere with the Earth from this point on as a contingent of species have come together and make this a rule. Of course this will only draw more attention to our planet but I thought it was a nice little hook. I'm also curious on how he'll expand the roles of Gamora, Groot, and everyone's favorite critter, Rocket Raccoon! What's that? Iron Man? What was Iron Man doing in the book? While his armor wasn't the best thing, I didn't mind his addition to the book. Marvel may be stacking the deck by putting him in to draw the casual fan to pick up the book. Once they do, they'll be impressed by the artwork from McNiven, Dell, and Ponsor. As far as first issues go, I liked it enough to come back for the second one.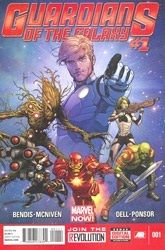 Five Ghosts: The Haunting of Fabian Gray #1 (of 5) (Writer: Frank J. Barbiere , Art: Chris Mooneyham , Publisher: Image Comics). I could make this a very quick and simple review and say, "GO BUY THIS NOW...IF YOU CAN FIND IT!" But that would be too easy. Five Ghosts: The Haunting of Fabian Gray is an adventure pulp with a supernatural twist. A great read and superbly drawn book with the simple premise of a man who can channel the skills of five different people. Our hero, Fabian Gray is the victim of demonic possession and is possessed by five "literary ghosts: The Wizard (Merlin?), The Archer (Robin Hood), The Detective (Sherlock Holmes), The Samurai (Not sure. Anyone know?) and The Vampire (Dracula). Gray is a treasure hunter and if he runs into trouble he can call upon the skills and powers of those ghosts. One problem. He's starting to have lose control.

Writer Frank Barbiere keeps the book moving and develops a balanced story; keeping just a dose of mystery to make sure we're paying attention. Artist Chris Mooneyham stands out and is a perfect fit for the book. This is the kind of book I don't want to tell you too much about but I highly recommend it.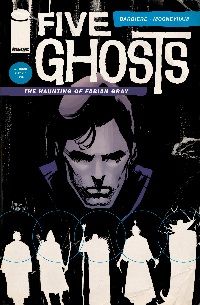 PREVIEWS!

What do we have to look forward to? Here's a grab bag of coming attractions! Which one are you most excited for?

Thanos Rising #1. His face left movie audiences in shock after last summer's Marvel Studios' The Avengers movie, but who is this eerily disturbing villain? Thanos rises as the unrivaled rogue of wretchedness in this gripping tale of tragedy, deceit and destiny. Where did this demi-god of death and destruction come from and...more importantly what does he want? (Comes out TODAY!)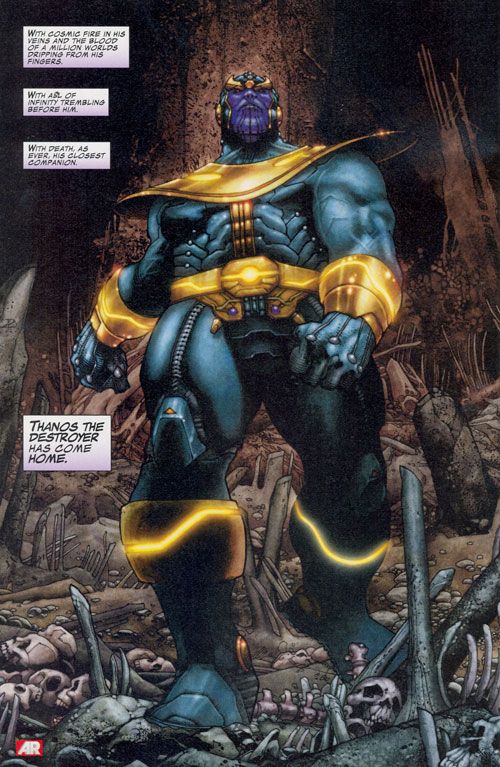 Spawn #230. As a small online community continues to look into Jim's connection with the Curse of the Hellspawn, the fervor around the world's "new messiah" begins to reach an apex. Meanwhile, the Vatican makes a house call, taking the first steps in their efforts to test Jim's true origin. Sinner or Saint, the church has no intention of allowing his gifts to be used against them. Plus: the final fate of someone in Jim's inner circle. (Comes out TODAY!)





Harbinger Wars #1. Valiant's first family crossover event, begins here! A decades-old secret is about to put Bloodeshot and Harbinger on an inescapable collision course - and, soon, the most powerful forces in the Valiant Universe will be drawn into a battle without sides, without rules, and without mercy.

Two dozen undisciplined, untested and untrained superhuman children have just escaped from a top-secret research facility and into the world.

When Bloodshot, Toyo Harada and Peter Stanchek join the chase, will the Valiant Universe be ready for its first all-out superhuman showdown?

Start reading here for a high-stakes tale that will put Valiant's greatest heroes to the ultimate test! (Comes out TODAY!)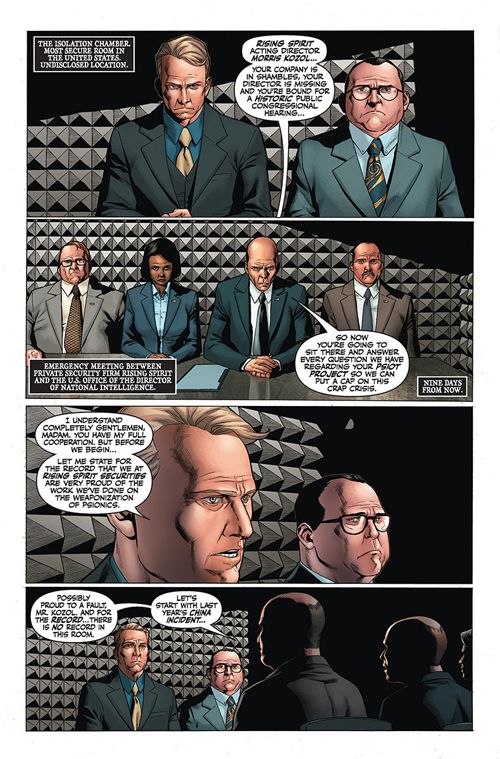 Superior Spider-Man #9. Expect anything with a title like "SUPERIOR NO MORE." "Marvel is pleased to present your first look at Superior Spider-Man #9, from the chart-topping creative team of writer Dan Slott and artist Ryan Stegman! The End is here, " SUPERIOR NO MORE!" Thought you were shocked at the end of Amazing Spider-Man #700? Thought there was no possible way to change the Spider-Man mythos any further? Think again! "This May, the time has come to see who will live, who will die, and who will emerge as the true Superior Spider-Man! (Comes out 05/01/13.)


SPOTLIGHT

In the upcoming Image ongoing series The Bounce launching this May, Joe Casey and artist David Messina are tackling the life and times of a twenty-something superhero living in New York City. From his life in costume to his life out, The Bounce promises an unadulterated and honest look at what it might be like being a single man and a superhero.

What's that? Sounds like a mix of Spider-Man and Invincible? Too soon to tell but they are promising that The Bounce will delve into things head-on, from sex to drugs and maybe even some crime fighting. But just who, or what is The Bounce?

"Jasper Jenkins is the Bounce," Casey told Newsarama. "But, like any good title, it has a bit of subtext to it that will become clearer as the series rolls on." When asked if The Bounce is about exploiting the role of being a superhero for your own personal life, he responded, "That's not a bad way to describe it, actually. Because the series is just as much about Jasper's internal life as it is his external life..In a way, the Bounce is Jasper's reaction to the world he sees around him. It's all gone to hell and this is his way of dealing with it."

Casey has described his titular hero in other interviews as a "slacker superhero" for the 21st century, and Casey is open to explain how he lives up to that description.

"Imagine a typical twenty-something hanging out in New York City with his friends," says the writer. "It's pretty much what you would expect, in terms of lifestyle. We kinda lay it all out on the very first page of issue #1."

When asked what a typical day is like for Jasper Jenkins in both the superhero and civilian realm, Casey isn't afraid to share what Bounce is up to.

"Wake up around noon, have a wank, eat some dry cereal, take a few hits off the nearest bong, watch cartoons, maybe hit the corner coffee shop to hang with his friends... and maybe if he hears about some shit going down, he throws on his costume and go check it out. Maybe hit a few clubs afterwards. "

In the early press for The Bounce, Casey said that The Bounce might illicit readers to think you be under the influence in the same way they did with your out-there ideas for Godland. When asked about fans' perception of Casey, and Casey's own perception of how fans see him, the writer opened up about himself.

"Okay, I'll admit, that was a bit of on-the-spot hyperbole. Sounds good when you're working a convention panel room. I think there are some readers out there who have a perception of me and my work... one that I've probably leaned into on certain occasions," admits the writer. "There's definitely a bit of psychedelia involved in the series, but it's more of the down-n-dirty variety, as opposed to the more Jack Kirby-esque variety that I've done a lot in the past."


WEB COMIC of the WEEK!

Do you have a web comic that you want me to push? Send it my way or mention it in the comments so I can take a look and share!

Someone described Gunnerkrigg Court as if Neal Gaiman and William Gibson had co-written Harry Potter. That's pretty accurate. Gunnerkrigg Court is the story of a boarding school that sits quite literally at the boundaries of myth and science.

Created by Tom Siddell this series is a complex story told beautifully with techniques that draw on the stylistic approach of anime, but with rich and detailed scenery. Don't let the Harry Potter-like synopsis fool you. Tales revolve around the mysterious origins of the school and the inhabitants of the Gillitie wood across the bridge. Published every Monday, Wednesday, and Friday. Check it out today! www.gunnerkrigg.com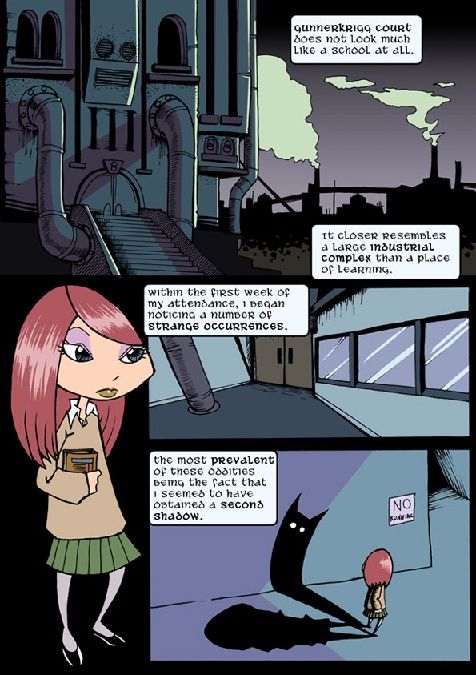 Before I say GOODBYE!
Follow me on Twitter for random bits, news RT's, and updates! Only at http://www.twitter.com/stevethegoose!

My Hollywood gossip (and anything else!) Hollywood 5 & 1!

My friend, Leola Bell is up for Playmate of the Year. Leola is an awesome person and she gets my endorsement. Click on the LINK and vote daily! Thanks!

I just interviewed Playboy's Miss April Jaslyn Ome! A really beautiful Playmate who talks about how her life has changed, her love of sharks, and what catches her interest on TV!

I also caught up with the lovely Heidi Bivens! Heidi is one of the best costume designers in Hollywood and we talked about her latest movie, Spring Breakers!

Are you a fan of 411mania on Facebook? Keep up-to-date on news and contests!

Are you following 411mania on Twitter?
http://www.twitter.com/411mania
http://www.twitter.com/411wrestling
http://www.twitter.com/411moviestv
http://www.twitter.com/411music
http://www.twitter.com/411games
http://www.twitter.com/411mma

If you have some down time and are looking for a great place for great fun, check out Tiger Flash Games!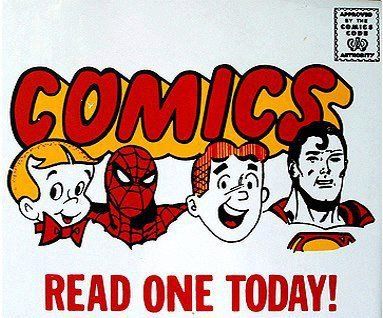 That's all the time I have. See you next week!


comments powered by