SPOTLIGHTS
411 Movies Roundtable 04.03.13: Evil Dead, Pain & Gain, More
Posted by Chad Webb on 04.03.2013

Are we looking forward to the Evil Dead remake? Will the Rock and Mark Wahlberg succeed with Pain & Gain? Will Tom Cruise's Oblivion disappoint? The 411 staff takes a look at some of the biggest movies of April!










































Ladies and gentlemen, I present to you the 411 Movie-Zone April Roundtable. With the Evil dead remake coming out, I thought I would salute Bruce Campbell below by displaying some pics from a few of his roles.

This month most of us are intrigued about Evil Dead but are not quite sure how it will turn out yet, while all of us agree that Scary Movie 5 will be a masterpiece. Or maybe not.

For the April 2013 edition, the following staffers have contributed:

Jeremy Thomas: Host/Writer of multiple columns. The 8 Ball
Jeremy Wilson: Author of The Hush-Hush News Report
Bryan Kristopowitz: Creator of The Gratuitous B-Movie Column
John Dotson, Movie Reviewer The Call
Chad Webb: Writer of Editor's Note



THE MONTH THAT WAS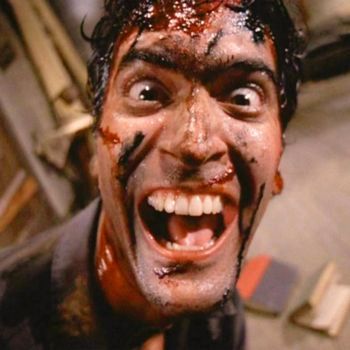 BRYAN KRISTOPOWITZ



Biggest Winner of the Months: WWE Films, which finally had a hit with The Call. And Brad Anderson, director of The Call can be included here, too. When was his last major hit? And the best part? It looks like the movie is going to have a little staying power. Heck, it could be around for another two weeks or so.

Biggest Loser of the Month: It's a toss up between Colin Farrell and Tina Fey, as both of their movies tanked badly. Dead Man Down, Farrell's movie, wasn't expected to be a major hit but no one thought it would fare as badly as it did. And Fey's Admission was absolutely crushed in its opening weekend. She needs a new TV show and fast.

Biggest Movie News of the Month: Paramount announced that there will be a Jack Reacher sequel. Thankfully, the foreign audience showed up and star Tom Cruise will get to kick ass again. I can't freaking wait.

Your Most Anticipated Movie of the Month: Evil Dead, Oblivion, 42, Lords of Salem, Pain and Gain

Recommended DVD Release of the Month: John Dies at the End, Django Unchained, Repo Man- Criterion Collection, Message From Space, Gangster Squad

Classic Movie of the Month: Gamer (2009)- With Gerard Butler's latest action flick Olympus Has Fallen a hit, why not look back at Butler's excellent Gamer directed by Neveldine/Taylor. It's a hyperactive sci-fi action flick chock full of social commentary and general nastiness. Butler is excellent as Kable, a man forced to participate in a real life video game, and Michael C. Hall is downright diabolical as Ken Castle, the man who created the game that Kable is forced to participate in. If you haven't seen it, take the time to track it down and give it a shot. You'll like it. And be on the lookout for Troma's Lloyd Kaufman. He does a cameo.

Movie Quote of the Month: "I hope one day to have the opportunity to breach your firewall, Miss Parker Smith."- Ken Castle (Michael C. Hall)- Gamer (2009)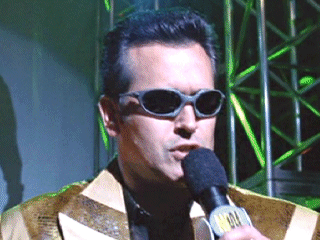 JEREMY WILSON





Biggest Winner of the Month: James Franco & Veronica Mars. Franco starred in two of last month's most noteworthy movies, Oz the Great and Powerful and Spring Breakers. The former was the month's big box office success story, while the later was a critical hit (even if wasn't exactly a crowd-pleaser) and was some of the actor's best work to date. Veronica Mars (aka Rob Thomas, Kristen Bell and company) won The Internet and basically got itself talked about and resurrected in spectacular fashion.

Biggest Loser of the Month: Bryan Singer and New Line/Warner Bros.'s Jack the Giant Killer is 2013's first big bomb, with domestic grosses totaling less than what Oz the Great and Powerful earned in its opening weekend and foreign grosses that are even less impressive. With a production budget close to $200 million, the film is even trailing last year's infamous bomb John Carter which forced Disney to write off around $200 million. It is likely Time Warner will have to take a similar write-off for Jack and will put even more pressure on future WB releases, specifically Man of Steel and Pacific Rim.

Biggest Movie News of the Month: The Veronica Mars Kickstarter. Over 64,000 backers have pledged over $4.38 million (as of writing this) to get a Veronica Mars movie made...and there's still over a week left. Shattering records and getting more people talking about Veronica Mars than perhaps at any point in the show's actual run, Rob Thomas, Kristen Bell and company finally put into motion what they and fans have been talking about for years. We are getting a Veronica Mars movie. It will shoot this summer and we'll see it less than a year from now in early 2014. The Kickstarter project broke records and met its goal in about a day. It was the fastest Kickstarter project to hit $1 million, $2 million, set the record for highest goal ever achieved and is also the largest film project in Kickstarter history. There are interesting discussion to have (and have already been had) about whether fans should be putting up money for a project only for a large corporation to profit from, but in this case it was quite evident that WB did not believe there was an audience for it. It wouldn't have gotten made without the KS project and most fans don't seem to mind paying to get something they want created.

Your Most Anticipated Movie of the Month: Mud. Jeff Nichols might be one of the most exciting American filmmakers to come along in awhile. Already recognized for his debut feature Shotgun Stories and 2011's much-lauded critical hit Take Shelter

Recommended DVD Release of the Month: Criterion's Pierre Etaix collection and Django Unchained.

Classic Movie of the Month: The Life and Death of Colonel Blimp. A few weeks ago, Criterion released its new Blu-ray/DVD of The Life and Death of Colonel Blimp. And it is extraordinary. There's no other way to describe it. It's not surprising that Michael Powell and Emeric Pressburger (collectively known as The Archers) made a great movie, perhaps even the greatest British film of all time. What's surprising is that it is still a film with a relatively low profile, even among the pair's more notable works, with films such as A Matter of Life and Death (aka Stairway to Heaven), Black Narcissus and The Red Shoes more prominently recognized and well seen. Hopefully with this Criterion release, that will start to change for the pair's Colonel Blimp which is an ambitious historical epic, wartime romance, comedy of manners, drama of friendship...among many other things. It is Britain in a 163-minute nutshell, in the context of the life, loss and love of a consummate soldier of the Empire, a satirical caricature given depth and complexity by The Archers, who manage to pull off the incredible feat of simultaneously satirizing and paying homage. Perhaps its most extraordinary and brave trait though is its portrayal of a life shown by way of the moments and scenes "in between" the "important stuff." Its eschewal of showing events that would define and be pivotal to most other films is amazing even 70 years later and gives it a sort of magical, timeless quality from a period that stretches four decades and three wars. The new Criterion release also has a commentary track from Martin Scorsese and Michael Powell, a booklet featuring an essay from maybe the best or most well-known feminist film critic Molly Haskell, an interview with Thelma Schoonmaker Powell (Marty Scorsese's longtime editor and Michael Powell's widow), an introduction from Scorsese, fantastic examples and demonstrations of the film's extensive restoration (this film looks amazing) AND a gallery of the Colonel Blimp political cartoons the film is loosely based on. It's an outstanding set for an extraordinary film and is a must-buy for film buffs and fans of The Archers.

Movie Quote of the Month: From The Life and Death of Colonel Blimp:Clive Candy: "War starts at midnight!" [repeated line]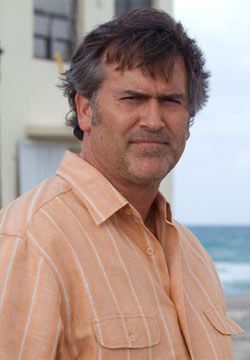 JEREMY THOMAS



Biggest Winner of the Months: I have to agree with Bryan and go with WWE Films, as the studio on life support brought out a major hit (relatively speaking) with The Call. With a $40 million gross and counting on only a $13 million budget, this is easily the most profitable film that the studio's co-financed to date. The fact that The Marine 3: Homefront has reportedly done very well on home video and VOD also adds in to push it over the edge.

Biggest Loser of the Month: I don't see how you can't go with Jack the Giant Slayer which is a financial disaster of Battleship and John Carter proportions. Bryan Singer was unable to bring his loyal fans to the film and Nicholas Hoult's chances of being a viable A-lister got hit, though Hoult has Warm Bodies as a hit for 2013 which at least prevents him from being this year's Taylor Kitsch.

Biggest Movie News of the Month: While I think some people are a little TOO optimistic, you can't deny that the Veronica Mars Kickstarter has the potential to change things for fanboy-driven franchises. If you asked me at this time last month I would have said that we'll never see a Veronica Mars film, as much as I might want it. Now we have one and more to the point, the studios are realizing that yes, the internet CAN be used as an effective way to gauge fan interest. Scoff if you want, but films like Snakes on a Plane and Grindhouse have been huge hits to the financial viability of internet hype and this proved that people on the internet are willing to put their money where their mouths are in big ways.

Your Most Anticipated Movie of the Month: As much as I once dreaded it, I have to say that Evil Dead is my most anticipated film this month. The trailers are fantastic and the buzz is high. We may all be disappointed, but I hope not.

Recommended DVD Release of the Month: There's some great stuff coming out this month but for me Django Unchained takes the cake. I loved this film more than almost any other in 2012 and I can't wait to see it again on Blu-Ray.

Classic Movie of the Month: I wouldn't call it "classic" yet, but I'm going to take the Evil Dead train straight to the Cabin in the Woods. No, I will never stop praising this one. An incredibly inventive script, great gore, rock-solid humor and really good performances make this one of my favorite horror films ever.

Movie Quote of the Month: "Statistical fact: Cops will never pull over a man with a huge bong in his car. Why? They fear this man. They know he sees further than they and he will bind them with ancient logics."

- Marty (Fran Kranz), The Cabin in the Woods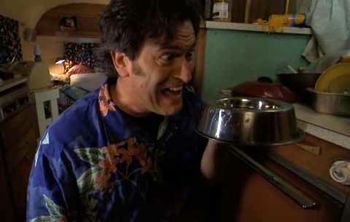 JOHN DOTSON



Biggest Winner of the Month: For me, I would have to say Spring Breakers. Mainly because it ended up as the most unique moviegoing experience I had this month. Plus, James Franco's performance was just completely insane. If loving Spring Breakers is wrong, I don't want to be right. Spring Break foreevvaa!

Biggest Loser of the Month: Most likely Admission. That film had "dud" written all over it before it was even released. At this point, Tina Fey and Paul Rudd need to acquire new agents quickly.

Biggest Movie News of the Month: Even though it hasn't been officially confirmed, the news about Christopher Nolan returning as a producer for Justice League/World's Finest was pretty huge. Especially the claim that Christian Bale would reprise the role of Bruce Wayne. Last I heard, the studio claimed nothing would be confirmed or denied until the release of Man of Steel.

Your Most Anticipated Movie of the Month: My top picks for April are Upstream Color and Evil Dead.

Recommended DVD Release of the Month: John Dies at the End, Django Unchained

Classic Movie of the Month: Jurassic Park. I recently had a chance to revisit this Steven Spielberg masterpiece and realized that although compelling, Jurassic Park has a lot of dumb characters. Not dumb in the sense that they are poorly written, but dumb in the sense that everyone running Jurassic Park made a poor choice in bringing guests on an island before a major storm hit. You don't want to have endorsers in your park at the worst possible time, especially with large T-Rexes running around. That being said, I love this film and it's still enthralling as it was during its release.

Movie Quote of the Month:
"My name's Alien. My real name is Al, but truf be told, I am not from this planet y'all" - Alien (James Franco)- Spring Breakers (2013)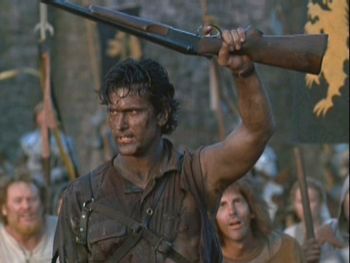 CHAD WEBB



Biggest Winner of the Month: Even though I hated Spring Breakers, I have to agree that James Franco did have an awesome month. Even most who disliked Spring Breakers praised his performance. On top of that he was in Oz: The Great and Powerful which also wasn't very good, but made a lot of money. WWE Films would have worked here if Dead Man Down hadn't flopped.


Biggest Loser of the Month: Both Jack the Giant Slayer and Admission< were huge pimply losers last month. The former because it gave writers a chance to remind us of John Carter last year and the latter because those stars should have collaborated for a project that accentuated their talents. I wasn't shocked that Jack underperformed, but I am kind of taken aback that Admission barely even showed up on its opening week.

Biggest Movie News of the Month: The Veronica Mars Kickstarter movie news was huge and sparked discussion in many circles. The guys listed all the reasons this was big news above. I won't elaborate.

Your Most Anticipated Movie of the Month: It would have to be Mud from director Jeff Nichols. I've enjoyed all of his efforts thus far (Shotgun Stories, Take Shelter) and I love how Matthew McConaughey is finally starting to show his talent consistently. To The Wonder and Pain & Gain are also notable releases for me

Recommended DVD Release of the Month: Django Unchained is the obvious winner here, but I'll be looking out for Criterion's Repo Man along with WWE's Best of In Your House as well.

Classic Movie of the Month: Badlands, the 1973 debut film from Terrence Malick has finally received the royal treatment on DVD & Blu-Ray from the hard-working folks at Criterion. The story follows a 15 year-old girl and her 25 year-old boyfriend go on a killing spree in 1958. It's a masterpiece and if you only know Malick from the divisive reception of The Tree of Life, do yourself a favor and check this out.

Movie Quote of the Month: "If peeing your pants is cool, then consider me Miles Davis." Tour Guide from Billy Madison



COMING ATTRACTIONS



April 5th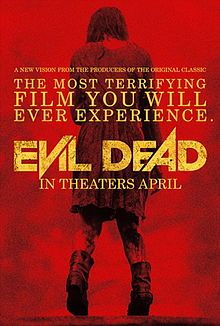 Evil Dead (2013)





Rated R
Plot: Five friends head to a remote cabin, where the discovery of a Book of the Dead leads them to unwittingly summon up demons living in the nearby woods. The evil presence possesses them until only one is left to fight for survival.
Director: Fede Alvarez
Stars: Jane Levy, Shiloh Fernandez, Jessica Lucas, Lou Taylor Pucci



Bryan Kristopowitz: Horror nerds around the world look at this remake with both great anticipation and great trepidation. The red band trailer is freaking insane, and most of the advanced reviews have been positive. There's real buzz for this movie. On the other hand, what if the movie doesn't live up to its reputation? We'll always have the original, sure, but what if this tanks and the Sam Raimi isn't allowed to do Army of Darkness 2? That would be a tragedy.

Jeremy Wilson: I know most everyone here is looking forward to this and I guess I am too to a certain degree. However, my interest in this is how it will compare and contrast to Sam Raimi's original Evil Dead. It looks incredibly gory and gross, which I've never found actually scary, just disgusting. To each their own, but I'm hoping the aim is still to scare people and not just gross them out.

John Dotson: Up until now, fans of the original have been outspoken about this film being remade. I've been on the opposition since day one simply because Bruce Campbell and Sam Raimi stepped up as producers. So far, everything appears faithful to the Evil Dead generation. I can't wait.

Jeremy Thomas: When this one was announced, we horror fans were almost universally up in arms. The first trailer didn't do a thing for me. Then slowly word started to trickle out that it might be good and we dared hope. The trailers after the first have been incredibly intense-looking and its SXSW screening garnered a pretty ecstatic reaction. If they pull this one off right, I will absolutely tip my hat to them.

Chad Webb: I'm intrigued by this, but am unsure of how it will turn out. My code is that the best movies to be remade are ones that can be improved upon. I think the original Evil Dead fits that bill. If this were trying to be like the sequels, it would be a different story. I appreciate the fact that this contains no CGI, and from the trailer it looks gory as hell, which is great. However, this boils down to how the Alvarez approaches his version. Will it be silly or serious? Will he strive to make this truly scary, tongue-in-cheek, or a combination of the above? Either way, I'll be seeing it.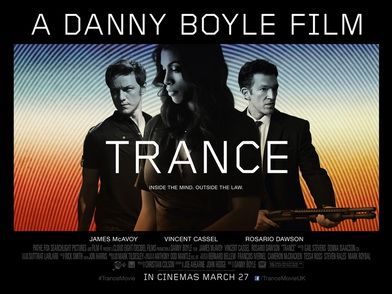 Trance





Rated R
Plot: An art auctioneer who has become mixed up with a group of criminals partners with a hypnotherapist in order to recover a lost painting.
Director: Danny Boyle
Stars: James McAvoy, Rosario Dawson, Vincent Cassel, Tuppence Middleton



Bryan Kristopowitz: The latest from director Danny Boyle sounds and looks kind of weird. That could be a good thing, sure, but I really don't want to sit through another Sunshine. I'm pulling for him, though.

Jeremy Wilson: I have a feeling this is going to be really good or really bad. Unfortunately, what I've seen (and from a few reviews I've read) thus far, I'm leaning toward the latter.

John Dotson: I'm always excited for anything Danny Boyle does, regardless of the genre. The trailers remind me of his old school work, which is promising.

Jeremy Thomas: Danny Boyle directing James McAvoy and Rosario Dawson in a crime thriller? I'm interested. And don't get me wrong, I don't think Boyle can do no wrong. But the trailer looks good, the cast is phenomenal and while the reviews have been middling they haven't been terrible. I'll definitely give it a shot.

Chad Webb: I am admittedly not a Danny Boyle fan, but that's not say I dislike all of his efforts. This looks appropriately bizarre, but it has a cast I dig: James McAvoy, Vincent Cassel, Rosario Dawson. I'm not expecting this to be mind-blowing, but it would be nice if Boyle surprises me for once. His energy and visual flair are superb, but the story and characters are where most of his shortcomings lie. We shall see.





The Company You Keep





Rated R
Plot: A thriller centered on a former Weather Underground activist who goes on the run from a journalist who has discovered his identity.
Director: Robert Redford
Stars: Shia LaBeouf, Robert Redford, Brit Marling, Julie Christie



Bryan Kristopowitz: Robert Redford hasn't had the best track record as of late. People tend to see him more as a political moviemaker instead of a moviemaker. That reputation could hinder this movie's box office. It's got a great cast, though, so maybe people will show up anyway. I think I would like to see this.

Jeremy Wilson: I was actually really digging the film's trailer until the very end, even with Shia LaBeouf involved. Nice to see Robert Redford back in a leading-type role. Looks solid.

John Dotson: Robert Redford does interesting political films, but very few are outstanding. However, this movie has a lot of big players, so maybe this will end up as a pleasant surprise.

Jeremy Thomas: Robert Redford, as a rule, doesn't make bad films. He's had a couple sketchy ones (hello Bagger Vance), but his positive output far exceeds his negative. And while he's had some really bad roles in fanboy franchises, I've never been convinced that Shia LeBeouf is a terrible actor. Anna Kendrick is always a plus and the trailers have been very intriguing. Yeah, I'm in.

Chad Webb: I appreciate that Shia LaBeouf is moving away from mainstream studio offerings, but Robert Redford is a mixed bag of a director, so I'm skeptical about this project. I imagine the acting being impressive, but the plot less so. The trailer was ok, but nothing spectacular.

April 12th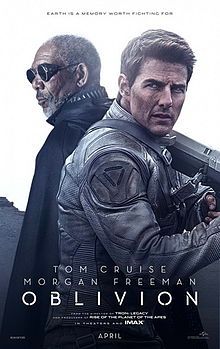 Oblivion





Plot: A court martial sends a veteran soldier to a distant planet, where he has to destroy the remains of an alien race. The arrival of an unexpected traveler causes him to question what he knows about the planet, his mission, and himself.
Director: Joseph Kosinski
Stars: Tom Cruise, Morgan Freeman, Andrea Riseborough, Olga Kurylenko



Bryan Kristopowitz: The trailer for this is quite good, and I'm stoked to find out what, precisely, this movie is about. What's the deal with those probe things? Why is Morgan Freeman dressed all in leather and hanging out underground? And why does Tom Cruise's character wear a Yankees hat? I want to know, man!

Jeremy Wilson: I'm looking forward to a new Tom Cruise sci-fi movie, even though I've been disappointed with the film's marketing. I feel like they've shown way too much, far too often, but I guess that's the new era we live in. I would have loved to have gone into this seeing as little as possible, but it sill looks amazing visually.

John Dotson: There is a ton of mystery surrounding the advertising, which makes me want to find out just what the hell is actually happening in this movie. Tom Cruise may end up walking away with the biggest hit of April if Oblivion delivers.

Jeremy Thomas: I really want to like this but it's just been leaving me cold. Tom Cruise is still one of the top A-list action heroes out there and I like Joseph Kosinski but I can't help but feel like this will be a massive disappointment from what I've seen. I have no evidence to support this theory other than a feeling, so take that as you will.

Chad Webb: 2013 has a bunch of post-apocalyptic films. I am betting that this will be a disappointment on some level. The visuals looks outstanding and Cruise in any sort of action hero role is usually a bonus, but anytime Morgan Freeman plays a bad ass character you never know how it will play out. This comes from the director of Tron: Legacy so I'm anxious to see what he can deliver for his sophomore feature. On a side note, M83 is on the soundtrack, which everyone should seek out.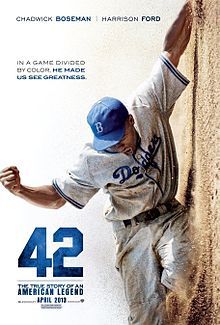 42





Rated PG-13
Plot: The life story of Jackie Robinson and his history-making signing with the Brooklyn Dodgers under the guidance of team executive Branch Rickey.
Director: Brian Helgeland
Stars: Chadwick Boseman, Harrison Ford, Alan Tudyk, Christopher Meloni



Bryan Kristopowitz: I'm a sucker for these kinds of biopics, but I'm not sure I'm ready for the onslaught of "historical inaccuracies" reports we're likely to get when this movie comes out. Phil Mushnick of The New York Post is already complaining about it. At least Harrison Ford looks like he's having fun in the movie. Chris Meloni, too (what's with him throwing things all of the time?).

Jeremy Wilson: I'm a huge baseball fan so I'll be checking this out, even if it is just the standard baseball/sports biopic.

John Dotson: I love a good true story and this appears to be a well crafted film. In regards to the historical inaccuracies, all movies are historically inaccurate. Get over it, society.

Jeremy Thomas: I haven't been a fan of baseball in years, but I love baseball movies. Sure, this will be rife with "inaccuracies" but it's a movie, not a documentary. I can't help but be most intrigued by the idea of Alan Tudyk as the notoriously abusive Ben Chapman. It should be fun, though I don't expect this to be another The Natural or anything.

Chad Webb: It's been too long since our last baseball biopic, right? Jackie Robinson was ripe for one anyhow. This looks standard, yet terrific nonetheless and I can't wait to see it. However, Harrison Ford comes off as odd and out of his element in his part, but whatever.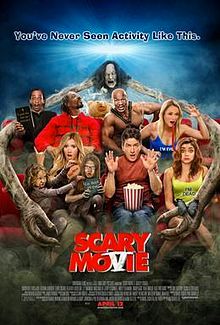 Scary Movie 5





Plot: A couple begin to experience some unusual activity after bringing their newborn son home from the hospital. With the help of home-surveillance cameras and a team of experts, they learn they're being stalked by a nefarious demon.
Director: Malcolm D. Lee
Stars: Simon Rex, Ashley Tisdale, Charlie Sheen, Lindsay Lohan



Bryan Kristopowitz: The last Scary Movie wasn't all that great, but then these parody movies have always been hit and miss. Here's to hoping that this is better than average.

Jeremy Wilson:You're kidding, right?

John Dotson: I really wish this franchise would die already. To all the readers at 411, I beg you to not pay for these movies... ever... again.

Jeremy Thomas: It has to be better than the Friedberg/Seltzer parodies, right? Or at least better than the abominable Haunted House from January...right? Okay, probably not with this cast. This franchise is played out and needs to die. And by that I mean die and stay dead, not die and come back to haunt the next spoof movie.

Chad Webb: It never ceases to amaze me that these parodies keep falling off the conveyor belt. This will likely be a piece of shit. We all expect that I'm sure? Is anyone actually looking forward to it? I'm honestly curious as to why if you are.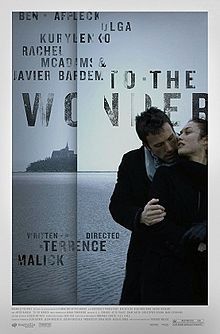 To The Wonder





Rated R
Plot: After visiting Mont Saint-Michel, Marina and Neil come to Oklahoma, where problems arise. Marina meets a priest and fellow exile, who is struggling with his vocation, while Neil renews his ties with a childhood friend, Jane.
Director: Terrence Malick
Stars: Ben Affleck, Olga Kurylenko, Javier Bardem, Rachel McAdams



Bryan Kristopowitz: I just hope that this latest Terrence Malick movie is both 1. comprehensible and 2. not as self important as the trailer suggests it is. Please, for the love of God, be watchable.

Jeremy Wilson: Oh boy, talk about a "love it" or "hate it" movie. I have tremendous respect for Terrence Malick (Badlands, The Thin Red Line, The Tree of Life) but there seems to be an overabundance of twirling in this, as if he took the twirling and swooping from The Tree of Life and turned it up to 11. I'll see it, but I haven't loved what I've seen so far or what I've read from those who have seen it.

John Dotson: Get ready for another movie full of pretty images and no clear narrative to be found. Who am I kidding? I'll probably watch it several times.

Jeremy Thomas: Wow, this one flew under the radar. It's Terrence Malick so I'll certainly watch it, but I reserve all judgment until then. With Malick, it is safer for your sanity to do so. The cast is good though.

Chad Webb: I am a huge Malick fan and have to date enjoyed each of his films. I'm also psyched that he's working more often. However, I'm not blindly devoted and this project gives me doubts. The story strikes me as overly thin and the style too similar to The Tree of Life. It has garnered mixed reactions from festivals, which is not a shock, but I'm just not convinced that this will be great. I hope it will be.

April 19th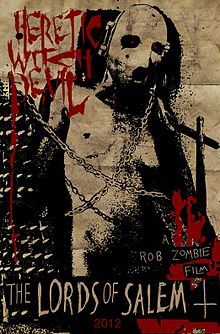 The Lords of Salem





Rated R
Plot: Heidi, a radio DJ, is sent a box containing a record -- a "gift from the Lords." The sounds within the grooves trigger flashbacks of her town's violent past. Is Heidi going mad, or are the Lords back to take revenge on Salem, Massachusetts?
Director: Rob Zombie
Stars: Sheri Moon Zombie, Meg Foster, Bruce Davison, Jeff Daniel Phillips



Bryan Kristopowitz: Director Rob Zombie's latest looks incredibly weird, and that hasn't worked well for Zombie in the past (House of 1,000 Corpses anyone?). But then Zombie is always interesting even when he fails, so why not? The late, great Richard Lynch is in it, so that's cool.

Jeremy Wilson: Can something ridiculous also be scary? I doubt it, but I guess we'll find out.

John Dotson: Say what you want about Rob Zombie, but the man has a unique trashy style which works well for his films. He is the Neveldine/Taylor of horror, and by that I mean I always feel like I need a shower after watching his movies. I'll be checking this out for sure.

Jeremy Thomas: I know it's cool to hate Rob Zombie these days, but I'm looking forward to this. Yes, Halloween 2 was a mistake but I enjoyed the first and Devil's Rejects was great. This is a wacky premise but that should give Zombie room to have fun. Complain about Sheri Moon having the lead role all you want; I want to see this.

Chad Webb: I agree with everything Bryan said. I think Zombie has talent as a director, which he showed with The Devil's Rejects and to a degree, Halloween. But he needs to stay focused to flourish. The stranger his projects are, the more mediocre they end up.

April 26th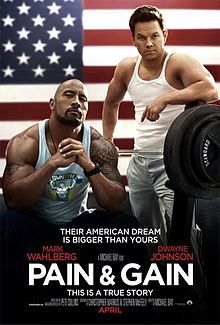 Pain & Gain





Plot: A trio of bodybuilders in Florida get caught up in an extortion ring and a kidnapping scheme that goes terribly wrong.
Director: Michael Bay
Stars: Mark Wahlberg, Dwayne Johnson, Rebel Wilson, Ken Jeong



Bryan Kristopowitz: Michael Bay's latest doesn't look as big as his usual output, so right there it's worth checking out just to see what the heck a "small" Michael Bay movie is like. The Rock and Mark Wahlberg look like they have good chemistry together, so this could be a worthwhile movie. I'm interested in it.

Jeremy Wilson: This is still a Michael Bay film, right? Pass.

John Dotson: With it being a Michael Bay film, this is either going to end up as a great flick or the worst experience of 2013. Let's hope for the best!

Jeremy Thomas: I'm actually intrigued, and not just because of the Rock. Look, Michael Bay sucks these days but this is still the guy who made The Rock, the first Bad Boys and The Island. I really want to see what he does with a smaller, true life story. The cast is having fun and the story is interesting, so I'm in.

Chad Webb: I'll bet this is a solid Michael Bay flick. I just have that feeling. Yes yes I know, everyone hates him. But he did give us excellent fare such as Bay Boys, The Rock, The Island, and damnit I don't care, Armageddon. It's sequels he sucks at. Look at all of his worst movies and you'll note they're sequels. This isn't so it stands a good chance of being cool.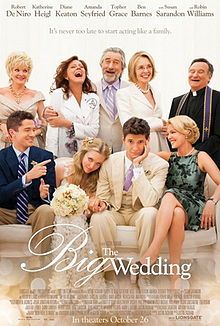 The Big Wedding





Rated R
Plot: A long-divorced couple fakes being married as their family unites for a wedding.
Director: Justin Zackham
Stars: Robert De Niro, Diane Keaton, Katherine Heigl, Amanda Seyfried



Bryan Kristopowitz: This comedy has a good cast, so it should be, at least, watchable. I just hope it isn't ridiculous. The presence of Robin Williams can do that to a movie.

Jeremy Wilson: *Sirens blare* Katherine Heigl movie. I repeat, this is a Katherine Heigl movie. Proceed with caution. Straight from the mid-'90s, this "comedy" features several warning signs besides the Heigl factor, including Robert De Niro in a comedy not helmed by David O. Russell, Diane Keaton (who has basically only done these types of Nora Ephron-lite films in recent years, Robin Williams as a priest, Topher Grace and everybody's favorite Buffy the Vampire Slayer punching bad, Marc Blucas. Your parents will try to get you to go see this with them, but proceed with an abundance of caution.

John Dotson: As Jeremy Wilson mentioned, it's a Katherine Heigl movie. Run for the hills!

Jeremy Thomas: Katherine Heigl in a rom-com? Pass. Seriously, that is all I need to know in order to pass. I love rom-coms when they're done well, but Katherine Heigl has never under any circumstances made a romantic comedy that has even approached the front yard of good. Not a chance.

Chad Webb: This looks horrible. Everyone will attribute this to Katherine Heigl, but Diane Keaton has bludgeoned us with her share of crap in recent years, as has De Niro. I have zero interest in this and will likely skip it.





Mud





Rated PG-13
Plot: Two teenage boys encounter a fugitive and form a pact to help him evade the bounty hunters on his trail and to reunite him with his true love.
Director: Jeff Nichols
Stars: Matthew McConaughey, Reese Witherspoon, Michael Shannon



Bryan Kristopowitz: This looks okay, but I'm shocked no one has tried to change this movie's title. Mud? Really?

Jeremy Wilson: Jeff Nichols' follow-up to Take Shelter stars 2012 golden boy Matthew McConaughey and looks like a very interesting third feature from one of America's up-and-coming writer-directors.

John Dotson: All the reactions coming out of festivals have been positive so far. Matthew McConaughey is on a roll lately with his film choices, and I must say, it's about damn time.

Jeremy Thomas: I loved Take Shelter and this looks interesting. Buzz has been positive so far and I like the cast so I'll give it a go.

Chad Webb: Take Shelter was great so I'm amped for what Jeff Nichols' next film. The cast looks great and although I agree with Bryan about the title, I think it will be worthwhile nonetheless.

Thanks for reading! Check back with us next month when we kick off our summer movie roundtables with Iron Man 3, Star Trek Into Darkness, and The Hangover Part III.
comments powered by