SPOTLIGHTS
Alternate Takes 04.06.13: Top 5 Wanted Marvel Knights Movies
Posted by Shawn S. Lealos on 04.06.2013

From Deadpool and the Black Panther to Blade and more, 411's Shawn Lealos counts down the top 5 Marvel Knights movies he wants to see! Plus the Hulk takes on Emma Frost, Wonder Woman battles Spider-Man and more in this week's Superhero Knockout!

Welcome to Week 248 of Alternate Takes, my name is Shawn S. Lealos and you have entered my world.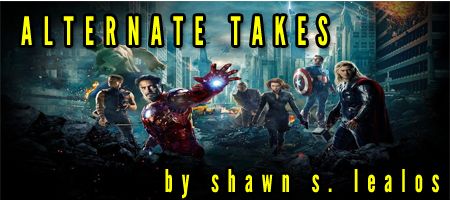 Hey guys, if you haven't caught it yet, Steve Gustafson has a comic book column on 411mania as well called Comics 411. Check it out and maybe we might we a surge of more comic book stuff on 411mania.com.

This week, I have noticed in a lot of interviews that Kevin Fiege said that he is looking at introducing a lot of new characters into the Marvel Phase 3 movement, including Ant-Man and possibly Doctor Strange. While I like the idea, there is also something I have noticed, and reading your comments lately, it seems you might want as well. I want to see the Marvel Knights styled universe start up with the darker, more violent characters. I know these are not necessarily possible when it comes to the box office Marvel has gotten used to, but I don't see why they can't do it.

I want to see these smaller budgeted movies, maybe made for under $10 million each, with a chance for Rated-R or borderline PG-13 films that can bring some of these darker fan favorites to the big screen. With the hundreds of millions that Marvel is making from their regular movie releases, there is no reason they can't afford to make these smaller films. Here are some Marvel Knights movies I would like to see the company take a chance on for their core fans.



The Inhumans



This has already been hinted at, as The Inhumans is rumored to be moving in the direction of a Game of Thrones style story. Now, that is the comic books that is moving in that direction, but Marvel has talked about the possibility of an Inhumans movie for a couple of years now. Now, Thor: The Dark World will be close to Game of Thones, especially with one of the directors from the show working on it. However, I like the idea of going full speed in the direction of warring Houses in The Inhumans, and I really think that the movie can be made for




Daredevil and Punisher



I mentioned both of these a couple of weeks ago with Kickstarter campaign article. We are going with the entire Frank Miller '70s styled Daredevil story, possibly based on Joe Carnahan's ideas. With Punisher, we are looking at the ultra violent, yet street gritty Thomas Jane idea he had with his short film that showed at ComicCon 2012. Both of these movies can be made on the cheap and if they are done right can be the kind of tough, dirty action movies that fans - especially Punisher fans - have wanted. Daredevil is just a fantastic character that needs a good movie and these are both characters that Marvel Knights could be made for, and based around. For Daredevil, do the Carnahan idea and for Punisher, do The Slavers.




Black Panther



I think a Black Panther movie might be best served either in New York City, with T'Challa coming to America to fight some corporation that is threatening his country, or it should take place in Wakanda, where he has to protect his land from outside forces. Either way, Black Panther is more of a military styled fighter, a mixture in my eyes between Daredevil and The Punisher, but with the brains of Tony Stark. I like the idea of the Christopher Priest story run where T'Challa is in America when Wakanda is overthrown by a man named Achebe, who has supernatural assistance from Mephisto of all people.




Blade



Wesley Snipes is out of jail, so what the heck, bring back Blade. A lot of people hated Blade: Trinity, and while the movie did have some problems, it wasn't all that bad. However, nothing beats Blade II, which remains one of the better comic book adaptations of its time. Part of me would like to see Blade and Tomb of Dracula combined into one awesome comic book movie, but most people would probably turn on that idea. The problem is that there have not been that many great Blade comics, but the movies were so good that there is no reason not to kick them off again.




Deadpool



The character that needs to be in the Marvel Knights comic line the most is Deadpool. Rhett Reese and Paul Wernick have been working on scripts for a Deadpool movie and want to make it Rated-R, which makes all the sense in the world. Deadpool is a killer, and a sarcastic dickhead killer at that. The movie needs to be funny, cool and very violent, which makes it the best option to kick off the Marvel Knights series. Now, Deadpool is a character that is owned by Fox and it is clear from the Silver Surfer/Daredevil mess from last year that they are not great at working with Marvel, but if the two could combine forces on Deadpool, allow him to remain a Fox property, but make him part of a Marvel Knights movie line, I think it could give them some great crossover potential. I think the next step in Marvel movies needs to be cooperation between movie studios. Stranger things have happened.





In no surprise at all, Thor destroyed Colossus, 801-101. Colossus is big and strong, but Thor is inarguably one of the most powerful characters in comics. In the next fight, it looks like Wolverine's healing factor couldn't save him from the onslaught of Superman's powers, as Supes beat him 659-262.

Batman once again wins on the argument that with time to plan he can beat anyone in the world. It makes sense that he could beat someone like Green Lantern, despite the fact that Lantern's powers dwarf anything Batman can pull out. The fact is that Lantern is vulnerable to yellow and anyone with a weakness that is that public can fall to Batman. Bats won 585-334.

The final match was a close one with Martian Manhunter falling to Scarlet Witch, 500-384. There was a lot of debate on this one as people felt he could use his power to alter his appearance to trick Wanda long enough for him to get the win. However, Wanda has the power to create almost anything, including fire, and proved too powerful for Manhunter.

On to the final matches from the Sweet 16.

Just a bold red reminder to everyone that this is about who can beat who in a fight



Wonder Woman





Spider-Man


Spawn





Doctor Strange


Silver Surfer





Professor X


Hulk





Emma Frost
2013
May 3 - Iron Man 3
May 17 - Star Trek: Into Darkness
June 14 - The Man of Steel
June 21 - World War Z
June 28 - Kick-Ass 2
June 12 - Pacific Rim
July 3 - The Lone Ranger
July 19 - R.I.P.D.
July 26 - The Wolverine
August 2 - Red 2
August 2 - 300: Rise of an Empire
August 6 - Percy Jackson: Sea of Monsters
September 6 - Riddick
September 13 - I, Frankenstein
September 13 - Machete Kills
October 4 - Sin City: A Dame to Kill For
October 25 - The World's End
November 1 - Ender's Game
November 8 - Thor 2: The Dark World
November 22 - The Hunger Games: Catching Fire
December 13 - The Hobbit: The Desolation of Smaug
2014
April 4 - Captain America: The Winter Soldier
May 2 - The Amazing Spider-Man 2
July 18 - X-Men: Days of Future Past
August 1 - Guardians of the Galaxy
2015
March 6 - Fantastic Four
May 1 - The Avengers 2
November 6 - Ant-Man
comments powered by