SPOTLIGHTS
Comics 411 04.10.13: Event Fatigue Edition!
Posted by Steve Gustafson on 04.10.2013

Are the proliferation of crossover events like Avengers vs. X-Men, Flashpoint, Civil War and more causing comic book readers to have event fatigue? 411's Steve Gustafson takes a look! Plus news and thoughts on DC's Trinity War and more!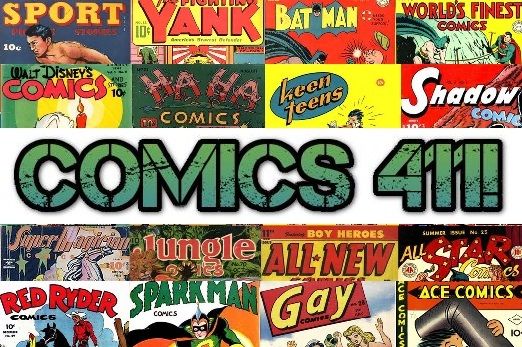 Welcome to the Comics 411! My name is Steve Gustafson and this is WEEK 2! I want to thank everyone who took a few minutes to read and comment last week! I also received a number of positive emails, which is always welcome. Looks like we're on the right track and I hope to continue the good times!

I just read a story about two East Vancouver brothers that cashed in big on their childhood collection this past weekend when they sold off their massive 60,000 comic books! Hundreds of comic book collectors took part in the two-day auction staged by Able Auctions, which brought in an estimated $200,000. Auctioneer Tyler Olson said it was one of the largest auctions involving collectables in Canadian history. "Able has been in business 25 years and this is the biggest collection we've come across to date." The brothers, who want to remain anonymous, appeared anxious as they watched their comics being sold. The comic that attracted the highest bidder was a restored first-ever Hulk comic, which sold for $6,500.

Anyone who has ever sold off their collection can tell you that it's a crazy moment. To this day I still regret selling my comic book and sporting card collections. *Sigh*


I'm a big Kickstarter fan and from time to time will throw my support behind a project I find interesting. I receive messages/emails and do my best to check each on out. A few days ago I found a comic book Kickstarter that looks cool. Dracula: Son of the Dragon!

They just passed the halfway and I urge you to watch their video below. For more information on how you can help bring the dark histoy of how a the 15th century Impaler Vlad Tepes become the world's most famous vampire to life, go Here!





Need more comic book love at 411mania? Support the movement and check out Shawn S. Lealos' Alternate Takes!

And away we go...



READER ROUNDTABLE

Last week I kicked off our Reader Roundtable with the age old debate question: DC or Marvel? The results came in and they were very telling:

Marvel: 67.55%
DC: 29.69%
Indie: 3%

Looks like I have a lot of Marvel Zombies reading here! For those concerned this will become a Marvel-centric column, have no fear. I want to keep things balanced and shine a light on all aspects of the comic reading world. How else will you become exposed to new, cool things? All I ask is you use respect in the comment section when debating.

OK, let's talk fatigue.

Our Worlds at War, Silver Age, Infinite Crisis, 52, Countdown to Final Crisis, Final Crisis, Blackest Night, Maximum Security, Avengers Disassembled, House of M, Civil War, World War Hulk, Secret Invasion, Dark Reign, Brightest Day, Flashpoint, Siege, Fear Itself, Avengers vs. X-Men...

For better or worse, we're in the Event Age when it comes to comic books. Events aren't new and they aren't going away. Sales figures promise us that. Besides sales, it gives both artist and writer a chance to leave their mark on the respective universe. It seems with every event, bars are set higher, consequences are more far-reaching, and the storylines must dominate every tie in and spin off.

Laugh all you want but the first "event" I really got into was The Evolutionary War. Yes, it's true. The storyline and presentation was the first of its kind, as this storyline took place exclusively in annuals. This format of crossover was to be repeated by Marvel a year later in 1989's Atlantis Attacks and was imitated by DC Comics for the first time three years later with their Armageddon 2001 crossover in 1991. I bought every Annual and was engrossed with the story. After that, I was more aware of events going on in Marvel and DC. Hooked.

But how much is too much from the Big Two? How long will we go along, having to buy multiple books to understand and follow the massive storyline? I've read interviews where the creative team hints at the call from higher-ups to make the story as far-reaching as possible; putting a strain on the very event. Also, these events are easy to collect in graphic novel form and put on the shelf to capture even more money. While these events are good for business short term, what about over long periods? Discuss below!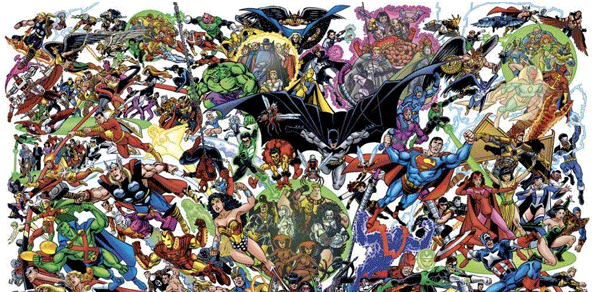 NEWS!

Marvel's FIRSTS returns! Over 700 free first issues from Marvel Comics, all available through your favorite comic book reading app on the web or mobile, was a pretty tantalizing offer. It drew so much attention that it crashed comiXology, the host of the promotion, for about three days.

With that kind of response, it's no surprise that the pair are doing it again! With a few tweaks. This time, fans interested in the free first issues must first sign up for a special notification at https://promo.marvel.com/. After signing up via your Marvel.com username (if you don't have one, it'll take you through the sign up process), you'll receive this notification:

"Congratulations and thank you! You have signed up to get access to over 700 free comics through Marvel #1!

Starting Thursday, April 11th, 2013, we will begin notifying waves of fans by email to provide redemption instructions and let them know when they can access the Marvel #1 offer.

Don't worry if your email doesn't arrive on April 11th. As long as you signed up by April 9, 2013, you will receive your email soon! We want to make sure we get to all our fans so that they have the best experience possible."

Fans will receive their redemption instructions in waves in an effort to stymie the crashing problems of the first time around. So go, sign up between now and 11:59pm EDT April 9, 2013, and get yourself some free Marvel Comics!

You're welcome.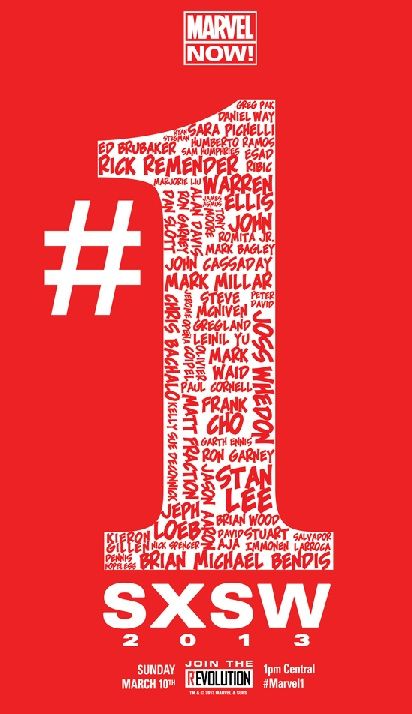 DC's Trinity War is officially on the way this summer! This event will be running six issues in just two months, July and August 2013, as DC Comics announced via the USA Today website Sunday. DC's "signature supergroups enter into a combustible situation when a hero's death causes sparks to fly," reports the national newspaper.

Justice League of America, Justice League, and Justice League Dark will play host to the summer event from DC instead of a traditional separate miniseries. Geoff Johns will write the Justice League chapters alone, Jeff Lemire joins as co-writer for Justice League of America, and Lemire writes the Justice League Dark chapters on his own. Ivan Reis and Joe Prado, Doug Mahnke, and Mikel Janin are the series artists, respectively.

"We really want to find and carve out the Justice League corner of the DC Universe," Johns told USA Today. "It is a universe all itself with these three teams, and it feels big enough to be worthy of a Justice League story."

The story, when first announced, was billed as the first major universe-wide crossover in the DC Universe since the reboot in September 2011 reset all series to new first issues, and is now firmly focused on the three Justice League teams — though they do reach into most corners of the DCU. Johns is excited for many of these individual team members, and the full team lineups, to meet for the first time in the series, but promises that the big-fisted fights will be balanced by personal drama, calling the story an "action mystery."

Oh, and the Trinity of Sin, will play a part in the story, with The Question finally joining Pandora and Phantom Stranger in a feature role. Pandora and her box, as well as how both are used, will be a focal point for the story.

"She's an enigma, completely," Johns said. "In a lot of ways, she's been a pawn for most of her existence. She was tricked into using the box and she's being tricked into doing something now, in a way. The Justice League, that becomes another part of it."
Superman, Batman, Wonder Woman, Green Arrow, Constantine, Zatanna, Shazam, Atom, Element Woman, Frankenstein, and more were all specifically called out in the announcement, implying large roles for each. Shazam has "no allegiance to anybody" while Frankenstein is Lemire's "favorite" and his interactions are specifically "a lot of fun."

In no surprise, things don't come to a clean conclusion. Johns promised "It's not going to end wrapped up in a bow. Something really, really major happens that kicks off some pretty crazy stuff at the end of August."

Thoughts on Trinity War?






The M Word. In last week's Uncanny Avengers #5, by writer Rick Remender and artists Olivier Coipel, Mark Morales, Laura Martin, and Larry Molinar, team leader Havok addresses the public at a press conference. In his speech, he contrasts his views with those of his brother, Uncanny X-Men leader Cyclops, and calls the word "mutant" divisive, and "the 'm' word." "We are defined by our choices, not the makeup of our genes," the character also known as Alex Summers said.

Turns out a simple page created a large amount of controversy and debate across message boards and Twitter, with the interpretation among some readers that the belief championed by Alex Summers was a denial of minority identity and thus assimilation, not integration; one made worse given that it was delivered by a mutant who happens to appear completely human with blond hair and blue eyes.

Andrew Wheeler wrote a column for ComicsAlliance and while acknowledging that Remender "clearly meant to say something positive," wrote, "That's not good policy for any minority group, even a fictional one that exists as metaphor. It's not a position that any credible spokesman for a minority group would advance."

It gets better. The situation escalated when Remender, in a Tweet that has since been deleted, wrote that, "If Havok's position in UA #5 really upsets you, it's time to drown yourself [in] hobo piss. Seriously, do it. It's the only solution." The writer says he wasn't aware or the larger debate at the time he made the commment, and has since apologized on his personal website.

What do you think? Did he make a mistake with the "M-word" speech? Are people making too much of a comic book? Are comics even viable forums for debate and discussion?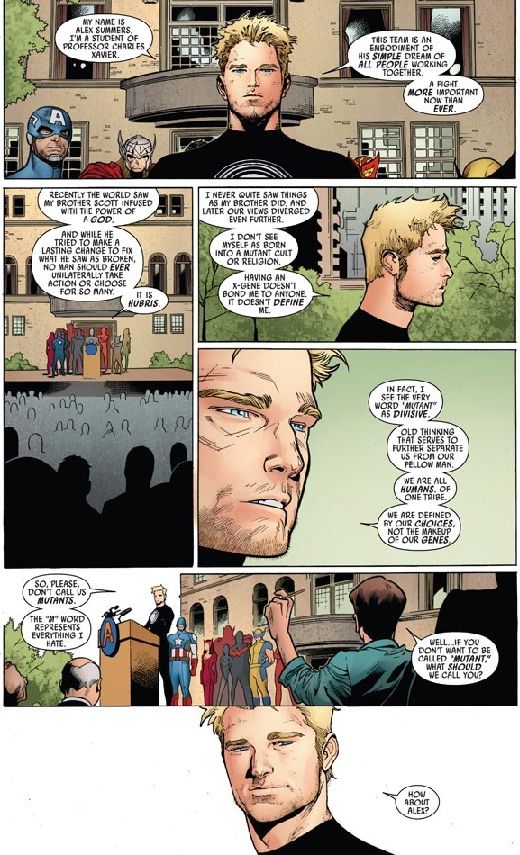 Batman and Red Robin #19. The issue introduces a familiar name to Batman fans to New 52 continuity. But what is role? Will she be the new Robin? Carrie Kelley, the young, female Robin from Frank Miller's 1986 graphic novel The Dark Knight Returns, is joining DC Comics' official New 52 canon.

In a story on the NY Post website, the gatefold cover to Batman and Red Robin #19 was revealed, and it shows the surprising face of Carrie Kelley, complete in her Robin costume.

The question on everyone's mind: "But will she be the new Robin?"

DC and writer Peter J. Tomasi aren't spilling the beans. After the death of the most recent Robin, Damian Wayne, in the pages of Batman, Incorporated #8, the series known as Batman and Robin, starting Wednesday April 10, 2013's issue #19, goes on a cycle of re-naming, teaming Batman with various partners starting with Red Robin and including former sidekick Nightwing and Catwoman.

According to NYPost.com's interview with Tomasi, her personality will remain solidly tied to her appearance in TDKR, though she'll be a bit older. "She's a college kid who's got spunk and speaks her mind," said Tomasi. "This is not an alternate-earth Robin, this is simply a girl named Carrie Kelley, who we learn knew Damian, which in turn weaves her into the fabric of the DC Universe for the first time in 25 years."

Does Batman need Robin? Is it too soon after Damian's death to throw another sidekick in the mix? Thoughts on Carrie Kelly?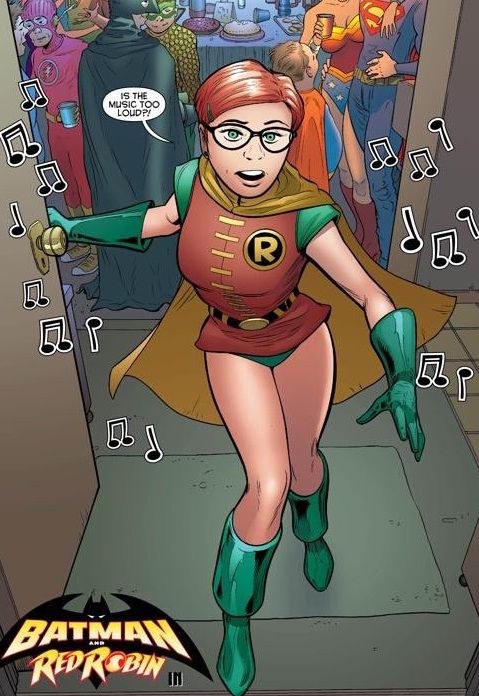 REVIEWS!

Do YOU want to be a reviewer for COMICS 411? Send me an email at stevethegoose@gmail.com to find out how! This week I welcome 2 new members to the bullpen! Welcome Jonathan Foye and RobF!

Superior Spider-Man Issue 7 Review
By Jonathan Foye

Marvel has been building up the tension between the Doctor Octopus-possessed 'Spider-Man' and the Avengers for months now, with references in The Avengers and in the Superior Spider-Man's own book. In Superior issue 7 the inevitable confrontation is set up. The result is one of the most satisfying issues to date.

PerhapsSuperior Spider-Man's main draw card is the tension surrounding how Doc Ock keeps the ruse up; Peter Parker's family, friends, and even enemies realise that he has not been himself lately. With Spider-Man's brutality reaching new heights, including him killing serial murderer Massacre, the Avengers decide it's time they bring him in.

It's this main plot point that is the most thrilling part this installment, as the hope that the Avengers will reveal the truth acts as the main thrust of the narrative. Along with the 'ghost' of Peter Parker, we find ourselves hoping that the truth is revealed, and excited to see how this finally unfolds.

Humberto Ramos' artwork is gorgeous as per usual, with the action scenes standing out in particular. As I read this issue using the Comixology app on my wife's iPad, zooming in on the panels revealed just how good Ramos' work is, even when viewed up close.

Perhaps the main drawback this month is the pacing, as another storyline between the Superior Spider-Man and the vigilante Cardiac takes more pages than necessary. Basically, Cardiac attempts to steal one of Doc Ock's old prototypes from a police evidence facility, in order to put it to use in a makeshift hospital he supports. Although seeing Spidey attack a hero who saves lives with stolen equipment is gut wrenching, this may have been more effective as a shorter confrontation.

With rumours floating that Marvel intend to return Peter Parker to the fold soon (and with him, Amazing Spider-Man), the House of Ideas would do well to allow this title to run its course over the next few months, rather than wrap things up too early. In issue 7, Slot et aldemonstrate that they are starting to find the right balance between the action and drama, and that they are becoming more adept at milking the main premise. With better pacing, this title would, indeed, be superior.

Verdict: 7.5 out of 10




Indestructible Hulk Issue 6 Review
By RobF

I'll be honest I am not a regular Hulk reader. I haven't picked up an issue since World War Hulk.

"Hulk Smash" has been done to death.

The 2 things that drew me to this issue are:

The potential Hulk vs Thor battle

The Legendary Walt Simonson artwork! If you have never checked out Simonson's Thor issues you now have some homework from me.

And this issue does not disappoint!. The art is so detailed words are not even needed. His angular style is perfectly suited for characters like Hulk and Thor.

Mark Waid's story is an interesting one. It starts with Shield using a small piece of Mjolnir to try and find Eiderdurm, a possible new fuel source. It opens a portal that leads them to Jotunheim, the home of the Frost Giants. The use of Uru attracts Thor, a young-ish Thor that does not recognize Bruce Banner. He advises the mortals to quickly leave Jotunheim, but his warning comes too late as the Frost Giants attack. Thor is knocked out of battle but the Indestructible Hulk is there to pick up the slack. I won't ruin the last few pages but needless to say it will bring a smile to your face.

Hulk Worthy indeed.


PREVIEWS!

What do we have to look forward to? Here's a grab bag of coming attractions! Which one are you most excited for?

G.I. Joe: The Cobra Files #1 A Snake in their midst! Her name is Chameleon and she used to be a COBRA agent. Now she's made her way into the G.I. Joe team, the honest way. But even with the best of intentions, does she have what it takes to fight on the side of the angels? Flint thinks she does, and he's willing to gamble the lives of this teammates on her… Unfortunately, with the Crimson Twin called Tomax pulling the strings, no bet is a sure thing.

I've been a huge fan of the G.I. Joe: Cobra series. Some of the best writing and use of atmosphere in comics. This looks to carry on that tradition and on my "BUY" list.





Grace Randolph's Supurbia #6 Summer in Supurbia continues, only from Grace Randolph and Russell Dauterman! Alexis and Jake grow closer as they investigate the suspicious presence of Hunt Tech, Hector Hunt's company, at the Superhero & Weapons Expo…Paul travels off-world to break the news of his divorce to his ambassador parents…Jeremy struggles with the prospects of life as the single father of a super-powered son… And Gio infiltrates a top-secret weapons deal that will have ramifications for the entire neighborhood!

Find this book and give it a glance! Great artwork and a seriously creative storyline!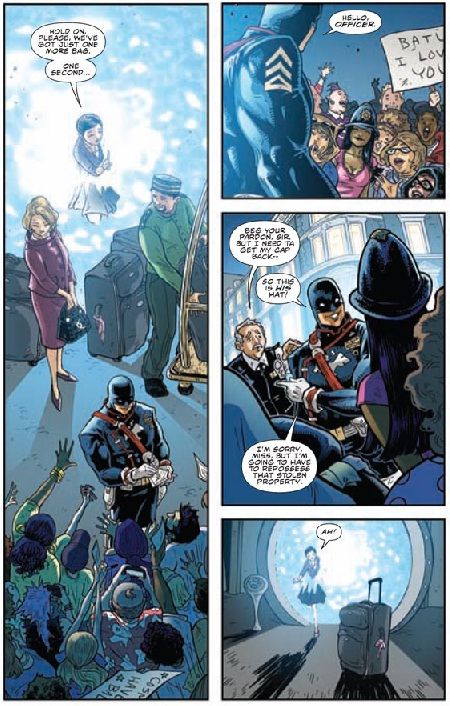 Suicide Squad #19 I don't want to give away too much but the Squad gets a new leader. I've been a fan of this concept since the start and really like what they're doing with it in the new 52.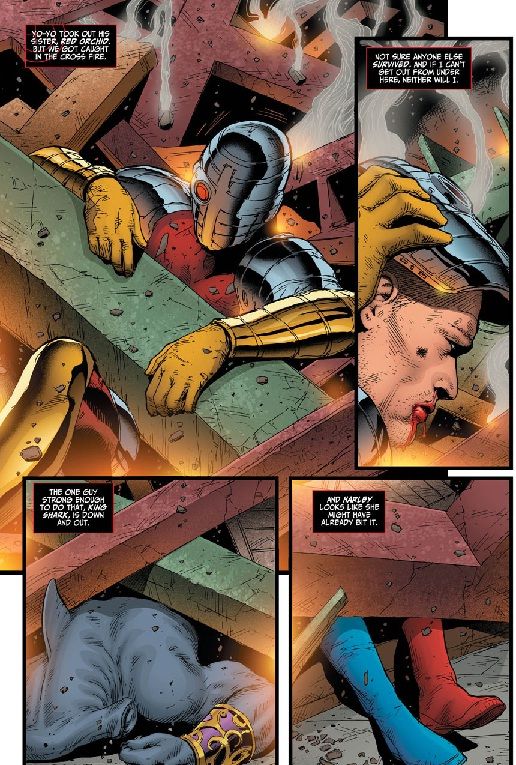 SPOTLIGHT

Want to try something new without breaking the bank? $1 editions of six Image Comics first issues has you covered! Image Comics has announced the release of six new "Image Firsts" editions, printings of popular series' first issues that only cost $1.00, to land in stores on May 1, just in time to coincide with Free Comic Book Day. The six new titles are BEDLAM #1 by Nick Spencer and Riley Rossmo, GREAT PACIFIC by Joe Harris and Martín Morazzo, MIND THE GAP #1 by Jim McCann and Rodin Esquejo, MORNING GLORIES by Nick Spencer and Joe Eisma, PETER PANZERFAUST #1 by Kurtis J. Wiebe and Tyler Jenkins, and SUPER DINOSAUR #1 by Robert Kirkman and Jason Howard.

To help wet your whistle, here's a little snippet about each:

BEDLAM, first published in October 2012, is a horror thriller about a former mass-murderer who is rehabilitated and puts his mind, formerly committed to atrocious acts of violence, to protecting the city he once terrorized.

In GREAT PACIFIC, which first hit shelves in November 2012, a wealthy young Texan takes on an unlikely frontier — a floating island of garbage in the middle of the Pacific Ocean. Claiming it for himself as New Texas, Chas Worthington finds out that taking land is a very different thing from keeping it.

MIND THE GAP is a supernatural mystery that debuted in May 2012, following the ensuing events after Elle Peterssen, a beautiful and rich young woman, is attacked in the subway and left for dead. While her body lies comatose, Elle's mind can observe what goes on around her. She alone holds the key to her attack, but she can't even remember who she was.

MORNING GLORIES, set in the elite boarding school Morning Glories Academy, has been a cult favorite since 2010. A complex and ever-unfolding mystery, MORNING GLORIES pits over-achieving teenagers against a baffling and dangerous curriculum — and against each other.

PETER PANZERFAUST, a re-imagining of the classic Peter Pan tale set in World War II France, has been steadily gaining popularity since its first issue landed in stores in February 2012.

SUPER DINOSAUR is an all-ages adventure story written by the creator of The Walking Dead. Young Derek Dynamo and his best friend, who happens to be a Tyrannosaurus Rex with super-cool robotic enhancements, take on Earth's — and Inner-Earth's — baddest baddies.

Only $1!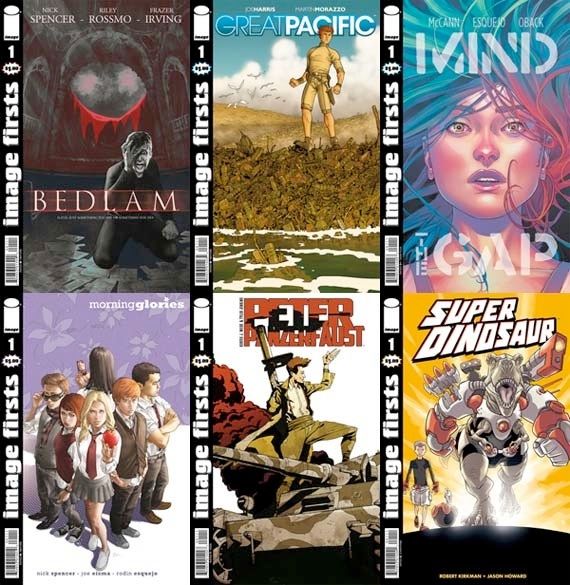 WEBCOMIC of the WEEK!

Do you have a web comic that you want me to push? Send it my way or mention it in the comments so I can take a look and share!

Jeremy Thomas almost ruined my week. Yes, 411mania's own Mr. Thomas had good intentions when he sent me a list of webcomics that I should check out. I'm sure he had no idea that I would spend many, many hours reading every suggestion and getting hooked on each. Nevermind I had things to do and places to go.

Regardless, one of the first webcomics I checked out was Questionable Content. Since 2003 this "slice of life" webcomic has been written and drawn by Jeph Jacques. The plot revolves around Marten Reed, an indie rock aficionado; his roommate, Faye Whitaker; and Faye's boss, Dora Bianchi. Plus a cast of supporting characters that include employees of the local coffee shop, neighbors, and anthropomorphized personal computers. The storytelling style combines romantic melodrama, sitcom, humor about indie rock music, and sexual humor while considering questions of relationships, futurism, artificial intelligence, sexuality, and dealing with emotional trauma.

For more, head over to Questionable Content!





Before I say GOODBYE!
Follow me on Twitter for random bits, news RT's, and updates! Only at http://www.twitter.com/stevethegoose!

My Hollywood gossip (and anything else!) Hollywood 5 & 1!

My friend, Leola Bell is up for Playmate of the Year. Leola is an awesome person and she gets my endorsement. Click on the LINK and vote daily! Thanks!

I just interviewed Playboy's Miss April Jaslyn Ome! A really beautiful Playmate who talks about how her life has changed, her love of sharks, and what catches her interest on TV!

I also caught up with the lovely Heidi Bivens! Heidi is one of the best costume designers in Hollywood and we talked about her latest movie, Spring Breakers!

Are you a fan of 411mania on Facebook? Keep up-to-date on news and contests!

Are you following 411mania on Twitter?
http://www.twitter.com/411mania
http://www.twitter.com/411wrestling
http://www.twitter.com/411moviestv
http://www.twitter.com/411music
http://www.twitter.com/411games
http://www.twitter.com/411mma

If you have some down time and are looking for a great place for great fun, check out Tiger Flash Games!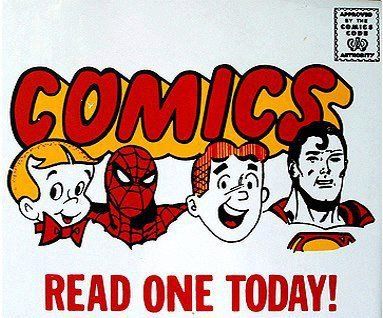 That's all the time I have. See you next week!


comments powered by