SPOTLIGHTS
The Hollywood 5 & 1: 04.20.13: Liz Hurley VS Kelly Brook Edition!
Posted by Steve Gustafson on 04.20.2013

Elizabeth Hurley takes on Kelly Brook in Vs, new rumors on the director for Justice League, Kim Kardashian and Kris Humphries' divorce drama finally ends, Joss Whedon talks The Avengers 2, and more!








































A WORD FROM STEVE...
Welcome back! How was your week? Have you taken a second to vote for Leola Bell? As you may or may not have heard, voting for Playmate of the Year has started. Leola has been a friend of mine and a friend to 411mania.com and she gets endorsement. Click on the LINK and vote daily! If you want to check out my interview with Miss February 2012, Leola Bell, be my guest! Thanks!

I just interviewed Playboy's Miss April Jaslyn Ome! A really beautiful Playmate who talks about how her life has changed, her love of sharks, and what catches her interest on TV! I also caught up with the lovely Heidi Bivens! Heidi is one of the best costume designers in Hollywood and we talked about her latest movie, Spring Breakers! WEEK TWO of Comics 411 this week! A MUST-READ for any comic book fan! I also do a personal blog where I write about random stuff. The latest? RIGHT HERE !


Alright, who's greeting us this week? It's none other than...Elisha Cuthbert! Elisha Ann Cuthbert is a film and television actress who...What's that? You've heard of her? Just kidding. I came across this photo of Elisha and it got me thinking, "Why haven't I used her more in VS?" Here's the photo and expect to see her again. Soon.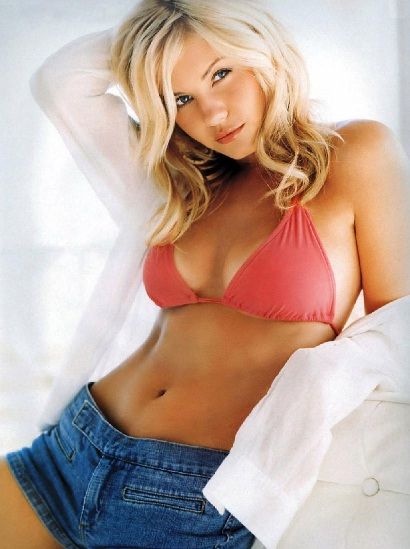 Last week we had two beautiful ladies take the center stage. Elle Liberachi took on Christina Hendricks and it wasn't close! Our results:

Christina Hendricks 63.62%
Elle Liberachi 36.38%

While no one doubted the hottness of Elle, Hendricks would not be denied. Anyone else think she should be doing more pictorials?

This week we have two participants who are both being tossed around casting for the Weird Science remake. Haven't heard about it? Universal and Joel Silver are looking to remake 1985's Weird Science. Writer/Director John Hughes' original starred Anthony Michael Hall, Bill Paxton, Ian Mitchell-Smith, Robert Downey Jr, and Kelly LeBrock in a Frankenstein-like fantasy about two nerds who construct a perfect hot woman for themselves.

Sounds like something that goes on in Beverly Hills everyday.

Anyways, the rumor mill is already turning with such names as Gemma Arterton, Kelly Brook, Lucy Pinder, Rebecca Hall, Liz Hurley, and Kate Upton being thrown around as the "hot woman". Let's just grab two names of that list and let them go at it...



Liz Hurley VS Kelly Brook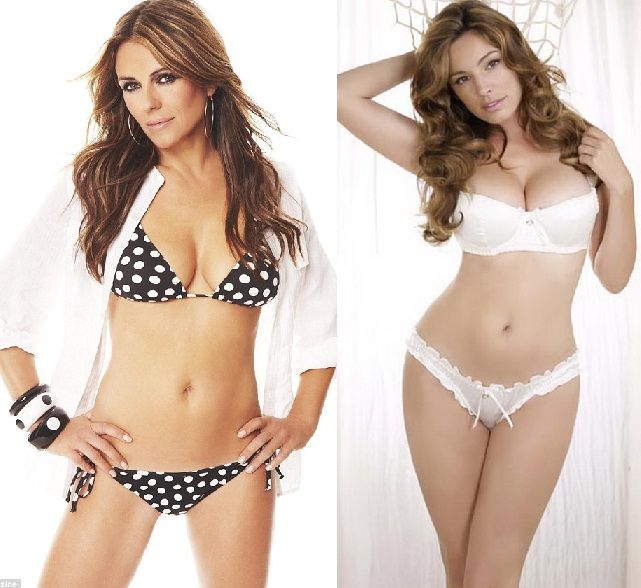 VOTE!




PIC OF THE WEEK!
Allure magazine has the right idea! Naya Rivera is proof! The actress was part of the group of celebs featured in the newest edition of Allure magazine's annual "Look Better Naked", in which she appears completely nude, but carefully covering her breasts with her arm and crossing her legs. "I'm excited to see it—and it's going to be available to the world," Rivera says about the shoot.

Naya has become a sex symbol for many, through her character Santana, a lesbian cheerleader in the musical comedy television show Glee, confesses she really enjoys being portrayed that way. "It's kind of cool—and it makes me feel like a badass. I get more girls than my boyfriend. They always tweet me about my booty," she says.

Rivera, 26, also admits she hasn't always felt as confident about her physique, and went through a very though phase when she was younger and working as a waitress in Hooters. "I have nightmares about that job period. When I was working there, I was really skinny—a lot skinnier than I am now. But I was always self-conscious," she said.

Good to see she's overcome that. Jennifer Morrison, Clare Bowen, and Christa Miller are also part of the Allure special issue hitting stands on April 22nd.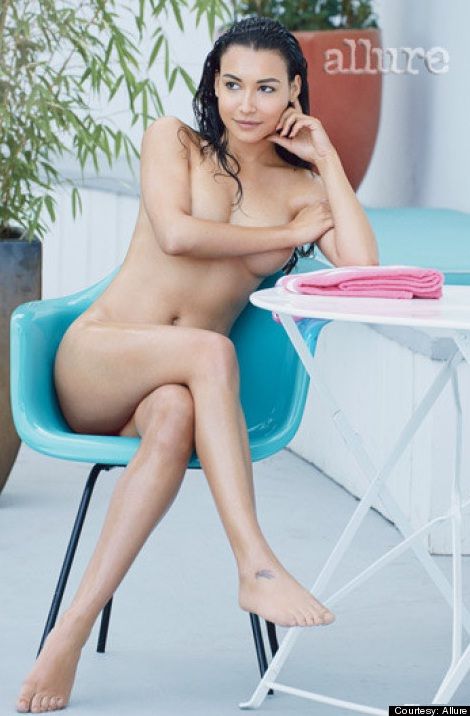 WHAT THE HELL?
This lit across the interweb like nothing else! Patton Oswalt's Star Wars filibuster ad lib for an episode of Parks and Recreation has garnered accolades and cheering from geeks all over the world. So much so that Entertainment Weekly created a poster for it.

Maybe someone should hire him since they have A LOT of movies to do! Walt Disney Pictures and Lucasfilm announced at CinemaCon in Las Vegas that Star Wars: Episode VII will hit theaters in 2015. They also announced that every summer after that will offer a Star Wars film, alternating with one of the standalone films.

Check out the video and feast your eyes on the poster. Would you see the movie he describes?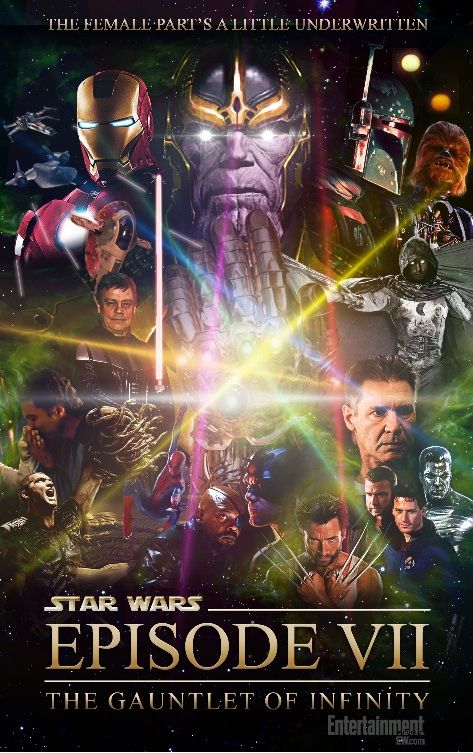 TWITTER-A-GO-GO!
Make sure you're following all the comings and goings around 411mania on Twitter! Follow me for some witty tweets from time-to-time as well. Dana White, Jesse Jane, and Larry Csonka follow me. What are you waiting for?



http://www.twitter.com/stevethegoose
http://www.twitter.com/411mania
http://www.twitter.com/411wrestling
http://www.twitter.com/411moviestv
http://www.twitter.com/411music
http://www.twitter.com/411games
http://www.twitter.com/411mma









Justice League Rumors!
Another week, another Justice League movie rumor. AMC Movie Talk host John Campea revealed that he has souces telling him that David Goyer, best known for writing Man of Steel and co-writing Batman Begins as well as developing the stories for the Dark Knight trilogy, could be writing and/or directing DC's superhero team-up movie. Campae posted on Twitter:

take this for what it's worth, but a little bird just told me WB is moving on #JusticeLeague w Goyer possibly directing

Re #justiceleague 2 industry guys emailed in last 5 mins. 1 heard same from same source, 1 says Goyer is on but writing only.

But for heaven's sake, take it as a rumor. I'm just conveying what I was told. This isn't a 'scoop'.

Is this a case of taking an educated guess or is he on to something? Goyer made WB very happy with his involvement with Man of Steel but he doesn't have the directing resume you'd want to just hand off helming duties to a mega-franchise to.
Thoughts?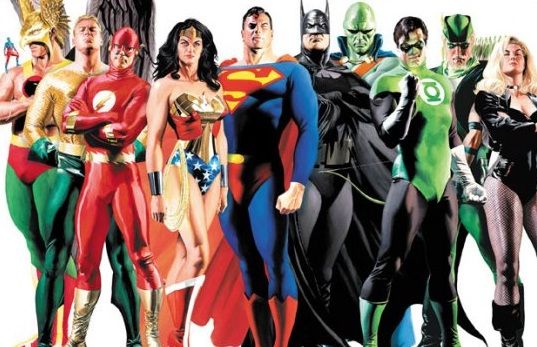 Is there any hope for a GOOD Justice League movie?




Joss Speaks!
In an interview with Entertainment Tonight, writer/director Joss Whedon revealed that he had an idea ready for the Avengers 2 BEFORE he was even finished planning out the first film. He also talked about Agents of S.H.I.E.L.D. and Dr. Horrible 2.





Busy man.




Casting for Transformers 4!
This is...inspiring news. Paramount Pictures will cast its Chinese actors in Transformers 4 through a reality TV show, according to The Hollywood Reporter. They announced plans earlier this month for the film to be Chinese co-production including Chinese content.

The Chinese Actor Talent Search was launched at a press conference in Beijing, and will be a talent competition television show in which the four winners (two with professional experience and two without) will be given roles in the film. The film is co-produced by Paramount, China Movie Channel and Jiaflix Enterprises. It will be shot partly in China and will be released on June 27, 2014.

The show will begin airing in China this June, with the panel of judges including Sid Ganis (former head of the Academy of Motion Pictures Arts and Sciences and the current chairman of Jiaflix), Lorenzo DiBonaventura (producer), Denise Chamian (casting director) and Megan Colligan (Paramount's marketing and distribution chief). The Chinese backers will be represented by Jia Qi, deputy director of the film's Chinese co-producers China Movie Channel; and Liang Longfei, vice-president of m1905, CMC's portal that contestants (over the age of 18) can register.

Producers say that the four contestants will join "a number of talented Chinese actors and actresses" in the film. The last film, Dark of the Moon earned $165 million in China and is the fourth-highest grossing film in the country behind Avatar, Lost in Thailand, and Journey to the West: Conquering the Demons.

Ganis said the show will "give actors and fans of the Transformers franchise the opportunity to be appearing in a major motion picture, and it will provide the world audience yet another glimpse of the Chinese people, the Chinese culture and China itself."

DiBonaventura added that his team "are looking forward to becoming more and more part of the Chinese audience's experience by bringing the Chinese culture, Chinese traditions and Chinese talent into the movie".

Good idea or bad idea?



At least we know the movie will open big in China.




Oh, Kim! And Kris!
Yes! It is done. But Radar Online reported that Kim Kardashian knew her marriage was over after she returned from her honeymoon to Italy's Amalfi Coast, but decided to continue until after the filming for her reality show was complete. At least this is what Kris Humphries believes. A "source" said that Humphries knew that "Kim felt the marriage was over almost as soon as it began."

The source added: "Kris wanted to begin moving his belongings into her house, and Kim absolutely flipped out. Kim insisted there was no rush to move his stuff from Minnesota. Her actions really took a toll on their marriage."

She didn't even want to go on the honeymoon with him after their wedding in Montecito, California on August 20, 2011. Instead, she wanted to go to New York City to get ready to film the second season of Kourtney & Kim Take New York. While she went, "Kim was distant from Kris and when the duo weren't posing for pictures, she was cold as ice."

The source said: "Kris couldn't figure out what he was dealing with. All Kim could talk about was all of the great press she was getting after the wedding. Kris felt like he was just an accessory in her life."

They were recently ordered by a judge to appear at another settlement conference last Friday, but Humphries didn't show up. Kardashian was on time and answered all the questions asked of her.

Now we can go back to Kim and Kanye West news.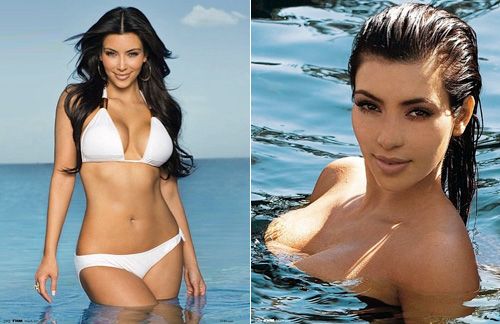 And running PRE-baby Kim pics!




What's the VIDEO BUZZ?
I don't think I'll ever get tired of this trailer. Warner Bros has now released the latest trailer for Zack Snyder's Man of Steel, which will be released in theaters and IMAX on June 14. The film stars Henry Cavill, Amy Adams, Michael Shannon, Kevin Costner, Diane Lane, Laurence Fishburne, Antje Traue, Ayelet Zurer, Christopher Meloni, Russell Crowe, Michael Kelly, Harry Lennix, and Richard Schiff.

Here's a synopsis: In the film, a young boy learns that he has extraordinary powers and is not of this Earth. As a young man, he journeys to discover where he came from and what he was sent here to do. But the hero in him must emerge if he is to save the world from annihilation and become the symbol of hope for all mankind

What do you think?






Before I say GOODBYE!
Do you enjoy the 5 & 1 format? Then check out the other fine 5 & 1 features on the site:
* Jack McGee holds down the fort with his MMA 5 & 1!
* Tony Acero puts the Wrestling world in a headlock with his Wrestling 5 & 1!

Give my blog a glance HERE! And tell a friend!

Make sure you check out my Big Screen Bulletin every single Monday! All the movie news and rumors that you missed over the weekend!

I started a suicide prevention resource site. Give it a look and share! www.youcanendure.com . If you or someone you know is feeling isolated, don't hesitate to call the National Suicide Prevention Hotline 1-800-273-8255.

Finally, if you have some down time and are looking for a great place for great fun, check out Tiger Flash Games!

All pictures courtesy of Maxim Magazine, Complex, Huffington Post, V Magazine, People, FHM, Details magazine, www.cnn.com, and www.imdb.com.

comments powered by