SPOTLIGHTS
Two Tivos To Paradise 04.27.13: Game of Thrones, Glee, Duck Dynasty, Family Tools, and more!
Posted by Al Norton on 04.26.2013

News and thoughts on the cancellation of Futurama, Game of Thrones and Duck Dynasty hitting new ratings highs, Glee getting a two season renewal and more!




Hello friends. I wrote in last Friday's column about what a strange week it had been in Boston but the phrase, "you ain't seen nothin' yet" seemed appropriate as I awoke that morning to find that quite a bit had happened overnight, and by 8am I was told that not only was this going to be a standard Daddy Daycare Friday but we'd have the added twist that we were not supposed to leave our house. Certainly a first, at least outside of a few bouts with extreme weather. The major plus of being home with the twins was that I didn't spend the day sitting in front of the TV obsessing over the news; they are way too young for any of that so we mixed art projects in with some Leapster action and their 28th viewing of Shark Boy and Lava Girl, the only movie they actually sit and watch start to finish.

I really don't have anything to compare the experience to; all I can say is that it was as tense as I've ever been while doing nothing. Just when everyone started wondering, "what happens tomorrow if they don't catch him tonight?" they got him and allowed a lot of folks to get some much needed rest.

Boston continues to be a city in recovery – they've just opened up Boylston Street and for everyone here, the first time visiting that area again is going to be tough. I will say as a lifelong drinker of that dirty water I will be making it a point to take the twins to see the marathon next year. No, not at the finish line, but I've never watched from down their anyway. We'll find a spot on Beacon Street in the mid afternoon and cheer on those folks who do it for the same reason people climb Mount Everest and then I'll drive home listening to them tell me how they want to run in it when they grow up.

This was a big week for interviews; Anthony Jeselnik ran on Tuesday, Brad Garrett on Wednesday, and Chandra Wilson posted on the site yesterday – use the link to all my writing at the bottom of my column to pull up any chats you missed.

We haven't done a giveaway in a while so let's try season two of Louie AND season two of Archer on DVD!!! Go to Al Norton's Two Tivos To Paradise page on FB, click like if you have not already, and then post "I Wanna Win!" on our wall and you'll be entered to win, with standard TTTP rules in effect (one win every six months, one entry per person, must have a US or Canadian mailing address. Good luck!

Here's a look at Under the Dome, premiering this summer on CBS…





Detropia premieres on PBS' Independent Lens on May 27th at 10pm…




You know I like my news a little bit older.

Just A Small Town Girl, Living In A Lonely World, She Took The Midnight Train Goin' Anywhere
After weeks of questions as to why Fox hadn't renewed Glee despite having made decisions on almost all of the rest of their current primetime lineup, the network announced last Friday that they had picked up not one but two new seasons of their musical series, meaning it was now guaranteed to stay on the air through the spring of 2015. This news was followed by much speculation that Oxygen would quickly announce they were doing a new season of their Norty winning reality competition series The Glee Project, a season that had been on hold with no official pick up of the parent show.

I wrote on the TTTP FB page two weeks ago that there was no way Fox would cancel Glee this spring both because it's a steady demo performer and that they would never lose out on the marketing prospects of a "come say goodbye one last time" campaign. Also a factor is that Ryan Murphy is a much in-demand guy in the industry right now so they wouldn't be stupid enough to burn bridges by not giving him time to write a real finale. Of course once word of the two season pick up broke everything made a LOT more sense; negotiating a two year contract takes more time than negotiating a one year deal. And yes, I do assume as of now that the 2014-2015 season, which will be the show's sixth, will also be its last.

That's Great, It's Starts With An Earthquake, Birds And Snakes, An Aeroplane, Lenny Bruce Is Not Afraid
For the second time in the show's history a network has cancelled Futurama, with Comedy Central saying the show's upcoming final fun of episodes, set to premiere in July, will be its last. The show aired on Fox its first few seasons and then lived on in a series of straight-to-DVD adventures, which Comedy Central turned into new seasons of the show before ordering actual new episodes as well. Series creator Matt Groenig has said he will look to find the series a new home but at the same time is very proud of this final batch of episodes and has no problem if this turns out to be the end of the line.

I have never been a big Futurama fan but am always on board when a show's fan base is strong enough to bring it back from the dead, and that's exactly what happened here; similar to Family Guy, the DVD sales proved to Comedy Central that the animated series had a strong core audience that would seek it out wherever it was, so it just became a matter of making the numbers - the $$$ - work.

If I were a fan of the show I wouldn't be upset about losing it so much as I would be proud that because of my passion not only did my show get a second chance but it opened the door ever so slightly for all other prematurely cancelled shows to get a new lease on life. The series finale is currently set to air on September 4th.






Over Thinking, Over Analyzing Separates The Body From The Mind
Danielle Nicolet has been appearing regularly on your TV screens for the past 20 years, starting with a three episode stint on Family Matters when she was 16 and continuing with noteworthy roles on Third Rock from the Sun, Heartland, Second Time Around, The Starter Wife, The Bernie Mac Show, CSI, Undressed, and more. Her latest gig is as a regular cast member of the new ABC comedy Family Tools, which premiers Wednesday at 8:30pm. We caught up with via email this week…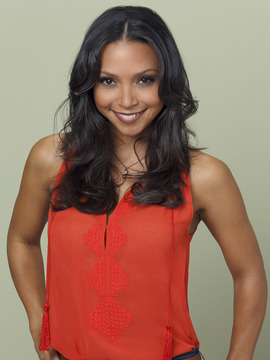 TTTP: What was it about the script that made you want to be a part of Family Tools?

DN: I loved the weirdness of it. Each of the characters is someone that seems normal, but when you get to know them, you find they're deliciously odd. My character is nothing like she looks. In comedy, being a little strange is always the most fun.

TTTP: Is it at all frustrating to do a show and then have to wait so long to get the audience's feedback on it?

DN: YES!!!!!! It's the worst!! It's like having to hold a secret about a surprise party that you're planning for nearly a year! I can't wait to let everyone else in on our fun!

TTTP: You've got to be happy with where ABC is putting you, sandwiched between two established hit shows.

DN: I couldn't be happier. This is the time slot that we all fantasized about, but dared not expect. I feel incredibly fortunate, and I think that it's a perfect fit. The style of Family Tools and the nature of its comedy is a perfect bridge between The Middle and Modern Family.

TTTP: You did a few episodes of Family Matters early in your career; what was it like to experience Urkle-mania in person?

DN: HAHA! Yes, I did. It was quite a ride. Jaleel White was a force of nature back then. I still can't believe how often I'm recognized for that show! I guess there's some serious street cred in being Steve Urkel's first kiss!

TTTP: What type of role are you hoping comes next - what' kind of character haven't you played yet that you'd really like to?

DN: I would LOVE to play someone dangerous. The most fun I have is when I get to play someone that no one would ever expect to come out of little ol' me. Usually, I play girly-girls, but inside I'm a pretty tough cookie.

TTTP: Tell me why folks will want to tune in to Family Tools? Maybe something about the show that might surprise them?

DN: Two words: J.K. Simmons. Okay, maybe that's 2 initials and one word. Either way, that man is crazy funny. Plus, on the first episode you get to see him wearing yoga gear. It would be a shame to miss that. He's got great legs.





Don't miss the premiere of Family Tools, Wednesday at 8:30pm on ABC.


Hangin' Out The Window With The Music Up Loud, Old White Folks Was Like Turn Dat Down
Multiple cable networks announced plans for new series this week, with some of the highlights below…

*Food Court Wars (Food, first season order); two teams of restaurant owner hopefuls do battle with the winner getting their own rent free (for a year) restaurant in a food court.

*Bronson Pinchot Saves America (DIY, first season order); the comedic actor travels the country to save old pieces of art and history from being destroyed.

*The Darryl Hall Project (DIY, first season order); the hall of fame pop/soul singer displays another of his passions, restoring historic homes.

*i>Adam Richmond's Fandemoneum (Travel, first season order); the former Man vs. Food host brings the viewer to all sorts of gatherings that people flock to.

*Total Divas (E!, first season order); a look at the out-of-the-ring lives of the divas of the WWE.

*The Trend (E!, first season order); weekly talk show looking at fashion and beauty.

*The Soup Investigates (E!, in development); Joel McHale leads a team of investigative reporters into some of the biggest mysteries/untold stories of the pop culture world.

It's Time To Play The Music, It's Time To Light The Lights
The Muppet Show video of the week…





But You Were Up To Your Old Tricks In Chapters Four Five And Six
Ratings Notes From The Last Seven Days…

THURSDAY
Community was up, enjoying its best demo outing in six weeks...Parks and Recreation was up as well, with its best demos since February...In as clear a piece of evidence of just how far American Idol has fallen, a Big Bang Theory RERUN topped it in total viewers and demos for the half hour they went head-to-head...Hannibal was down 18% in week three...

FRIDAY
No ratings notes from Friday as all regularly scheduled programming was pre-empted for news coverage of the manhunt in Boston for the Marathon Bomber.

SUNDAY …
The premiere of What Would Ryan Lochte Do? was a ratings disaste for E!, losing 40+% of the lead-in audience provided by an interview special with the Kardashians. The series opener had its audience doubled by a second airing of a Real Housewives of Atlanta episode on Bravo and could quickly be banished to Saturday nights or even pulled without some big improvements. The only good news was that a majority of the tiny total audience was in the key 18-49 demo…For the third time in four weeks Game of Thrones has hit a new series high in total viewers, with 4.9 million watching last Sunday's episode...Mad Men was down 10% from last week and is now down almost 30% from its season premiere…Amazing Race won the night in totals and demos...Fox's recently cancelled Cleveland Show was down 25% in the demos, with American Dad down 14% while Bob's Burgers was up a bit...All-Star Celebrity Apprentice dropped in totals and demos...The Mentalist was up 14% from last week...

MONDAY
The Voice was down a bit from last week's season high but still easily won the night in totals and demos...Castle was up in totals (second highest total of the season) and in the demos, tying Revolution for the 10pm win...Revolution matched its previous two weeks...The Following had a strong night, up double digits in totals and demos, the latter being the best of the night for a scripted series...Bones matched last week...

TUESDAY
Body of Proof is having a decent spring and was up in totals and demos to win 10pm in both measures...The Voice easily won the night in demos while NCIS just as easily topped in total viewers...NCIS: LA won 9pm in totals and demos...Ready for Love, which has already been cancelled and was running last night because NBC didn't have anything else, finished a distant third in totals and demos at 9 and 10pm...

WEDNESDAY
The season finale of Duck Dynasty was watched by 9.6 million viewers – a series high – and was the top demo performer on all of TV for the night, topping even American Idol. The episode was up 41% from last season's finale and set new demo highs for an episode of any original A&E series…Supernatural was up 25% in total viewers and 27% in the demos...Arrow was up in both measures as well...American Idol was down in totals and demos but still easily won the night in both...Law & Order: SVU was up in totals and demos, with the latter numbers being their best since early January...Survivor tied last week's season high...

All The Young Dudes, Carry The News
Industry News, Notes, and Hot Rumors…Guillermo Del Toro is working with writer Steven Thompson (Doctor Who, Sherlock) on adapting Monster, Naoki Urasawa's 18 volume Japanese Manga, into a pilot for HBO. The story follows a Doctor's search throughout the world for a 12 year old boy whose life he saved, a boy who happens to be the most evil sociopath to ever walk the earth. By saving the boy's life the Doctor has opened the door for a mass genocide and he's doing everything he can now to keep that from happening. The plan would be for Thompson to write the pilot, which Del Toro would direct…Outlets are reporting Seth MacFarlane has been invited back to host The Oscars for a second year but that he has not given an answer yet, the issue being more about scheduling than his desire to do the job again..With the full Live + & Day data now in for the full 13 episode fourth season of Justified, the numbers show it was the most watched season ever for the FX drama in total viewers as well as in adults 25-54. This was also the first season of the show that averaged more than 4 million viewers per episode…Jon Hamm will host the 2013 ESPY Awards…David Koechner will star in the A&E comedy pilot Whitney, playing a mid 40's guy who married his high school sweetheart and still lives in his hometown but was recently laid off from his job and is having a hard time adjusting to the way the world has changed. The project is executive produced by Leslie Greif, who was behind the ratings record setting, Emmy/Golden Globe winning mini-series Hatfields & McCoys…D.L. Hughley and Michael Ian Black will host Trust Me, I'm A Game Show Host, a new TBS game show from producer Mark Burnett. Each will try to convince the contestants that the bizarre factoids they are presenting are real, with the winner being the contestant who figures out who is telling the truth and who is lying. Look for the show to premiere later this year…The reviews for Hemlock Grove weren't particularly good but according to Netflix CEO Reed Hastings it hasn't stopped people from watching their new original series, with Hastings boasting the show has been watched by more subscribers in its first few days than the critically acclaimed political series House of Cards was when it premiered in February…USA has ordered 5 additional scripts for the upcoming 8th - and widely believed to be final - season of Psych. The official order was for eight episodes but ratings for the current seventh season have been strong, with last Wednesday jumping 20+% from the previous week, so the network is thinking about expanding the order. Complicating matters a bit is Maggie Lawson's ABC comedy pilot; if the network picks it up (she stars as the daughter of a former MLB star, played by James Caan, who gets divorced and moves with her kids to her Dad's house) she'd only be available for a maximum of five episodes in the new season of Psych…Mario Lopez will return as host of The X Factor this fall but this time it will be a solo gig, with Khloe Kardashian's stint on the show being a one shot deal. In other X Factor news, reports have Kelly Rowland, who did a one-season stint on the British version of the show but was not asked back, joining the US version as a judge/coach this fall…NBC has ordered The Million Second Quiz, a new LIVE reality competition show that lasts roughly 12 days and finds contestants competing in tests of trivia knowledge and stamina. The show will air live in primetime and also be available on NBCUniversal's digital platforms (similar to how they would cover something like the Olympics). The show emanates from a huge hourglass-shaped building that will be built in the middle of Manhattan, with all clear walls in the structure, with the four players who have lasted the longest getting to live in it. Viewers can sync up and play from home, with some being flown to New York to compete. Once the time is up, the four who are left will all face off, with the winner getting up to $10 million (which would be a new record high for a game show prize)…

Turns Out Not Where But Who You're With That Really Matters
AKA The Best Thing I've Watched In The Last Fourteen Days…
We've had a lot of different "people traveling the country eating food" shows over the last few years so it takes something for one to stand out. Maybe it's Crave, where Troy Johnson brought a fun, hip attitude to not only food but to TV talking heads as well, or maybe it's Feed the Beast, where Mikey Roe's quest for late night eats seemed less like a gimmick and more like a fun guy trying to eat well after midnight that had cameras following him around. The latest show to break out from the pack is Travel's Burger Land, whose host and creator George Motz is the living embodiment of the concept of "so uncool he's cool."

If you like food shows that teach you not only about the food itself but the background of the establishments that are serving it, the people that run the businesses, and their place in the history of where they are located, all delivered by a host whose passion for the subject matter is genuine and whose demeanor and delivery is pure natural charm, then run - don't walk - to season pass Burger Land. I usually say that the highest praise for a food show is when you're hungry when it's over but the real highest praise is when you're hungry AND you feel like you know more than you did 30 minutes ago, not just about the food but about the world, and that's the case here in a big way.

Burger Land is easily one of my favorite new shows of any kind of 2014 and if any of what I have written makes it sound even remotely interesting I urge you to check it out.

People Say I'm Crazy Doing What I'm Doing. Well, They Give Me All Kinds Of Warnings To Save Me From Ruin
What's flashed before my eyes the last seven days…A tough week for TV here in Boston with multiple nights of national programming not available because of local news coverage of the marathon bombings and the manhunt that followed…Regular readers know I am not a huge fan of reality competition series, especially when the show doesn't involve cooking in some way, but I will say that regardless of the fact that she was trained as a dancer coming in, Zendaya (from Disney's Shake it Up) is dominating the current season of Dancing with the Stars like I've never seen anyone do on any show in the genre. Despite her age saying otherwise, she is a woman among girls when it comes to both talent and execution and it's really a joy to watch…Finally caught up on Archer; watched the two part season finale yesterday and was reminded that not only is it one of the best comedies on TV, and that Lana is the hottest animated character in the history of TV, but that it's pre-credit sequence openings are without peer…While it was nice of Shakira to pick a battle round winner based on the idea that she knew a fellow coach would "steal" the loser this week on The Voice, I thought the point of the show as to actually win it all, and her choice was not the best step in that direction...In other Voice thoughts, when did it become i>The Apprentice in terms of the "coming up" and "we just saw" moments; the audience does need to constantly be shown what's coming up nor does it need to be reminded what it saw 120 seconds ago, especially when all of that comes at the expense of seeing more actual footage…Psych is on a fantastic role this season, with last week's hour a great showcase for why James Roday really should be a much bigger star than he is. The show still made me laugh quite a bit but never let me forget the sadness Shawn was feeling. There's a lot more emotion that usual going on with the characters, which makes me even more excited for the upcoming two hour MUSICAL EPISODE!!!!...With how good The Jeselnik Offensive's first season was I can't imagine for a second that Comedy Central won't pick up another round of episodes…

TV Pick Of The Week
Warehouse 13 is the new Eureka, a Syfy network show that may seem silly when non-fans keep it at arm's length but a series that true fans know is so much more; 13 has action, laughs, great nods to literature and history, real drama, and a real heart…





Even better, Official Friend of TTTP James Marsters guests in the mid-season premiere, with fellow Buffy alum Anthony Head signing on for multiple episodes as a new Big Bad.

Don't miss the mid-season premiere of Warehouse 13, this Monday at 10pm on Syfy.

Hope You Need My Love, Babe, Just Like I Need You
Here as some other noteworthy viewing options from the next seven days…

*Sunday night finds both The Good Wife (9pm, CBS) and Vikings (10pm, History) bringing their current seasons to a close.

*All My Children and One Life to Live are back with four new 30 minutes a week via Hulu, Hulu Plus, and iTunes as of Monday!!!

*Barney Stinson's bachelor party (HIMYM, Monday, 8pm, CBS) is going to be legen…wait for it…

*The season finales keep coming on Monday when Bones (8pm, Fox) and The Following (9pm, Fox) sign off until the 2013-2014 season.

*The incredibly talented Chloe Sevigny begins a multi-episode run on this week's The Mindy Project (Tuesday, 9:30pm, Fox).

*Very funny standup comedian Amy Schumer gives the whole "get your own TV show" thing a try when Inside Amy Schumer premieres on Comedy Central this Tuesday at 10:30pm…





*The Americans, easily one of the best new dramas to hit television in the last year, wraps up season one this Wednesday at 10pm on FX.

…DARY!

*If you're looking for a reality competition show that's more than a little bit different than the genre standard than think about giving The Big Brain Theory (Wednesday 10pm, Discovery) a try…





*Parks and Recreation – perhaps the best broadcast network comedy of the 2012-2013 season – signs off (for now? For good?!?!?) this Thursday at 9:30pm.

Two Tivos To Paradise
3 Days to Open with Bobby Flay, 24 Hour Restaurant Battle, After the Catch, American Idol, Antiques Roadshow, Archer, Arrow, Around the World in 80 Plates, Auction Hunters, Baby Daddy, The Big C, Boardwalk Empire, Being Human, Betty White's Off Their Rockers, Bones, Breaking Bad, Bunheads, Burn Notice, Burger Land, Cake Boss, Cake Boss: Next Great Baker, Chicago Fire, Chopped, Comic Book Men, Community, Cougar Town, Curb Your Enthusiasm, The Daily Show with Jon Stewart, The Deadliest Catch, Deception, Destination Truth, Fact or Faked, Falling Skies, Family Guy, Feed the Beast, Flipping Out, Food Network Challenge, Food Network Star, The Franchise, Ghost Hunters, Ghost Hunters International, Ghost Lab, Glee, Great Food Truck Race, Grey's Anatomy, Happy Endings, Haunted Collector. Haunted Highways, Haunted Treasure, Hawaii 5-0, Hollywood Treasure, House of Lies, How I Met Your Mother, Inside Comedy with David Steinberg, Iron Chef America, The Jeselnik Offensive, Justified, Key & Peele, The Late Late Show with Craig Ferguson, Late Night with Jimmy Fallon, Law And Order: Special Victims Unit, The League, Longmire, Lost Girl, Louie, Mad Men, Major Crimes, Men at Work, The Middle, Mike and Molly, The Mindy Project, Modern Family, Monster Man, Nashville, Necessary Roughness, New Girl, The New Normal, Next Iron Chef, The Office, Outside the Lines, Parks & Recreation, Project Accessory, Project Runway, PSYCH, Rachael vs. Guy: Celebrity Cook Off, Raising Hope, Real Time With Bill Maher, Restaurant Impossible, Revenge, Revolution, Royal Pains, Rules Of Engagement, Saturday Night Live, Shark Wranglers, So You Think You Can Dance?, Sons of Anarchy, The Soup, Suits, Suburgatory, Supernatural, Top Chef, Top Chef Just Desserts, Top Chef: Masters, Top Design, Tosh.0, The Vampire Diaries, The Voice, The Walking Dead, Warehouse 13, Worst Cooks In America,

People Love You When They Know You're Leaving Soon
Here ends another Two Tivos To Paradise.





We'll be back next week with all the headlines from the last seven days!

Sources for this week's column include Daily Variety, Entertainment Weekly, TV Guide, and Hollywood Reporter (plus the web sites for those publications) as well as Aintit.cool.com, TVline.com & Deadline.com.



comments powered by