SPOTLIGHTS
Alternate Takes 04.27.13 - Top 7 Superman Stories
Posted by Shawn S. Lealos on 04.27.2013

From "Superman: Braniac" and "Red Son" to "The Death of Superman," "What's so Funny about Truth, Justice & the American Way?" and more, 411's Shawn Lealos counts down the top 7 Superman storylines of all time!

Welcome to Week 250 of Alternate Takes, my name is Shawn S. Lealos and you have entered my world.







Man of Steel is coming in eight weeks, so this week I am counting down the Top 7 Superman stories of all time. Then, starting next week, I will focus on each of the stories on this list, one week at a time, as I count them down to the release of the new Superman movie. With that said, here is the list that I will begin breaking down next week.



7. Superman: Brainiac



The next DC Comics animated movie hitting stores is Superman: Unbound, which is based on this comic book story by Geoff Johns. Superman: Brainiac pits Superman against one of his greatest enemies after Brainiac adds Metropolis to his collection of shrunken cities. This is where Superman learns that Brainiac has the bottled city of Kandor, which led to the "New Krypton" story and eventually "War of the Supermen." Whatever your opinion of those two stories that followed this (I liked them both), Superman: Brainiac was a fantastic story, and much darker than most of the character's stories. Between Superman fighting Brainiac, Supergirl finally coming into her own, and a tragic death at the end, this story remains one of the best Superman stories in the past several years.




6. What's so Funny about Truth, Justice & the American Way?



Those who have seen Superman vs. The Elite animated movie know this story. The story was a response to the comic book series The Authority, which looked at the responsibilities of superheroes when it comes to evil dictators. In the story, a new superhero group called The Elite forms and reaches popularity by viciously killing their enemies. Superman, the one beacon of honor in this story, disagrees with their actions and has to not only stop these murderous heroes but also convince the public that killing villains is not the way a hero should act.




5. The Death of Superman



A lot of people will list this as their No. 1 story, but I don't consider it better than this spot. The story remains iconic because it showed how Superman would give up his own life to save the world. The death of Superman, while it didn't last, was something that shocked the comic book world and helped the business take off again. Sure, deaths mean little anymore in comics, but the fact that Superman can die is what changed things.




4. Red Son



This is an Elseworlds story that looks at what would happen if Superman's spacecraft landed in Soviet Russia instead of America. The story takes some interesting turns, and almost paints Russia as the good guys with America as the misguided evil that fights out of simple fear. What makes this story so interesting is that it takes Superman, puts him in the polar opposite political climate and shows that he remains the greatest hero of all time, and will always do what is right.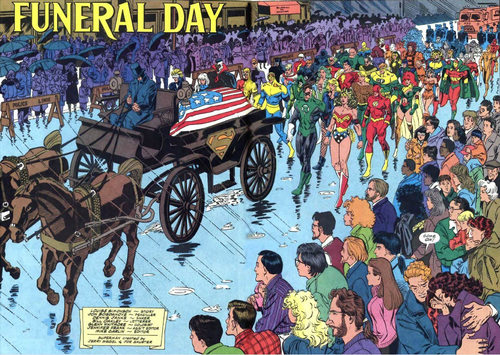 3. Funeral for a Friend



Sure, a lot of people like Death of Superman, but I prefer the follow up story, Funeral for a Friend. Sitting in between the Death of Superman and the Reign of the Supermen, this story is the one that really shows how important Superman was to the world. The trade paperback was renamed World Without a Superman and was one of the most touching comic book storylines I have ever read.




2. All Star Superman



This is another alternate worlds Superman story and asks what would happen if Superman learned that he was dying. Wrote by Grant Morrison, this story was a 12-issue series and actually featured Lex Luthor winning as he is directly responsible for the cancer that is killing the Man of Steel. It is almost a perfect end for Superman, much better than that in Death of Superman, because while that story showed Superman fighting to the death, this one showed him sacrificing his life to save the entire world. He even saves Lex Luthor by the end.




1. Whatever Happened to the Man of Tomorrow



Finally, the number one Superman story, in my eyes, is Whatever Happened to the Man of Tomorrow, written by Alan Moore. Once again, this is another alternate worlds story (strange how his best stories take place outside of continuity) and was published before John Byrne rebooted Superman in The Man of Steel. What this ended up being was Alan Moore writing the "final" Superman story before the reboot after Crisis on infinite Earths, concluding the story of that character. This is the ultimate final battle between Superman and his greatest enemies, includes some tragic deaths and then ends with Superman doing the one thing he swore he would never do. It is almost a perfect end to the story of Superman.

Come back next week as I start looking at these stories in detail, one each week, until Man of Steel hits theaters.





It's time for the Final Four…



Thor





Doctor Strange


Superman





Hulk
2013
May 3 - Iron Man 3
May 17 - Star Trek: Into Darkness
June 14 - The Man of Steel
June 21 - World War Z
July 3 - The Lone Ranger
July 12 - Pacific Rim
July 19 - R.I.P.D.
July 19 - Red 2
July 26 - The Wolverine
August 2 - 300: Rise of an Empire
August 6 - Percy Jackson: Sea of Monsters
August 16 - Kick-Ass 2
August 23 - The World's End
August 23 - The Mortal Instruments: City of Bones
September 6 - Riddick
September 13 - Machete Kills
October 4 - Sin City: A Dame to Kill For
October 11 - Oldboy
November 1 - Ender's Game
November 8 - Thor 2: The Dark World
November 22 - The Hunger Games: Catching Fire
December 13 - The Hobbit: The Desolation of Smaug
2014
January 24 - I, Frankenstein
April 4 - Captain America: The Winter Soldier
May 2 - The Amazing Spider-Man 2
July 18 - X-Men: Days of Future Past
August 1 - Guardians of the Galaxy
2015
March 6 - Fantastic Four
May 1 - The Avengers 2
November 6 - Ant-Man
comments powered by