SPOTLIGHTS
Alternate Takes 05.25.13: Top 5 Comic Book Deaths
Posted by Shawn S. Lealos on 05.25.2013

From Captain America and Jean Grey to Superman and more, 411's Shawn Lealos counts down the top 5 comic books deaths of all time!

Welcome to Week 253 of Alternate Takes, my name is Shawn S. Lealos and you have entered my world.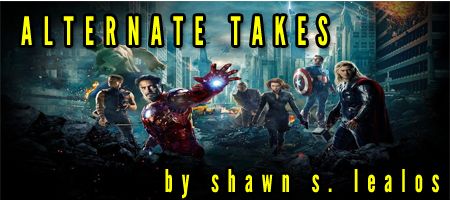 I am at Comicpalooza this weekend in Houston, Texas, running the Stephen King short dollar baby film festival. Next week I will be picking up with my Superman series and talking about the full Death of Superman, Funeral for a Friend and Return of Superman storylines. Until then, here is a look at what I consider the Top 5 deaths in comic book history leading to the Death of Superman discussion next week.

5. Jason Todd

Death: Batman #428 (1994)
Resurrection: Batman Annual #25 (2006)

Cause of Death: Beaten by The Joker and left to die in an explosion.

For simplicity sake, let's just talk about the Post-Crisis history of Jason Todd. He was a street kid who got caught trying to steal the tires off the bat mobile. Bruce Wayne made sure Jason was entered in a school for troubled youth. After six months of rigorous training, Todd became the new Robin. Todd was full of rage, impulsive and reckless. Todd also believed lethal force can be necessary despite Batman's refusal to kill.

Fans hated Jason Todd. When DC realized the fans feelings they found a money making opportunity. They set up a 1-900 hotline and for $1 a call, the fans were allowed to choose whether Jason Todd lived or died. Jason and his mother had been taken hostage by The Joker, Jason beaten to a pulp and the two of them left in a warehouse. Over 10,000 votes were cast and, by a narrow margin, the fans voted to kill Jason. His character died in an explosion and Batman grew into an even darker character. Jason's death became as important an event in Batman's mythology as his own parents.

It has come to public knowledge recently that the voting to kill Jason was skewed. It has been mentioned that hundreds of votes were made by a single man who programmed his computer to call the number once every 90 seconds. Jason's return makes more sense than most resurrected individuals. Thanks to Superboy-Prime warping of the various Earths and altering reality during Infinite Crisis, Jason Todd returned as the Red Hood.

4. Sue Dibney

Death: Identity Crisis #1 (2004)
Resurrection: Remained Dead

Cause of Death: Murdered by Jean Loring, wife of The Atom.

Sue Dibney was the wife of the Justice League's Elongated Man, Ralph Dibney. Ralph admitted he knew she was the perfect woman for him when she gave him attention over The Flash the first time they met. She worked at times for the Justice League as an administrator and was like a member of the family to the group of superheroes. The husband and wife team eventually became detectives working together in Opal City.

Her death is arguably the greatest storyline DC has ever produced. Identity Crisis started with the greatest tragedy I have ever read in a comic book. Sue Dibney was busy preparing her husband's birthday party when she was attacked by a mystery assailant. By the time Ralph made it home, Sue was dead and the birthday present was revealed as a positive pregnancy test. The story revealed that the killer was Jean Loring, the ex-wife of The Atom. She only planned to hurt Sue and make it look like all the wives of the Justice Leaguers were in danger to win her husband back.

Sue's death shook the DC Universe to the core. It proved no one was safe, as both Sue and Tim Drake (Robin)'s father was killed. The most devastating result occurred in the pages of 52 where the once lively Ralph Dibney had become suicidal and mentally unstable due to depression. By the end of the series, Ralph had sacrificed his own life to return to Sue's side as ghostly beings. It is a tragic end to an amazing storyline.

3. Captain America

Death: Captain America V. 5 #25 (2007)
Resurrection: Captain America Reborn (2009)

Cause of Death: Assassinated by a brainwashed Sharon Carter.

I wrote two weeks ago my feelings about the Civil War storyline. I talked about the hatred I started to feel towards Tony Stark and Iron Man due to his involvement in the story. For those who might be reading the new Avengers Prime, you have seen Steve Rogers has turned it all back around now that he is leading S.H.I.E.L.D. I find it very funny.

Steve Rogers fought in World War II, a super soldier created by the U.S. Government to battle Nazis and the evil Red Skull. He was lost during the war and remained displaced until the Avengers found him frozen in suspended animation. He joined the Avengers and fought alongside them for Truth, Justice and the American Way.

When the U.S. Government decided to force all super powered individuals to register their secret identities with the government and work for them, Captain America stood up for the civil rights of the renegade heroes. Iron Man took the side of the government and Steve Rogers became a wanted man when he refused to assist in hunting down renegade heroes. By the end of the war, Rogers realized fighting was not going to win the war and surrendered. While he was in custody, he was assassinated.

However, he wasn't really dead. In a ridiculous storyline, he was "locked into a fixed point in space and time." His mind flowed through time, reliving various moments of his life. When he encountered The Vision, he sent a recorded message to the present day for Reed Richards to help him. When he returned, Rogers was possessed by The Red Skull, who was responsible for the assassination to begin with. The new Captain America, Bucky Barnes, fought to successfully free Steve from the Red Skull's control. Steve later took a high ranking position in S.H.I.E.L.D. and remains there today.

The resurrection is ridiculous but the death was stunning and an amazing conclusion to the Civil War storyline.

2. Jean Grey

Death: Uncanny X-Men #137 (1980)
Resurrection: Fantastic Four #286 (1986)

Cause of Death: Commits suicide to prevent the Dark Phoenix from destroying the world.

Jean Grey is one of Professor Xavier's first students. She is a mutant with telekinetic powers. After years of working as a telekinetic, Professor X revealed she is also a powerful telepath. Jean and the new X-Men were kidnapped and taken aboard a space station. The X-Men defeated their captors and prepared to return to Earth. The problem was the cockpit was not adequate to protect pilots from radiation. Jean agreed to fly the craft home and after the spacecraft crashed to Earth, Jean Grey rose from the water with a new powers and The Phoenix was born.

The Phoenix Force attached itself to Jean to save her, believing her to be a kindred spirit. In reality, Jean's body remained at the bottom of the bay and the Phoenix Force took over her life. She worked alongside the X-Men until being corrupted by the Hellfire Club. When Scott fell to Mastermind in a psychic duel, Jean's control over the Phoenix collapsed and The Dark Phoenix left Earth. The being travelled to another galaxy and devoured a sun, killing billions of people. The Shi'ar announced Jean Grey must die to pay for her crimes and the X-Men could not save her when they fell to the Imperial Guard. They learned if the Dark Phoenix could not be controlled, the Shi'ar would destroy the entire solar system to eliminate it (** That makes no sense to me because that would make them as guilty as the Dark Phoenix was by killing innocent people as well **). Jean Grey took over brief control of the Phoenix and took her own life to save the world.

As I said earlier, Jean Grey was still in the bay and stayed there for six years (real time) until The Avengers found her body pod. She returned with no telepathic powers but greater telekinetic powers. Her return was a great time in comics as the original X-Men reformed as X-Factor but her death was so great, not even a resurrection could diminish what the "Death of Phoenix" storyline accomplished. For a long time, it was the Holy Grail of character deaths.

1. Superman

Death: Superman #75 (1993)
Resurrection: Adventures of Superman #504 (1993)

Cause of Death: Beaten to death by Doomsday.

The Death of Superman.

There has never been a greater, more popular, storyline in the history of comic books. Even if you never read comics, you knew about this story and it is credited with bringing millions of new readers to DC Comics. There were many deaths over the years in comics, many I pointed out here, but none have been of a character as great and important as Superman. If he could die, anyone could. While it might be seen as a publicity stunt, the story was a heart-wrenching and well written goodbye to an old friend.

The death led to Funeral for a Friend, another touching story where friends of Superman gathered for his goodbye. Following this, Superman comics were halted for three months. As someone who didn't know anything about spoilers or upcoming storylines, it was a blow and made it really feel like Superman was gone.

Four new heroes eventually replaced Superman, all claiming to be the real Superman. The two most popular were Steel and Conner (Superboy). One of the new Supermen put Superman's body in a regeneration matrix and when it eventually opened, the real Superman emerged, slightly depowered but alive. The Cyborg Superman helped destroy The Green Lantern's hometown of Coast City and during the battle there, Superman regained his powers. His death and resurrection all came in under one year but this is about the story.

Superman's death was the greatest comic book death I have ever read. Nothing else is close.


2013
June 14 - The Man of Steel
June 21 - World War Z
July 3 - The Lone Ranger
July 12 - Pacific Rim
July 19 - R.I.P.D.
July 19 - Red 2
July 26 - The Wolverine
August 2 - 300: Rise of an Empire
August 6 - Percy Jackson: Sea of Monsters
August 16 - Kick-Ass 2
August 23 - The World's End
August 23 - The Mortal Instruments: City of Bones
September 6 - Riddick
September 13 - Machete Kills
October 4 - Sin City: A Dame to Kill For
October 11 - Oldboy
November 1 - Ender's Game
November 8 - Thor 2: The Dark World
November 22 - The Hunger Games: Catching Fire
December 13 - The Hobbit: The Desolation of Smaug
2014
January 24 - I, Frankenstein
April 4 - Captain America: The Winter Soldier
May 2 - The Amazing Spider-Man 2
July 18 - X-Men: Days of Future Past
August 1 - Guardians of the Galaxy
2015
March 6 - Fantastic Four
May 1 - The Avengers 2
November 6 - Ant-Man
comments powered by