SPOTLIGHTS
Movies/TV's 3Rís 07.09.13: Deadpool, Hellboy, Sharknado, Metallica, More
Posted by John Dotson on 07.09.2013

From delays on a Deadpool film and Hellboy 3 struggles to the Breaking Bad spin-off, Man of Steel prequel and more, 411's John Dotson breaks down the Right, wRong, and Ridiculous from the week in Movies/TV!


Welcome to Week 209 of The 3 R's for the Movie/TV world.

Make sure to click the Facebook "Like", Tweet button, and Google +1 links over there to the right of the article! Support 411mania, your home for the best in pop culture entertainment news.





Greetings 411Maniacs! I am John "D-Rock" Dotson and welcome back to another week of the 3R's!

Without any further ado, here is...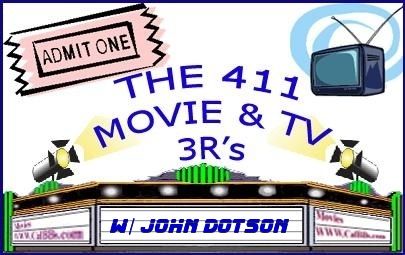 Metallica Making An Appearance at San Diego Comic-Con: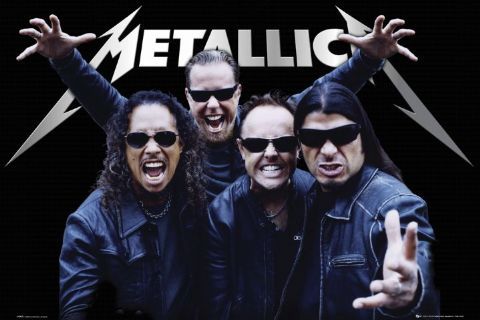 Slashfilm says the Comic-Con will have the metal heads attend this Friday.

That's right people! The world's most beloved rock band is invading the world's nerdiest playground. The news broke this week saying that the band will make an appearance to give fans a glimpse of their new epic 3D film Metallica Through The Never. The film is said to be part concert film and part movie narrative involving actor Dane Dehaan stuck in a situation like Get Him To The Greek.



Here is the premise below of Metallica Through The Never:


Trip, a young roadie for Metallica, is sent on an urgent mission during the band's show. But what seems like a simple assignment turns into a surreal adventure.


I think this news kicks serious ass and the likes of Metallica showing up at the convention might lead to the apocalypse. Not even the Mayans could predict this. And yes, they will perform live at Comic-Con! Maybe this will help fans forget about the Lou Reed collaboration Lulu.


.
Colin Trevorrow Says Jurassic Park 4 WILL Honor the Original :




A new interview offers Jurassic Park 4 updates. It goes without saying that Trevorrow has some huge shoes to fill stepping in as director of Jurassic Park 4. In fact, I would say this guy has a tougher job than J.J. Abrams does on Star Wars 7. Mainly because Abrams has a ton of experience on his belt with handling big budget franchises, and Trevorrow, well has none.

You gotta give the guy credit though because his words sound optimistic about handling the daunting task. Everything he says sounds like he is right for the job. Here is a quote from a recent interview about the new dinosaur sequel.


It's incredible to have Steven, who's done this for decades and has such an incredible filmic knowledge and just understands the language of the story in a way that for us is very refreshing. It's not like getting notes from a studio executive, it's really just trying to crack this and make it the best it can be.

We don't want to create a news scoop here, but we definitely want to honor what came before us.
We are very aware of how much a certain generation especially cares about this movie and we talk about it all the time and really the conversation is: It's not about us, it's not about our careers, it's Ė how do we make something that can stand with the first one.


Do you think the guy who made Safety Not Guaranteed is the right man for Jurassic Park? Check out the full video interview below!


.
Breaking Bad spin-off for Saul Goodman is in Fast Development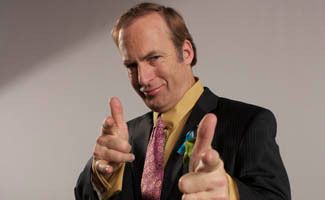 :The Wrap got the latest update on the Saul Goodman spin-off. This is not exactly breaking news since this has been talked about for months now, however, it does confirm that it's a huge priority for the creators now that Breaking Bad has wrapped production. Being a huge Breaking Bad fan myself, I love the fact this is happening. The Saul Goodman character was such a breakout addition to the show and I think a spin-off could be hilarious if executed properly.

Here is what Vince Gilligan said about the current status of the spin-off:


Since Peter created the character, it felt more than right to be working with him on this, and we are plugging away coming up with a pitch and a take on it for the network and studio and hopefully everyone will agree that there's a really fun show to be had here. And hopefully we'll get it up and running, and then Peter will run it. I'd love to see that happen. It's not a done deal yet, but it's definitely something we're full speed ahead on trying to get going.


Here is what Gilligan had to say on whether the show was a sequel or prequel to the events of Breaking Bad:


I have to be coy as to whether it even could be a sequel. Because you never know, when the dust settles at the end of our final eight episodes, where everybody's gonna be and who's gonna be left standing. I can't even say for sure that it could be a sequel. It may be, it may not.


One thing is for sure, this needs to happen! Anyone else ready for the return of Breaking Bad?
.
James Cameron Says Battle Angel May Begin Prepping in 2017:





James Cameron had a lot to say at a recent event. He bitched about the over use of 3D and other stuff, but the highlight for me was his comments regarding Battle Angel. I'm not getting my hopes up, but if this is true, then I am beyond excited. I'd rather see Battle Angel get made than have to sit through two more Avatar sequels. Sadly, that isn't the case but Battle Angel might start prep work by 2017. So there is hope, right?

Here is an excerpt from the news story:

"Speaking at Mexico City's technology forum TagDF on Wednesday, the filmmaker said that, to one-up Avatar, he will be shifting his focus from creating new technologies to expanding story and characters. This trans-human exploration (themes that have "haunted" him for years) will also extend to his long-rumored Battle Angel, which the filmmaker said he will begin to develop in 2017, presumably around the time he's in post-production on Avatar 3."

For now, I think this needs to be taken lightly since the project has been on hold for several years. If they do begin work on this in 2017, I'll be super pumped. I'm not holding my breath though.

Here is the 10 minute snippet of the discussion below!




Ryan Reynolds Says Deadpool Movie is Still Struggling.:





At least that is the newest report from Reynolds.

We've heard the possibility of a Deadpool movie for a few years and for whatever reason, FOX has always remained hesitant to pull the trigger. Not surprising though. Many of the decisions FOX has made over the years have been head scratchers.

For example, the Alien Vs. Predator films. Why?

Anyway, in a new interview with Total Film, Reynolds explains his frustrations with getting the movie made. Here is what he says:


"That movie is alive and kicking, and then it's dead as a doornail. Then it's alive and kicking and then it's deadÖ it's like the worst relationship I've ever had! The character knows he's a comic-book character, he knows he's in a film, he knows who the executives are at the studio making the movie. In the current iteration of the script, Deadpool is aware of the Wolverine movie. He doesn't say anything disparaging about it but he does at one point play with the Deadpool action figure with some curiosity."


Sounds pretty humorous to me. That is one thing I love about the Deadpool character, is how self-aware he is of everything. If FOX had any smarts, they would realize that this property has a ton of potential. Especially since the writers of Zombieland helped pen the screenplay. Hopefully they hurry up and get this puppy finally rolling into production.

Do you want a Deadpool film as bad as I do?
.
Kanye West Approves Pacific Rim:



Kanye Tweets Pacific Rim reaction to his followers. This is probably just me bitching because I have zero respect for Kanye West, but I just do not want this man endorsing this film at all. It's already having enough issues as it is when it comes to marketing. Hell, as we discussed last week, it's expected to lose to Grown Ups 2 on opening weekend.

That being said, Kanye does have 9 million plus followers on Twitter, so maybe this isn't such a bad thing for publicity. Right? Who am I kidding? Screw this guy.

Here was Yeezus's tweet to his fans:


"I saw a pre-screening of Pacific Rim yesterday and it's easily one of my favorite movies of all time. This is not another 'Robot' movie. Guillermo del Toro is a master."


On a side note to the readers, I have seen Pacific Rim, and I must say, he isn't wrong.
.
Russell Crowe Is Ready and Willing for a Prequel to Man of Steel.: Well, guess what? I'm not. For me, the Krypton stuff was the least interesting moments in Man of Steel and Crowe's performance was surprisingly dry. Don't get me wrong, I enjoyed the movie but nothing in the film has me foaming out the mouth for a Krypton back story.

However, I'm just one man and several others disagree with me about this subject. In fact, many have gone to Twitter asking Crowe if he would do it. Here is his response: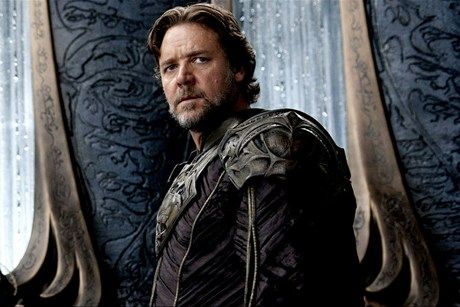 "A lot of you are asking about a KRYPTON prequel. If that's something you feel strongly about let @Legendary pictures know your thoughts.... if it came up, I'd give the tights another go."


Would you like to see this happen?
.
Del Toro Says Hellboy 3 is not Happening Yet :




One of the major topics all week has been HellBoy 3. Is it happening? Is it not happening? Is Legendary taking over? All these questions have been raised due to the fact Pacific Rim is about to be unleashed. Sadly, the latest response from Del Toro is greatly disappointing.


"It's very unlikely it'll happen because you need things to converge so strongly. [Producer] Larry Gordon, Universal, the rights, Ron[Perlman's] and mine's availability, [comic creator] Mike [Mingola's] blessing; we have pieces of that, but we don't have all of that. You need so many things to confluence and then you need about $150 million."


Why the cinema Gods won't give us a Hellboy 3 but let hack directors like Roland Emmerich do whatever they want with 150 million is beyond me. To be fair though, the franchise hasn't been a cash cow. Hopefully, one day we can see the completed journey of Hellboy hit the big screen

Here is the interview from Collider. .




Syfy Reveals Trailer for... Sharknado!: You got to give it to these guys for coming up with the most "awesomely bad" movie concepts imaginable. The Syfy Channel unveiled the trailer for their new masterpiece Sharknado, because that totally seems plausible. Oh, and to add to the quality of the movie, they added Tara Reid to the mix. I'm definitely adding this to my DVR!

Check out the insanity for yourself below!

.
Cloudy with a Chance of Meatballs 2 Trailer is Ridiculous... and Hilarious!: For those who don't know, I'm a major fan of the original Cloudy movie that was directed by Phil Lord and Chris Miller. I absolutely loved the energetic style of humor the first one brought and the nutty voice performances. Plus, I never realized I wanted to see a monkey fight a gang of gummy bears. Simply brilliant.

Now, we have a new sequel approaching, and even though Lord and Miller are not directing, the food puns still remain hilarious. Check out the trailer now!

Words.
Johnny Depp Awkwardly Kisses Jimmy Kimmel... Repeatedly! :



While promoting The Lone Ranger, Johnny Depp made a stop by Jimmy Kimmell Live... And things got weird and steamy. While interviewing Depp, Kimmell commented on his beautiful face, to which Depp responds by kissing Kimmell on the lips. To make things stranger, it happened repeatedly. I'll admit it was rather amusing though.

In case you missed it, I provided a video of the event below. Get a room fellas!






Helen Mirren Gives Advice to Lindsay Lohan and Amanda Bynes: I tell you what, that Helen Mirren is one class act. She's also quite attractive for someone her age. Yeah, I got the hots for Helen Mirren. Got a problem with it?

Anyway, in a hilarious new interview, Mirren is asked whether she has any advice for troubled child actresses like Lindsay Lohan and Amanda Bynes. To which she responds by saying, "Get your head out of your ass," in a very polite British way. I really wish I could say blunt comments with this amount of charm. Check out the interview below!





That's it for this week folks! Join me again next week as we continue to pick apart the film and television universe!

D-Rock out!


comments powered by