SPOTLIGHTS
Movies/TV's 3R's 08.20.13: Ant-Man, Eastbound & Down, Conan O'Brien, Christopher Nolan, More
Posted by John Dotson on 08.19.2013

From Simon Pegg rumored as Ant-Man, Eastbound & Down teaser, and Conan O' Brien bribing Harrison Ford to Christopher Nolan filming Interstellar, and more, 411's John Dotson breaks down the Right, wRong, and Ridiculous from the week in Movies/TV!

Welcome to Week 214 of The 3 R's for the Movie/TV world.

Make sure to click the Facebook "Like", Tweet button, and Google +1 links over there to the right of the article! Support 411mania, your home for the best in pop culture entertainment news.





Without any further ado, here is...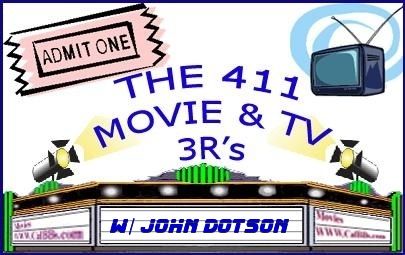 Chris Nolan Begins Production On Interstellar: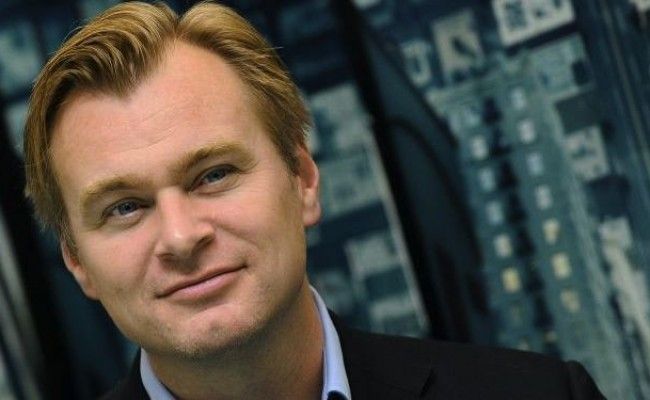 You know that overwhelming feeling of anticipation when a Chris Nolan movie is on the way? Well, prepare for it, because cameras have officially started rolling on his next movie, Interstellar.

The news comes from a press release sent out by Paramount and Warner Brothers confirming that production is underway on the sci-fi project. What I find most interesting from their statement is the new information they provide about the film's story. They say the film is about "the adventures of a group of explorers who make use of a newly discovered wormhole to surpass the limitations on human space travel and conquer the vast distances involved in an interstellar voyage." This is a nice update considering how vague the studio has been thus far about the plot.

Between this, Sin City, and Guardians of the Galaxy, 2014 is shaping out to be a pretty eventful year for film. I love me a good Christopher Nolan movie and it's about damn time we hear about the production finally rolling.
Speaking of Interstellar...
.
Legendary Drops Batman Vs. Superman for Interstellar: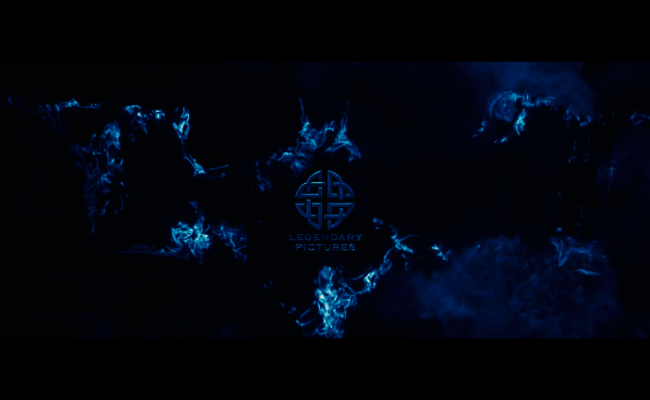 From The Wrap. Who would have seen this coming? One of the most talked about Hollywood deals lately is the separation of Legendary Pictures from Warner Bros. It's a surprising move from a partnership that has generated nothing but consistent success over the past several years. A new report says that the divorce of the two studios has now reached a new agreement.

Due to the great relationship Legendary had with Christopher Nolan on movies like The Dark Knight and Inception, the departing company negotiated a major trade. They gave up all rights to Batman Vs. Superman to have the Legendary brand name on Christopher Nolan's Interstellar. This is a shocking turn of events considering the studio just released Man of Steel over the Summer.

So, what does this all mean? Is this a statement about the potential of Batman Vs. Superman? It's a bit odd that the studio sees more financial gain from Interstellar than the first on-screen team-up of Batman and Superman. Whatever the case may be, I'm actually glad to see such devotion to Christopher Nolan. It truly says a lot about the director.
.
Guardians of the Galaxy Footage Leaks On-Line: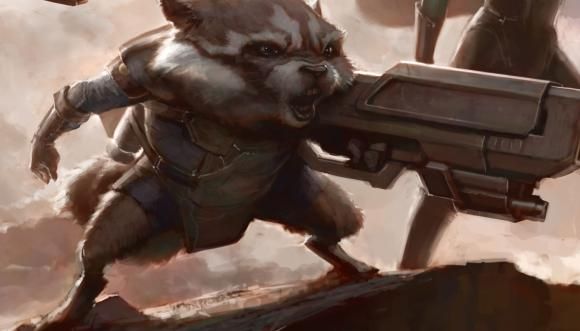 This week Guardians of the Galaxy footage leaked online and HOLY SHIT was it awesome! I debated discussing it last week because I didn't want to get the site in trouble, but today I got the clear and I just want to nerd out about it for a moment.

All I can say is that trailer was insanely magnetic. Never has 30 seconds of footage been cut together so nicely. Rocket Raccoon is not even in the trailer for more than 2 seconds and it's the most awesome 2 seconds of footage I may have seen all year. Folks, I'm seriously too excited for this movie, and I may not recover from the nerdgasm I had while watching until the actual official preview hits the web. James Gunn is a goddamn genius!

If you haven't seen the footage, there are still images and links to be found on the web. I'm not posting anything here, but if you're a true Marvel geek, you'll figure out where to find them.
.
Seth McFarlane Confirms Ted 2 for 2015: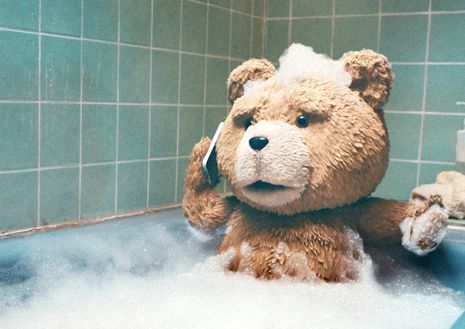 Say what you want about Seth McFarlane, but I thought Ted was surprisingly hilarious. Yes, I'll admit that the first film stuck to the familiar McFarlane formulas. For example, the idiot lead character has a friend that shouldn't be able to talk, but somehow does. However, anyone who didn't find the fight between Mark Wahlberg and the teddy bear hysterical just has no sense of humor. Yeah, I said it.
Anyway, McFarlane confirmed in a response via Twitter that a Ted sequel is expected in 2015. Here is his response below.




Universal also confirmed the release date to Screen Crush soon after.

I'm super stoked guys, but who cares what I think. How about you? Are you ready for a sequel to Ted

Simon Pegg Points at Ant-Man in a Photo and the Internet Shits Themselves:

Every now and then, the internet does something that drops the intelligence meter for all movie fansites by a hundred percent. This week had one of the biggest jump-the-gun reports ever. A few days back, Simon Pegg appeared on a podcast for the Marvel Digital Media Group. While he was there, he posted a photo on twitter of himself pointing to a certain character from Marvel that started an out of control internet rumor. Here is the photo...




Of course what does this photo mean? That Simon Pegg is saying "Hey I'm playing Ant-Man.' It can't possibly mean that Pegg is just giving a shout out to his good friend Wright who is directing the film for Marvel. No way. That would be crazy, and it would also mean less pageviews for our website. So we must post this photo and make it sound like Pegg is hinting that he has the role! Genius! Next news story coming in... "Christian Bale Points At A Picture of Himself As Batman Confirming His Return to Batman." Followed by "Ryan Gosling Pointing At A Milkshake Thus Confirming He Is In-Fact Playing A Milkshake."

Sorry for the rant, but when sites such as SlashFilm or ComicBookMovie pull these stunts, it drives me crazy. It also makes me want to read their stories less. That being said, the rumor was debunked, and as far as anyone knows, Simon Pegg is not the lead of Marvel's Ant-Man movie.
.
ABCs of Death Gets A List of Directors: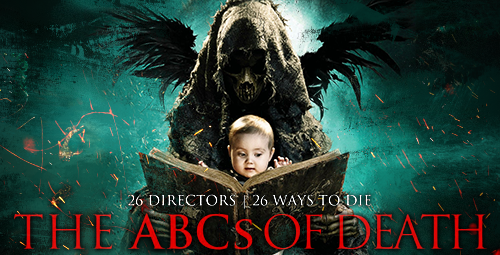 textOne of the movies this year that I felt had tremendous potential but did not deliver was The ABCs of Death. Here is a concept that so many filmmakers could have capitalized on, and only a few delivered something worth watching. It's pretty sad when you give 26 directors complete freedom to do whatever they want, and all they deliver is shock-porn. That being said, I still think "D is for Dogfight" and a few others make it worth at least one viewing.

Well, Drafthouse Films has released a list of filmmakers who have been chosen for the next ABC anthology movie. Some of these names bring me hope, but I still find myself dreading another serving of The ABCs of Death. Some of the names include Vincenzo Natali (Splice, Cube), Alex de la Inglesia (The Last Circus), Rodney Ascher (Room 237), and Marcus Dunstan (The Collection). Not bad, but I'm still cautious.

Here is the press release below:



In a significant departure from the first installment, ABCs OF DEATH 2 is expanding beyond horror directors. Joining the sequel's roster are Julian Barratt of The Mighty Boosh; Todd Rohal (THE CATECHISM CATALYSM); Canada's king of lo-fi, Steven Kostanski (MANBORG); Cuba's Alejandro Brugués (JUAN OF THE DEAD); acclaimed UK commercial director Jim Hosking; Japanese monster-maker Hajime Ohata(HENGE); and Canadian short film wizard Chris Nash (SKINFECTIONS).

Previously confirmed filmmakers include Goya Award winner Álex de la Iglesia (THE LAST CIRCUS, DAY OF THE BEAST), ROOM 237 mastermind Rodney Ascher, Academy Award-nominated animator Bill Plympton; Filipino icon – and Director's Fortnight inductee – Erik Matti (ON THE JOB, MAGIC TEMPLE), Lithuania's Kristina Buozyte andBruno Samper (VANISHING WAVES), Japan's arthouse provocateur Sion Sono (COLD FISH, SUICIDE CLUB), SPLICE and CUBE's Vincenzo Natali, indie horror icon Larry Fessenden (THE LAST WINTER, HABIT), THE COLLECTION's Marcus Dunstan, France's Julien Maury and Alexandre Bustillo (INSIDE, LIVID), E.L. Katz (director of the SXSW breakout hit CHEAP THRILLS), twin auteurs Jen and Sylvia Soska(AMERICAN MARY, DEAD HOOKER IN A TRUNK), Israel's Aharon Keshales and Navot Papushado (RABIES, BIG BAD WOLVES), A LONELY PLACE TO DIE's Julian Gilbey, Brazil's most controversial filmmaker Dennison Ramalho (NINJAS and LOVE FOR MOTHER ONLY), the founder of Nigerian "Nollywood" cinema Lancelot Imasuen, THE LEGEND OF BEAVER DAM and the upcoming STAGEFRIGHT's Jerome Sable, and animator Robert Morgan – creator of the BAFTA Award nominated short BOBBY YEAH.



Did you enjoy the ABCs of Death?

Also for any filmmakers who read this column, the studio is seeking an unknown talent to fill the 26th spot of the movie. Go here to find out how to enter the contest and watch the video below!



ABCs OF DEATH 2: 26th Director Filmmaking Competition from Alamo Drafthouse on Vimeo.


.
Timur Bekmambetov in Talks To Re-Imagine Ben-Hur... Wait, what?
:




Timur Bekmambetov is making a controversial strike twice on this column today. Once in the wrong for this news story and later in the ridiculous for a trailer that is just indescribably absurd, but awesome. However, this I cannot find myself getting behind... at all.

Deadline reports that Timur Bekmambetov is in early negotiations to direct a re-imagining of the classic movie Ben-Hur. The script is written by Keith Clarke (The Way Back), and the film is said to tell "formative story of the characters as they grew up best friends before the Roman Empire took control of Jerusalem."

I am a fan of Timur's unique style, but the fact that MGM is looking to him as the director doesn't warrant much faith for a re-imagining. This is almost like hiring Zack Snyder to re-vision Lawrence of Arabia. Please Hollywood, stop touching classics. It's saddening to see producers trying to cheapen familiar properties that don't need to be touched. There is plenty of other crap films out there that fell short of their potential. Go remake or revision those movies. Okay?... Thanks!
.

Bad Robot Teases Mysterious New Video: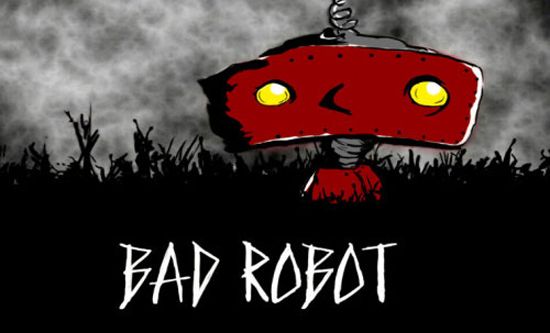 A lot of fans love to pick on J.J. Abrams for a variety reasons. Whether it be for his overuse of lens flare or his constant need to piss off Trekkies. I'm one of the guys who believes J.J. is actually a genius when it comes to marketing properties. His "mystery box" approach to promoting is a method that I believe Hollywood has somehow strayed away from far too long. In a world where teasers give too much plot away, J.J. is one of the remaining few who loves to keep a shred of mystery around his properties.

Which brings me to the latest video put out by Bad Robot titled Stranger. I'm not sure what the hell this is or what property it's promoting, but the mysterious level on this video is off-the-charts ridiculous. I'm not even going to attempt to guess what it's trying to sell, but feel free to speculate below. What do you think? What mysterious project is Abrams promoting?


.
Conan Attempts To Bribe Harrison Ford Into Giving Up Star Wars VII Information: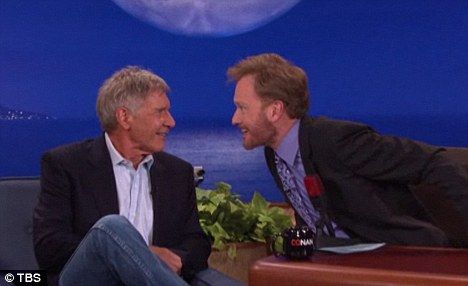 I actually got to catch this hilarious interview this week on Conan. The famous Harrison Ford came on the program and seemed out of sorts as always. Poor Ford in his old age and all. Things got rather spiced up though as Conan O' Brian pulled out a thousand dollars in hundreds out of his pocket and attempted to bribe Ford into giving up information about Star Wars VII. The audience went crazy as Harrison Ford accepted the bribe and began to reveal a detail about the upcoming film. Check out the hilarious response from Harrison Ford below!


.
Ridiculous New Teaser For the Final Season of Eastbound & Down:




It's a really upsetting time for me folks, because two of my favorite shows are ending in the same year. Not only is Breaking Bad wrapping up its last season, but so is the insanely hilarious television series Eastbound & Down. The Kenny Powers saga is one that I can't see having a happy ending at all, but I wouldn't miss it for the world. In fact, I can totally see show creator Jody Hill pulling a Breaking Bad with the final season and having the entire finale go bat-shit crazy dark. Whatever the case though, this is sure to be funny as hell.

Jody Hill is one of the most underrated comedy directors/writers working today. I love Eastbound and Down but I hope we get some more movies out of him now like Observe and Report and The Foot Fist Way. For now, let's prepare for the epic conclusion of Kenny Powers. Check out the teaser below!


.
Get Ready for Killer Squirrels!:




From Variety. To wrap up our week in ridiculous news, a pitch/concept trailer has gone online about "flesh-eating squirrels." I shits you not. That is the idea producer Timur Bekmambetov is trying to sell in this new preview entitled Squirrels. The footage shows a nice little opening of a grandmother and granddaughter walking through the park while nature watching, when they encounter a sweet little squirrel in a tree... or is it?

As the tagline says, "Hold on to your nuts!" Look out zombies, there is a new flesh-eater in town. And they are as cute as a button. Check out the insanity for yourself below!


.





Movie/TV 3R's Bonus Round!



This week, as promised, I'll be responding to readers questions, comments, and other stuff. If you would like to be included in this next week, either comment below, send me a tweet at @DRockDot, or send an e-mail to drockrenegade@gmail.com.

And... here... we... go!

First commenter goes by the name of Me (how creative buddy), and he says: first of all, bruce willis didn't leave expendables. he was fired because he wanted to much money for the film. they told him to take a hike and hired ford with in 48hrs.

First off, as the person responded to you said, in order to be fired, you have to be hired. Thanks for playing though. Second off, if you're going to begin a comment with "first of all", at least try to have a "second of all."

Next comment comes from Todd Vote who made this comment 2 weeks back: As far as the Flash TV show goes, Smallville didn't stop them from making Superman Returns. Plus, why couldn't DC connect their TV universe with the film universe much the way Marvel is doing with Agents of S.H.I.E.L.D.?

I agree Todd. If they handle The Flash in this manner, then I'll totally be on-board with a Flash show connecting to the cinematic universe. Of course as long as the execution works and is a quality move to the DC Universe. Right now though, DC seems to be just throwing darts and hoping for a bullseye. Here is hoping they figure their shit out.


The final comment comes from Fazz: Half of these stories remind me of Idiocracy and not in a good way. Brawndo, here we come. 'Murrica.

You're totally correct. Most of the stories from last week, including the ones that I labelled "Right," were not exactly the most promising for the future of intelligent cinema. Further proof of this is the fact that audiences ran to Grown Ups 2 and not Pacific Rim. Sad day for 'Murrica.


That's it for this week folk's! Thanks for reading and have a fantastic week!

D-Rock out!



comments powered by