SPOTLIGHTS
This Week in Amusement 08.21.13: Ashton Kutcher Praised for Saying Nice Things About Hard Work and Being Smart
Posted by Enrique on 08.21.2013

Plus, did you hear that Paula Deen isn't as racist as everyone thought? And speaking of racism, Oprah's Swiss handbag misunderstanding may not have been motivated by prejudice after all.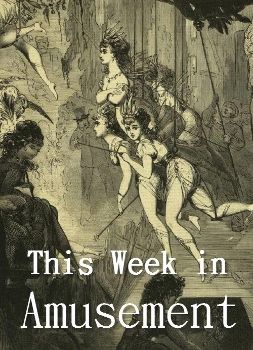 The funny thing about being famous is you can earn effusive praise for seemingly innocuous statements. It's unlikely any of us would get a round of applause for extolling the virtues of hard work and intelligence, but it appears that actor Ashton Kutcher is being widely admired for expressing exactly those sentiments.

Good for him, but did he really say anything noteworthy? He must have done something right for the biggest names in conservative talk radio to make such a big deal.

Ashton Kutcher's Teen Choice Awards Speech Inspires the GOP-Voting Masses

While accepting a kind of lifetime achievement award – which makes sense for a 35-year-old at a "Teen Choice" event – Mr. Kutcher made some brief remarks that really hit the mark for a lot of folks. If you haven't had a chance to listen to them, they're not a waste of five minutes.



For a short speech that seemed to be off the top of his head, that's pretty darn good. Mr. Kutcher certainly understands his audience, and has a firm grasp on the whole brevity-is-the-soul-of-wit concept. There are quite a few bits that are worth quoting, but this is our personal favorite:

I believe that opportunity looks a lot like hard work. I've never had a job in my life that I was better than. I was always just lucky to have a job. And every job I had was a stepping stone to my next job, and I never quit my job until I had my next job. And so opportunities look a lot like work.
When you get to a certain age, you begin to think that younger people don't appreciate the opportunities that they have. It's easy to imagine a teenager or new college graduate taking their first job and not making the most of it. It's probably easy to imagine that because many of us didn't appreciate our own early employment experiences, and acted like obnoxious jackasses rather than just doing our damn jobs.

It's hard to say if kids these days are any better or worse than we were, but Mr. Kutcher's comments on the value of hard work have a timeless quality. To some degree, everyone wants to think they are the only ones who really believe in the power of work. That's probably at the heart of the strange new respect Mr. Kutcher has earned among the leading lights of rightwing media.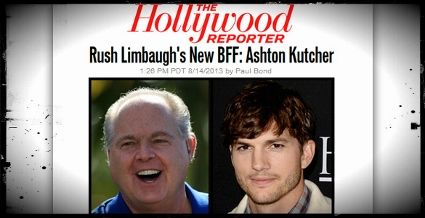 For reasons we dare not speculate on, Republicans think they have a monopoly on perseverance. Thus, conservative heartthrob/blowhard Rush Limbaugh made the following observations on his program last week:

Now, don't ho-hum this, folks. This is a message that young kids today are not hearing except maybe in their homes from their parents, but they're not hearing this. They're not hearing this from Obama. They're not hearing this from presidential or political leadership. This kind of message of hard work, the traditional American route to success and happiness is what's being made fun of, it's what's being said is not possible anymore. […]

So when Kutcher, at the Teen Choice Awards, stands up and offers a traditional, uplifting, motivational, and inspirational speech on how he became successful, it's remarkable.
Limbaugh wasn't alone. Glenn Beck also had kind words for Mr. Kutcher's "amazing speech." Fox News ran a segment that suggested Mr. Kutcher's speech promoted GOP values.

These folks have apparently forgotten that Mr. Kutcher pledged to be a "servant to Barack Obama" last year. Presumably, he doesn't see an appreciation for hard work and voting Democrat as being mutually exclusive.

It's no secret that Hollywood skews left. That fact always seems to drive conservatives mad. On one hand they dismiss celebrities that mindlessly toe the Democrat party line, but on the other they warmly embrace the few celebrities with conservative leanings – no matter how truly loopy they are. And when the opportunity comes to pretend that a non-insane celebrity like Mr. Kutcher is promoting Republican values, it becomes the rightwing media meme of the week.

It's nice that Mr. Kutcher made comments about hard work that no one would disagree with. That does not make him exceptionally wise. If anything, it makes him a helpful example of how to speak effectively in public. It definitely does not make him an honorary Republican.

Court Finds Paula Deen Not (Necessarily) Racist After All




A couple months ago, when it was revealed during legal proceedings that Paula Deen admitted to using the n-word at some unspecified point in time, she paid a steep price. Ms. Deen was fired from her Food Network show, and lost out on a number of lucrative endorsements. She became a national punch line, and there is no shortage of people willing to tell you how racist and morally substandard she is.

The only reason we know about Ms. Deen's n-word admission is because she was sued by a former employee for sexual and racial harassment. Does it matter that the judge presiding over that lawsuit has now thrown out the racial discrimination claims? Probably not, but it's worth noting for posterity at least:

Lisa Jackson sued Deen and her brother, Bubba Hiers, last year saying she suffered from sexual harassment and racially offensive talk and employment practices that were unfair to black workers during her five years as a manager of Uncle Bubba's Seafood and Oyster House. Deen is co-owner of the restaurant, which is primarily run by her brother.

However, the claims of race discrimination by Jackson, who is white, were gutted in the 20-page opinion by U.S. District Court Judge William T. Moore Jr. The judge agreed with lawyers for Deen and Hiers that Jackson has no standing to sue her former employers for what she claims was poor treatment of black workers, regardless of her claims that she was offended and placed under additional stress.
Did you catch that bit about how the woman suing Deen for racial harassment is white? That doesn't seem sporting, and it's the first time we noticed that particular detail in any of the coverage. Maybe we're just oblivious (always a possibility) but it seems that if someone sues a celebrity for racial discrimination, the fact that the person is white should be in the first paragraph, if not the headline. Paula Deen Sued by White Person for Racial Discrimination may not have prevented her public downfall, but it would have at least indicated there was a higher degree of nuance at play than we had been led to believe.

As we have previously written in this space, we are troubled that a person should suffer such extreme professional consequences for admitting to using an ugly word. Now that the racial discrimination claims against Ms. Deen have been dismissed, it seems especially unfair. There's a sad lesson in this story about America's lawsuit culture, and how unproven accusations can ruin a person's livelihood.

That's not to say there isn't a darkly humorous element to Ms. Deen's plight. That element is probably summed up best by this tweet from liberal pollsters Public Policy Polling.



Somehow we doubt Ms. Deen will be anointed an honorary Republican by Limbaugh and Beck as anxiously as Mr. Kutcher was.

Oprah Not Completely Certain Swiss Shop Girl was Racist, But It was a Nifty Theory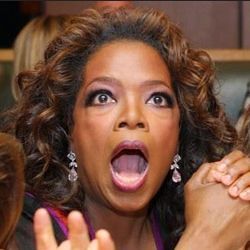 It's hard to believe it's already been two years since The Oprah Winfrey Show took its final bow, but it's not like the most powerful woman in media has been out of the public eye. Earlier this year, Ms. Winfrey grabbed some headlines over her endorsement of cosmetic products made from human penises (not really, but it's fun to pretend).

Then just a few weeks ago, while in Switzerland to attend the wedding of her friend Tina Turner, Ms. Winfrey experienced poor customer service in the form of a sales clerk not showing her a $38,000 handbag. In an interview, Ms. Winfrey characterized her reaction to the incident by saying, "I could've had the whole blow-up thing and thrown down the black card and all that stuff. But why do that? Clearly, [racism] still exists, of course it does."

She also could've gone in the next day and thrown down the Julia-Roberts-in-Pretty-Woman card, which would have been priceless.



Of course, by using her experience as an example of how racism exists, Ms. Winfrey did throw down the black card – prompting an apology from the Swiss tourism office.

However, a few days later, it didn't seem as clear that racism was in fact an underlying cause of Ms. Winfrey's minor inconvenience. Last week, the Swiss shop owner defended her employee, saying that she won't be fired and did everything right. The owner (who was also a guest at Ms. Turner's wedding) also threw down the catty card by saying, "perhaps she is being a little over-sensitive here. Maybe she was somewhat offended because she was not immediately recognized in the store."

Ms. Winfrey has now offered an apology of her own, saying she's sorry the incident got blown out of proportion. She's even willing to concede she may have misread the situation:

But Winfrey conceded that she can't know for sure whether or not the snub was motivated by racism.

"Maybe she actually just didn't want to reach for the bag because it was up too high," Winfrey said. "Who knows? Either way, I had a great time in Switzerland."
It's obvious that racism still exists, but Ms. Winfrey's assumption that it was at the root of her bad shopping experience seems to have been hasty. There are many more obvious examples of racism in the world, such as disparities in the criminal justice system. A celebrity not being able to buy a $38,000 status symbol because of an unhelpful sales associate is not exactly a chilling example of racial inequity. It's nice that Ms. Winfrey's heart is in the right place, and that she wanted to be able to say she identified with all the regular black folks who get lousy/suspicious customer service. But it wouldn't be a bad thing if people in the public eye were a little more careful about calibrating their racism radar.

Although one has to wonder what the favorability rating of Swiss shopkeepers is among Georgia Republicans currently…

Until next week, dear readers, be merry!
comments powered by