SPOTLIGHTS
411 Fact or Fiction Movies/TV 08.23.13: Week 396
Posted by Ben Piper on 08.23.2013

Will The World's End be a satisfying conclusion to "The Cornetto Trilogy"? Would Mark Wahlberg be a good choice to replace Robert Downey Jr. as Tony Stark? Should The Butterfly Effect be remade? 411's Arnold Furious and Paul Lapointe debate this and more in the latest Fact or Fiction!




And it's time once again to do that Fact or Fiction thing. It's sure to be a good one, as we not only have the triumphant return to the fold by Arnold Furious (who wants me to let it be known that you can purchase any of the fabulous books he has written here), as well as the introduction of the newest member of the MMA zone, Paul Lapointe. With all of that in mind, let's get right to it…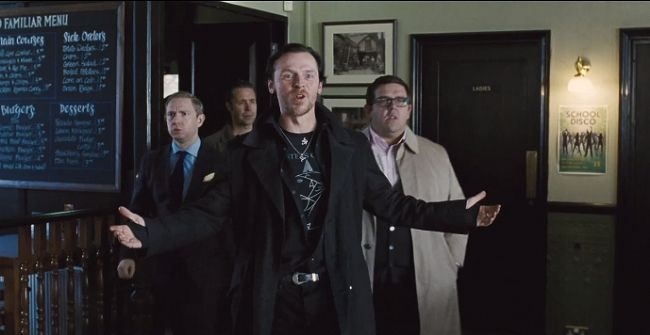 1. The Worlds End will be a funny, very entertaining and satisfying completion of "The Cornetto Trilogy".

Arnold Furious: Fact. I'm a big believer in the Wright-Pegg-Frost team. I love both Shaun of the Dead and Hot Fuzz, especially the latter. If they employ the same approach those two movies took, lovingly paying homage to other films and pop culture while maintaining strong in-jokes and characters, they'll be onto a winner. While Simon Pegg occasionally, but not often, disappoints, Edgar Wright never does. Everything he's done from the fantastic TV show Spaced, which if you've never seen is a wonderful undiscovered treat, to a loving conversion of Scott Pilgrim Vs. The World has been spot on. Sooner or later everybody makes a dud but given the past histories of those involved and dedication to their craft I'm sure The World's End will not be it.

Paul Lapointe: Fact. This one is just easy to answer. Considering every thing Edger Wright has touched has been golden and hilarious, his continued or possible final collaboration with Simon Pegg should and will be just as fanciful. Shaun Of The Dead is a modern comedic gem that reminds me that films like Ghostbusters were no fluke. Meaning of course that crafting the balance between horror, comedy and seriousness can be tough but when it is executed it is bloody brilliant. That same approach was taken into the thriller aspect and amped with 80's machismo violence in Hot Fuzz and it worked well. And now we have sci-fi mixed with a drinking man's bromance flick. Though it will be tough to sell End as the best of the trilogy it is certainly welcomed in the trilogy generation of movie making. Plus currently on Rotten Tomatoes it has a ridiculously high rating with already 59 reviews registered!

Score: 1 for 1

2. Mark Wahlberg would be a horrible choice to replace Robert Downey Jr. as Tony Stark/Iron Man after the Avengers 3 in further installments moving forward.

Arnold Furious: Fact. I'd rather they didn't replace Robert Downey Jr. at all. He was such a perfect choice for the role. If he did become disillusioned and felt he'd played Tony Stark too many times then a suitable replacement would need to be found but there's certainly no need to rush into it. Mark Ruffalo may have worked out to be the best possible Bruce Banner/Hulk replacement in the world but that doesn't mean everyone will be so easy to replace. Downey Jr. as Tony Stark is a tough act to live up. When an actor really nails a part it takes a long time for people to forget. Remember the furore surrounding Heath Ledger's casting as The Joker? People figured he wouldn't be able to match Jack Nicholson's performance. He ended up doing a very different performance and it was one that captured the imagination. Same with Michael Fassbender's take on Magneto, which I thought was excellent. However I don't think Mark Wahlberg has the ability to do the same with Tony Stark. I don't think he has the range to make the role his own. He's always struck me as somewhat one-dimensional and better performances in the likes of Boogie Nights don't make me think he could pull it off. They've obviously looking for someone who'd also be a box office draw as Iron Man is Marvel's lynchpin character, in the Avengers franchise anyway, and they feel they need a big name. But I don't think it's Wahlberg. Although I had similar misgivings about Chris Evans as Captain America and he nailed it.

Paul Lapointe: Fact. RDJ is Tony Stark, end of story. I called for his casting before the first Iron Man was even made and was blown out of my seat once my fanboy choice actually became a reality. Now with the juggernaut of cash that these films can and have generated wanting to be involved would make perfect sense to just about anyone. And RDJ has and is officially attached to be a part of both the Avengers 2 in 2015 and Avengers 3 whenever the holy hell that happens(I would assume 2018). So with that time frame in mind having Wahlberg step in to fill Jr's shoes just does not compute. It would most likely be 2020/21 before a new Iron Man film would be made and Wahlberg would be just not the right fit anymore. I agree Mark does have the looks and swagger to be a movie star, but I argue that he does not have the range to be Tony Stark. Maybe its just my comic nerdiness that is breaking free here, but there is alot of depth and layers to this character, not to mention history. And in ensemble pieces Mark is great, when his character has one goal, Ted, Pain and Gain, The Boxer, The Departed as examples but The Lovely Bones? He sticks out like a sore thumb as an acting weak point. I want me some more Iron Man, I just do not want Mark Wahlberg to be that Iron Man. We will see once that time comes. Given the time frame, maybe Joseph Gordon Leavitt.

Score: 2 for 2

3. You'd be receptive to Vin Diesel returning to his XXX character, as well as the dormant franchise getting a shot in the arm as a result.

Arnold Furious: Fiction. Vin Diesel has spent most of his career re-launching his earlier roles. Which is why most of his filmography features Dominic Toretto or Riddick. Going back to another franchise, a bad one at that, isn't going to help public perception of his image. He already has two franchises that he keeps going back to, regardless of who cares about them, in between those roles he should be concentrating on doing other things. Not another rehash. Look at him in Boiler Room; the man can act a little bit. And what's he done with it? A string of sequels and poor choices. To be fair to the man, I never expected him to still have a mainstream career after The Pacifier and his post-Riddick slump but Fast Five exceeded everybody's expectations. If XXX3 does indeed go ahead it'll need a lot of work. The second film XXX: State of the Union left a bad taste in the mouth. Not that I'm rushing to defend XXX, which I thought was mediocre at best and relied heavily on stunts and Samuel L. Jackson. The best XXX3 can hope for is reprising the mediocrity of the original; a pointless exercise.

Paul Lapointe: Fact. Sure why not. It's not like anything he will do will ever shake the idea that Vin is a star in films not an actor in any of them. I mean for anybody to be upset with him actually willing and able to just idly do franchise after franchise rather then try to open up is just asking for trouble. He is cozy just doing his action flicks and calling it a day. We would probably complain if he tried to insert himself into anything that was not filled with Aliens or fast cars. I mean he was in almost EVERY F&F film and that franchise is up to 7. Riddick 3. XXX would also be 3. As long as Ice Cube stays away...(shudder). I did not really think the first film was all that great and the 2nd was abysmal but Vin could turn it around to be fair. And anything that keeps him out of films like The Pacifier the better. Boiler Room, Find Me Guilty, heck even The Iron Giant...all great to good performances, but really that Vin is in the rearview mirror and he knows that, so why not stick to what you know. And really he has been doing that for almost 13 years now anyhow. He has been involved in 5 films that are not XXX, Riddick or F&F in that time so he already has been doing it more then half his career as is. So me and Furious agree just not exactly, haha.

Score: 2 for 3



Switch!!!






4. You're Next will turn out to be a fairly decent horror movie.

Paul Lapointe: Fact. Your're Next is actually pulling in just the right amount of buzz through word of mouth. Now granted I do not expect this to bring in much money or even be remembered at the box office this weekend but could find a nice little home of fans once it hits video and DVD. Adam Wingard is a horror director to keep an eye on in my opinion as he has been a big advocate of launching anthology films to the masses in the form of V/H/S and its sequel as well as the ABC's of Death. Also, Ti West has a bit part in the film and if unaware Ti is also an indie horror director responsible for films such as The Innkeepers and House of the Devil, both of which I say you should check out. Plus the Wyatt family seems to be a fan with the addition of Erick Rowan wearing the films mask to the ring, haha. The film was made over a year ago, so it predates the Wyatts by a little bit. Plus with the reception of the home invasion film with a quirk being accepted this year with The Purge I think people may enjoy a horror film that's simple and not a remake.

Arnold Furious: Fact. I actually quite like slasher movies. It's a really simple idea and an easy one to get right. Most slasher movies are just Halloween rip-offs and even some of those are pretty good. There's a lot of mileage in retaining the basics of the slasher film and just adding enough of your own weirdness to make it work. While this doesn't look like a slasher movie in the traditional sense, it has that same 'stalking' vibe about it, which will allow it that same atmosphere. Victims picked off one at a time before the inevitable showdown between beast and the maiden, which is the backbone of many successful horror films from Alien to The Descent to Halloween itself. You're Next looks like it'll have the right quantities of violence, formula and humour to win over both the mainstream fans who only occasionally dabble in horror. The more I think about this, the more I think the answer should actually be FICTION, as the positivity surrounding the film is so high that "fairly decent" doesn't do it justice. It could well serve to be Adam Wingard's breakthrough. Early reviews have it as inventive, funny and packing a punch in the third act.

Score: 3 for 4

5. Remaking The Butterfly Effect would be a bad idea.

Paul Lapointe: Fiction. Some people would say remaking any film that has Ashton Kutcher in it would be a good idea because it could potentially erase the memory of the original Kutcher film in the first place. But The Butterfly Effect is actually a pretty bad ass flick. It came out in 2004 and the concept itself has plenty of avenues in which a story could go outside of where the original showed us. Some people may not actually know but TBE also already had two sequels that have come out on video in 06' and 09 the third one being pretty decent and the 2nd one being pretty bad. One Lois Lane of Smallville fame Erica Durance was in the latter. These two films went with the idea as opposed to the original characters and it opened up some interesting scenarios. So if they end up remaking it for the intent of it going to theatres I can't see the studio remaking the original story but instead utilizing the concept and name. It basically could just be called Butterfly Effect 4. And if push came to shove and it does wind up being made, I wonder if the studio could upend the first's CRAZYILY awesome original ending. For those who have not seen it, check out the DVD now and be warned it is not for the faint of heart.

Arnold Furious: Fiction. I'm with Paul again on this one. The Butterfly Effect is my favourite Ashton Kutcher movie, by some distance, but it's still an Ashton Kutcher movie. The concept is sensational but, oddly enough, I didn't like the ending. Which puts me at conflict with Paul. It is crazy but not like Takashi Miike's Dead or Alive: Hanzaisha crazy. It just struck me as a bit dumb. The concept of The Butterfly Effect did have a lot of mileage in it. I must admit I didn't bother with either of the sequels but I can see why someone else did. Time-travel and the consequences thereof has always interested me and there are a load of great time-travel movies out there. I'm particularly fond of Frequently Asked Questions About Time Travel, which takes a light-hearted run at the subject and Timecrimes, which doesn't. Both are suitably weird. Ultimately, despite everything I've just said, I would rather studios picked out new and original concepts like say Looper or Inception rather than re-hashing old movies or running off sequels. I know there are only so many different stories you can tell, and at the end of the day only three basically (man vs. man, man vs. environment and man vs. himself), so that's not easy. But surely there are concepts knocking around that are older than nine years. It's like Girl With the Dragon Tattoo being remade so quickly or the forthcoming remake of Oldboy. That said, I quite liked The Departed.

Score: 4 for 5

6. The Mortal Instruments: City Of Bones will fail to successfully launch a new movie franchise.

Paul Lapointe: Fact. The Mortal Instruments original content is very risque when it comes to subject matter and has suffered from a cavalcade of internal strife en route to making it to the silver screen. I have actually read the books and they're pretty decent I think but with all the hurdles that it has had to jump through to get made I see its content being altered or neutered to such a degree that fans of the books will not be pleased. Plus its release date is at the end of the summer season where studios usually dump projects that they cannot market properly and hope will turn a profit on there own. The cast is filled with nubile young stars and starlets hoping to break out including Lily Collins but like Percy Jackson for boys City of Bones appeals to the female equivalent for audiences and with how much trouble Percy has had, the same obstacles could hamper Instruments. Percy barely brought in enough to support a sequel and its sequel has since tanked, could the same happen with Instruments? Finally, every studio wants the next new YA fantasy series but like Golden Compass, Eragorn and The Seeker before it could wind up busting that idea. If I were to bet on the next breakout series after Hunger Games, I have more faith in Divergent, but time will tell.

Arnold Furious: Fact. There have been a few enormous failures in recent years to get another 'Harry Potter' off the ground. Paul listed off a few of them, including the overly ambitious Golden Compass and the terrible Eragorn. My favourite to date was Cirque du Freak from 2009, which has sadly gone belly up after just one outing. And to a lesser extent City of Ember, which lost a colossal amount of money a year before that. Sooner or later something has to catch on, although Hunger Games seems to have that twi-teens area covered for the time being. City of Bones looks flashy and the trailer is pretty convincing but I headed over to RottenTomatoes to see what early reviews had to say. They have not been kind. The best review I've read called it "derivative". This is probably not the horse to bet on. I'm not surprised about the poor reviews though, after realising the director is one Harald Zwart. He was responsible for Pink Panther 2 and the remake of The Karate Kid. Although, to be fair, I did love Jackie Chan in that. City of Bones has no Jackie Chan. It does have Robert Sheehan though. I wish him all the best of luck after the amusement from Misfits. He may be gone, but now I have Rudy. Two of him.

Final Score: 5 for 6

Arnold and Paul are in almost complete agreement! Thanks to them both for stopping by, and see you all again next week!
-BP



TWITTER

http://www.twitter.com/411s_Ben_Piper
http://www.twitter.com/411mania
http://www.twitter.com/411wrestling
http://www.twitter.com/411moviestv
http://www.twitter.com/411music
http://www.twitter.com/411games
http://www.twitter.com/411mma




comments powered by