SPOTLIGHTS
A Bloody Good Time 08.22.13: The Most Important Horror Films, Part 4: Vampires
Posted by Joseph Lee on 08.22.2013

From Blade and Dracula to Abbott and Costello Meet Frankenstein, Nosferatu, Bram Stoker's Dracula and more, 411's Joseph Lee counts down the top 10 most important vampire films of all-time!

































Opening Logo courtesy of Benjamin J. Colón (Soul Exodus)



Welcome to A Bloody Good Time.

We're continuing with a look at the most important horror films this month. These are films that regardless of your opinion, are very important to the horror genre and all be seen by anyone who considers themselves a fan. You may not like a few of these, or may not even like them as much as other horror films in the same subgenre. That's not important. What's important is how influential the movies were and what they did to push horror forward. It's hard to deny that any of these are not an overall important film, even if you don't like the aftermath, the film itself or the sequels.

Consider this a good starting point for someone new to the genre who wants to know what they should watch first.

This week is vampires. Vampires have been around in horror fiction almost as long as ghosts or murderers. The most famous, of course, is Bram Stoker's 1897 novel Dracula, but there have been stories as far back as the late 1790s. It only makes sense that the vampire would arrive early in film as well and continues to thrive in one form or another to this day. I should reiterate that this list is the most important vampire movies, not the best. Quality doesn't even enter the equation when I make this list.

Disclaimer: I'm not going to lie. You're going to be very upset for me at #10. I hope my explanation and the nine that follow will be enough to soothe the pain that seeing #10 gives you. All I ask is that you hear me out and please don't hate me.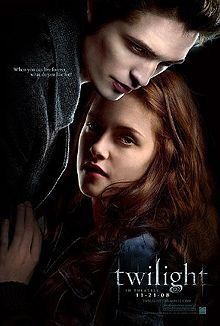 #10: Twilight (2008)

Wait, come back!

Okay, look. I don't like Twilight. You don't like Twilight. Anyone with any sense in their head hates this pathetic excuse for a movie. But unfortunately, we live in a world where money talks and Twilight is the most successful vampire franchise ever. I hate the fact that these sparkly things are even classified as vampires and are more successful than actually great films like Near Dark or Let the Right One In, but it is what it is.

The franchise has earned $3.3 billion worldwide. It broke box office records and started an entirely new trend of romantic vampires that were somehow even worse than the ones Anne Rice came up with. The series had a huge impact not just on horror, but on cinema period, and we're all left in the fallout wondering how something this terrible could happen. If you need direct influence, just look at any young adult movie with a supernatural twist that's come out since. Most of them are horrible, and most would never have seen the light of day if not for this pseudo-vampire love story. This just proves that a movie doesn't have to be good to have an impact on film. Hitler was terrible too and I don't think anyone can say he wasn't important to history.




#9: Blade (1998)

There aren't very many stories where the vampire is a good guy. It just doesn't make sense. Vampires by their very nature are parasites and prey on the weak for their own sustenance. That doesn't mean it doesn't happen, as any fan of Angel can tell you. Blade wasn't the first heroic vampire but he did make the concept more mainstream in films. After Blade (and Angel on TV), you had more heroic, or at least neutral vampires show in film like the Underworld series, Night Watch and yes, Twilight.

While it's not as important to the horror genre, Blade is definitely important to the superhero genre. Many will credit X-Men for the comic book boom we enjoy, but Blade came first and was a a big success on its own. While X-Men had been in development long before that, the success of Blade certainly helped Fox finally decide to put some more effort into releasing an unproven comic franchise after Batman and Robin killed the genre.






#8 El Vampiro (1957)

You wouldn't think something like a vampire showing its fangs would be a big deal, but there was a time when that didn't happen. Of course these days, every vampire has fangs of some kind. Some of them even have nothing but sharp teeth. But in the days of the Universal horror films, there were no vampires with fangs. It's something you don't even think about. Bela Lugosi's Dracula didn't show fangs and Count Orlok had long incisors, but not really what we're used to.

It sounds so unimportant because it's so common these days, but a movie had to do it first. El Vampiro is a Mexican film that featured the very first instance of a vampire showing the elongated canines we all know. A year later, Hammer films would produce a version of Dracula showing Christopher Lee with the same style of teeth. While this film hasn't been seen by very many people, it's just as important for adding what was such a crucial aspect of the vampire.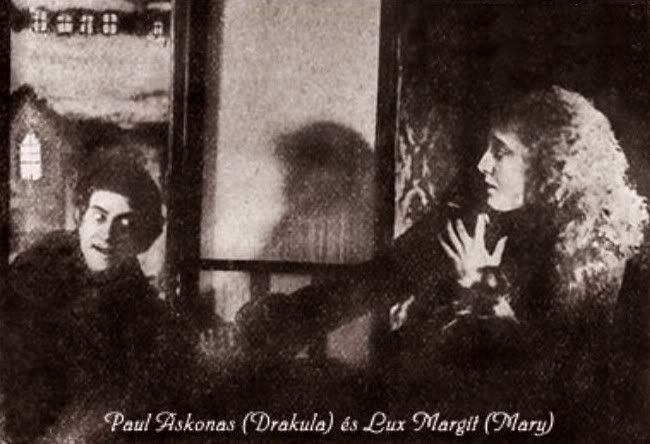 #7: Dracula's Death (1921)

Speaking of things that are common to vampire movies, Dracula is in the public domain and has appeared in hundreds of films. He should be the first person anyone thinks of when they hear the word "vampire". His first appearance was not in Nosferatu (because the names were changed and so it's no longer Dracula) and not in the Bela Lugosi version. Hungary produced a lost film in 1921 called Dracula's Death and that is his first known appearance in cinema.

Like London After Midnight, this is one of those lost films that is widely sought today by film fans who have never been able to see it. I would like to see it, because I'm a horror fan and why wouldn't I want to see the first appearance of Count Dracula? It's unknown if the Dracula in this movie is really him or just an insane woman's nightmares, but it is the first time he appeared on celluloid so it counts.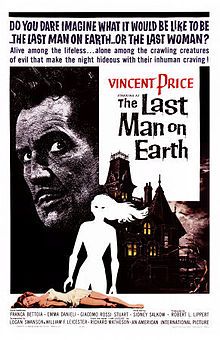 #6: The Last Man on Earth (1964)

Richard Matheson's works have been influential on the world, and it was a damn shame when he passed away earlier this year. His best novel, in my opinion, was I Am Legend, which managed to not only influence the vampire genre, but the zombie genre as well. The film plays more like a zombie film, with the undead monsters created by a plague. However, they have many of the vampires weaknesses including sunlight, mirrors and garlic. The scenario would influence many zombie apocalypse movies (the novel was a direct influence on Night of the Living Dead) while it had an influence on vampires in a different way.

This was the first story to suggest a scientific origin for vampirism, instead of a supernatural one. It's a plague that causes the disease, after all. Like many diseases, it is transferred through blood, also similar to vampires. The idea was mostly original when Matheson came up with it and has since been used in many different movies. Near Dark treated it like a disease and even had a cure for it. More recently, Thirst and Daybreakers also had scientific elements to them. Matheson did it first, and Last Man was the first adaptation of that novel.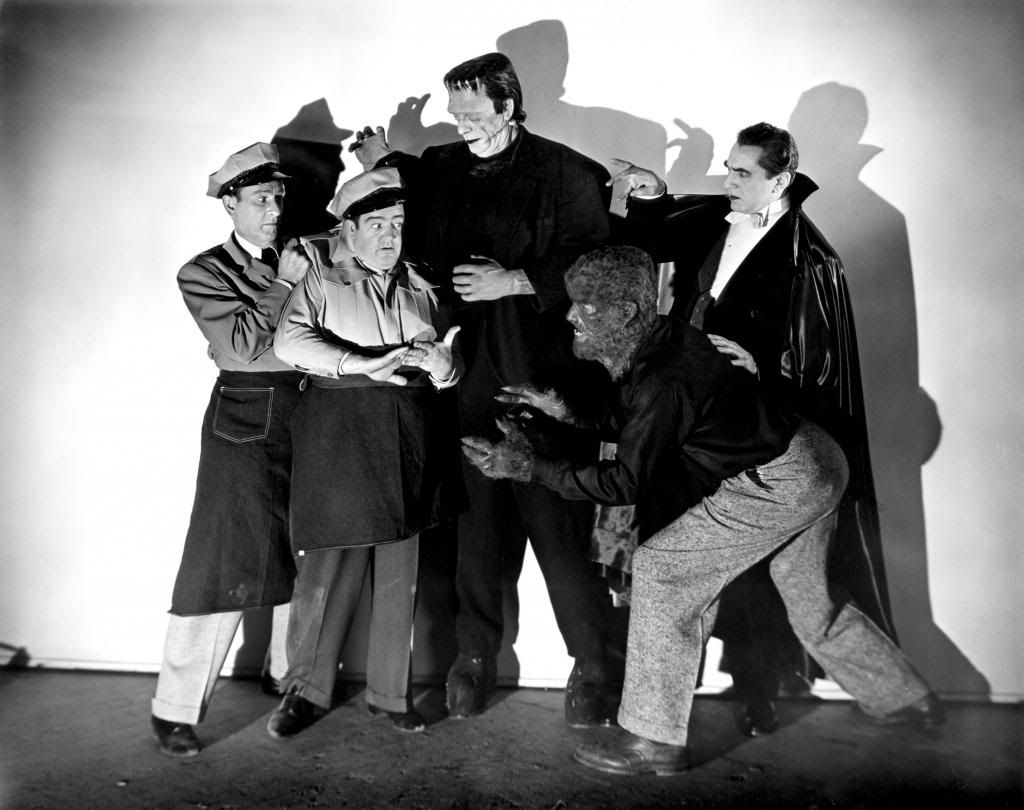 #5: Abbott and Costello Meet Frankenstein (1948)

Vampire comedies these days are almost as commonplace as the serious films. Just in the past five years you've had Suck, Vampires Suck, Dark Shadows and Transylmania, just to name a few. I didn't say they were good, I just said they were around. The first movie to poke fun at vampires featured legendary comedians Bud Abbott and Lou Costello, who featured Dracula (as well as the Wolf Man and the Frankenstein Monster) in their big-screen horror spoof.

It's always strange to think of something as being the first when a particular style has been around since before you were born. I've seen The Monster Squad and Fright Night as some of the first comedic movies with vampires and those were 40 years later. The best part about this particular film (besides the fact that it really is very funny) is that the monsters themselves are never the ones we laugh at. We're laughing at Bud and Lou as they react to the monsters. That's important in a movie like this.






#4: Bram Stoker's Dracula (1992)

Not only does financial success matter when determining the importance of a film, but critical acclaim does it a certain extent. Bram Stoker's Dracula's was important enough to be nominated for four Academy Awards and won three of them. Sure, these were fairly minor in the grand scheme of things (Best Makeup, Best Costume Design and Best Sound Effects Editing; nominated for Best Art Direction/Set Direction) but it was better than a vampire film has had at the Academy Awards before or since.

Horror is rarely nominated for a lot of awards, even less for specific genres. A movie like The Exorcist or Silence of the Lambs comes along very rarely. So to get nominated for four awards as a vampire movie is a big deal, and to win three is an even bigger deal. To put that into perspective, both Shadow of the Vampire and Interview with the Vampire were also nominated (two each) but neither won. Let the Right One In wasn't even considered, nor was its 2010 remake. Any horror movie that manages to win an award at the biggest ceremony in film is important due to how little it happens.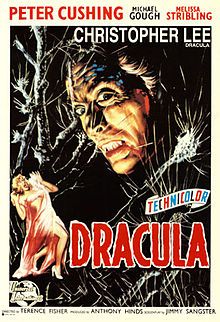 #3: Horror of Dracula (1958)

Before Hammer Films came along, Dracula was pretty much retired. Sure, he was in the public domain and anyone could do anything they wanted to with him, but the days of dark castles and Bela Lugosi lurking in the shadows were over. Horror of Dracula (also just called Dracula) made the character and even bigger name than he was and launched him into a whole new realm of popularity with a different twist on the character.

Christopher Lee's Dracula wasn't just a suave bloodsucker. He was evil and downright sadistic. The Hammer Dracula movies featured sex (as much as they could in the time) and blood and were definitely a more modern take on the Count. The film not only is important to vampire movies, but to horror in general as it signified a shift in the way the genre was moving. Scares were still important, but what was allowed into a film was changing. The opening shot of the film features blood dripping onto Dracula's name. It was time for a new take on the genre.






#2: Nosferatu (1922)

While there have been many movies with the word "vampire" in the title, and feature a "vamp" of some kind (usually of the female persuasion), Nosferatu is generally considered the first film with an honest-to-goodness, supernatural vampire in the film. Even if it wasn't, this film was highly influential not just on vampire movies, but horror in general. F.W. Murnau's Gothic German expression style was more or less copied over into Universal's pictures, which became a worldwide franchise that made tons of money.

Nosferatu is a film that lives on today through films even where you don't expect it. On the commentary for Wes Craven's New Nightmare, Craven outright admits he lifted a shot directly from this film. You can also see Orlok's influence in TV shows like Buffy the Vampire Slayer. I mean come on, The Master might as well be a clone. The film is my pick for the best vampire movie and it's a classic that still holds up over ninety years later.

If you've never seen it, it's in the public domain. So feel free to set aside some time and watch it below.






#1: Dracula (1931)

What else can be said about Tod Browning and Bela Lugosi's take on the most popular vampire ever? It's Dracula. It's a phenomenal horror film that still entertains and still has some creepy moments (Dwight Frye as Renfield) that hold up to this day. Not only is Universal's 1931 film the very first official take on Dracula (with approval from the Stoker estate and everything) but it's high influential in its own way.

Think about it. Every time you see a vampire in modern culture, be it in animated Adam Sandler movies, dime-store decorations or even commercials for Geico...it's reminiscent of Lugosi's performance. The pale skin, the widow's peak, the cape..all of it. It all started here and you can still see it. Even today, 82 years after the film's release, what we think of when we hear vampire is Lugosi's Dracula. If that's not an important film I don't know what is.



So next week I will conclude my look at the most important horror films for now. I thought about doing werewolves, but I decided with so many sub-genres left untouched, I should let you decide. So vote in the poll below and the winning vote will be next week's topic.



Ending Notes:

That's it for me. Leave some comments here on or my Twitter. Next week, well, that's up to you.



Closing Logo courtesy of Kyle Morton (get your own custom artwork and commissions at his Etsy account)



A Bloody Good Time: The Store is now officially open! Like this design? You can now find it on most of my merchandise! Click here to find shirts, posters and more!

For those interested in more of my movie reviews, I've created a new blog! Check out the brand new Not-So-Bloody Good Time!

And of course, if you want to know if I've ever covered anything or want to read a past edition, there's the Bloody Good Time Archives! Yes, you can finally read every edition of ABGT going back to the beginning! Just ignore my early writing style...I was new.

See you next week!
comments powered by