SPOTLIGHTS
411 Fact or Fiction Movies/TV 08.30.13: Week 397
Posted by Ben Piper on 08.30.2013

Is Ben Affleck a bad choice to play Batman? Is a Rambo TV series without Sylvester Stallone a good idea? 411's Al Norton and Bryan Kristopowitz debate these topics and more in the this week's Fact or Fiction: Movies/TV!




I thought last week's edition of Fact or Fiction wasn't too shabby, to be completely honest. But you wouldn't know that based on the response, or more correctly, the complete lack thereof. Seriously, no comments from the peanut gallery? Wow. Didn't see that coming. I personally blame Ben Affleck, for when news broke that he would be playing Batman, the internet exploded at the notion, drowning out everything else in its wake. Thankfully, it would appear that with time, cooler heads are starting to prevail. Well, that, and Miley Cyrus has given everyone something else to be outraged over. It happens.

So with that in mind let us welcome Bryan Kristopowitz and Al Norton to the proceedings to respond to whatever I throw their way. Gentlemen, the floor is yours…




1. Getaway will be a completely unremarkable action-thriller that will quickly be forgotten.

Bryan Kristopowitz: Fact. I say "fact" because, in the big scheme of things, I seriously doubt that Getaway is going to be one of those action movies that "alters the genre." Those seem to be the only ones that get any kind of widespread attention. I do think, though, that there is a good chance that Getaway will be a worthwhile trip to the movies. It has a good cast and it looks, based on the trailer, like fun. Sometimes that's all you really need to have a good time at the movies. I kind of wish that Hollywood would make more movies like Getaway.

Al Norton: Fact. There is nothing here that seems particularly new and/or memorable; it's not like a story about a lead character who gets forced back in his old line of work to save the life of a loved one is ground breaking, and I believe the "commandeering a young woman's car" was done by Charlie Sheen in The Chase back in 1994. This doesn't mean it won't be an entertaining way to spend a couple of hours but there's nothing here that makes me think it won't be forgotten come October.

Score: 1 for 1


2. Ricky Gervais bringing his Office character David Brent to the big screen is an idea you can get behind.

Bryan Kristopowitz: Fiction. If Gervais was set to do some kind of extended cameo as David Brent in a movie that has nothing to do with The Office I'd probably be okay with it. But a movie that's set in The Office universe featuring Brent just sounds like a big waste of time. Gervais should stick to developing new characters and new ideas. That's a far more interesting proposition.

Al Norton: Fiction.. I don't ever want to underestimate Gervais tremendous skill set but his characters and shows have always done well in small doses (30 minute episodes, 1 - 2 season runs), so I am not sold on them translating to the big screen. Also, is David Brent going to go to Hollywood so we can see Gervais savage the industry again? Not saying it won't be funny but I don't see the appeal of giving this character 90 - 120 minutes of big screen time.

Score: 2 for 2

3. You'd tune in to a Rambo TV series even if Sylvester Stallone doesn't appear.

Bryan Kristopowitz: Fact. The overall weirdness of seeing someone else play Rambo is reason enough to check out a Rambo TV show. Because, when you sit and think about it, when it comes to the Rambo character Sylvester Stallone is John Rambo. Will the new guy be able to measure up to what Stallone put together over 26 years? And what kind of storyline will the potential show go with? Will it be a continuation of the movies, with an older Rambo as the star? Will it be a full on reboot of the franchise with a modern setting, etc? Or will the show start with the novel that started it all, First Blood, and go from there? And will Rambo be portrayed by an American? Plenty of stuff to think about with this show.

Al Norton: Fiction. I mean, I'll tune in to any show but would I be excited about it, not so much. My questions are much the same as Bryan's above, I'm just looking at them from a negative slant, as in, what will this show even be about? I will add in that if they set this show in the past, maybe right after the character returned home from Viet Nam, that might get my attention as the audience could see just how poorly veterans were treated when they returned from the war.

Score: 2 for 3



Switch!!!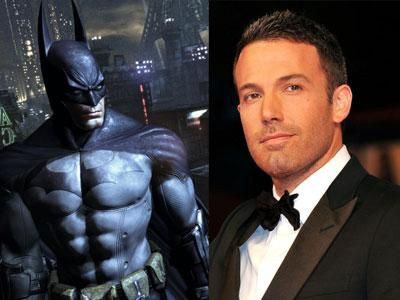 4. Ben Affleck is a poor choice to play Bruce Wayne/Batman.

Al Norton: Fiction. I don't get the Affleck hate. Well, I mean I get it in that people hate everything, especially when they can drone on about it endlessly on the internet, but the guy has spent the better part of the last decade showing his dramatically improved acting chops, and I can see him flourishing both as charming Bruce Wayne as well as the quiet/stoic Dark Knight. And as far as the physical shape, take a look at him in The Town when his character was a former pro hockey player and tell me he isn't as cut/ripped as you'd expect Batman to be.

Bryan Kristopowitz: Fiction. After the success of Man of Steel I'm willing to give the people behind its sequel the benefit of the doubt. I'll admit that Affleck seems like a weird choice to play the Caped Crusader since he's now a big time, award winning "artist" and award winning "artists" usually don't make movies like Batman until they're broke. But if Affleck wants to do it, hey, why not? What's the worst that could happen? If Joel Schumacher couldn't destroy Batman, nothing can.

Score: 3 for 4

5. You'd be interested in a big screen biopic of the legendary "Godfather Of Soul" James Brown.

Al Norton: Fact. James Brown is a legendary performer who many young people likely know very little of, and his personal life would have made for big time TMZ fodder had TMZ existed at the time, so that's a dream combination for a bio pic. I like stories that work on the micro and macro level, and here you'd have Brown's tremendous musical resume and his battles with his personal demons told against a backdrop of a country going through dramatic changes, so you've all the ingredients for a wildly entertaining movie.

Bryan Kristopowitz: Fact. I'm shocked that a movie about James Brown, the hardest working man in show business, hasn't already happened. As Al says, Brown's amazing musical career and personal issues, in the right hands, would make for a potentially great movie. Chadwick Boseman seems like a good choice to play Brown, but I think I would much rather see Eddie Murphy or, my first choice, Wesley Snipes. Snipes would kick ass as James Brown.

Score: 4 for 5

6. A medical TV drama based upon The Wizard of Oz is a horrible idea.

Al Norton: Fact. I mean, of course it is. This doesn't mean they can't make it a good show, just that it strikes me as a horrible idea. Dorothy will be a young resident, the Tin Man a cardiac surgeon, the scarecrow a brain surgeon, the lion a psychiatrist, and I am sure the hospital will have a big yellow line on the floor that serves as a map. Throw in a pediatrics department for the munchkins and we're almost done. I just don't see how this excites anyone or creates a landscape for long term success.

Bryan Kristopowitz: Fact. This idea sounds like a weird "sweeps" episode of Grey's Anatomy. Beyond that or some kind of one shot TV movie, how does this idea even work after the first episode? I would suggest that the people involved in this project scrap the Oz stuff and just do a standard medical drama. At least people would understand that show. Now, I wouldn't mind seeing a medical drama set in the realm of Oz. Munchkin doctors, weird surgery, Oz medical science. People would watch that show.

Final Score: 5 for 6

And there you have it. Al and Bryan are in almost complete agreement. Thanks to them both for playing, and see you all again next week!
-BP



TWITTER

http://www.twitter.com/411s_Ben_Piper
http://www.twitter.com/411mania
http://www.twitter.com/411wrestling
http://www.twitter.com/411moviestv
http://www.twitter.com/411music
http://www.twitter.com/411games
http://www.twitter.com/411mma




comments powered by