SPOTLIGHTS
This Week in Amusement 09.04.13: So How Do We Feel About This Nice Miley Cyrus Lady?
Posted by Enrique on 09.04.2013

Everybody else is talking about Miley Cyrus, so why can't we?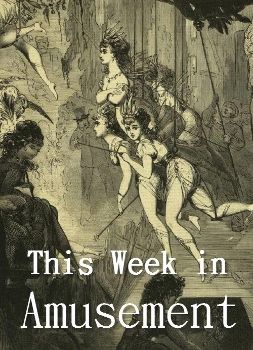 MTV has been around since 1981, and the Video Music Awards date back to 1984. Making lame jokes about how MTV doesn't play videos goes back to about the early 90's, but the VMAs live on. For those of us of a certain age, the VMAs seem a bit quaint, and it's kind of inspiring they still exist. For others, they must represent all that's wrong with kids these days. And by "kids" we mean "the 36-year-old offspring of the dad from Growing Pains."

If you're the type of person who doesn't pay much attention to the VMAs, there's something heartwarming about the fact they can still generate a fair amount faux outrage, even in our jaded internet era. It makes us feel young again.




Now that it's been over a week, just about all 7 billion earthlings have expressed their thoughts on Ms. Cyrus' duet with so-called R&B musician Robin Thicke. Most of these thoughts involved the speaker pretending not to know what "twerking" is, which is a little like pretending you never smoked weed when you were younger.

In fairness, there are probably a fair amount of middle-aged parents who are even less hip than we are, and it must have been a treat for college-aged kids this week to hear their mothers ask, "Can you explain to me what is this 'twerking' Miley Cyrus did? Hannity did a segment on it. You don't twerk do you? How about your friend Brandi? I bet she twerks."

Recommendation: Tell you mother there's a college scholarship for twerking now. Her reaction will probably be worth recording.

Speaking of reactions, Ms. Cyrus' antics drew some attention from plenty of folks who saw an opportunity to try and say something important. If you're not familiar with the Parents Television Council, they fancy themselves an "education organization advocating responsible entertainment," and they are exactly the kind of uptight busybodies you would expect. We can probably assume "responsible entertainment" means reading the Bible, protesting a Planned Parenthood clinic, and not masturbating.

We would observe there is at least as much entertainment value in these fuss budgets using the word "twerk" as your mother:

"MTV has once again succeeded in marketing sexually charged messages to young children using former child stars and condom commercials -- while falsely rating this program as appropriate for kids as young as 14. This is unacceptable," said PTC Director of Public Policy Dan Isett. […]

"MTV continues to sexually exploit young women by promoting acts that incorporate 'twerking' in a nude-colored bikini. How is this image of former child star Miley Cyrus appropriate for 14-year-olds?
Given the ubiquity of internet porn, we suspect most 14-year-olds felt boredom regarding Ms. Cyrus. This isn't sexually exploitive – to the extent she was trying to be sexy, it's more than a little embarrassing.



Maybe if she had high heels?

On the subject of embarrassment, someone asked 80's pop star Cyndi Lauper what she thought of Ms. Cyrus' performance. One might think the singer of "Girls Just Want to Have Fun" would be understanding of a female singer trying to get attention…but not so much. Apparently Ms. Lauper thinks the song "Blurred Lines" is encourages sexual violence:

"She's in a song that literally says that the blurred lines allow you to … when a woman says no that she means yes," Lauper, 60, said on Australia's Brig & Lehmo for Breakfast show on Gold 104.3. "That is frightful because that is date rape."

Lauper is currently in Australia for the 30th anniversary tour of her breakthrough album She's So Unusual, which includes the hit single "She Bop" — a song about masturbation.
Indeed, "She Bop" is probably the first thing that leaps to mind when Ms. Lauper is criticizing someone else for being raunchy. But as far as accusations of encouraging date rape, Ms. Lauper is on even shakier ground than you might think. On that big hit album of hers is a silly little tune called "He's So Unusual" that includes the lyric:

When I want some lovin'
And I gotta have some lovin'
He says please stop it please
he's so unusual...
That is frightful because that is date rape, no? At least she didn't use the word twerk.



I gotta have some lovin'

Meanwhile, Mr. Thicke's mother, actress/singer Gloria Loring also joined the criticism bandwagon, calling Ms. Cyrus "misbegotten" and saying, "'I just keep thinking of her mother and father watching this. Oh, Lord, have mercy. I was not expecting her to be putting her butt that close to my son."

It's a little silly to fret about the proximity of a young woman's butt to a 36-year-old man, but mothers will be mothers. However, it's not at all clear that Ms. Cyrus' parents were ashamed of their daughter's big night. This story indicates that Ms. Cyrus' mother was at the side of the stage during the performance, cheering her daughter on.

As for her dad, this is how Ms. Cyrus described his reaction.

Who knows how reliable that narrator is, but hopefully it's true because it seems like the right attitude to have. The worst thing Ms. Cyrus did was fail at looking sexy when she stuck her tongue out. For anyone to castigate her for being raunchy and/or contributing to the sexual exploitation of someone or other is ridiculous.

Frankly, it seems a little odd in this day and age that a young woman's goofy dance on cable television was the biggest story of the week. Ms. Cyrus didn't even have the most revealing outfit of the performers at the VMAs. One almost feels bad for Lady Gaga, who probably can't believe everyone's been talking about Ms. Cyrus instead of her butt.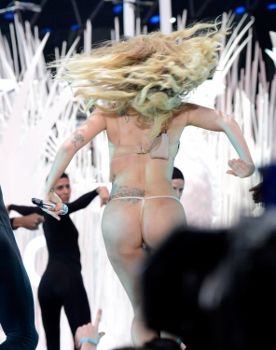 Actually, as one of the top earning celebrities of 2013, Ms. Gaga probably doesn't mind at all. She doesn't seem like the type of person with a pathological need for attention. In fact, she had some relatively kind words for Ms. Cyrus following the VMAs:

"I don't like to pass judgment on Miley Cyrus. Generally, people need to lighten up about pop music -- it's about entertainment," the singer, who opened the VMAs with a performance of her new song "Applause," reportedly told The Sun. "It is here to make you smile and make you happy. Especially in America, there is an excessive dragging of female artists, and I don't want to contribute to that."

Gaga went on to admit that Cyrus' performance was "polarizing" -- "but that's it," she said.
That's a pretty level-headed opinion from a woman who goes out in public like this.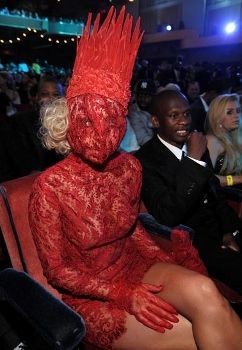 Then again, Ms. Cyrus seems to want to outdo Ms. Gaga in that department as well.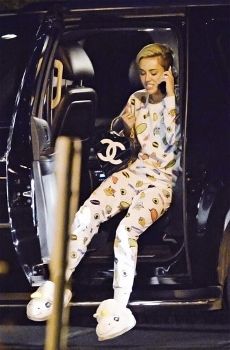 Really, isn't it more disturbing to see a 20-year-old wearing unicorn slippers on the streets than to see her twerking on cable? Some people's priorities are clearly misplaced.

There are plenty of people out there looking for reasons to be angry about entertainment they don't like, play the Sexual Exploitation Card, and act offended at whatever they deem raunchy. Ms. Cyrus owes them nothing. The fact that she is unapologetic about her VMA performance and that her parents apparently approve is about the most positive sign there could be on the state of pop culture. In many cases, you might worry about too much popularity or success going to a young adult's head. As far as Ms. Cyrus, we hope she is able to capitalize on the momentum from this event and go on to a long and fulfilling post-Hannah Montana career.

Someone will have to give her advice on how to stick her tongue out in a less disagreeable manner.

Until next week, dear readers, be merry!
comments powered by