SPOTLIGHTS
A Bloody Good Time 09.05.13: The History Of Troma
Posted by Joseph Lee on 09.05.2013

From The Toxic Avenger and Class of Nuke 'Em High to Mother's Day and more, 411's Joseph Lee takes a look back at the classic B-horror movies of Troma Studios!

































Opening Logo courtesy of Benjamin J. Colón (Soul Exodus)



Welcome to A Bloody Good Time.

Before we get into this week, I want to make mention of October again. As I've said, we're doing another horror Knockout tournament. It's up to you to decide what kind we do. Do we focus on the lesser-known horror villains? Movies? Heroes? A rematch of last year (all the big horror villains)? Something else? Let me know in the poll below.



This week, we're going to take a break from the month-long lists and get into a little history. Specifically, the history of a little company called Troma.



Troma is a company that's not going to win any Academy Awards. In fact, I wouldn't call most of their output good, from a quality standpoint. Don't take that the wrong way, because I think Troma's films (the ones I've seen) are a lot of fun. They're silly, goofy, bizarre and usually full of gore. They're the very definition of how to successfully produce low-budget independent films that people will enjoy. If Troma wasn't good at what they do, they likely wouldn't be around today. They make a specific kind of film for certain kinds of fans.

So this week I'm going to provide a brief little history lesson on the company and look at some of their biggest movies. I'll try to refrain from giving my personal opinion as much as possible, because next week I will rank the top ten Troma movies. Let's look at the company that has been providing almost forty years of reel independence!




Troma, for those who aren't familiar with it, is known for its incredibly odd and violent low-budget movies that border on exploitation. They are almost always mean-spirited, gory, graphic movies that rely on blood, guts and boobs to sell copies. They're all known for being low-budget, which I mentioned before. I did so twice because it's true. This is a company that will reuse shots, actors and props from other movies, often, to save money.

It'd be easy to dismiss a company because of that, but Troma is so blatant about it that you have to respect them. If you haven't seen Sgt. Kabukiman, NYPD, you may have at least seen a moment from it. There's a flipping and exploding car in that film that is used in any other Troma movie that requires the shot. It's almost become another thing that the compny is known for.



The studio was founded in 1974 by Lloyd Kaufman and Michael Herz. They started out relasing sex comedies like The First Turn-On, Squeeze Play and Sizzle Beach, USA, among others. Their first real horror film of merit was 1976's Blood Sucking Freaks, an exploitation/splatter film known for having some disgusting bits of gore in it (or silly, depending on your view). One of these included a midget having sex with a decapitated head.

Other horror films of the 1970s included forgettable titles like Demented Death Farm Massacre, Garden of the Dead and The Capture of Bigfoot. Blood Sucking Freaks is the one that stands out and sets the tone for later Troma features. If you're into gore and not much else, check it out. It's considered one of the most controversial exploitation films of its time for a reason, even if it was campy about some of the violence.




In 1980, they released another cult favorite, Mother's Day. The film involves a crazy mother controlling her equally crazy redneck sons and making them kill and rape three innocent women. It's sort of like other films of the time like I Spit On Your Grave and Last House on the Left, only by Troma. The film was also controversial, as the UK's film rating board banned it outright and then later banned after a review by Australian censors. It had a release here, but it was hated by almost all mainstream critics (as you'd probably expect.

While not originally created by Troma, they also have distributed The Children and Beyond Evil from that year. In 1981, Troma released a slasher film called Graduation Day. It's a run-of-the-miller slasher in the wake of the incredibly successful Friday the 13th, but is known for early appearances of scream queen Linnea Quigley and Vanna White, of all people. It was a hit for them back in 1981 too, as it earned $23 million from a budget of only $250,000. From a financial perspective, it's probably one of their biggest hits.



In 1984, the company released two very different films. One is considered one of the company's best films and the other is probably the company's biggest hit ever. The first is Combat Shock. While it's not a horror film, its decidily different from the usual Troma output in that it's a bleak and disturbing look at a Vietnam veteran who is struggling to adjust to life after the war. If you haven't seen it, trust me when I say the word bleak. While some of it may not hold up today (depending on your point of view), it's still one of the company's best films from a quality standpoint.

The second film was The Toxic Avenger.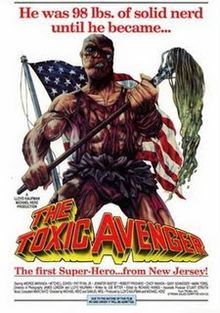 The Toxic Avenger was really the movie that put Troma on the map and Toxie is still the company's biggest icon. The series has had four films so far, an animated cartoon, a video game, comics and more. Toxie may not be as well known as other superheroes, but he's definitely the face of Troma. Even if you've never seen a Troma film in your life, chances are you've heard of The Toxic Avenger, even in passing.

I was first exposed to the character in the early 90s with the animated show Toxic Crusaders. There wasn't much to see (it only ran for thirteen episodes) but it was enough for me to get the board game and even a figure of Dr. Killemoff, who I just thought looked cool. He had four arms and a gas mask! Only today do I realize that I was allowed to watch a cartoon with a villain called Dr. KILL EM OFF. This explains a lot, actually.



I finally got to see The Toxic Avenger in college and was amazed a cartoon could come out of it. This movie was not only funny (a disgusting monster with that kind of voice is hilarious to me) but blood-soaked and violent. This also happened to be my first Troma movie, and it wouldn't be my last. A dog was trained to slide across a floor just for a scene where the bad guys "shoot" it. That's just really cool.

After the success of the first film (it made only $800,000 on a budget of $500,000, but obviously it went on to be a big deal later on), sequels followed in 1989 (The Toxic Avenger Part II), 1990 (The Toxic Avenger Part III: The Last Temptation of Toxie) and 2000 (Citizen Toxie: The Toxic Avenger IV). Not only is another sequel on the way, but Hollywood wants to turn it into a PG-13 comedy remake. I'm on board, because I'll always have the original and a cool guy like Lloyd Kaufman deserves the royalties.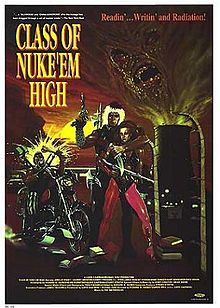 The company would unleash their second franchise in 1986 with Class of Nuke 'Em High. While not as popular as The Toxic Avenger, it is even more insane and had enough of a cult following to get two sequels: Class of Nuke 'Em High 2: Subhumanoid Meltdown (1991) and Class of Nuke 'Em High 3: The Good, The Bad and The Subhumanoid (1994). A fourth film (Return to Class of Nuke 'Em High, Vol 1) is out this year and a remake has been discussed.

The company would never hit the successes in the mainstream that they did with The Toxic Avenger, but their loyal fans continue to provide Troma with a cult following even today. They've released films like Redneck Zombies, Surf Nazis Must Die, Rabid Grannies and finally, Troma's War in 1988. This is was their last attempt to get a hold on mainstream cinema.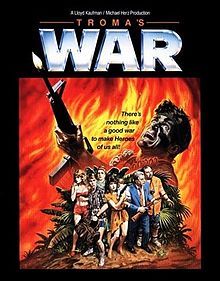 The film was meant as a criticism of the Reagan Administration and their attempt to glamorize war. The MPAA got their hands on it and decided it was too violent, leading to massive cuts and poor box office performance. As the most expensive Troma titles ($3 million), its failure resulted in Troma going back to independent film for good. The company had financial trouble for a time before getting back on its feet by continuing to make their own films and distribute the indie films of others.

The remaining years saw more cult favorites (everything from Terror Firmer, Tromeo & Juliet and 2006's Poultrygeist: Night of the Chicken Dead) and saw the debuts of several big names in Hollywood.

The studio has worked with or distributed films featuringSamuel L. Jackson (Def by Temptation), Trey Parker & Matt Stone (Cannibal! The Musical) and even J.J. Abrams (Nightbeast) before they became big. James Gunn had several jobs with the company, including directing Tromeo and Juliet and acting in Citizen Toxie before he went on to write Scooby-Doo and Dawn of the Dead. He's now known for directing Slither (which features clips of The Toxic Avenger as an homage) and the upcoming Guardians of the Galaxy. From Troma all the way to Marvel. That guy's had quite the career.



I think one of the coolest things about Lloyd Kaufman is the fact he encourages and tries to help independent filmmakers. He's a big supporter of going out and "making your own damn movie" and has even written books dedicated to helping aspiring filmmakers do what they want. He'll even appear in your movie if you ask him nicely, just to help out. For that, I think he deserves all the success in the world and I'm glad that Troma is still around doing what it does.

Obviously there is a lot of content released by this company, so I couldn't get to it all. Maybe a movie I missed will wind up in next week's top ten. If you're curious to watch some of the company's output, their official Youtube channel has a lot of the films they've made or distributed for free.


Ending Notes:

That's it for me. Leave some comments here on or my Twitter. Next week, it's part two as I count down the top ten Troma films.



Closing Logo courtesy of Kyle Morton (get your own custom artwork and commissions at his Etsy account)



A Bloody Good Time: The Store is now officially open! Like this design? You can now find it on most of my merchandise! Click here to find shirts, posters and more!

For those interested in more of my movie reviews, I've created a new blog! Check out the brand new Not-So-Bloody Good Time!

And of course, if you want to know if I've ever covered anything or want to read a past edition, there's the Bloody Good Time Archives! Yes, you can finally read every edition of ABGT going back to the beginning! Just ignore my early writing style...I was new.

See you next week!
comments powered by